CARISSA MOORE INTERVIEW: What's up with our 9 time National Champ!
Thursday, July 27, 2006 | Written by Janice Aragon
9 TIME NATIONAL CHAMPION CARISSA MOORE IN THE SPOTLIGHT!
13 year old surfing sensation Carissa Moore. photo: grindtv.com
In 2004, at age 11, Carissa Moore was the youngest surfer ever to win the National Open Womens division. That same year she also claimed the National Triple Crown (victories in the three NSSA competitive divisions-Open, Explorer and Interscholastics). This year, barely in her teens, Carissa delivered another masterful outing at the Nationals clinching her third consecutive triple crown while reaching the highest NSSA plateau racking up a record smashing nine titles. The buck doesn't stop there either. Just prior to this year's Nationals, Carissa was named Teen Surfer of the Year. Her impressive, commanding talent and approach to the sport has everything to do with her success even though she is only 13. She works hard at her surfing and at school (she has a 3.8 GPA), but she has a lot of fun doing it. Combine that with the positive mentoring from her dad Chris and she's got the winning formula.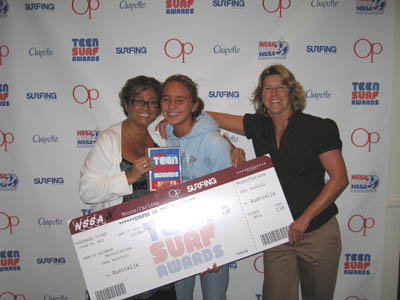 Carissa with Janice and NSSA Hawaii Director Bobbi Lee at the Teen Surf Awards.
Full Name: Carissa Kainani Moore
Birthdate: 8/27/92
Hometown; Honolulu, HI
School: Punahou School
Grade: 9th
Sponsors: Roxy, Dakine, and Nezzy Surfboards
JANICE ARAGON: How old were you when you started surfing and who started you off?
CARISSA MOORE: I was 4 or 5 years old when my dad taught me how to surf at Waikiki.
What is your favorite wave at home?
My favorite wave to surf at home is Kewalos.
What is your favorite wave in the world?
I think my most favorite wave that I have surfed so far is Trestles. It is such a fun performance wave and I am so stoked that the NSSA Nationals is held there every year.
How often do you surf?
I surf whenever I am with my dad and occasionally when I am with my mom. I think maybe about 4 or 5 times a week.
What is your favorite subject in school?
Umm... I don't really have a favorite subject, I guess I like them all the same.
What do you want to do when you graduate from High School?
I don't really know yet, I'll have to wait and see.
What are your interests besides surfing?
Besides surfing I just like to hang out with my family and concentrate on school, that's a lot of fun.
At such a young age you are already giving back to the sport. I've checked out your website and it's kind of cool that you are doing fun things for kids like contests and product giveaways, etc. Was this your idea and what made you start doing this?
The idea was between me and my dad. There are a lot of reasons for it. I feel that I am very lucky to have so many opportunities and get a lot of free stuff, so it's fun to give some of it away, too.
Do you hang out with any of the girls that you compete against?
Yeah, all the girls are really nice and they are all fun to be around. Sometimes it's hard to hang out because we all live on different islands, but when we get the chance to hang out at a contest or something we have a lot of fun. I enjoy hanging with Coco. She lives on the other side of the island. She is a really nice person and she is fun to be with.
Is it tough when you get them in a heat, especially at the Nationals?
It's always tough to get my friends in a heat because they're all so good.
So did you really believe that you could win your third straight triple crown?
I wasn't thinking about it too much I was just excited to be able to go back to Nationals, surf a fun wave, try my best, and have fun.
Do you think the level of women's surfing was at an all time high at the Nationals?
I think that all the girls at Nationals this year were surfing fantastic. I think that all the girls are improving so much and that they are all getting very fun to watch. But then again I remember surfing with girls like Karina (Petroni) and Erica (Hosseini) and they surfed just as well, maybe better. I think it's true to say that the girls are getting better younger, and there are more good girls.
With the clock ticking down, you were losing the Open Womens final until that bomb came to you in the final 20 seconds. That was pretty incredible. What were you thinking?
I guess I was just thinking I just need to catch one more wave and give it all I got. I felt that I got very lucky to catch that last wave, I was kind of nervous when I stood up but just excited that I got one last chance.
Bobby Martinez has held the all time National title record for the past 10 years until you finally broke through this year. How does that make you feel?
I felt OK. No one really made a big deal of it so it didn't really feel too different from any other Nationals plus this Nationals was really tough for me so I think I was more relieved to be finished.
Did you go out and celebrate after the Nationals winning your 7th, 8th and 9th titles?
Well after the banquet my family and I just went home and ate some ice cream. That was fun and the ice cream tasted very good.
Who are the pro surfers that you look up to?
I look up to Kelly Slater, Andy Irons, Sofia Mulonivich, Lisa Anderson, Chelsea Georgeson, and all the pros because they surf really well and they all seem like really nice people. I look up to Bethany Hamilton because she is such a wonderful role model and she is kind and a great friend. I also look up to all the kids my age because they are surfing so awesome.
What are your contest plans for the new 2006/07 season?
I'll be doing pretty much the same events as last year. I feel really lucky to be able to surf some really great waves, so I'd like to do more of the same.
How do you think the NSSA has helped you in your success as a surfer?
The NSSA has helped so much because the competition is always so tough.
There are a lot of really awesome things about the Nationals. What are some of your favorite things about coming to and competing in the Nationals?
I love coming to Nationals and getting the opportunity to surf a tremendous wave and getting to meet everyone from all over the nation. It is really cool to get to know everyone and watch everyone surf.
If you didn't surf, what would you be doing?
I am not sure, I think I would like to be a swimmer or play water polo.
Tell me something people don't know about you.
Last week I found a dead sea turtle on the beach. It was a bummer because it died from being strangled by a piece of plastic. I'm trying to pick up more trash because of it.
What is the best advice anyone has ever given to you?
I think the best advice ever given to me was just too always try your best and have fun cause that's all that matters. My dad told me that!
Finish this sentence – If I was President of the United States I would ---
This question is way too tough for me, I'm only 13... J