2011 HAWAII REGIONAL CHAMPIONSHIP RESULTS!
Tuesday, March 22, 2011 | Written by Miko Parker
NSSA HAWAII REGIONAL CHAMPIONSHIPS
KEWALO BASIN, OAHU, HAWAII
MARCH 17-19, 2011
CONDITIONS: Sun, wind, rain and great surf at Kewalos.
By: Miko Parker
OPEN MENS AND EXPLORER JUNIORS CHAMPION ISAIAH MONIZ!
(March 21, 2011) The Hawaii Regional Championships was held on March 17-19 at Kewalo Basin. It was a beautiful 3-day weekend with all the weather elements including sun, wind and some rain. But most important we scored great surf! The 2011 Hawaii Regional Championships serves as the Regional qualifier for Hawaii surfers to earn a bid to the 2011 NSSA National Championships presented by Nike 6.0, June 26-July 3 in Huntington Beach, California.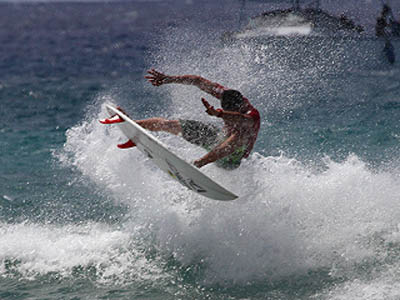 3-TIME NATIONAL CHAMPION EZEKIEL LAU TAKES THE EXPLORER MENS AND AIRSHOW!
On opening day, the surf was a fun 2-3 feet and the weather was beautiful. Competition kicked of with the first rounds of the Open divisions. Ezekiel Lau blew up in his home break at Kewalos posting huge 9.0 scores on the board. Maui surfers Chaz Kinoshita and and Imaikalani DeVault battled each other in the Open Juniors. Each of them were throwing up 8 and 9-point rides as easily advancing on to their next rounds. The Open Mini Groms put on an incredible show of progressive moves ripping his way to the finals with excellent 8.5 scores.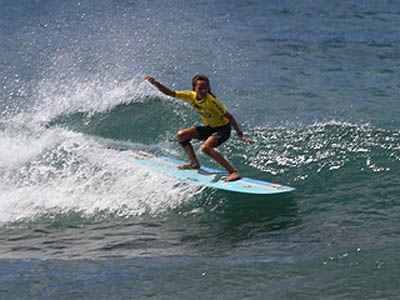 OPEN LONGBOARD CHAMPION HONOLUA BLOMFIELD SMOOTH AND STYLISH!
On day two of the Regional Championships, the contest was greeted with a eventful dose of mother nature including wind and rain in the morning. Once lunchtime came the sun was back shining on the championships and the kids were ripping. Matty Costa was the first to raise the bar posting the event's first perfect 10 point ride. After Matty started the trend of getting 10's, Isaiah Moniz and Bailey Nagy were quick to join the club. Isaiah pulled off a huge air reverse, which posted excellent scores from the judges. Bailey performed some critical manuevers to receive her perfect 10. Young, bright star Tatiana Weston Webb posted a perfect 10 across the board in her Explorer Girls repercharge. Other standout surfers in the championships who were lighting up the scoreboard were Kaito Kino, Kaulana Apo, and Leila Hurst. In Longboarding, Honolua Blomfield triumphed in the Open and Makani Adric took win in the Explorer.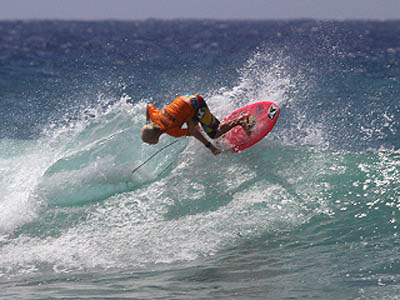 FINN MCGILL SHREDS TO DOUBLE WINS IN MINI GROM AND SUPER GROM!
All finals were held on day three, March 19th. The weather and waves cooperated with light winds, lots of sunshine and 3 foot surf. Leila Hurst pushed the level in the Explorer Women's final posting a near perfect 9.8. More than a few surfers stepped it up pulling off double victories. Isaiah Moniz enjoyed a monster performance in both the Open Mens and Explorer Juniors finals taking two enormous wins in both divisions. 3-time National Champion Ezekiel Lau was put on a show of progressive moves taking the victories in Explorer Mens and the Airshow. Leila Hurst proved why she is the leading contender for double National titles nailing the victories in both the Open and Explorer Womens. Seth Moniz was on fire taking double wins in the Open Juniors and Explorer Boys. Finn McGill put on an impressive surfing display claiming both the Open Mini Groms and Explorer Super Grom Regional titles. Dax McGill dominated in both the Open and Explorer Girls sealing both wins. Kaulana Apo made a big statement in the 12 & under categories exploding to both victories in the Open Boys and Explorer Menehuene. Look for all of these surfers to bring their "A" games to Huntington Beach this summer for the 2011 National Championships.
FREDDY P GOLDEN TICKET: For seven consecutive years, 1999 National Open Men's Champion and ASP World Title surfer Fred Patacchia donates a ticket to the Nationals for a deserving NSSA Hawaii surfer. Kahanu Delovio was announced as the recipient of this year's Freddy P Golden Ticket for her hard work and improvement this season.
RVCA JASON NALU BOGLE AWARD: Jason's close friend Daniel Jones presented this very special award honoring the memory of Jason Bogle to Shelby Schweitzer, Honolua Blomfield, Kylie Nagy, Gen Asano and Ty Ty Kirby. Daniel also presented a Jason Nalu Bogle custom surfboard to NSSA newcomer Brodi Sale.
Special Thanks: Keanu Asing, Flynn Novak and Mark Healy for giving back to NSSA Hawaii and the Regional Championships. Xcel for their generous contributions and special awards given to NSSA Hawaii and its surfers. Sanuk for giving awesome slippers to five happy kids. Rainos Hayes and the Hawaii Junior Surf Team for giving awards to Christopher Bluthardt & Honolua Blomfield. Aunty Miko, Aunty Amy and the judges for all of their hard work and most of all Aunty Bobbi the one who gives it 210%. You're the best!
NSSA Hawaii Sponsors: Atwater, Xcel, Aloha Kine, Bubble Gum, Kalani Robb, Jason Nalu Bogle, Surfco Hawaii, ASP Hawaii, Triple Crown, Equalibryum, Koa Tree, Wahoo's Fish Tacos and the Honu Group.
The NSSA Hawaii Regional Championships is the second of six events in the 2011 NSSA Championship Series. The 2011 Championship Series events include the Interscholastic State Championships at Huntington Beach Pier March 11-13, the Hawaii Championships at Kewalo Basin, Oahu, HI March 17-19; the East Coast Championships at New Smyrna Beach Inlet, FL April 7-10; the NSSA Jr. Championships at Huntington Beach Pier, CA April 9; the West Coast Championships at Huntington Beach Pier, CA May 18-22; the NSSA National Championships at Salt Creek and Huntington Beach Pier, CA June 16-July 3.
THE SCOREBOARD
NSSA HAWAII REGIONAL CHAMPIOINSHIPS
KEWALO BASIN, OAHU, HAWAII
MARCH 17-19, 2011
RESULTS
OPEN DIVISIONS
OPEN MENS
1. Isaiah Moniz
2. Ezekiel Lau
3. Kaito Kino
4. Kylen Yamakawa
OPEN JUNIORS
1. Seth Moniz
2. Kalani David
3. Josh Moniz
4. Imaikalani DeVault
OPEN BOYS
1. Kaulana Apo
2. Barron Mamyia
3. Noa Mizuno
4. Dylan Lehmann
5. Finn McGill
6. Cody Young
OPEN MINI GROMS
1. Finn McGill
2. Barron Mamiya
3. Devin Brueggmann
4. Marco Rista
5. Eli Hanneman
6. Ryder Guest
OPEN WOMENS
1. Leila Hurst
2. Tatiana Weston Webb
3. Brianna Cope
4. Bailey Nagy
OPEN GIRLS
1. Dax McGill
2. Tatiana Weston Webb
3. Bailey Nagy
4. Jenna Forti
5. Jennifer Leon
6. Mahina Maeda
OPEN LONGBOARD
1. Honolua Blomfield
2. Kylie Nagy
3. Makani Adric
4. Kui Adric
EXPLORER DIVISIONS
EXPLORER MENS
1. Ezekiel Lau
2. Matty Costa
3. Ej Mitsui
4. Kylen Yamakawa
5. Kain Daly
6. Keala Naihe
EXPLORER JUNIORS
1. Isaiah Moniz
2. Matty Costa
3. Ezekiel Lau
4. Kaito Kino
5. Keala Naihe
6. Kalani David
EXPLORER BOYS
1. Seth Moniz
2. Imaikalani DeVault
3. Josh Moniz
4. Dorian Blanchard
5. Lucas Angulo
6. Kalani David
EXPLORER MENEHUENE
1. Kaulana Apo
2. Dylan Lehmann
3. Noa Mizuno
4. Kona Oliveira
5. Loa Ng
6. Devin Brueggemann
EXPLORER SUPER GROMS
1. Finn McGill
2. Devin Bruggemann
3. Conan Gentil
4. Ryder Guest
5. Marco Rista
6. Brodie Sale
EXPLORER WOMENS
1. Leila Hurst
2. Bailey Nagy
3. Alisha Gonsalves
4. Brianna Cope
5. Dax McGill
6. Mahina Maeda
EXPLORER GIRLS
1. Dax McGill
2. Mahina Maeda
3. Bailey Nagy
4. Tatiana Weston Webb
5. Jenna Forti
6. Moana Jones
EXPLORER LONGBOARD
1. Makani Adric
2. Natalia Smith
3. Kui Adric
4. Kylie Nagy
5. Honolua Blomfield
6. Shana Weiss
AIRSHOW
1. Ezekiel Lau