NSSA WEST COAST COLLEGE TEAM SEASON WRAPS UP
Friday, January 21, 2011 | Written by Gayline Clifford
The 2010-11 West Coast College Team season came to a close with event #4 on Monday, January 17 at D St in Encinitas. The college competitors were greeted with super fast steep lefts and rights from a west/northwest swell. The size ranged anywhere from 2-6 feet with some bigger sets coming through. Conditions were clean and glassy all day with summer like conditions. Twenty college teams were on hand to enjoy the day!
In the College Team competition, SDSU came to the event firing on all cylinders to take a 140-125 win over UCSB. SDSU's team started off strong with 5 of the 6 male surfers winning their round one heats. By the quarterfinals they were able to keep 5 of their 6 male surfers going. Their longboarder also helped them by making the final as well. UCSB did exactly what was needed to clinch the overall College Team title in a tight race over Mira Costa College who place third (posting 122 points). UCSB finished off the season strong taking a win in event #2 and a second place in event #3. It came down to the final event of the season for the title and UCSB was up for the challenge. "Our team started off a little slow in the first event taking fifth but we were able to re-group and come back with a win in event #2, then a second in events #3 and #4 which helped us" said team captain Lipoa Kahaleuahi. "We got a lot of fresh faces this season which seems to be a good thing. This will definitely give us momentum going into the State Championships and the Nationals."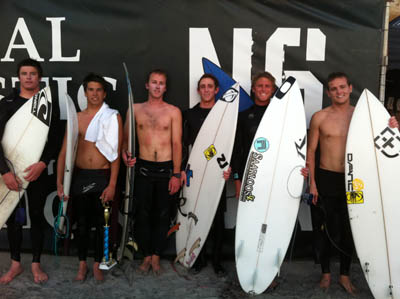 Pictured (L to R): Austin Ganz, Brent Reilly, Nick Jaimpa, Theo Lewitt, Hunter Lysaught, Kyle Jax
The College Mens heats were hot and heavy with super fun waves making it easy for them to go off! In the early rounds standout performances were the norm and there were even a few barrels that were makeable. Everyone in the Mens final was ripping and it was anyone's game. All six finalists were throwing huge gouges and big re-entries. It came down to who could get that one nugget that would push them over the top. SDSU's Nick Jaimpa got the wave of the day ripping three huge turns which gave him the score he needed to clinch the win scoring 14 out of a possible 20. Point Loma's Hunter Lysaught and Mira Costa's Brent Reilly were killing it the whole event and placed second and third respectively. Placing fourth was UCSB's Austin Ganz, followed by UCSB's Theo Lewitt placing fifth and Kyle Jax from Point Loma placed sixth. All six guys blew up!! With his quarterfinals showing, Dayton Silva from Mira Costa College clinched the overall College Mens Title.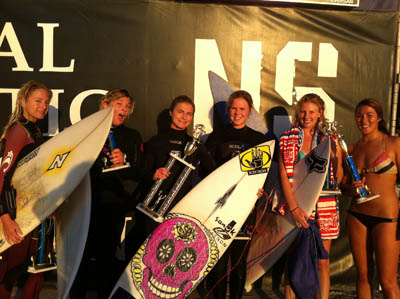 Pictured (L to R): Heather Jordan, Kaitlin Maguire, Chandler Parr, Rachel Harris, Lexi Wilson, Chelsea Rauhut
UCLA's Chandler Parr took her first win of the season in College Womens competition. With the fast peeling, low tide conditions it was tough finding and getting to the lined up open faced waves. Midway through the heat Chandler was able to connect with a good right throwing two huge turns scoring a 7.0. Then she backed it up with a vertical one maneuver wave to clinch the win for her. Chandler surfed really well all day and was stoked to take the win. UCSB's Rachel Harris was also surfing solid all day and placed second. Placing third was Heather Jordan from Mira Costa followed by Chelsea Rauhut from UCSD in fourth, Lexi Wilson from UCSD in fifth and Kaitlin Maguire from CSUSM in sixth. UCSB's Lipoa Kahaleuahi took the overall College Womens title. When asked Lipoa said "I wasn't expecting to win it. This season there were a lot of new and really good surfers competing so I am just stoked to win the title".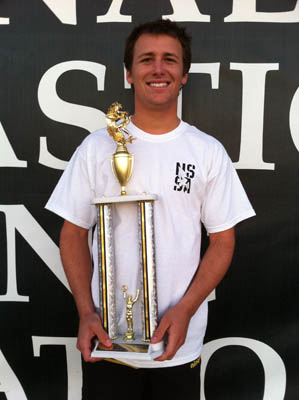 Troy Mothershead
As is the norm, all the Longboarders were charging the fun surf and scoring big. Coming out on top was Point Loma's Troy Mothershead. Troy, who is no stranger to NSSA competition, was blowing up and did not lose a heat all day in route to his third win of the season. In round two Troy pulled into a solid barrel and scored a perfect 10. With this win he also sealed up the overall College Longboard title. Placing second was CSULB's Cody Watten followed by Kevin Osborne from UCSB in third. Rounding out the six man final was Mick Rodgers from CSUSM in fourth, Jon Hoover from SDSU in fifth. Dayton Silva, who stepped up for his team doing double duty in the College Mens and College Longboard heats placed sixth.
Coming up in Cali: The Southwest Open Season event #8 will be held January 22-23 at Salt Creek followed by the make-up event Open #6 on January 29-30 at HB Pier. The Southwest Explorer Season will continue on February 12-13 at La Jolla Shores. The NSSA Interscholastic State Championships will be held on March 11-13 at Huntington Beach Pier.
RESULTS
2010-11 NSSA COLLEGE CHAMPIONS
UCSB Gold -College Team
Dayton Silva-College Mens
Lipoa Kahaleuahi-College Womens
Troy Mothershead-College Longboard
COLLEGE TEAM PTS
1. SDSU A 140
2. UCSB Gold 125
3. Mira Costa Red 122
4. Point Loma Gold 117.5
5. UCSB B 85
6. CSUSM A 84
7. UCSD A 72
8. CSULB A 58
9. UCLA 54
10. Point Loma Green 45.5
11. USC 42
12. Saddleback 41
13. UCSD B 38
14. UCSB Yellow 35
15. USD 30
16. Mira Costa White 29
17. CSUSM B 21
18. SDSU B 19
19. CSULB B 10
20. LMU 5
COLLEGE MENS
1. Nick Jaimpa-SDSU A
2. Hunter Lysaught-Pt. Loma Gold
3. Brent Reilly-Mira Costa Red
4. Austin Ganz-UCSB Gold
5. Theo Lewitt-UCSB Gold
6. Kyle Jax-Point Loma Gold
COLLEGE WOMENS
1. Chandler Parr-UCLA
2. Rachel Harris-UCSB B
3. Heather Jordan-Mira Costa Red
4. Chelsea Rauhtu-UCSD A
5. Lexi Wilson-UCSD A
6. Kaitlin Maguire-CSUSM A
COLLEGE LONGBOARD
1. Troy Mothershead-Point Loma Gold
2. Cody Watten-CSULB A
3. Kevin Osborne-UCSB Gold
4. Mick Rodgers-CSUSM A
5. Jon Hoover-SDSU A
6. Dayton Silva-Mira Costa Red