2010 INTERSCHOLASTIC STATE CHAMPIONSHIPS RESULTS!
Tuesday, March 09, 2010 | Written by Janice Aragon
FOR IMMEDIATE RELEASE
NSSA INTERSCHOLASTIC STATE CHAMPIONSHIPS BROUGHT TO YOU BY NIKE 6.0
MARCH 5-7, 2010
HUNTINGTON BEACH PIER, SOUTHSIDE
CONDITIONS: Rippable 2-4 foot beach break peaks throughout the 3-day championship event with a bump in wind swell and sets to 5 feet for finals day!
SAN DIEGO STATE, SAN CLEMENTE HIGH SCHOOL AND SHORECLIFFS MIDDLE SCHOOL SUCCESSFULLY DEFEND STATE TITLES.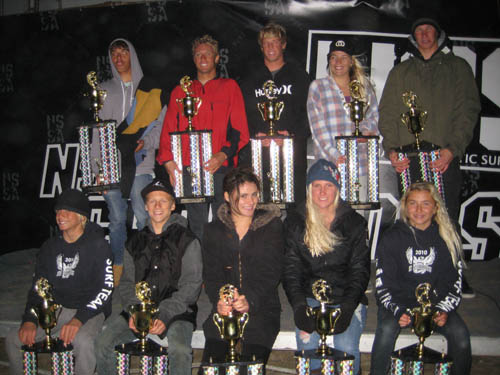 THE 2010 STATE CHAMPIONS!
bottom l-r: Colt Ward, Breyden Taylor, Melina Smith, Taylor Pitz, Kulia Doherty
top l-r: Andy Nieblas, Doug Van Mierlo, Christian Saenz, Chloe Buckley, Jeff Newell
(Huntington Beach, Ca – March 9, 2010) - The 2010 NSSA Interscholastic State Championships brought to you by Nike 6.0 hit the shores of Surf City March 5-7 for three intense and thrilling days of competition. HB Pier's famed southside sandbars delivered fun waves in the 2-4 foot range for state's top scholastic surfers for the first two days of comp. For Sunday's finals showdown, a welcomed bump up of wind swell came through with shifty shreddable peaks and sets in the five foot range. NSSA's unique version of March Madness included a total of 46 schools comprised of 21 College teams, 11 High School Varsity teams, 5 High School Junior Varsity teams and 9 Middle School teams.
Local Orange County surfers dominated most of the finals, claiming eleven of the twelve individual state titles obtainable. But the big story was the dominance of the schools from San Clemente again taking command of High School and Middle School competition at the State level. San Clemente High School took a solid 116-102 victory over Newport Harbor in the Varsity division, while their Junior Varsity squad smoked their rivals with a 107-61 triumph over Huntington Beach. Shorecliffs Middle School was invincible for the fifth straight year scoring a 122-72 win over runner-up Marco Forster. The change of venue from San Clemente school's local turf at Church in San Onofre to HB's world renowned beach break peaks didn't affect any of their team's performances as all three teams accomplished championship results on the visitor's court. The San Clemente victory was their ninth and third under head coach John Dowell. "We were able to come out of our area at Church and show we still have the talent and ambition to bring it," Dowell said. "I'm very pleased with our performance on both levels. In the Junior Varsity, five out of the six made the final. Those five were all first year members of the team and they stepped it up. The varsity team came out swinging. Both teams have been training a lot and they came out really focused to win this and it showed. John Dowell and company will be headed back to Surf City in June for the 2010 National Interscholastic Championships where they will make a serious bid for their tenth National title. But he knows going up against Huntington Beach and Edison won't be easy. "I'm looking forward to the next time we'll be in Huntington," Dowell said. "Watching those Huntington kids, observing what Christian did in that final, they know this wave like the back of their hand. It's pretty incredible watching the local kids surf here and be able to catch waves, surf the reform and connect waves you thought were impossible to make. But the San Clemente surfers proved they could come out here and be successful. It was good to see what this wave does and prepare for the future. We're going to put all of our focus now on the Nationals. We're going to be ready!"
The much anticipated High School Men's final did not disappoint as all finalists pushed each other to not only win the individual title but also to rally up points for their school. Local surfer Christian Saenz was energized for the title and his hard fought approach paid off. He had to dig deep the day before in storming conditions in the Men's repercharge fending off elimination with some last minute wave heroics. In the Men's final, he found himself trailing in the fourth place position in the final five minutes. At the four minute mark, the determined goofy-footer dropped in on a set right hander and immediately exploded on a huge backside manuever and then continued to blast turns to the beach. The wave score came in at an 8.17 and pushed Saenz to first by more than a three point advantage over heat leader Colin Moran who dropped to second. "Yesterday I grinded out a third in the repercharge because I just wanted the State title so bad," Saenz said. "On finals day, the waves were breaking more on the outside. Colin was in first with a 12 point total score and all I knew was that I needed a 6 score or better to take the lead at the 4-minute mark. On the 8-point ride I knew I had to go for broke on an outside set." As for the upcoming National Championships, Saenz is thrilled about having the chance to compete on his home court. "I'm so stoked to have the Nationals on southside," Saenz said. "It's just comfortable for me in front of a hometown crowd. It's just good to have that vibe. It pumps up my confidence to perform and I love this wave. I think our team has a chance to bring home the National title. We had a few errors at this event but it was all a learning experience so hopefully we can come out smarter for the Nationals."
After settling for two straight years in the runner-up position to Newport Harbor's Kaleigh Gilchrist, Laguna Beach's Taylor Pitz was on a mission. She put her first major NSSA title under her belt taking the Women's State title for Laguna Beach. Pitz put on an impressive display in the shifty peaks posting a 13.00 total score to come out on top over Newport Harbor's Shelby Detmers. Kaleigh Gilchrist who has held the crown for two straight years, came in third. "The contest was really fun and I'm glad the waves cleaned up for the finals today," Pitz said. "I've surfed a lot of heats out here at HB Pier so I felt pretty comfortable in the conditions. I sat where the waves were reforming on the inside sandbar and it served me pretty well because I got a couple good ones. It's been a rough couple years for Laguna so it felt great to represent for us." Edison's Jeff Newell ruled the Longboard final posting a 14.17 total to take the victory.
In Junior Varsity individual competition, San Clemente's Breyden Taylor took his first NSSA championship title in a close decision over team mate Josh Giddings. San Clemente's special teams came out firing with Melina Smith taking the Junior Varsity Women's crown and Eli Gillis triumphing in Longboard.
In the Middle School Championships, the Shorecliffs surfers swept all three individual categories. Colt Ward continued his rapid improvement in contest performance claiming his first major NSSA title winning the Middle School Boys final. Kulia Doherty also delivered her first title winning performance ripping the Middle School Girls final winning it by a 5-point margin over runner-up Leah Pakpour from Thurston Middle School. In the Longboard category, reigning State Champion Andy Nieblas sealed his second straight title. Shorecliffs Coach David Hennings praised his team while assessing San Clemente school's consistent achievements over the last five years. "Shorecliffs has so many good surfers so the kids know to become a part of the team they have to bring their surfing to a certain level," Hennings said. All of the Boys finalists were seventh graders so our future continues to look impressive. For the kids coming to sixth grade, making the team is a big deal to them so they know they have to step up their skills. It's also a lot of fun to see all of the Shorecliffs graduates moving on to High School and be successful there. They keep that team cohesiveness moving on to the high school level and it shows."
The Collegiate Championships was as electrifying as ever with 21 teams competing for State bragging rights. San Diego State was the impressive team during the regular season and under team captain Tyler Smith, they were super motivated to defend their 2009 crown. Both runner-up UCSB and Point Loma gave the Aztecs a run for the money until the quarter finals where both teams lost key players and the contest blew wide open for SDSU. The Aztec's ended up stomping their opponents in final rounds with and finished with a 162-132 victory over runner-up UCSB. SDSU's one-two punch came from Men's finalists Doug Van Mierlo and Andrew Gahan. Van Mierlo took the victory for his second career State title. He won the High School Men's title for San Clemente in 2008. Gahan may have finished second but his statement was made in Friday's preliminary rounds where he rocked the State Championships only perfect 10 score. Mira Costa's Chloe Buckley secured her first championship trophy with an inspiring victory in the Collegiate Women's final. "This feels great, I am so happy," Buckley said after claiming her first long awaited championship title. "It was good to have Heather (Jordan) and me to take top two in the final and represent Mira Costa. We were the only finalists for Mira Costa so it felt good having the women bringing it home. I can't give enough credit to my coach Rich Langen. He really motivates and encourages everyone on the team." Saddleback's Scott Brandenburg battled neck and neck with SDSU's Jon Hoover in the Longboard final with Brandenburg coming out on top.
The NSSA Interscholastic State Championships is proud to have support from Nike 6.0, Huntington Surf and Sport, Java Point, Surfing Magazine, Sex Wax and the Sugar Shack. The NSSA is a member of Surfing America, the ISA-recognized National Governing Body for Surfing in the United States.
The NSSA Interscholastic State Championships is the first of six events in the 2010 NSSA Championship Series. The 2010 Championship Series events include the Interscholastic State Championships at Huntington Beach Pier, the Hawaii Championships at Kewalo Basin, HI March 13-18; the East Coast Championships at Sebastian Inlet, FL April 8-11; the NSSA Jr. Championships at Huntington Beach Pier, CA April 17; the West Coast Championships at Huntington Beach Pier, CA May 19-23; the NSSA National Championships at Salt Creek and Huntington Beach Pier, CA June 16-July 3.
THE SCOREBOARD
RESULTS
2010 NSSA INTERSCHOLASTIC STATE CHAMPIONSHIPS
HUNTINGTON BEACH PIER
COLLEGE TEAM
1. SDSU-A 162
2. UCSB-Gauchos 132
3. Point Loma 113
4. UCSD-A 95
5. Mira Costa-Red 77
6. CSULB-A 76
7. Mira Costa-White 59
8. CSUSM-A 56
9. Saddleback 54
10. UCSB-Yellow 53
11. SDSU-B 47
12. UCSB-Blue 41
13. USC 41
14. UCLA 40
15. Cal Poly San Luis Obispo 39
16. UCSB-Dream 37
17. UC Santa Cruz 36
18. Golden West 33
19. UCSD-B 32
20. CSULB-B 28
21. CSUSM-B 18
COLLEGE MENS
1. Doug Van Mierlo-SDSU 11.77
2. Andrew Gahan-SDSU 9.97
3. Hunter Lysaught-Point Loma 9.67
4. Keetin Devine-Golden West 9.44
5. Eddie Lester-CSULB 6.54
6. Robert Curtis-UCSB 6.17
COLLEGE WOMENS
1. Chloe Buckley-Mira Costa 9.36
2. Heather Jordan-Mira Costa 8.50
3. Lipoa Kahaleuahi-UCSB 7.20
4. Allie Brown-SDSU 4.46
5. Emily Wratschko-SDSU 3.17
6. Kelsey Dowdy-UCSB 2.17
COLLEGE LONGBOARD
1. Scott Brandenburg-Saddleback 12.67
2. Jon Hoover-SDSU 11.34
3. Kevin Osborne-UCSB 9.07
4. Blaine Lewis-CSULB 6.76
5. Cole Robbins-UCSB 6.40
6. Jon Shelton-CSULB 5.40
HIGH SCHOOL VARSITY TEAM
1. San Clemente 116
2. Newport Harbor 102
3. Huntington Beach 87
4. Edison 71
5. San Dieguito 64
6. Carlsbad 57
7. Mira Costa 56
8. Laguna Beach 36
9. Half Moon Bay 23
10. Palos Verdes 21
11. Marina 19
HIGH SCHOOL VARSITY MENS
1. Christian Saenz-Huntington Beach 14.50
2. Colin Moran-Newport Harbor 11.83
3. Derrick Disney-San Dieguito 9.54
4. Ian Crane-San Clemente 8.57
5. Shaw Kobayashi-San Clemente 6.63
6. Clay Crandal-Edison 6.23
HIGH SCHOOL VARSITY WOMENS
1. Taylor Pitz-Laguna Beach 13.00
2. Shelby Detmers-Newport Harbor 11.00
3. Kaleigh Gilchrist-Newport Harbor 10.24
4. Marissa Shaw-San Clemente 7.26
5. Emmy Merrill-San Clemente 5.13
6. Paige Ortiz-Huntington Beach 3.37
HIGH SCHOOL VARSITY LONGBOARD
1. Jeff Newell-Edison 14.17
2. Dennis White-San Clemente 11.00
3. Tony Bartovich-Huntington Beach 10.83
4. Michael Joshua-Half Moon Bay 7.83
5. Aaron Cervantes-Newport Harbor 6.77
6. Connor Morey-Mira Costa 6.27
HIGH SCHOOL JUNIOR VARSITY TEAM
1. San Clemente 107
2. Huntington Beach 61
3. Edison 44.5
4. Newport Harbor 36.5
5. Marina 18
HIGH SCHOOL JUNIOR VARSITY MENS
1. Breyden Taylor-San Clemente 12.94
2. Josh Giddings-San Clemente 12.77
3. Jonah Carter-San Clemente 11.93
4. Ian Simmons-San Clemente 9.64
5. Levi Gregory-San Clemente 6.77
6. Fritz Howser-Newport Harbor 4.50
HIGH SCHOOL JUNIOR VARSITY WOMENS
1. Melina Smith-San Clemente 11.67
2. Charlotte Shanahan-San Clemente 5.03
3. Brooke Daigneault- 4.23
4. Erica Andersen-Huntington Beach 3.63
5. Marissa Pechan-Marina 0.0
6. Elizabeth Eddy-Newport Harbor 0.0
HIGH SCHOOL JUNIOR VARSITY LONGBOARD
1. Eli Gillis-San Clemente 15.33
2. Shaun Thompson-Edison 10.83
3. Taylor McDole-Huntington Beach 7.96
4. Austin Gilbert-Newport Harbor 6.00
5. Ryan Ward-Marina 0.33
MIDDLE SCHOOL TEAM
1. Shorecliffs-A 122
2. Marco Forster 72
3. Bernice Ayer 69
4. Sowers-A 55
5. Dwyer 53
6. Thurston 46
7. Shorecliffs-B 38
8. Half Moon Bay 35
9. Sowers-B 15
MIDDLE SCHOOL BOYS
1. Colton Ward-Shorecliffs 9.93
2. Josh Benjoya-Marco Forster 9.17
3. Colton Overin-Bernice Ayer 8.44
4. Colin Deveze-Shorecliffs 7.97
5. Dylan Aragon-Sowers 7.80
6. Corey Colapinto-Shorecliffs 6.52
MIDDLE SCHOOL GIRLS
1. Kulia Doherty-Shorecliffs 11.16
2. Leah Pakpour-Thurston 6.20
3. Karina Rozunko-Shorecliffs 6.10
4. Emmy Lombard-Shorecliffs 2.83
5. Bleu Archbold-Bernice Ayer 2.23
6. Nicole Hines-Marco Forster 2.23
MIDDLE SCHOOL LONGBOARD
1. Andy Nieblas-Shorecliffs 8.30
2. Perry Rohr-Bernice Ayer 7.33
3. Ben Bagg-Marco Forster 5.87
4. Tobie Grierson-Thurston 5.50
5. Jason Schuck-Sowers 5.04
6. Quinten Hegberg-Dwyer 2.90