INTERVIEW WITH 2009 NATIONAL CHAMPION KOLOHE ANDINO
Friday, February 05, 2010 | Written by Janice Aragon
Kolohe Andino Interview: Q & A with the 9-time National Champion
By: Janice Aragon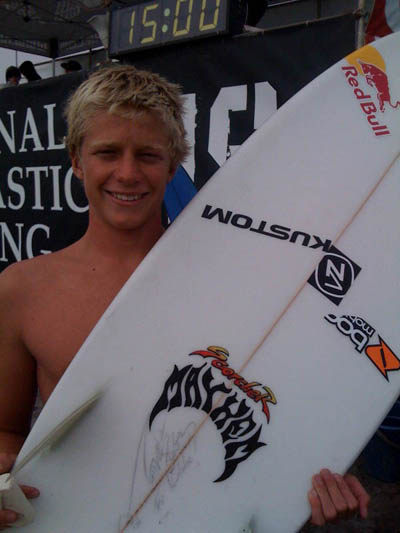 KOLOHE WITH HIS SCORCHER MODEL!
At the age of eight, Kolohe Andino entered his first contest in the Southwest Conference Mini Grom division in September 2002. He went on to qualify for the 2003 National Championships and placed fifth in his first Nationals appearance. The following year he was basically unstoppable on the west coast while beginning his rapid ascent onto the national scene. In 2005 he won his first National title in the Open Mini Grom category. He compiled a five-year-streak of National titles from 2005-2009. In 2009, Kolohe was the overwhelming favorite to take the National Open Juniors title. Instead he floored everyone when he achieved the ultimate prize of youth surfing winning the Open Men's. "NSSA is the place where all my dreams and goals started," Andino said. "And winning the Open Men's at the Nationals is the overall dream." Andino shattered the NSSA record books in multiple facets: At 15 years and 97 days old, he became the youngest surfer to win the National Open Men's title. He also added three more National titles to his resume in 2009 which brought his total to nine breaking the male record of seven previously held by current ASP World Tour surfer Bobby Martinez. He became the first son of a NSSA Champion to win a National Open title more than 20 years after his father Dino took the Open Men's crown in 1985. Andino's accomplishments put him on a list with the sport's elite which includes Martinez, Andy Irons, Bruce Irons, Taylor Knox, Kalani Robb, Fred Patacchia, Greg Long and Patrick Gudauskas. From his first contest back in 2002, Andino worked on developing and polishing the spectacular talent he was blessed with. With the help and guidance of his dad, Dino, a former National Open Men's Champ and ASP standout, young Kolohe was ready, willing and able to step up his game. Tons of hype has followed his young career but Kolohe has shown us time and time again he can emerge from all of it, pushing the boundaries and living up to the challenges. He showed up to the SW Open Season at Oceanside Harbor and once again annihilated his heats en route to the victory in the Men's. During the event, he sat down with me to answer some questions about his big Nationals victory and his rise to the top of the amateur leagues.
Janice Aragon: You ended up winning the big prize but what happened in your Juniors quarterfinal shocker?
Kolohe Andino: Basically there was one set wave in that heat, really inconsistent. I was in second and Lahiki (Minamishin) needed an 8.0 score to advance and at the end of the heat he ripped a wave and got an 8.75.
Did that frustrate you?
Yeah, the year before I lost in the very same round, the very same time, the same exact heat and the very same day. Then I went out in my Open Men's heat that year and got a 9.0. I was only 14 so it fired me up. This year, the same thing happened and it fired me up again. I was bummed because I lost in the Juniors but I had to re-group because I had an Open Men's round three heat soon after. I knew I had to step it up. I definitely didn't want to lose again. Luckily I had a couple more divisions to compete in.
What was your strategy going into the Open Men's final?
My strategy was just like any other heat. I like to start quick, try to build on my scores and not take bad waves. The Men's final is such a long heat and anything could have happened. I was trying to go for it but at the same time just make my waves. That was my strategy and it worked.
Do you think you have an advantage living in San Clemente and surfing the Nationals in basically your backyard?
I definitely have an advantage living there and surfing Lowers almost every day. I live up on the hill so I know how and where the waves are going to break. My shaper Mayhem lives closer to Lowers than I do so he is super knowledgeable about how the boards work there.
Your win in the Open Men's and Explorer Boys divisions took your National title count to nine, passing the former male record of seven held by Bobby Martinez.
When I first started NSSA, I never thought I could be able to catch or beat Bobby's record because I could never picture myself getting up on this podium seven different times. And then five days before the event started at the Creek, I found myself having the goal of trying to beat his record. For me to get nine and break the record is just crazy.
Do you feel any pressure being one of the most prominent Junior surfers, not only in this country, but in the world?
I really don't feel any pressure. I love all of the exposure and the movie parts that I get. I'm just trying to have fun and win some contests as I grow older. A lot of people think I have pressure from my parents and sponsors and stuff but I don't have any of that.
When you go into the bigger events do you feel more pressure?
I focus at any event I surf in. I like to try hard and try to win whatever event I enter. I do train harder for the bigger events, like the Nationals.
Who is your favorite professional surfer?
My favorite pro surfer right now is Dane Reynolds because of his movie parts-they are just ridiculous. He is my hero and he's ripping so hard, even in his heats it's just amazing. Kelly is my favorite competitive surfer because he wins so many events and he's American. I love to watch him win.
How about NSSA surfers?
Conner Coffin, he's actually one of my favorite surfers. We battle all the time and it's great to surf against him. I'm just psyched to beat him in heats sometimes.
You are arguably not only the most well-known teenage surfer in the world; you are one of the most gifted. How do you think you got to this level at 15-years-old?
I'll definitely say how I got to this stage is from my dad. He's been pushing me ever since I was 7 or 8. And he continues to push me. It's a lot about my dad's influence. Billabong sent me on some really great trips and I'm really thankful to them for that. Surfing with some of the best guys in the world has really helped a lot to where I'm at right now.
Who do you think has influenced your surfing the most?
I use to like Taj Burrow a lot during the Montaj days. He is still one of my favorite surfers. When he first came out with Montaj I was obsessed with it. When I watch myself surf I think I surf a little like Taj with my arms. A lot of people say I surf a little bit like Mick Fanning. I'd say Mick and Taj are the ones who have definitely influenced my surfing the most.
Who is your favorite sports figure?
My favorite sports figure is Kelly Slater and Kobe Bryant. I love Kobe because he has that will to win and he is so clutch. In the NBA finals, when he was playing with a broken finger he said "I just really need to feel the pain before I start turning it on." That was so inspirational to me because I'm kind of a wimp when it comes to pain-everything needs to be perfect for me. Kobe is just gnarly. Kelly is also one of my favorites because he wins so many events. I love watching him surf in contests because he is just the best competitor ever in heats.
If you didn't surf, what sport would you compete in?
I play lots of ping-pong so maybe tennis or ping-pong.
What is your favorite subject in school?
My favorite subject is definitely math. It just comes easy to me. I like it a lot more than writing or reading. I've always been into math. I've always had this desire to become a scientist.
After surfing, what career path do you think you will follow?
After surfing I would like to start my own company. I really like clothes-cool clothes that look good. Or maybe whoever I end up riding for at the end of my surf career, I would go into team managing or commentating. But I think starting my own brand would be the way to go, because there is more money and better opportunity in that.
What boards are you riding now?
My whole life I've been riding Mayhems. I recently got my own model-it's called the Scorcher. I love it. What I'm riding at the moment is 5'8 1/2" 18 1/8" and 2 1/8".
So how did the Scorcher come about?
Mayhem made me a board to take to last year's World Championships. It was a different board he called the Scorcher and it had a great shape. It had lots of kick in the tail and all this concave and little bit of vee. It had the qualities of both the Stealth and the Speed Demon 2 that he designed. He said just go try it and I rode it at Worlds and it worked so amazing in small waves. I really loved it. So he just made it my model and I've been seeing a lot of people riding it. I'm really stoked on that.
Where is your favorite place to surf?
My favorite place to surf is probably Indonesia. I just love it there. After the Nationals I went to this place called Telos, a little bit north of the Mentawais. There are some crazy waves there. I had a blast there, it was so much fun. I'd love to go there again.
Could you ever just be a photo surfer?
No, I'm way too competitive to be just a photo guy. Maybe if it was a photo challenge where it involved beating someone but I just don't ever see myself being a photo surfer.
What are your thoughts on winning the Open Men's?
I'm the youngest person to ever win it and that's pretty crazy. Open Men's is the overall dream and I'm stoked I have accomplished that. I just wanted to do my best and surf my best and for me to win the Open Men's and be carried up the beach at my home spot by two of my best friends Luke Davis and Ian Crane is priceless.
I told your dad we were doing this interview and asked him if there was any question he wanted me to ask you. He said "ask him what he likes best about surfing in NSSA?"
Surfing in NSSA taught me about surfing in contests. NSSA always has great events and it brought me to great, different surf spots. But one of the best parts about NSSA contests is always getting to hang with my friends. NSSA brought all my best friends together. I met all my friends here and I've had the best of times being at all the events. I love you guys too. It's always great to see you and Gayline and all the NSSA staff.