SOUTHWEST CONFERENCE EXPLORER OPENING WEEKEND IN HB!
Tuesday, September 08, 2009 | Written by Janice Aragon
NSSA SOUTHWEST CONFERENCE
EXPLORER SEASON EVENT #1
SIX STAR RATED
NINTH STREET, HUNTINGTON BEACH
SEPTEMBER 5-6, 2009
CONDITIONS: 1-3 foot scattered windswell peaks under sweltering sunny skies with warm 70 degree ocean temps.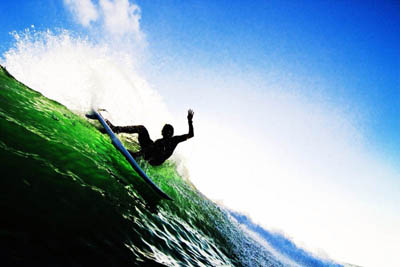 SHAW KOBAYASHI TAKES CONTROL OF THE MEN'S AND JUNIORS!
photo: Steve Thrailkill
The 2009-10 Southwest Conference Explorer Season got underway in small, but contestable 1-3 foot surf at the Ninth Street sandbars of Huntington Beach. More than 200 competitors turned out for the Explorer Season opener which was a six-star rated event with valuable points at stake towards the overall season rankings. Despite the occasional challenging conditions due to tidal changes which plagued the event from start to finish, there were some fun little lefts and rights and competitors were putting some excellent scores on the board. Also to the delight of all the competitors, summer conditions were in full bloom with tropical ocean water temps hovering in the low to mid 70's with gorgeous sunny weather. For Saturday's comp, the wind swell grew stronger in the afternoon and along with the dropping tide, the Men's, Juniors and Boys competitors were provided with some welcomed relief as three foot sets were breaking through on the outside banks. Sunday's action saw a slight drop in swell with 1-2 foot peaky lines dumping on the inside sandbar.
17-year-old Shaw Kobayashi scored a double victory in the Men's and Juniors divisions to open up his 2009-10 season campaign. The reigning 2009 NSSA State Champion returned to the new season visibly stronger than ever destroying the small beach break peaks with flow and power while throwing in a few flashy reverses. In the Explorer Men's category, Kobayashi displayed solid moves to clearly take out the final over Ryan DeLegge, Makito Shito and Stefano Esposito. Perhaps the biggest upset of the contest was Southwest Conference Open Men's Champion Christian Saenz, who bowed out in the Men's semifinals after struggling to find a single wave on the inconsistent outside sandbar.
In the four-man Juniors final, it was more of a 20-minute nail-biter as Kobayashi faced tough opposition from finalists Jake Halstead, Shayne Nelson and Trevor Thornton. Nelson, who was the local favorite, was dismantling the waves in his home turf and lighting up the scoreboard in earlier rounds, most notably in his quarterfinal heat where he posted tremendous scores of 9.0 and 8.5. But Kobayashi was in rhythm, winning the final and is clearly well on his way to having a big year. The San Clemente High School Senior who masters point break surf, credits his improvements in beach break conditions to the time he recently spent in Japan this past August. "The surf is pretty junky in Japan so I got a lot of practice in conditions like this," Kobayashi said after his nailing his second victory of the weekend. "I knew I had to get stronger in beach break for contests so I've been practicing in it a lot and gaining more experience."
It's looking like history could be repeating itself for 11-year-old Huntington Beach wunderkind Kanoa Igarashi. In his 2009-10 NSSA season debut, the pint-sized Japanese phenom was in amazing form taking double victories in the Boys and Menehuene finals. Igarashi, who is a 7th grader at Dwyer Middle School, aced both divisions winning every heat in the contest (eight consecutive heat wins). In the Boys final, Igarashi went to battle with a trio of San Diego surfers-Taylor Clark, Brady Ruysschaert and Jake Marshall. Clark was surfing strong throughout the event posting an excellent 9.0 in his semi. Ruysschaert, showing great improvement from last season, made his first NSSA final and 10-year-old Marshall was surfing beyond his years to make the upper division final. But Igarashi was unstoppable on his home court throwing out an arsenal of maneuvers in the small, mushy waves and taking command of every heat he competed in. In the Menehuene final, Igarashi and Marshall contended with National Mini Grom Champion Kei Kobayashi, Colin Deveze, Keone Bentanzos and Kirk Weissinger. Igarashi put on a clinic in that final posting a 16-point total (out of a possible 20) which was the highest combined total of all the final rounds. "The waves are pretty fun, small but peaky with some air sections," Igarashi said. "I caught some misto rights set rights on the north end of the contest area. I had the rhythm on that peak so I sat there the entire heat and scored a couple of 8-point rides." Igarashi wasn't the only surfer whose skill level soared over the summer. Many of the returning Menehuenes stepped up their game over the summer and there were also a lot of new faces in the lineup. "The Explorer is way more fun this year because there are more kids competing which makes it more challenging," Igarashi said. I'm getting more heat practice so I'm stoked on this year's level of competition. I can't wait for the Open Season to start. I will be competing in the Open Boys and the Open Juniors so it will be fun battling with the older kids." Last season, Igarashi made surfing headlines when he smashed the NSSA record for regular season victories by winning 30 contests (the previous record was 21). He says he is not going to stop there and is setting his sights on surpassing and breaking his own record. "I think I have a better shot this year to break my own record," Igarashi said. "I'm stoked to start off with double wins this year. Last year I won the Menehuenes and got second in the Boys so I'm off to a better start. We'll see what happens after the next few events if I can keep it up and go for another record."
There was some noise in the Womens and Girls categories when top NSSA Hawaii surfers Lani and Kulia Doherty showed up at the first Explorer after making the move to San Clemente from their long-time home on Maui. The sisters, Lani, 16 and Kulia, 13 wasted no time getting into the west coast groove. In deteriorating 1-2 foot shorebreak dribblers, Lani surfed smart and stayed light on her feet throwing up vertical hits to collect her first victory in NSSA Southwest competition. Kulia made both the Girls and Women's finals taking runner-up to Danielle Wyman in the Girls and third in the Women's. Lani, who was a top contender for the National title in 2009 but was bounced out of contention in the Open Womens quarterfinals, is already thinking about the 2010 National Championships and gearing up for a title run. "It's fun to be competing with the west coast girls," Doherty said. "I will be doing all of the Open and Explorer contests this year trying to prepare for the Nationals. I want to make the Nationals finals this year so I'll be doing all the NSSA events to get a lot of heat practice and train hard all season."
Reigning Conference and National Champion Rick Takahashi is looking ready to meet or beat his personal best. Repeating last season's opening day performance, Takahashi put on another dominating performance putting 7-point rides on the scoreboard. He nailed wins in both the Masters and Seniors divisions proving the merit behind his double Nationals titles last June. Despite an injury to his leg muscle earlier in the day, Tim Senneff shook off the pain and exhibited solid moves in the Super Seniors final capturing the victory over Mike Gillard and reigning National Champ Rusty Phillipy. In the newly established Duke division, Patrick Schlick returned to NSSA action and was back in the winner's circle taking the maiden victory. It was no surprise that Schlick was adept in competing in the challenging 1-2 foot grovelers as he makes a habit of surfing the HB beachbreaks nearly every day, no matter the size or shape. "It's nice to win the opener and great to be back competing in the NSSA," Schlick said after locking up the victory in the first ever Duke final. "I want to step up the competition level and get some more people on board in this Duke division. It's really fun to be back in action." In a super close Longboard final, 14-year-old Dane Petersen edged out reigning State JV Longboard Champ Shaun Thompson by a slim 0.2 margin to claim his first win in NSSA competition.
COMING UP IN CALI: The Gold Coast Conference Explorer Season will continue with doubleheader events #3 and #4 September 12-13 at Port Hueneme Pier. The Southwest Conference Open Season will kick off the 2009-10 season the following weekend on September 19-20 at Huntington Street in Huntington Beach and go back-to-back weekends with Southwest Open #2 on September 26-27 at Oceanside South Jetty.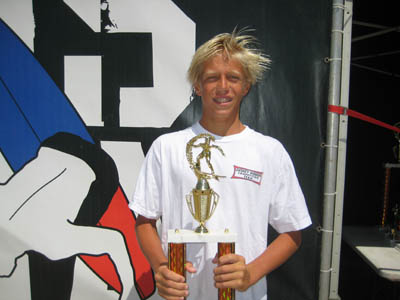 DANE PETERSEN LEADS THE LONGBOARD YOUTH BRIGADE!
THE SCOREBOARD
RESULTS
SOUTHWEST CONFERENCE EXPLORER SEASON EVENT #1
NINTH STREET, HUNTINGTON BEACH
EXPLORER MENS
1. Shaw Kobayashi-San Clemente 10.5
2. Ryan DeLegge-Encinitas 7.5
3. Makito Shito-Costa Mesa 7.0
4. Stefano Esposito-San Clemente 6.5
EXPLORER JUNIORS
1. Shaw Kobayashi-San Clemente 12.0
2. Jake Halstead-La Jolla 10.5
3. Shayne Nelson-Huntington Beach 8.5
4. Trevor Thornton-San Clemente 6.5
EXPLORER BOYS
1. Kanoa Igarashi-Huntington Beach 14.0
2. Taylor Clark-Encinitas 10.5
3. Brady Ruysschaert-La Jolla 9.0
4. Jake Marshall-Encinitas 8.0
EXPLORER MENEHUENE
1. Kanoa Igarashi-Huntington Beach 16.0
2. Kei Kobayashi-San Clemente 9.5
3. Colin Deveze-San Clemente 8.8
4. Jake Marshall-Encinitas 7.5
5. Keone Betanzos-San Diego 5.8
6. Kirk Weissinger-Huntington Beach 5.3
EXPLORER MASTERS
1. Rick Takahashi-San Diego 11.5
2. YuFu Penrose-San Clemente 9.5
3. Neil Bern-Carlsbad 8.8
4. Craig Macia-Imperial Beach 6.5
5. Mat Deveze-San Clemente 4.5
6. Tim Senneff-Del Mar 2.8
EXPLORER SENIORS
1. Rick Takahashi-San Diego 9.5
2. Neil Bern-Carlsbad 6.0
3. Eric Rendon-San Clemente 5.5
4. Jason Granger-San Diego 4.5
5. Mike Glevy-San Diego 4.4
6. Mike Gillard-Coronado 3.0
EXPLORER SUPER SENIORS
1. Tim Senneff-Del Mar 12.5
2. Mike Gillard-Coronado 10.0
3. Rusty Phillipy-Cardiff by the Sea 9.5
4. David Winslow-Encinitas 8.5
5. Masaki Kobayashi-San Clemente 6.0
6. Rick Fignetti-Huntington Beach 4.2
EXPLORER DUKE
1. Patrick Schlick-La Mirada 8.6
2. Scott Lewis-Malibu 6.8
3. Terry Carmadella-Huntington Beach 5.4
4. Peter Townend-Huntington Beach 5.0
EXPLORER WOMENS
1. Lani Doherty-San Clemente 10.0
2. Natalie Anzivino-Torrance 8.8
3. Kulia Doherty-San Clemente 7.5
4. Kylie Loveland-Carlsbad 5.3
5. Harley Taich-La Jolla 5.0
6. Chloe Buckley-San Diego 3.0
EXPLORER GIRLS
1. Danielle Wyman-Laguna Niguel 7.3
2. Kulia Doherty-San Clemente 5.5
3. Harley Taich-La Jolla 5.3
4. Tiare Thompson-La Jolla 5.2
5. Kylie Loveland-Carlsbad 4.5
6. Avalon Johnson-Carlsbad 3.5
EXPLORER LONGBOARD
1. Dane Petersen-Trabuco Canyon 10.7
2. Shaun Thompson-Huntington Beach 10.5
3. Kelly Kraushaar-Placentia 8.0
4. Mike Gillard-Coronado 6.8
5. Kelly Watson-San Juan Capistrano 4.5
6. Justin Brand-Seal Beach 4.3