INTERVIEW WITH 2008 NATIONAL CHAMPION NAT YOUNG
Monday, October 13, 2008 | Written by Janice Aragon
INTERVIEW WITH NAT YOUNG
NSSA EXECUTIVE DIRECTOR JANICE ARAGON GOES ONE ON ONE WITH THE 2008 NATIONAL OPEN MEN'S AND GOVERNOR'S CUP CHAMPION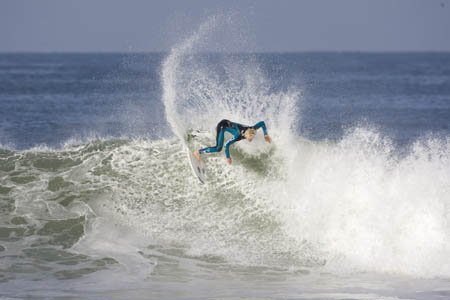 NAT SHOWCASING HIS EXPLOSIVE BACKSIDE.
photo: kenworthy
Imagine being a National Champion at something. Whether it's swimming, track & field, tennis, golf or surfing it really says something. It's a memory and achievement that will last a lifetime. Most people will never be able to draw on that feeling. This year, Nat Young hoped that the final snapshot of his NSSA career would include a National Championship. On June 28, 2008 in front of an electrifying crowd, the 17-year-old from Santa Cruz captured the National Open Men's Championship and California State Parks Governor's Cup title in good 4-6 foot surf at Lower Trestles beating arguably the event's leading prospect Granger Larsen. The Open Men's final is a 35-minute test full of tension and pressure, despite everyone's attempts just to make it another fun heat. However, everyone knows winning in the national spotlight is about a place in history. "I was pretty nervous going into the final," Young said. "I told myself I was going to try and free surf the heat. Usually after I get a good wave in a heat, I kind of relax, but I didn't calm down in that heat because Granger got a good one right after mine. I knew I had to get another good score. I definitely wasn't relaxed."
Born with the famous name he shares with Australian surfing icon Nat Young and the unparalleled Hall of Fame baseball player Cy Young, Young is certainly developing into a premiere athlete in his chosen sport. Only a handful of Northern California surfers have reached National Championship success, and no one in the highly touted Open Men's category. Young made history becoming the first surfer from Santa Cruz to win amateur surfing's most prestigious crown and he recognizes its significance. "That would be cool if my accomplishments would encourage more kids to compete in NSSA contests," Young said. "Hopefully it will inspire more kids to start surfing and going down to the Southwest to compete instead of just staying in Santa Cruz."
When you consider how many National Champions such as Bobby Martinez, Andy Irons, Bruce Irons, Rob Machado, CJ and Damien, Fred Patacchia, Taylor Knox and most recently Nathaniel Curran and Patrick Gudauskas have transitioned into the professional surfing's highest ranks, you've got to wonder if Nat Young will follow in their footsteps as he sets his sights on the next level. Hands down, he's got the drive because it's not the easiest thing being a grom from Northern California and braving its elements. Factor in his budding talent and competitive savvy, chances are he is going to make his legendary namesakes proud.
NAME: NATHANIEL CY YOUNG
BIRTHDATE: JUNE 17, 1991
SCHOOL: GRADUATED FROM ARK INDEPENDENT STUDIES
HOMETOWN: SANTA CRUZ, CA
LOCAL BREAK: THE LANE
PALS YOU SURF WITH: ASHTON MADELEY, JASON HDEZ, SHAUN BURNS
SPONSORS: O'NEILL, NIKE 6.0, OAKLEY, O'NEILL SURF SHOP, FREESTYLE, SEX WAX, CREATURES, STRETCH, GFH SKATEBOARDS, FUTURE FINS
PULLING OUT ALL THE STOPS AT THE NATIONALS.
Janice Aragon: You were named after two famous people, Australian surf legend Nat Young and Hall of Fame baseball player Cy Young. Do you think your name has given you extra motivation?
Nat Young: No, not really. Just because I was named after a surfer doesn't mean I had to surf or just because I was named after a baseball player doesn't mean I had to play baseball.
You've had some time reflect. Has the magnitude of your accomplishment at the Nationals set in?
I'm happy of course. I wasn't really expecting to win. My goal was just to make a final. I was so happy when I made that first final which was the Explorer Men's. When I won the Open Men's, it just didn't feel real.
What was the difference between your performance in 2007 and this year in 2008? This year, I thought there were better waves. I don't like having heats at Lowers when it's small. This year there were more waves and it made it so everyone could catch their own waves. Also last year, I felt like my boards weren't working for me and that was a problem. I also surfed Lowers a lot this past year and it helped because I felt more comfortable out there.
You didn't make any finals at the 2007 Nationals. Did you have any flashbacks of 2007 and what you would do different in 2008?
Yes, I did. This year, I just wanted to get a wave right away whether it was a good one or not, start off super quick. In my Explorer Men's rep, I caught a wave right at the beginning. It scored a 6 and that was a confidence boost because I got a wave in the medium range right at the beginning at that helps.
Your finals performance at the Nationals was amazing. What was your strategy on finals day?
I had three finals and I didn't want to get too tired. I got fourth in the Explorer Juniors final and sixth in the Explorer Men's. I didn't do well in either of those, so I just wanted to do well in at least one of the finals. Luckily the Open Men's was my last final. To get my mind off of it, I just played video games in the Nike tent. I also just wanted to sit out of the sun. Before my heats, I usually go out surfing and try and catch a couple waves, both a left and a right. But actually before the Open Men's final, I didn't surf before the final, It was the only heat I didn't surf before. I told myself I was just going to try to free surf that heat.
Were you nervous?
Yes, I was pretty nervous going into it. Usually after I get a good wave in a heat, I kind of relax, but I didn't relax in that heat because Granger got a good one right after mine. I knew I had to get another good score. I definitely wasn't relaxed.
After you got that first wave and scored a 9.5; you must have had a lot of adrenaline going through your body?
It felt like a wave back home at Pleasure Point. I heard the score announced when I was paddling back out and felt pretty good. But when I got back in the line-up it was a while before the next set came through. So I got nervous again, sitting there waiting all stressed and tense for another wave. I almost fell on the next wave too.
In the final minutes when you were holding down the lead and the ocean went flat, what thoughts were going through your head?
I was just hoping there were no more waves coming. I was sitting the furthest out so if a wave came, I was hoping to catch it and hold Granger off. I was just hoping nothing came. I wasn't sitting on Granger. It's actually hard to sit on someone at Lowers because it's a peak with an equally good right and left so what are you going to do? I was just trying to sit farther out so if a wave did come, I would be in position to get into it before anyone.
How does it feel being the first person from Santa Cruz to win the major amateur title?
It makes me happy. That would be cool if my accomplishments would encourage more kids to compete in NSSA contests. Hopefully it will inspire more kids to start surfing and going down to the Southwest to compete instead of just staying in Santa Cruz.
Do you surf every day?
I surf everyday there are waves and when I'm not driving or flying somewhere.
What's the secret to your fantastic backside ability?
Surfing the rights at the Lane every day.
What are the advantages of living and surfing in Santa Cruz?
Living in Santa Cruz, there are all kinds of waves. I get to practice on different types of waves, not just beach breaks. At home, there are a bunch of point breaks so it's good to practice in that. There are also beach breaks so when it's small I can surf in those conditions which helps for surfing in contests.
What are the disadvantages?
The one disadvantage is there are not many lefts, so I have to travel to work on my frontside. The water is super cold but then it's kind of an advantage because it makes for fewer crowds.
What is your favorite wave in Santa Cruz?
There are so many good waves when it's good. And many of the good spots don't break very often. Probably my favorite is Mitchell's because that is where I learned to surf and it's just right down the street from my house. It's fun because when it's breaking all my friends are out.
Is there any person who particularly inspired you when you were a grom?
There wasn't like one person. Local surfers like Kieran Horn, Adam Repogle and Josh Loya have helped me out a lot. Kieran surfs really good and I look up to him. I really liked watching Campaign 1 and Campaign 2. The surfers in those movies inspired me. Kelly Slater was a big inspiration when I was young.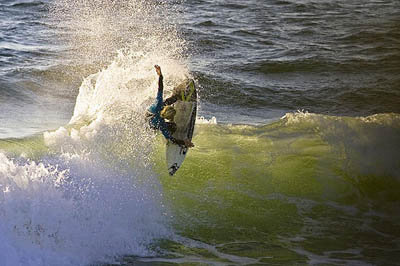 NAT AT GOLD COAST TRAINING GROUND PISMO BEACH.
Not too many surfers from the Northern California region are as dedicated to competition as you are. Why do you think that is and where did you get your competitive spirit?
I'm super competitive in everything. So once I learned how to surf I wanted to do surf contests. I started doing some contests at home and then I did my first NSSA contest in the Gold Coast Conference. My first Gold Coast contest was a great experience. I really liked it a lot so I wanted to keep doing them.
What do you remember about your first NSSA contest?
My first contest was a Gold Coast at Mandalay. I was 13 and competing in the Explorer Boys. I remember I made the final and got second. Andrew Doheny, Quinn McCrystal and Colton Larson were in that final. When I made the final, I was just super stoked. I remember, I learned so much at my first Gold Coast contest. I really liked it a lot so I wanted to keep doing them. I made the top five in the Gold Coast ratings that year and it motivated me to do even better the next season.
Did you play any other sports before surfing?
Yes, I played soccer, basketball and baseball. I started surfing when I was about 11 or 12. Once I started surfing, I basically quit the other sports.
Your mom and you logged in plenty of driving hours. Was all the driving down south worth it for you to develop your competitive skills?
Yes, definitely. I had to go down south and compete in the Open Season to get the experience.
Have you had any guidance or encouragement from the local Santa Cruz pros?
Kieran (Horn) has always guided me on what contests I should be doing. My mom knows most people in Santa Cruz, so I got a lot of encouragement from the local surfers. The Lane was my local spot so it helped that I knew a lot of people. They would push me to get better and give me waves. When I was learning I didn't get the set waves, but at least I would get the smaller ones which was good for practicing and to build my skills.
Tell us where on this planet you would like to surf where you haven't been to yet.
I want to surf Mundaka when it's good because it's a perfect left. All you have to do is stand there and you can get an incredible barrel. I would also like to surf Snapper and one of those perfect beach breaks in France.
You have always been a good student. Do you think you will go to college one day?
Yes, maybe I will go to college one day. What I am doing now is working on a program my mom got me. It's a professional video editing program called Final Cut Pro. After I complete the manuals, I can take the test which will certify me to teach video editing. As far as college, it's hard to go when you are doing the WQS because the WQS involves so much traveling. But maybe one year when there are not so many contests, it would be cool to go to college. I like Spanish a lot. I also like science and reading.
What is your next big challenge?
I want to do really good at the Cold Water Classic this year, hopefully make the final there and then hopefully make it to the World Pro Junior. That would be a big, huge contest for me.
If you weren't pursuing a professional surfing career, what would you be doing?
I like golfing but it takes a lot of time. If it was flat for a month, I would go golfing. I've always liked cooking, I don't cook yet, but I'd like to learn. My dad is a good cook and I always like watching him.
Who impresses you the most about their surfing these days?
I have a lot of favorite surfers. Dane Reynolds because he does big turns and huge airs and makes it look super easy. I like how Julian Wilson, Jordy Smith and Clay Marzo surf a lot. Kelly Slater has made a huge impression on me because I think his turns and carves are the best. Whenever someone comes up with a new move, Kelly will always be able to pull that same move off. If someone invents something, Kelly will be able to do it, it's just amazing. I also like Joel Parkinson because he has such good style and Mick Fanning because he surfs so fast. Bobby Martinez has the best backside. Kieran Horn also surfs super good. If Kieran tried his hardest and focused on the WQS, I think he could easily make the WCT but I don't think he wants that.
What is the coolest thing you did this year that didn't involve surfing?
The coolest thing I did outside of surfing was going to Oregon with Nike. I went paintballing, skateboarding, go-kart racing and got to do a bunch of other fun things. I got to design shoes. It's definitely one of the only times I've been away from the water, that I actually had fun. Nike brought every one of their athletes together. We got to see what styles were coming out for next year and we also got to give them feedback. It was really cool.
What is one thing that people don't know about you?
The one thing that people don't know about me is that I use to be sponsored for boogie boarding. It was Custom X and I got free boogie boards.
Where do you see yourself in 10 years?
I see myself hopefully on the WCT. Also I hope to continue having fun with surfing and still get to go on lots of trips.