NSSA ANNOUNCES THE 2014 SURFER SCHOLAR LIST!
Saturday, June 21, 2014 | Written by NSSA
NSSA ANNOUNCES THE 2014 NSSA SURFER SCHOLARS!
(June 22, 2014– Huntington Beach, Ca) -- One of the primary goals of the National Scholastic Surfing Association is to emphasize and encourage the academic achievement of its membership. The Surfer Scholar list serves to recognize NSSA student surfers who have a passion for learning and have excelled scholastically. For the third consecutive year, Santa Barbara's Dryden Brown was named NSSA Surfer Scholar of the Year for earning the highest GPA of 5.0. The National Scholastic Surfing Association congratulates all of our student surfers who have maintained an outstanding 3.5 GPA or higher for the 2013-14 school year. We are proud to honor these outstanding student athletes!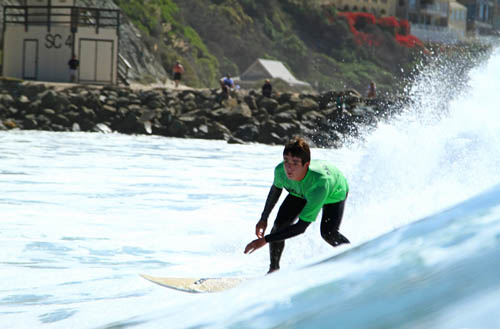 CONGRATULATIONS TO OUR 3X SURFER SCHOLAR OF THE YEAR-DRYDEN BROWN! photo: Steinmetz
5.0
DRYDEN BROWN-Eureka School of Santa Barbara
4.67
Avalon Johnson-Classical Academy High
4.6
Samantha Cendro-Huntington Beach High
Andrew Niemann-Orange Lutheran High
4.0
Trevor Anderberg-San Dieguito Academy
Mary Barber-FIT
Logan Bediamol-Hawaii Technology Academy
Lance Billingsley-UCSD
Tia Blanco-Connections Academy
Will Cole-FIT
Georgia Cook-Heritage Middle School
Sydney Corbitt-Good Shepherd Epsicopal
Micah Crozier-High Tech Middle School
Patrick Brennan-Myrtle Grove Christian
Jackson Butler-Paul Ecke Central School
Christina Coffee-UCF
Sam Coffey-Mission Hills Middle School
Lulu Erkeneff-UCSB
Soleil Errico-Island School
Malia Faramarzi-Dehesa Charter School
Diego Ferri-Halau Lokahi New Charter
Ashley Held-Soquel High
Brisa Hennessy-Hawaii Technology Academy
Nic Hdez-Oasis Independent Studies
Noah Hill-Halstrom High
Logan Hofstetter-Frontier Elementry
Corey Howell-Eau Gallie High
Cassandra Huff-Ray High
Sidney Johnson-Classical Academy High
Kailani Jones-A Beka Academy
Moana Jones-A Beka Academy
Mainei Kinimaka-Kapaa High
Tabatha Knudson-Niu Vally Middle School
Sara Kohrogi-Mira Costa High
Jordan Kudla-Saddleback Christian
Kylie Loveland-Carlsbad Seaside Academy
Connor MacLeod-Dana Hills High
Jake Marshall-Halstrom High
Brad Martin-UCSB
Kyle Marre-CSUSM
Zoe McDougall-Hawaii Technology Academy
Wyatt McHale-Waialua Intermediate
Jared McNally-FIT
Jazmin Ment-UCSB
Addison Miles-Horry County Virtual School
Christopher Murnane-Carlsbad Seaside Academy
Kelta O'Rourde-Island School
Carlina Patey-Kapaa Middle School
Stevie Pittman-Bridgeway Academy
Rachel Presti-Florida Virtual School
Nolan Rapoza-Whitmore School
Jake Riccobuano-Hawaii Technology Academy
Leila Riccobuano- Hawaii Technology Academy
Chauncy Robinson-Florida Virtual School
Jacob Rose-FAU
Samanths Sibley-Shorecliffs Middle School
Gulo Simon-Saddleback College
Frankie Seeley-Malibu High
Peyton Slater-Aviara Oaks Middle School
Noah Steinmetz-Peterson Elementary
Kyle Tester-Sandman School
Rachel Tominaga-Capistrano Connections Academy
Scott Weinhardt-Saddleback College
Ben Wingate-Coronado Beach Elementary
3.9
Sophia Johnston-Maui Preparatory Academy
Theo Kirkham-Lewitt-UCSB
Evan Odom-Rancho Buena Vista High
3.8
Josiah Amico-Golden Valley Charter School
Nick Anderberg-San Dieguito Academy
Wyatt Barrabee-Santa Cruz Alternative
Jack Boyes-Point Loma Nazarene University
Sean Celona-UCSD
Ben Coffey-Santa Cruz High
Griffin Colapinto-Whitmore School
Conner Dand-San Clemente High
Kayla Durden-UNF
James Elkins-CSUSM
Matt Glenn-The Jubilee Academy
Casey Howell-SDSU
Maluhia Kinimaka-Kapaa High
Sara Locke-Point Loma Nazarene University
Uapili Lucey-Kamehameha
Summer Macedo-Sacred Hearts School
Zach Marks-Florida Virtual School
Nick Marshall-Halstrom High
Cassidy McClain-Atlantic Cape Community College
Owen Moss-Wrightsville Beach Elementry
Bailey Nagy-Kahuku High
Brett Naudin-San Dieguito Academy
Kat Neff-Charles P. Murray Middle School
Amanda Plesa-Mira Costa College
Emily Ruppert-UNF
Dagan Stagg-Oxford Preparatory Academy
Tiare Thompson-Muirland Middle School
3.7
Avery Aydelotte-Redeemer Lutheran School
Kelton Beardall-Florida Virtual School
Spencer Bridges-Morristown Beard
William Bunch-Doris Todd Christian Academy
Brandon Carney-SDSU
Michael Ciaramella-UCSD
Caleb Crozier-High Tech Middle School
Davis Freud-Huntington Beach High
Autumn Hays-Santa Cruz High
Samantha Lamirand-San Dieguito Academy
Caroline Marks-Florida Virtual School
Taylor Mathiesen-Santa Fe Christian School
A.J. Menna-New Brighton Middle School
Evan Micele-A Beka Academy
Josh Moniz-Christian Education Institute
Axel Rosenblad-Kalama Intermediate
Olive Smith-Coastal Bend Christian Homeschool
Danielle Wyman-Saddleback
3.6
Charles Akao-Kamehameha
Noah Collins-Capistrano Connections Academy
Aly Chalmers-CSUSM
Micky Clarke-CAVA
Jack Conti-Good Shepherd Catholic School
Chasen Kim-Kamehameha
Ocean Macedo-Sacred Hearts School
Emily Nishimoto-Kalani High
Kevin Piper-Cal State Channel Islands
Eric Ronning-Vista Real Charter High
Kyle Sweasey-UCSD
Cassidy Urbany-Santa Barbara High
Sean Woods-Westlake High
Cody Young-Kekaulike High
Sam Zaiser-SDSU
3.5
Cole Alves-Haleakala Waldorf School
Kaliana Ashkarian-San Elijo Middle School
Jacob Baker-Huntington Beach High
Zane Booth-The Waldorf School
Carlos Carpenter-Santa Cruz High
Jordan Collins-Carlsbad Seaside Academy
Fisher DeVoe-Halstrom High School
Adam Fricke-UCF
Luke Gordon-Lowcountry Preparatory School
Henry Haddock-Waccamaw Intermediate
Jake Hembree-Family Christian School
Dylan Hord-CAVA
Kainehe Hunt-Kapaa Middle School
Holly Keating-Point Loma Nazarene University
Tyler Lawrence-UCF
JD Lewis-Mira Costa College
Nick Muller-Lincoln Park Academy
Zack Raffin-Trevor Day School
Nicholas Miuccio-UCF
Kai Pattison-Point Loma Nazarene University
Matt Regan-Monte Vista Middle School
Nikki Sfeir-UCSD
Marissa Shaw-SDSU
Bronson Wheelan-El Camino High
Eric Weinhardt-Dana Hills High
Sean Winterburn-New Brighton Middle School
Mila Wyman-FAU
Mel Young-UNF