THE 2014 NSSA COLLEGE TEAM SEASON CONCLUDES WITH EVENT #4
Thursday, February 13, 2014 | Written by Gayline Clifford
2013-14 NSSA COLLLEGE TEAM SEASON EVENT #4
Location: 9th St, Huntington Beach
Conditions: 1-3 foot with some fun shoulders
SDSU TAKES THE 2014 CONFERENCE TITLE!
(Huntington Beach, Ca – February 10, 2014) – The NSSA West Coast College Team Season concluded with event #4 on Sunday, February 9 at 9th St in Huntington Beach. The waves were a bit challenging, but we had some super fun shoulders with plenty of scoring potential.
We had a great turn out at the final event of the NSSA West Coast College regular season with twenty five teams competing. In the overall team points race, it was extremely close with team victories riding on the final results from the 3 categories-College Mens, College Womens and College Longboard. Saddleback College squeaked out their second victory of the season with on a nail-biter with a 140-139 victory over Sand Diego State. Their first victory came at the Ventura College event #3 where they tied for first place team honors with Mira Costa. With the win in this event, Saddleback with clinch the overall Team title for the 2014 season!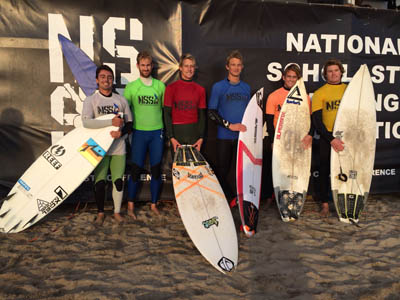 THE SUPER STACKED COLLEGE MENS FINAL!
The College Mens final was a stacked one! Mira Costa's JD Lewis was on fire the entire event and won every single heat (except his second place in the semis), including the win in the final. Saddleback's Jeremy Carter was ripping as well, but came up short on his second scoring wave. Rounding out the final was Austin Finley from Cal State Channel Islands in third, Jack Boyes from Point Loma in fourth, Austin Ganz from UC Santa Barbara in fifth and Mike Ciaramella from UC San Diego in sixth. Shaw Kobayashi from Saddleback Red team placed 17th in this event and will claim the 2014 College Men's conference title.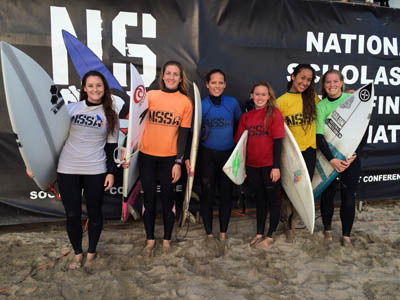 THE ALWAYS ENTERTAINING COLLEGE WOMENS FINALISTS!
University of San Diego's Keenan Lineback was shredding posting huge wave scores and winning every heat she surfed in, clinching the 1st place trophy in the College Womens final. Placing second was Danielle Wyman from Saddleback followed by Marissa Shaw from San Diego State in third, Alexa Dilley from Cal State San Marcos in fourth, Erika Cook from Cal State Long Beach in fifth and Sara Locke from Point Loma in sixth. With her third place finish in this event, Marissa Shaw will win the overall 2014 College Womens Division.
THE LONGBOARDERS PUT ON A SHOW DESPITE THE CHALLENGING HB CONDITIONS!
The College Longboarders were flaring up in the final. Zach Hines from University of San Diego threw down an 8.5 midway through the heat which sealed the win for him. Alex Greene from Cal State Channel Islands also threw down a good 8 point ride but couldn't find a high scoring backup wave and placed second. Casey Powell from USC placed third followed by Eric Marin from UCLA in forth, Joey Wangsness from Point Loma in fifth and Dane Peterson from UCSD in sixth. With Joey Wangsness' fifth place finish, he will be crowned the overall College Longboard Champion for the 2014 season.
Coming up next: The NSSA Interscholastic State Championships will be held March 7-9 at Church Beach in San Onofre.
RESULTS
COLLEGE TEAM PTS
1. Saddleback Red 140
2. SDSU Black 139
3. Mira Costa Red 124
4. UCSD A 116
5. Point Loma A 111
6. UCSB A 100
7. CSUCI 90
8. CSULB B 83
9. USD A 76
10. CSUSM A 57
=11. CPSLO 53
USC 53
13. Point Loma B 39
14. UCLA 38
15. USD B 35
16. CPSLO B 32
17. SDSU RED 31
18. UCSB C 30
19. UCSC 28
=20. UCSD B 22
CSULB A 22
22. Saddleback White 17
23. UCSB B 16
24. CSUSM B 15
25. Mira Costa White 7
COLLEGE MENS
JD Lewis-Mira Costa Red

Jeremy Carter-Saddleback Red

Austin Finley-CSUCI

Jack Boyes-Point Loma A

Austin Ganz-UCSB A

Mike Ciaramella-UCSD A
COLLEGE WOMENS
Keenan Lineback-USD A

Danielle Wyman-Saddleback Red

Marissa Shaw-SDSU Black

Alexa Dilley-CSUSM A

Erika Cook-CSULB B

Sara Locke-Point Loma A
COLLEGE LONGBOARD
Zach Hines-USD A

Alex Greene-CSUCI

Casey Powell-USC

Eric Marin-UCLA

Joey Wangsness-PLNC A

Dane Peterson-UCSD A