SOUTHWEST CONFERENCE HITS SALT CREEK FOR OPEN SEASON EVENT #7!
Wednesday, February 05, 2014 | Written by Janice Aragon
NSSA SOUTHWEST CONFERENCE
OPEN SEASON EVENT #7
SALT CREEK, DANA POINT
FEBRUARY 1-2, 2014
CONDITIONS: Fun, contestable 2-4 foot peaks with fast, racy shoulders.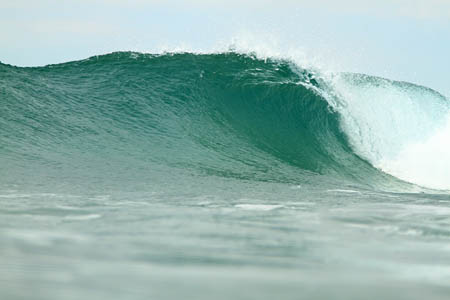 SALT CREEK NUGGET! all photos: Kurt Steinmetz
(Huntington Beach, Ca – February 5, 2014) –the Southwest Conference Open Season headed to the shores of Salt Creek in Dana Point for stop number 7 of the 2013-14 season. Fun, contestable 2-4 foot waves were on offer for the Open Season surfers as they head towards the final four events of the season, crucial for conference title races and ratings points. In the premier Men's division,
KEVIN SCHULZ SNAPS HIS RUNNER-UP JINX WINNING HIS SECOND EVENT OF THE SEASON!
San Clemente's Kevin Schulz snapped a three event streak where he placed runner-up winning his second event of the season. Schulz used his trademark lightning fast moves and progressive aerial moves to dominate the Men's final.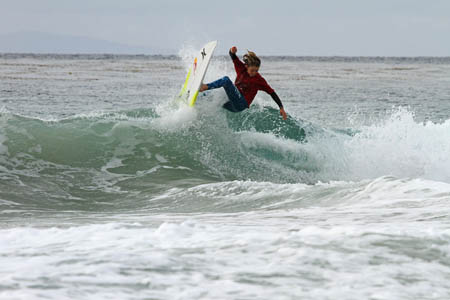 JAKE MARSHALL TAKES CONTROL THE JUNIORS AGAIN!
Jake Marshall continued his command of the Juniors division taking his fifth win of the season.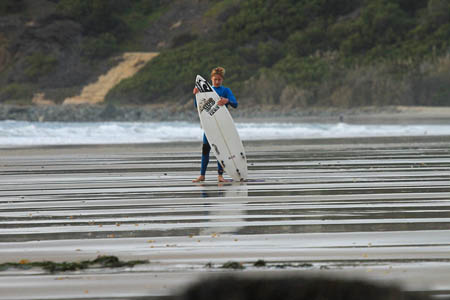 NOAH HILL PREPARES FOR HIS WINNING FINAL PERFORMANCE!
In the Open Boys, talented Noah Hill clinched his fourth victory of the season and will launch to a sizable lead in the ratings.
LEVI SLAWSON SHREDS TO HIS FIRST NSSA OPEN VICTORY!
In the Mini Groms, San Clemente's Jett Schilling had his six event win streak snapped when Encinitas's rising grom up and comer Levi Slawson shredded to victory.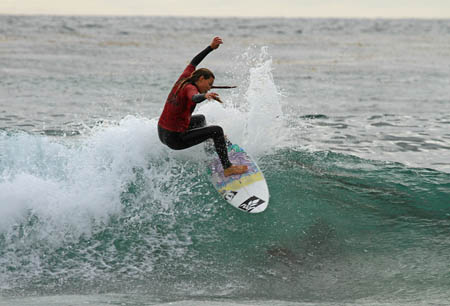 TIA BLANCO PROVES UNSTOPPABLE IN THE WOMENS!
Women's ratings leader Tia Blanco has been virtually unstoppable sealing her sixth win of the season and is in fantastic position to defend her Southwest Conference Open Womens title.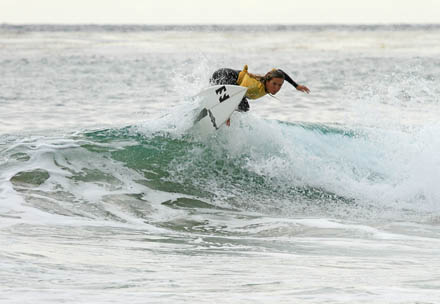 MOANA JONES DELIVERS ANOTHER IMPRESSIVE WINNING DISPLAY!
Hawaii's female wunderkind Moana Jones captured her third win in the Open Girls divisions.
The Southwest Conference Open Season is regarded as the leading competition for west coast surfers. Divisions are offered in Men's, Juniors, Boys, Mini Groms, Womens and Girls. This event was the seventh of 10 events in the Southwest Conference Open Season series. The NSSA Open Season is open to student surfers only.
The NSSA Southwest Conference is proud to have support from Huntington Surf and Sport, Java Point, Surfing Magazine, Sex Wax, Scosche and Channel Islands. Many thanks to the Dana Point Beaches and Harbors, Salt Creek and the NSSA staff for assisting us in staging a professional quality event at Salt Creek for the elite Southwest Open Season series.
COMING UP IN CALI: The NSSA will head to Ninth Street in Huntington Beach for the Southwest Conference Explorer event #8 on February 8th and the 2013/14 College Season finale on February 9th.
THE SCOREBOARD
RESULTS
SOUTHWEST CONFERENCE OPEN SEASON EVENT #7
SALT CREEK, DANA POINT
FEBRUARY 1-2, 2014
OPEN MENS
1. Kevin Schulz-San Clemente 14.33
2. Micky Clarke-Ventura 7.83
3. Ryland Rubens-Pacific Beach 5.73
4. Conner Dand-San Clemente 4.23
OPEN JUNIORS
1. Jake Marshall-Encinitas 12.33
2. John Mel-Newport Beach 8.63
3. Jordan Collins-Carlsbad 8.43
4. Griffin Colapinto-San Clemente 7.64
OPEN BOYS
1. Noah Hill-Malibu 9.33
2. Kade Matson-San Clemente 8.77
3. Jett Schilling-San Clemente 8.27
4. Taro Watanabe-Malibu 5.84
OPEN MINI GROMS
1. Levi Slawson-Encinitas 9.43
2. Jett Schilling-San Clemente 8.66
3. Taj Lindblad-San Clemente 6.57
4. Connor Marshall-Encinitas 3.30
OPEN WOMENS
1. Tia Blanco-San Clemente 11.33
2. Steffi Kerson-Thousand Oaks 7.57
3. Samantha Lamirand-Cardiff 7.47
4. Moana Jones-Haleiwa, Hi 6.47
OPEN GIRLS
1. Moana Jones-Haleiwa, Hi 6.00
2. Sydney Tisdel-Carlsbad 4.06
3. Kailani Jones-Haleiwa, Hi 3.04
4. Alyssa Spencer-Carlsbad 1.87
PERFORMERS OF THE EVENT
Kevin Schulz
Jake Marshall
Tia Blanco
Levi Slawson