NSSA COLLEGE TEAM SEASON EVENT # 3 RESULTS
Thursday, December 19, 2013 | Written by Gayline Clifford
2013-14 NSSA COLLLEGE TEAM SEASON EVENT #3
Location: California St, Ventura
Conditions: chest high right peelers with clean conditions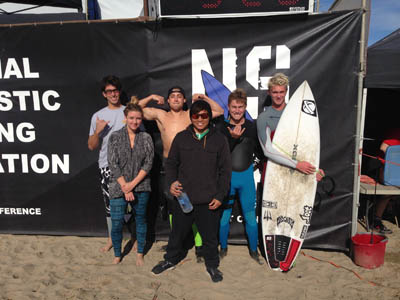 SADDLEBACK SURF TEAM STOKED ON FIRST PLACE!
(Huntington Beach, Ca – December 19, 2013) – The NSSA West Coast College Team Season continued with event #3 on Sunday, December 15 at the fun California Street point in front of the Ventura County Fairgrounds. The competitors were greeted with fun chest high rights and offshore conditions.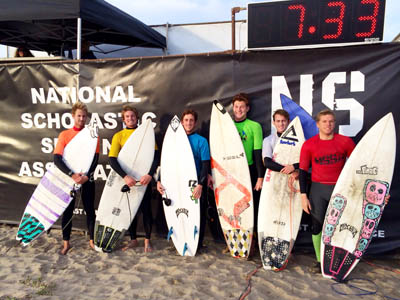 THE COLLEGE MENS PUT ON A GREAT SHOW IN THE FINAL!
Twenty three teams competed on the third stop of the NSSA West Coast College Team Season. Mira Costa Red team and Saddleback Red team ended the event in a dead tie with 124 points apiece!! SDSU Black placed 4th and will remain in first place in the overall team ratings. Cal State Channel Islands team came up big with Austin Finley winning the College Mens Division and Ben Samuel wining the College Longboard division. UCLA's Chandler Parr took the win in the College Womens division with a perfect 10 point ride on one of her waves.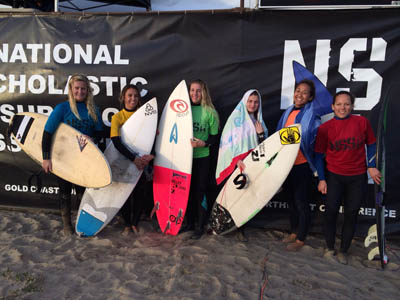 THE STACKED COLLEGE WOMENS FINAL!
Coming up next: College Team Regular Season will conclude with event #4 on February 9 at 9th st in Huntington Beach.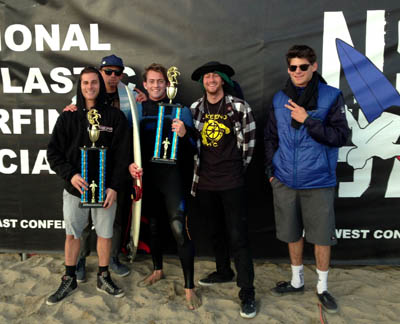 CSU CHANNEL ISLANDS TEAM MEMBERS TOOK TOP HONORS IN THE MENS AND LONGBOARD!
RESULTS
COLLEGE TEAM PTS
=1. Saddleback Red 124
Mira Costa Red 124
3. UCSD A 110
4. SDSU Black 108
5. UCSB A 86
6. CSUCI 85
7. CSULB B 82
8. CPSLO A 75
9. PLNC A 59
=10. UCLA 57
CSUSM A 57
12. Mira Costa White 53
13. UCSD B 44
14. CPSLO B 40
15. UCSB B 36
16. UCSC 34
17. USC 33
=18. CSUSM B 26
CSULB A 26
20. USD 25
21. PLNC B 15
22. SDSU Red 10
23. UCSB C 9
COLLEGE MENS
Austin Finley-CSUCI

JD Lewis-Mira Costa Red

Austin Ganz-UCSB A

Cody Sherman-SDSU Black

Theo Lewitt-UCSB A

Korak Tinoco-Mira Costa Red
COLLEGE WOMENS
Chandler Parr-UCLA

Erika Cook-CSULB B

Danielle Wyman-Saddleback Red

Larissa Lambrou-Mira Costa Red

Rachel Harrell-PLNC A

Marissa Shaw-SDSU Black
COLLEGE LONGBOARD
Ben Samuel-CSUCI

Brad Martin-UCSB B

Cody Watten-CSULB B

Mason Klink-Saddleback A

Joey Wangsness-PLNC A

Casey Powell-USC