NORTHWEST OPEN SEASON DOUBLEHEADER HITS PLEASURE POINT AND STEAMER LANE!
Thursday, December 12, 2013 | Written by Janice Aragon
NSSA NORTHWEST CONFERENCE
OPEN SEASON EVENT #2
PLEASURE POINT, SANTA CRUZ
DECEMBER 8, 2013
CONDITIONS: Small but rippable 2-3 foot righthanders off the Point
CARLOS CARPENTER TAKES THE MENS AT PLEASURE POINT photo: Kurt Steinmetz
(Huntington Beach, Ca – December 12, 2013) –The Santa Cruz leg of the NSSA Northwest Conference 2013-14 season unfolded at Pleasure Point and Steamer Lane in a variety of conditions. At Pleasure Point, the surf was small but contestable and the Northwest kids were ripping whatever energy they could find of the infamous peeling right shoulders. First time NSSA winners at Pleasure Point included Carlos Carpenter who blew up in the Men's final, Sean Woods who was crushing all of his heats en route to his first Juniors win, Sean Winterburn who claimed his first NSSA win with a victory in the Boys final, Jack Conti winning his first in the Mini Groms and Reilly Stone taking the Longboard. Local girls Ashley Held and Autumn Hays continue to dominated the Womens and Girls divisions respectively. Ashley smashed both finals at Pleasure Point and Steamer Lane while Autumn did the same including a clutch comeback high scoring ride to seal the final at the Lane.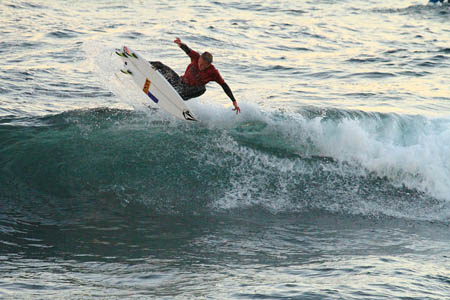 BROGIE PANESI PUNTING AT THE LANE! photo: Kurt Steinmetz
After a frustrating semi final loss at the Pleasure Point event, Pacifica's Brogie Panesi staged one of the biggest comeback wins of the season in the Open Men's final at the Lane. Needing a high 7.0 ride to overtake leader Ben Coffey, Brogie took off on mid-size right pumped down the line, pulled off a clean reverse and knowing that would not give him the score he needed, he punted a the gnarliest, nuttiest reverse right in front of Lane's infamous inside rock. He pulled it off cleanly and the judges rewarded the critical move to give Brogie the win. "That's how bad I wanted to win that thing," he exclaimed the Executive Director Janice Aragon who was astonished but what she had just witnessed! Sam Coffey showed off his local knowledge taking his first win of the season in the Juniors. Fisher Baxter was another local boy who stepped up his performance to nail down his first NSSA win. We were proud of all the Mini Groms charged the legendary Steamer Lane and it was Noah Steinmetz who brought home his first Open victory of his young career.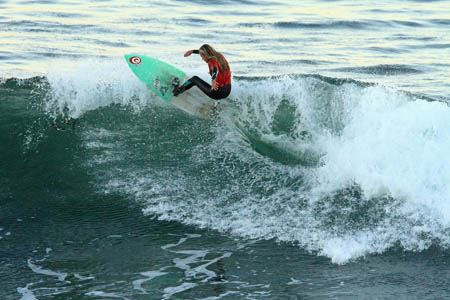 ASHLEY HELD HAS BEEN UNSTOPPABLE IN THE WOMENS! photo: Kurt Steinmetz
The Northwest Conference Open Season is regarded as leading competition for west coast surfers who reside in central and northern California. Divisions are offered in Men's, Juniors, Boys, Mini Groms, Womens and Girls. The NSSA Open Season is open to student surfers only.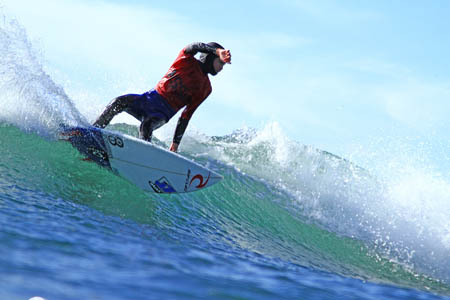 SEAN WOODS CLINCHES HIS FIRST OPEN VICTORY AT PLEASURE POINT! photo: Kurt Steinmetz
The NSSA is proud to have support from Huntington Surf and Sport, Java Point, Surfing Magazine, Sex Wax, Scosche and Channel Islands. Many thanks to the City and County of Santa Cruz, its local surfers and the NSSA staff for assisting us in staging professional quality events at both Pleasure Point and Steamer Lane for the elite Northwest Open Season series.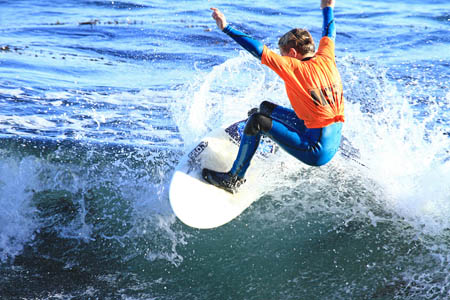 LOCAL BOY SAM COFFEY PULLS OUT ALL THE STOPS AT THE LANE! photo: Kurt Steinmetz
Be sure to check out all the rad photo gallery by Kurt Steinmetz of all the surfing action at Pleasure Point and Steamer Lane. https://www.facebook.com/ImagesByKurtSteinmetz
COMING UP IN CALI: The Gold Coast Conference will be back in action with event #8 at C Street in Ventura on December 14th followed by College Season stop number 3 December 15th at C Street.
THE THRILL OF VICTORY! NOAH STEINMETZ WINS THE MINI GROMS AT THE LANE!
THE SCOREBOARD
RESULTS
SOUTHWEST CONFERENCE OPEN SEASON EVENT #2
PLEASURE POINT, SANTA CRUZ
OPEN MENS
1. Carlos Carpenter-Santa Cruz
2. Ben Coffey-Santa Cruz
3. Nicholas Hdez-Santa Cruz
4. Dryden Brown-Santa Barbara
OPEN JUNIORS
1. Sean Woods-Thousand Oaks
2. Izaiah Hansen-Morro Bay
3. Zane Booth-Santa Barbara
4. Hunter Murison-Half Moon Bay
OPEN BOYS
1. Sean Winterburn-Soquel
2. AJ Menna-Santa Cruz
3. Zane Booth-Santa Barbara
4. Burkley Eggers-El Granada
OPEN MINI GROMS
1. Jack Conti-Santa Cruz
2. Noah Steinmetz-Huntington Beach
3. Jonah Shannon-Pacific Grove
OPEN WOMENS
1. Ashley Held-Santa Cruz
2. Eden Edwards-Santa Cruz
3. Autumn Hays-Santa Cruz
4. Selah Bartlett-Santa Cruz
OPEN GIRLS
1. Autumn Hays-Santa Cruz
2. Eden Edwards-Santa Cruz
3. Ally Menna-Santa Cruz
4. Devon Powers-Santa Cruz
5. Isabella DeGaglia-Santa Cruz
OPEN LONGBOARD
1-Reilly Stone-Santa Cruz
2. Matt Regan-Santa Cruz
PERFORMERS OF THE EVENT
Carlos Carpenter
Sean Woods
Sean Winterburn
NSSA NORTHWEST CONFERENCE
OPEN SEASON EVENT #3
STEAMER LANE, SANTA CRUZ
DECEMBER 10, 2013
CONDITIONS: CONDITIONS: BUILDING WEST SWELL SHOWED UP RIGHT ON TIME AT THE LANE FOR THE DECEMBER 10TH MAKE UP DATE DELIVERING FUN 2-4 FOOT RIGHTS WITH PLENTY OF SCORING OPPORTINITY FOR THE NORTHWEST KIDS
OPEN MENS
1. Brogie Panesi-Pacifica
2. Ben Coffey-Santa Cruz
3. Wyatt Barrabee-Santa Cruz
4. Carlos Carpenter-Santa Cruz
OPEN JUNIORS
1. Sam Coffey-Santa Cruz
2. Zac Proctor-Capitola
3. Izaiah Hansen-Morro Bay
4. Kory Svardal-Santa Cruz
OPEN BOYS
1. Fisher Baxter-Santa Cruz
2. Zane Booth-Santa Barbara
3. AJ Menna-Santa Cruz
4. Burkley Eggers-El Granada
OPEN MINI GROMS
1. Noah Steinmetz-Huntington Beach
2. Jack Conti-Santa Cruz
3. Jonah Shannon-Pacific Grove
OPEN WOMENS
1. Ashley Held-Santa Cruz
2. Autumn Hays-Santa Cruz
3. Selah Bartlett-Santa Cruz
4. Sophie Northcutt-
5. Eden Edwards-Santa Cruz
6. April Martin-Hansen
OPEN GIRLS
1. Autumn Hays-Santa Cruz
2. Eden Edwards-Santa Cruz
3. Ally Menna-Santa Cruz
4. Isabella DeGaglia-Santa Cruz
5. Devon Powers-Santa Cruz
OPEN LONGBOARD
1-Reilly Stone-Santa Cruz
2. Matt Regan-Santa Cruz
PERFORMERS OF THE EVENT
Brogie Panesi
Ashley Held
Fisher Baxter