SOUTHWEST CONFERENCE OPEN SEASON IS BLESSED WITH FUN WAVES AT CHURCH BEACH
Wednesday, December 04, 2013 | Written by Janice Aragon
NSSA SOUTHWEST CONFERENCE
OPEN SEASON EVENT #5
CHURCH BEACH, SAN ONOFRE
NOVEMBER 23-24, 2013
CONDITIONS: A nice little south swell came through producing super fun and contestable waist to chest high lined up rights with a few select good rippable lefts.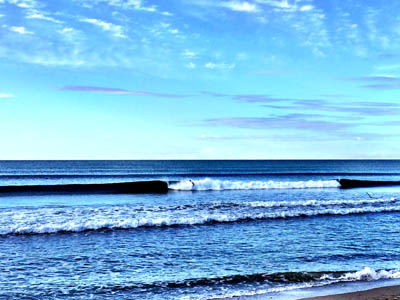 THE SUPER FUN AND SHREDDABLE CHURCH LINEUP! photo: Steinmetz
(Huntington Beach, Ca – December 4, 2013) –the Southwest Conference Open Season headed to the shores of Church Beach in the San Onofre State Park on November 23-24 for stop number 5 of the 2013-14 season. Despite a dismal forecast, mother nature came through as a waist to chest high southwest swell was on offer much to the extreme delight of both the competitors and contest organizers. In the premier Men's division, San Clemente's Colt Ward claimed his first win of the season. Kevin Schulz finished runner up for the second straight event but the good news is he will jump back to the top of the premier Open Mens rankings. Jake Marshall continued his domination of the Juniors division taking his fourth win of the season. Tommy McKeown who has been on fire in Gold Coast Conference competition with an undefeated 7-event win streak in the Menehuenes, put together his first winning performance in the Open Boys. The talk of the town continues to be young Jett Schilling who has been absolutely sensational in the Mini Grom category winning five straight events. Women's ratings leader Tia Blanco had her 3-event win streak snapped at the Newport event 4, but she was back in the driver's seat at Church sealing her fourth win of the season. La Jolla's female up-and-comer Tiare Thompson is rising quickly up the ranks with improving skills sealing her second consecutive Open Girls victory. The Southwest Conference Open Season is regarded as the leading competition for west coast surfers. Divisions are offered in Men's, Juniors, Boys, Mini Groms, Womens and Girls. This event was the second of 10 events in the Southwest Conference Open Season series. The NSSA Open Season is open to student surfers only.
COLT WARD NAILS HIS FIRST WIN OF THE SEASON! photo: Steinmetz
TIA BLANCO TAKES WIN NUMBER 4! photo: Steinmetz
The NSSA Southwest Conference is proud to have support from Huntington Surf and Sport, Java Point, Surfing Magazine, Sex Wax, Scosche and Channel Islands. Many thanks to the California State Parks and the NSSA staff for assisting us in staging a professional quality event at Church Beach for the elite Southwest Open Season series.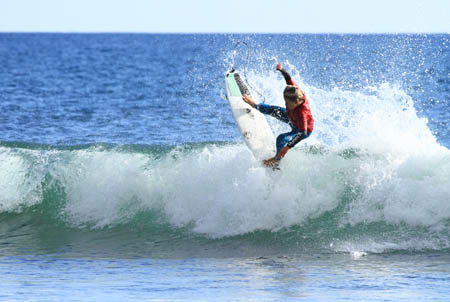 JAKE MARSHALL IS UNSTOPPABLE IN THE JUNIORS! photo: Steinmetz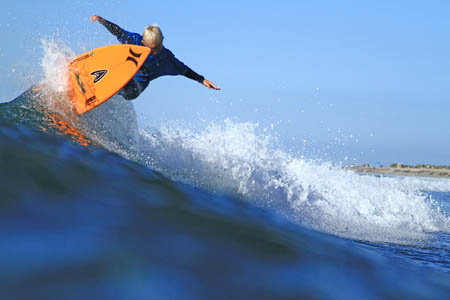 TOMMY MCKEOWN HAS A FIELD DAY ON THE CHURCH RIGHTS! photo: Steinmetz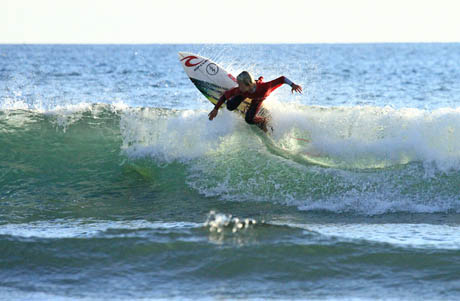 RED-HOT JETT SCHILLING IS UNDEFEATED THROUGH 5 EVENTS IN THE MINI GROMS! photo: Steinmetz
COMING UP IN CALI: The NSSA will head to Norcal for stop number 2 and 3 of the Northwest Conference. The first event of the doubleheader will be held at Pleasure Point on December 7. The following day December 8, the contest will move to Santa Cruz's west side at legendary Steamer Lane.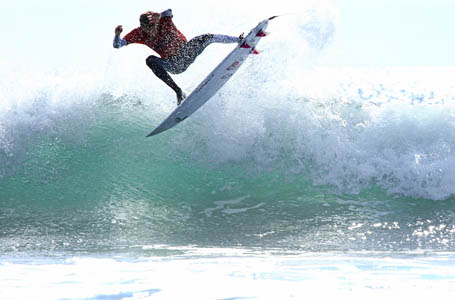 KEVIN SCHULZ SOARS BACK TO THE TOP OF THE MENS RATINGS! photo: Steinmetz
THE SCOREBOARD
RESULTS
SOUTHWEST CONFERENCE OPEN SEASON EVENT #5
CHURCH BEACH, SAN ONOFRE STATE PARK

OPEN MENS
1. Colt Ward-San Clemente 12.37
2. Kevin Schulz-San Clemente 12.26
3. Nicholas Hdez-Santa Cruz 10.83
4. Christopher Murnane-Carlsbad 7.53
OPEN JUNIORS
1. Jake Marshall-Encinitas 12.10
2. Griffin Colapinto-San Clemente 11.83
3. Ryland Rubens-Pacific Beach 9.77
4. Nick Marshall-Encinitas 7.10
OPEN BOYS
1. Tommy McKeown-Oxnard 13.03
2. Noah Hill-Malibu 11.14
3. Taro Watanabe-Malibu 9.27
4. Dagan Stagg-Carlsbad 6.03
OPEN MINI GROMS
1. Jett Schilling-San Clemente 18.77
2. Connor Marshall-Encinitas 8.43
3. Taj Lindblad-San Clemente 6.93
4. Nicholas Coli-San Clemente 5.30
OPEN WOMENS
1. Tia Blanco-San Clemente 12.17
2. Kylie Loveland-Carlsbad 8.27
3. Frankie Seely-Malibu 7.56
4. Malia Osterkamp-San Clemente 5.27
OPEN GIRLS
1. Tiare Thompson-La Jolla 13.00
2. Alyssa Spencer-Carlsbad 10.54
3. Sidney Johnson-Carlsbad 6.23
4. Malia Faramarzi-Encinitas 4.53
PERFORMERS OF THE EVENT
Colt Ward
Jake Marshall
Tommy McKeown
Jett Schilling
Tia Blanco
Tiare Thompson