SOUTHWEST COLLEGE TEAM SEASON EVENT 2 RESULTS FROM SEASIDE REEF!
Tuesday, November 19, 2013 | Written by Gayline Clifford
NSSA SOUTHWEST CONFERENCE
COLLEGE TEAM SEASON EVENT #2
SEASIDE REEF, CARDIFF BY THE SEA
NOVEMBER 17 2013
CONDITIONS: 2'-3' with scattered peaky lefts and rights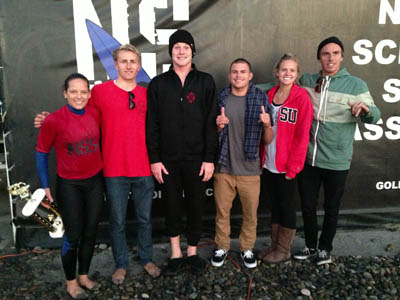 SDSU WINS TAKES TWO STRAIGHT!
(Huntington Beach, Ca – November 19, 2013) –The Southwest Conference College Team event number two was held Sunday, November 17 at Seaside Reef in Cardiff by the Sea. It was a pretty cold morning but temps did warm up throughout the day. The waves were clean with fun 2-3 foot peaks, a little mushy with some fun rippable sections. A total of 24 teams competed in the contest. Although it was far from being Seaside's classic long bowly lefts off the outer reef, the inside sandbars known as "Parking Lots" and "Palisades" had ample peaks for the competitors to rip up. This was the second of a four event series for 2013-13 College Team competition on the West Coast.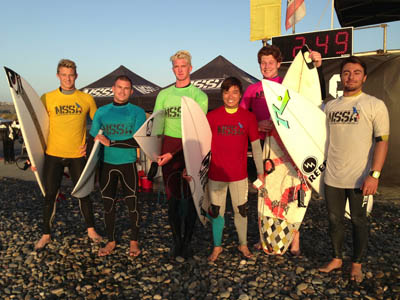 TONS OF TALENT IN THIS COLLEGE MEN'S FINAL!
Highlights from Southwest Conference College Team Season event #2:
**The reigning National Champion San Diego State Aztecs made it two in a row winning event #2 in the team division. SDSU posted a convincing 164 -124 victory over number three ranked University of California San Diego. Number two ranked Saddleback College placed third and will remain in second in the team ratings with UCSD right on their heels. SDSU will jump out to a huge lead in the team standings.
**The Aztecs got off to a quick start advancing all of their six-man squad to round two. Likewise in round three, all 6 of their men's team advanced. The Aztecs lost only one team member in round three and were able to place the remaining members in the quarterfinals. The Aztecs were not able to keep their advancement pace going but still placed two team members in the College Men's final, and one team member in the College Women's final.
** Former NSSA standout Cody Sherman placed fourth in the College Men's final as well as 2012 National College Mens Champion Dayton Silva. Both added tons of firepower to the Aztec's overall point totals.
**The UCSD Tritons were on a roll in round one advancing all team members to the second round but the wheels fell off in round three where four team members were put out. In the final round, Michael Ciaramella took fifth in the College Mens and Longboarder Dane Peterson placed second in the College Longboard final. The Triton's came up second to SDSU on the strength of Ciarmella's and Peterson's performance.
**Saddleback placed third overall in the team standings with Shaw Kobayashi taking his second win in a row in College Men's competition. Shaw was on fire the entire event and winning all of his heats (except a second place in round three) en route to his second straight trip to the podium.
**Point Loma's Jack Boyes came to the event with guns blazing and was the definite standout in round one. Jack posted a 17 out of a possible 20 and was throwing down huge powerful snaps to impress the judging panel. He was one of the top performers of the day finishing third overall in the final.
**The standout in round two was UCSD's Michael Ciaramella. Mikey threw up two vertical gouges on one wave and was rewarded with an 8.87 score.
**As the tide bottomed out in the afternoon, the college finalists were faced with challenging, fast and closed out low tide conditions. However that didn't stop the college kids from going out and maximizing any good shaped peaks that were still on offer. Saddleback's Shaw Kobayashi claimed his second consecutive win on a unanimous judging decision. Shaw starting off the heat strong with two solid scores of 6.6 and 6.0 putting him in the drivers seat. Placing second was San Diego State's Dayton Silva who got off to a slow start, but didn't give up and posted the third highest score of the heat to wrap up second place. Rounding out the final was Point Loma's Jack Boyes in third, Cody Sherman from SDSU in fourth, Michael Ciaramella from UCSD in fifth and Saddlebacks Brandon Hawkins in sixth.
**In the Longboard division on Sunday, Joey Wangsness from Point Loma came to the event in form and ready to surf. Joey won his semi-final heat to place him in the final. With super challenging longboarding conditions, Joey was able to find a couple of clean ones to take the win. Freshman Dane Peterson from UCSD was blowing up the whole event and placed second. Rounding out the 6-man final was Cody Franzen from CSULB in third, Alex Mendez from USD in fourth, Zach Wright from UCSB in fifth Mason Klink from Saddleback in sixth.
** Round one College Womens action saw Alexa Franz from Mira Costa College crush a wave earning a near-perfect 9.7 score, the highest of the entire event. She backed it up with another 8-point ride!
**SDSU's Marissa Shaw was killing it throughout the day in the College Women's division! She won all of her preliminary heats and sealed the deal with a close win in the final over Alexxa Franz. In the final, Marissa got off to a slow start posted some average waves with Alexxa Franz controlling the heat with solid 7.0 and 6.0 rides. However, Marissa came storming back in the final moments of the laying down the hammer posting a huge 9.5 score to edge out Alexxa for the win. Newcomer Jessie Duston from CSULB came ready and was able to place third in her first year in College Women's competition. She had one solid score but was unable to find a good backup wave. Rounding out the final was Sara Locke from Point Loma in fourth, CSULB's Erika Cook in fifth and Saddleback's Daniell Wyman in sixth.
COLLEGE WOMENS FINALISTS!
The NSSA Southwest Conference is proud to have support from Huntington Surf and Sport, Java Point, Surfing Magazine, Sex Wax, Scosche and Channel Islands. A big thank you to the NSSA staff for a top-notch job.
Be sure to keep up with all the NSSA action via the website at nssa.org and social media platforms Facebook and Instagram.
COMING UP IN CALI: The Southwest Open will kick back into gear with event #5 at Church Beach in San Onofre this weekend (Nov 23-24). "Happy Thanksgiving" to everyone and we hope you all enjoy the holiday celebration. We will resume to action up in Santa Cruz with Northwest Opens Season event #2 at Pleasure Point on December 7 followed by event #3 at Steamer Lane on December 8. The Gold Coast Explorer will get back in action on Dec 14 at Ventura harbor. The College Team Season will continue with event #3 on Dec 15 also at Ventura Harbor.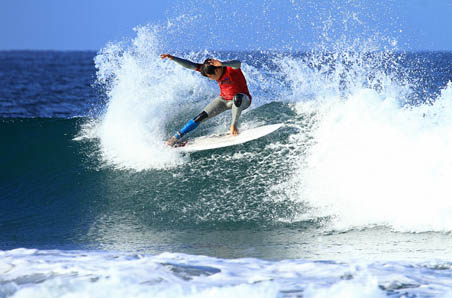 SHAW RIPPING TO HIS SECOND CONSECUTIVE VICTORY!
THE SCOREBOARD
RESULTS
SOUTHWEST CONFERENCE COLLEGE TEAM SEASON EVENT #1
BLACKS BEACH, SAN DIEGO
COLLEGE TEAM
1. SDSU Black -164
2. UCSD A - 123
3. Saddleback A-120
4. CSULB B- 95
=5th-Mira Costa Red-93
Point Loma A-93
7. Cal Poly SLO A-65
8. CSUSM A-62
9. CSU Channel Islands-56
10. UCSB A-51
=11. USD-50
Mira Costa White-50
13. UCSD B-47
14. UC Santa Cruz-45
15. Point Loma B-34
16. USC-33
17. CSULB A-31
18. SDSU Red-28
=19. UCLA-27
Cal Poly SLO B-27
21. CSUSM B-25
22. UCSB B-24
23. Saddleback B-19
24.UCSB C-13
COLLEGE MENS
1. Shaw Kobayashi-Saddleback A
2. Dayton Silva-SDSU Black
3. Jack Boyes-Point Loma A
4. Cody Sherman-SDSU Black
5. Michael Ciaramella-UCSD A
6. Brandon Hawkins-Saddleback A
COLLEGE LONGBOARD
1. Joey Wangness-Point Loma A
2. Dane Peterson-UCSD A
3. Christian Franzen-CSULB A
4. Alex Mendez-USD
5. Zach Wright-UCSB A
6. Mason Klink-Saddleback A
COLLEGE WOMENS
1. Marissa Shaw-SDSU Black
2. Alexa Franz-Mira Costa Red
3. Jessie Dunston-CSULB B
4. Sara Locke-Point Loma A
5. Erika Cook-CSULB B
6. Danielle Wyman-Saddleback