NORTHWEST CONFERENCE OPENING DAY GOES OFF AT MORRO BAY!
Wednesday, October 23, 2013 | Written by Janice Aragon
NSSA NORTHWEST CONFERENCE
OPEN SEASON EVENT #1
MORRO ROCK, MORRO BAY
OCTOBER 20, 2013
CONDITIONS: A combination of small south and northwest swell produced waves in the 2-3 foot range with shifty lines and predominantly fast lined-up running lefts.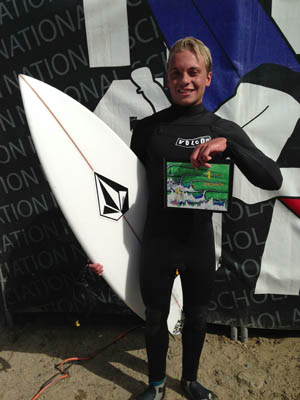 DYNAMIC SURFING FROM BROGIE IN THE MENS!
(Huntington Beach, Ca – October 23, 2013) –Opening day of the NSSA Northwest Conference 2013-14 season unfolded in testing 2-3 foot surf at Morro Rock. The event is the first of seven stops of the Northwest season which offers crucial ranking points for NSSA surfers seeking high ratings and qualification into the NSSA West Coast Regional and elite National Championships. Brogie Panesi 16, took top honors on the opening day of competition at Morro Bay winning the prestigious Open Men's final while also netting the highest score of the event-a near-perfect 9.5 on an inverted air reverse in the semifinals. The young, progressive surfer from Pacifica has been competing in NSSA for over six years and this year could very well be his strongest season yet. He used all of his weapons including rail-driven vert turns and aerials to seal the victory in the hard fought final with Takumi Yasui, Davis Freud and Dryden Brown. Ashley Held 16, put on a dominant back-to-back winning performance in Morro Rock's challenging line-up taking victories in both Women's finals in the Northwest Open and the Gold Coast Explorer which was held the previous day. Morro Bay local boy Izaiah Hansen claimed his first NSSA victory in his first NSSA appearance winning the Juniors final in front of a jubilant hometown crowd. Hansen impressively won all of his heats en route to his finals victory and deservedly received an enthusiastic applause from his family and community. Santa Cruz surfers AJ Menna and Autumn Hays took wins in their respective divisions in the Boys and Girls categories. Nine-year-old Hamilton Jacobs battled the testing conditions like a champ taking his first ever Open victory in the Mini Grom division.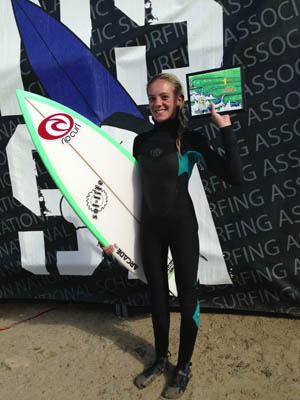 ASHLEY GOES BACK-TO-BACK IN THE GOLD COAST & NORTHWEST
The Northwest Conference Open Season is regarded as leading competition for west coast surfers who reside in central and northern California. Divisions are offered in Men's, Juniors, Boys, Mini Groms, Womens and Girls. The NSSA Open Season is open to student surfers only.
The NSSA Southwest Conference is proud to have support from Huntington Surf and Sport, Java Point, Surfing Magazine, Sex Wax, Scosche and Channel Islands. Many thanks to the City of Morro Bay, its local surfers and the NSSA staff for assisting us in staging a professional quality event to kick off the elite Northwest Open Season series.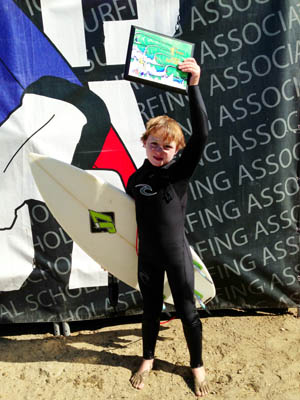 HAMILTON TAKES HIS FIRST NSSA WIN!
COMING UP IN CALI: The Southwest Conference College Season will get underway with opening weekend on October 26-27 at the high performance beach break peaks of San Diego's famous Black's Beach. The Southwest Conference Explorer Season event #6 will take place on October 26 in Mission Beach.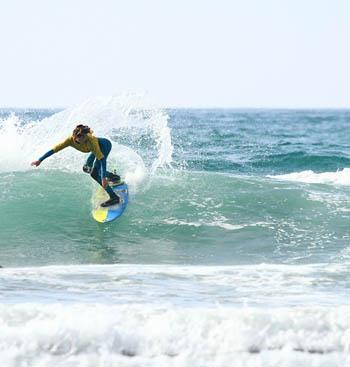 AJ MENNA SLASHING TO THE BOYS VICTORY! photo: Steinmetz
THE SCOREBOARD
RESULTS
SOUTHWEST CONFERENCE OPEN SEASON EVENT #1
MORRO ROCK, MORRO BAY

OPEN MENS
1. Brogie Panesi-Pacifica
2. Takumi Yasui- Saitama, Japan
3. Davis Freud-Huntington Beach
4. Dryden Brown-Santa Barbara
OPEN JUNIORS
1. Izaiah Hansen-Morro Bay
2. Sean Woods-Thousand Oaks
3. Sam Coffey-Santa Cruz
4. Jabe Swierkocki-Ventura
OPEN BOYS
1. AJ Menna-Santa Cruz
2. Sean Winterburn-Soquel
3. Zane Booth-Santa Barbara
4. Santiago Hart-Santa Cruz
OPEN MINI GROMS
1. Hamilton Jacobs-Santa Barbara
2. Noah Steinmetz-Huntington Beach
3. Curtis Jacobs-Santa Barbara
4. Jonah Shannon-Pacific Grove
OPEN WOMENS
1-Ashley Held-Santa Cruz
2. Abby Brown-Santa Barbara
3. Selah Bartlett-Santa Cruz
4. Autumn Hays-Santa Cruz
OPEN GIRLS
1. Autumn Hays-Santa Cruz
2. Eden Edwards-Santa Cruz
3. Devon Powers-Santa Cruz
4. Isabella DeGaglia-Santa Cruz
PERFORMERS OF THE EVENT
Brogie Panesi
Izaiah Hanson
Ashley Held