GOLD COAST CONFERENCE EVENT 5 HITS THE SHORES OF MORRO BAY!
Wednesday, October 23, 2013 | Written by Janice Aragon
NSSA GOLD COAST CONFERENCE
EXPLORER EVENT #5
MORRO ROCK, MORRO BAY
OCTOBER 19, 2013
CONDITIONS: A small southwest and northwest combination of swells produced 2-3 foot surf with challenging tidal swings and predominantly clean conditions.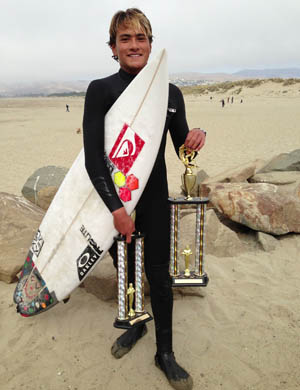 NIC HDEZ DOUBLES UP!
(Huntington Beach, Ca – October 23, 2013) -- The 2013-14 NSSA Gold Coast Conference headed north to the cold waters of Morro Bay for the fifth stop of the 10 event season. Competitors made the best of the chilly but shreddable 2-3 foot surf and challenging tidal fluctuations with quality surfing and solid performances. 16-year-old Nic Hdez from Santa Cruz was the standout of the event taking double first places in the tightly fought Men's and Juniors divisions. The Women's was commanded by a very in form Ashley Held from Santa Cruz, who won the final and then returned to Sunday's Northwest Conference season opener putting forth another triumphant performance. 13-year-old Eden Edwards, also from Santa Cruz competed in her first event of the season and took the Girls win. Ventura's Eithan Osborne sealed his second straight Boys win in Gold Coast competition. Oxnard's Tommy McKeown has been spending a lot of time in the winners circle continuing his undefeated dream run winning his fifth straight in the Menehuene division. Finn Reyes claimed his second win of the season in the Super Groms. Tony Foster continued his fantastic run with five consecutive victories in the Seniors.
EDEN EDWARDS TAKES THE WIN IN GIRLS!
The NSSA Gold Coast Conference is proud to have support from Huntington Surf and Sport, Java Point, Surfing Magazine, Sex Wax, Scosche and Channel Islands. Many thanks to City of Morro Bay and the NSSA staff for assisting us in staging a professional quality event for the Gold Coast Explorer Season series.
Be sure to keep up with all the NSSA action via the website at nssa.org and social media platforms Facebook and Instagram.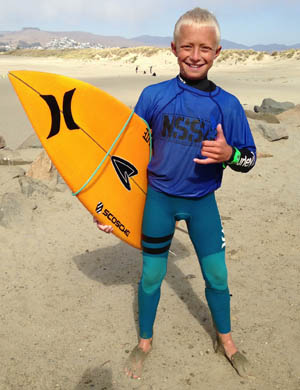 TOMMY MCKEOWN IS 5 FOR 5 IN THE MENEHUENES
COMING UP IN CALI: The Southwest Conference College Season will get underway with opening weekend on October 26-27 at the high performance beach break peaks of San Diego's famous Black's Beach. The Southwest Conference Explorer Season event #6 will take place on October 26 in Mission Beach.
THE SUPER GROM FINALISTS WITH HARDWARE!
THE SCOREBOARD
RESULTS
GOLD COAST CONFERENCE EVENT #5
MORRO ROCK, MORRO BAY
EXPLORER DIVISIONS
EXPLORER MENS
1. Nic Hdez-Santa Cruz
2. Thelen Worrell-Malibu
3. Hunter Martinez-Pasadena
4. Dryden Brown-Santa Barbara
5. Lupin Nye-Point Arena
6. Andre Jones-Point Arena
EXPLORER JUNIORS
1. Nic Hdez-Santa Cruz
2. Takumi Yasui-Saitama, Japan
3. Davis Freud-Huntington Beach
4. Thelen Worrell-Malibu
5. Eithan Osborne-Ventura
6. Amour Armony-Malibu
EXPLORER BOYS
1. Eithan Osborne-Ventura
2. Tommy McKeown-Oxnard
3. Jace Kennedy-San Clemente
4. Josiah Amico-Ventura
5. Sean Woods-Thousand Oaks
6. Quintan Rubalcava-Ojai
EXPLORER MENEHUENE
1. Tommy McKeown-Oxnard
2. Dimitri Poulos-Ventura
3. Jabe Swierkocki-Ventura
4. Burkley Eggers-El Granada
5. Taro Watanabe-Malibu
6. Zane Booth-Santa Barbara
EXPLORER SUPER GROMS
1. Finn Reyes-Camarillo
2. Noah Steinmetz-Huntington Beach
3. Hamilton Jacobs-Santa Barbara
4. Curtis Jacobs-Santa Barbara
5. Liam Osborne-Ventura
6. Hendrick Hopp-Malibu
EXPLORER WOMENS
1. Ashley Held-Santa Cruz
2. Frankie Seely-Malibu
3. Autumn Hays-Santa Cruz
4. Eden Edwards-Santa Cruz
EXPLORER GIRLS
1. Eden Edwards-Santa Cruz
2. Malia Faramarzi-Encinitas
3. Alanna Moore-Carpinteria
4. Cassidy Urbany-Santa Barbara
5. Ruby Singh-Santa Barbara
6. Angel Singh-Santa Barbara
EXPLORER SENIORS
1. Tony Foster-Cayucos
2. Chris Keet-Santa Barbara
3. William Urbany-Santa Barbara
4. Curt Harper-Santa Monica
PERFORMERS OF THE EVENT
Nic Hdez
Tommy McKeown
Tony Foster
About NSSA
The National Scholastic Surfing Association (NSSA) is a nonprofit organization whose mission is to encourage and assist its members in their interest to learn and develop the fundamentals and skills of surfing competition while competing in structured and quality events. The NSSA promotes the qualities of discipline and competitive excellence while supporting the merits of academic achievement to young surfers. The NSSA strives to provide a fun surfing experience for all of its members.
The NSSA is one of the few national youth sports organizations that require its participants to maintain academic standards in order to compete. Since 1978, the NSSA program philosophy has been that athletics and scholastics go hand in hand. More than 80 NSSA events are run nationwide that culminate with the annual National Championships which is regarded as the highest profile youth surfing event in America.
###