SOUTHWEST OPEN EVENT 3 AT SEASIDE REEF!
Wednesday, October 16, 2013 | Written by Janice Aragon
NSSA SOUTHWEST CONFERENCE
OPEN SEASON EVENT #3
SEASIDE REEF, CARDIFF BY THE SEA
OCTOBER 12-13, 2013
CONDITIONS: A combination of southery swell and west wind swell produced waves in the 2-4 foot range with shifty peaks.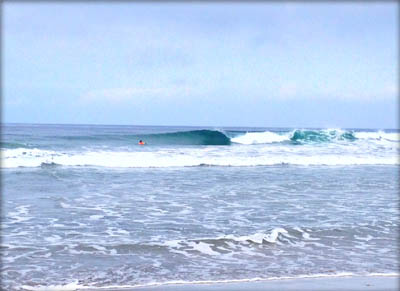 A RIGHT NUGGET AT "PARKING LOTS" photo: Steinmetz
(Huntington Beach, Ca – October 16, 2013) –the Southwest Conference Open Season brought the show on the road for the second consecutive week with event #3 of the 2013-14 season at San Diego's premier break Seaside Reef. A combination of southwest and west wind swell produced 2-4 foot waves with conditions ranging from good to challenging at the "Parking Lots" sandbar which sits inside of the classic Seaside Reef. The waves were demolished by the best student surfers primarily from the west coast but included a huge victory by Japan teenage standout and 2012 National Explorer Boys Champion Takumi Yasui. The Southwest Conference Open Season is regarded as the leading competition for west coast surfers. Divisions are offered in Men's, Juniors, Boys, Mini Groms, Womens and Girls. This event was the second of 10 events in the Southwest Conference Open Season series. The NSSA Open Season is open to student surfers only.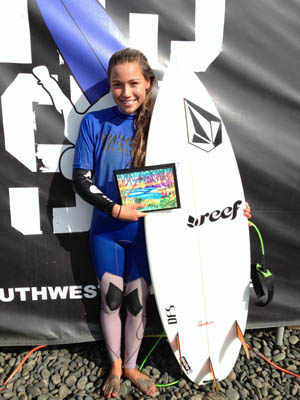 TIA PUTS NUMBER 3 IN THE BANK!
Highlights from Southwest Conference Open Season event 3:
--Tia Blanco and Jett Schilling still have perfect records in the 2013-14 Open Season series. Both put on another big performance with Tia winning her third straight in the Open Womens and Jett taking his third consecutive victory in the Mini Groms.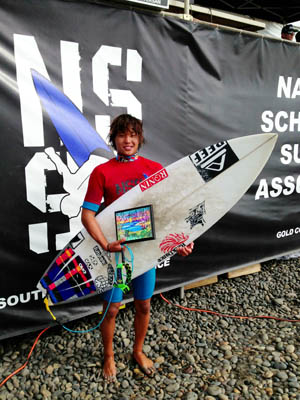 TAKUMI MAKES A TRIUMPHANT RETURN!
--Takumi Yasui returned to NSSA competition for the first time this season winning the Open Men's final convincingly while continuing to cement his status as one of the top teenage Japanese surfers in the world. In the final, Yasui stuck with the consistent peaks coming through at Parking Lots while local boy Jake Marshall went for a long shot and surfed at the north "Palisides" sandbar. But the gamble did not pay off for Marshall as the good quality waves failed to materialize and he ended up finishing second to Yasui. Nic Hdez and Noah Collins were Open Men's standouts for the second event in a row picking up back-to-back third and fourth place finishes respectively. Number one ranked Kevin Schulz was bumped out in the semifinals but will hold on to the ratings lead.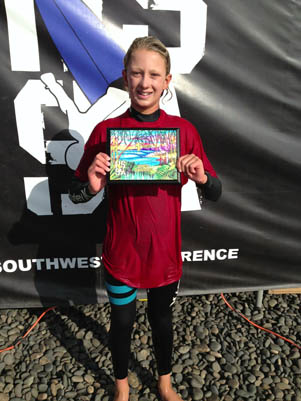 JAKE SEALS HIS SECOND JUNIORS WIN!
--Discontended with his second place finish, Marshall came firing back on all cylinders in the Juniors final crushing the heat with excellent wave scores of 9.03 and 8.83. The win was his second of the season. San Clemente's young dynamic surfer on the rise Gunner Day had a career best performance placing second in the final. However for 13-year-old Day, it was his impressive Juniors quarterfinal performance that caught everyone's attention when he took first in a 4-man talent stacked heat over Jake Marshall while sending standouts Nolan Rapoza and Eithan Osborne to the showers. Rounding out the Juniors final was Ryland Rubens taking third and Danny Kenduck locking up fourth in his second straight finals appearance. Marshall's victory will rocket him back to the top of the ratings.
NOAH PUSHED THE ENVELOPE IN THE BOYS!
--Noah Hill brought his "A" game to the Boys final where he pulverized the heat with lights out surfing earning the highest total score of the event-an 18.80 out of a possible 20. His 9.63 and 9.17 wave scores were the highest of the event. 10-year-old Jett Schilling continues to push his level taking a fantastic second place in the Boys final. Ethan Mudge and Zach McCormick took third and fourth respectively in their first Open finals appearance of the season. Hill will take over the number one position in the Boys ratings.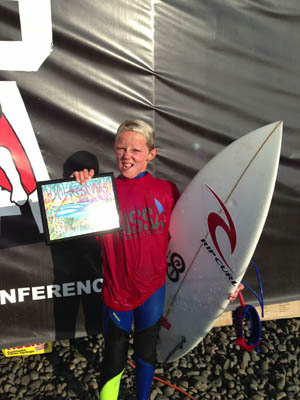 OUR NEWEST GROM DOMINATOR JETT SCHILLING!
--In the Mini Grom 10 & under division Jett Schilling stays on an outstanding pace sealing his third straight victory and will remain undefeated in 2013-14 Southwest Conference Open competition. Levi Slawson nailed his second runner-up finish of the year followed by Connor Marshall in third and Nicholas Coli in fourth. Schilling, Slawson and Marshall have gone 3 for 3 in finals appearances. Schilling's third win will give him a commanding lead in the ratings.
--In Open Women's competition, 16-year-old Tia Blanco from San Clemente continues to remain in blistering form securing her third consecutive win. Malia Osterkamp took second in the Womens final followed by Kylie Loveland and Steffi Kerson. Blanco will build on her ratings lead leading the pack by a near 4,500 point margin.
--Another San Clemente talent on the rise is Alexxa Elseewi who picked up her first Open win of the season with a dominant performance in the Girls final. Elseewi, who's breakout victory came in the Middle School Girls final at the 2013 National Interscholastic Championships will now soar to first place in the Open Girls ratings! Rounding out the Girls final was Sidney Johnson taking second in her best result of the year followed by local girl and NSSA newcomer Elle Sampier and Ashley Beeson taking third and fourth respectively. Johnson, Sampier and Beeson stepped up their games at this event making their first finals in Open competition this season!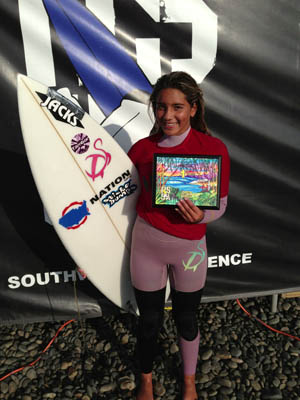 ALEXXA TAKES HER FIRST OPEN WIN!
The NSSA Southwest Conference is proud to have support from Huntington Surf and Sport, Java Point, Surfing Magazine, Sex Wax, Scosche and Channel Islands. Many thanks to the California State Parks and lifeguards, Seaside Reef and the NSSA staff for assisting us in staging a professional quality event to kick off the elite Southwest Open Season series. And a big high five to our commentator Christian Saenz for calling all the action in the Southwest Conference Open Season series.
Be sure to keep up with all the NSSA action via the website at nssa.org and social media platforms Facebook and Instagram.
COMING UP IN CALI: The Gold Coast Conference will head north to the chilly waters of Morro Bay for event #5 on October 19. The following day at Morro Bay, the Northwest Conference will open up its greatly anticipated 2013-14 season of competition with Open event #1.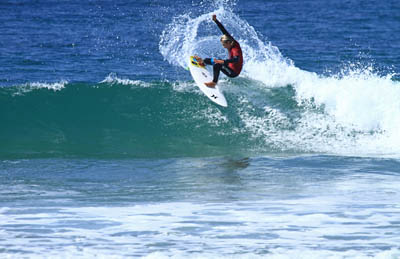 JAKE MARSHALL TEARING UP HIS LOCAL TERRITORY! photo: steinmetz
THE SCOREBOARD
RESULTS
SOUTHWEST CONFERENCE OPEN SEASON EVENT #3
SEASIDE REEF, CARDIFF BY THE SEA

OPEN MENS
1-Takumi Yasui- Saitama, Japan 14.10
2. Jake Marshall-Encinitas 12.17
3. Nic Hdez-Santa Cruz 9.30
4. Noah Collins-Manhattan Beach 8.07
OPEN JUNIORS
1. Jake Marshall-Encinitas 17.86
2. Gunner Day-San Clemente 14.87
3. Ryland Rubens-Pacific Beach 12.00
4. Danny Kenduck-Laguna Niguel 8.17
OPEN BOYS
1. Noah Hill-Marina del Rey 18.80
2. Jett Schilling-San Clemente 8.83
3. Ethan Mudge-Capistrano Beach 6.17
4. Zach McCormick-Del Mar 6.13
OPEN MINI GROMS
1. Jett Schilling-San Clemente 13.10
2. Levi Slawson-Encinitas 10.33
3. Connor Marshall-Encinitas 8.50
4. Nicholas Coli-San Clemente 6.90
OPEN WOMENS
1. Tia Blanco-San Clemente 13.67
2. Malia Osterkamp-San Clemente 10.33
3. Kylie Loveland-Carlsbad 7.50
4. Steffi Kerson-Thousand Oaks 6.76
OPEN GIRLS
1. Alexxa Elseewi-San Clemente 13.00
3. Sidney Johnson-Carlsbad 6.83
3. Eele Sampier-Solana Beach 5.36
4. Ashley Beeson-Trabuco Canyon 5.07
PERFORMERS OF THE EVENT
Jake Marshall
Noah Hill
Tia Blanco
Jett Schilling
Gunner Day
About NSSA
The National Scholastic Surfing Association (NSSA) is a nonprofit organization whose mission is to encourage and assist its members in their interest to learn and develop the fundamentals and skills of surfing competition while competing in structured and quality events. The NSSA promotes the qualities of discipline and competitive excellence while supporting the merits of academic achievement to young surfers. The NSSA strives to provide a fun surfing experience for all of its members.
The NSSA is one of the few national youth sports organizations that require its participants to maintain academic standards in order to compete. Since 1978, the NSSA program philosophy has been that athletics and scholastics go hand in hand. More than 80 NSSA events are run nationwide that culminate with the annual National Championships which is regarded as the highest profile youth surfing event in America.
###