SOUTHWEST CONFERENCE OPEN SEASON EVENT 2 RESULTS FROM HB PIER!
Thursday, October 03, 2013 | Written by Janice Aragon
NSSA SOUTHWEST CONFERENCE
OPEN SEASON EVENT #2
HUNTINGTON BEACH PIER SOUTHSIDE
SEPTEMBER 28-29, 2013
CONDITIONS: A combination of west wind swell and south swell produced waves in the 2-4 foot range with shifty walls and predominantly fast lined-up running lefts.
KEVIN SCHULZ WINS THE MENS AND MOVES TO THE TOP OF THE RATINGS! (all photos: Kurt Steinmetz)
(Huntington Beach, Ca – October 3, 2013) –the Southwest Conference Open Season brought the show on the road for the second consecutive week with event #2 of the 2013-14 season at Huntington Beach Pier. A combination of west wind swell and south swell produced 2-4 foot waves with steep racetrack sections throughout the two day event. The Southwest Conference Open Season is regarded as the leading competition for west coast surfers. Divisions are offered in Men's, Juniors, Boys, Mini Groms, Womens, Girls and Longboard. This event was the second of 10 events in the Southwest Conference Open Season series. The NSSA Open Season is open to student surfers only.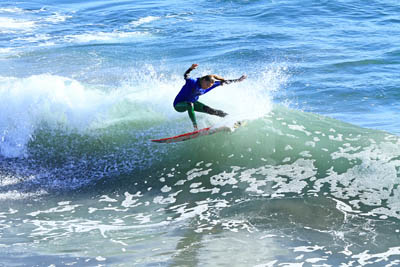 TIA UNLOADS BIG TURNS EN ROUTE TO HER SECOND STRAIGHT WIN!
Highlights from Southwest Conference Open Season opening weekend:
--Tia Blanco, Moana Jones and Jett Schilling rose to the top of the podium for the second time in as many weeks taking victories in their respective divisions.
--Kevin Schulz's lightning fast fronthand and airs proved to be his lethal weapon in the fast peeling, running lefthanders that were on offer on the southside contest zone. Preferring the steeper line-up lefts on the southernmost sandbar of the contest area, Kevin took control of the final throwing in solid combinations of crisp snaps, blow-tails and airs on the racetrack sections. Defending conference Open Men's champ Thelen Worrell was runner-up followed by Nic Hdez and Noah Collins. Schulz's first place in this event combined with his third place at event 1 will move him to the top of the Mens ratings.
--In a hard-fought Juniors final with unstable afternoon conditions setting in, Tyler Gunter used his southside knowledge to seal his first win in the Open Juniors. Gunter, who has won a National title at HB Pier and is very familiar with its fluctuating surf, opened up the heat with a solid left hammering the lip with two big turns which earned a strong 7-point score. This left his opponents searching for one of the scarce better shaped waves with high scoring opportunity. Gunter led the way despite an interference call and barely squeaked out the win by a fraction of a point over runner-up Jordan Collins who's last ditch effort on a small left came up a hair short. Nolan Rapoza took third in his second straight finals appearance followed by an impressive fourth place showing by Danny Kenduck who had a breakout event appearing in his first Open final. Gunter's first place in this event combined by his fourth place in event #1 will put him on top of the ratings leaderboard.
--Tia Blanco continues to turn heads in Open Women's competition. The 16-year-old from San Clemente led the charge again with another commanding performance taking her second win of the season in as many weeks. Hawaii's Moana Jones took second to Blanco for the second consecutive time but then bounced back to win her second straight in the Girls.
--In Boys 12 & under competition, Kade Matson exploded into action in the challenging, shifty peaks. The 11-year-old from San Clemente was going to town on the steep left sections with a vertical backside attack racking up massive wave scores. His two wave combined score of 16.67 was the highest of all the finals-impressive! Dagan Stagg was runner-up followed by Tommy McKeown and Nick Marshall.
--In the Mini Grom 10 & under division San Clemente's newest grom on the rise Jett Schilling was ripping the shifty peaks taking a convincing victory followed by Levi Slawson in second, Patrick O'Connor in third and Connor Marshall taking fourth.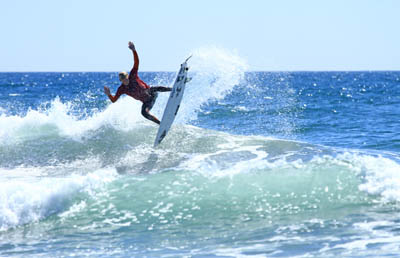 COLT WARD BOOSTING!
--The NSSA Airshows are always a fireworks display and the season airshow opener didn't disappoint. Colt Ward proved that he is one of the frontrunners of progressive surfing launching the winning air and pocketing the $240.00 first place prize.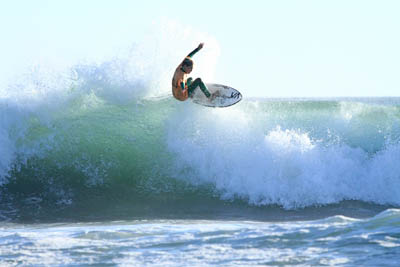 TYLER GUNTER'S TROPHY WAVE!
--Tyler Gunter was named NSSA "Surfer of the Week" for the week of September 29th due to his outstanding triumphant performance in the Juniors final.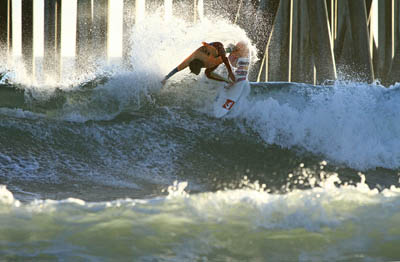 KADE MATSON WAS ON FIRE IN THE BOYS FINAL!
The NSSA Southwest Conference is proud to have support from Huntington Surf and Sport, Java Point, Surfing Magazine, Sex Wax, Scosche and Channel Islands. Many thanks to the City of Huntington Beach, HB lifeguards and the NSSA staff for assisting us in staging a professional quality event to kick off the elite Southwest Open Season series. And a big shout out to commentator Christian Saenz for calling the action.
MOANA JONES SHOWING WHY SHE IS A 3-TIME NATIONAL CHAMPION!
Be sure to keep up with all the NSSA action via the website at nssa.org and social media platforms Facebook and Instagram.
COMING UP IN CALI: The Southwest Explorer will resume competition with event #5 scheduled for October 5th at Salt Creek in Dana Point.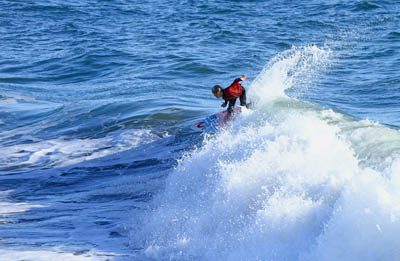 JETT SCHILLING IS OFF TO A TERRIFIC START IN THE MINI GROMS!
THE SCOREBOARD
RESULTS
SOUTHWEST CONFERENCE OPEN SEASON EVENT #2
HUNTINGTON BEACH PIER SOUTHSIDE
OPEN MENS
1. Kevin Schulz-San Clemente 13.00
2. Thelen Worrell-Malibu 10.76
3. Nic Hdez-Santa Cruz 9.33
4. Noah Collins-Manhattan Beach 7.60
OPEN JUNIORS
1. Tyler Gunter-Newport Beach 9.09
2. Jordan Collins-Carlsbad 9.07
3. Nolan Rapoza-Gardena 15.80
4. Danny Kenduck-Laguna Niguel 7.23
OPEN BOYS
1. Kade Matson-San Clemente 16.67
2. Dagan Stagg-Carlsbad 9.37
3. Tommy McKeown-Oxnard 7.97
4. Nick Marshall-Encinitas 6.40
OPEN MINI GROMS
1. Jett Schilling-San Clemente 11.40
2. Nicholas Coli-San Clemente 7.33
3. Levi Slawson-Encinitas 6.26
4. Connor Marshall-Encinitas 6.03
OPEN WOMENS
1. Tia Blanco-San Clemente 15.00
2. Moana Jones-Haleiwa, Hi 12.34
3. Steffi Kerson-Thousand Oaks 8.37
4. Leilani McGonagle-Costa Rica 7.43
OPEN GIRLS
1. Moana Jones-Haleiwa, Hi 13.33
2. Alexxa Elseewi-San Clemente 10.30
3. Kailani Jones-Haleiwa, Hi 9.73
4. Tiare Thompson-La Jolla 6.60
AIRSHOW
1. Colt Ward-San Clemente
2. Jordan Kudla-San Clemente
3. Nic Hdez-Santa Cruz
4. Thelen Worrell-Malibu
5. Nolan Rapoza-Gardena
6. Nick Marshall-Encinitas
PERFORMERS OF THE EVENT
Kevin Schulz
Tia Blanco
Tyler Gunter
Kade Matson
Jett Schilling
Moana Jones
About NSSA
The National Scholastic Surfing Association (NSSA) is a nonprofit organization whose mission is to encourage and assist its members in their interest to learn and develop the fundamentals and skills of surfing competition while competing in structured and quality events. The NSSA promotes the qualities of discipline and competitive excellence while supporting the merits of academic achievement to young surfers. The NSSA strives to provide a fun surfing experience for all of its members.
The NSSA is one of the few national youth sports organizations that require its participants to maintain academic standards in order to compete. Since 1978, the NSSA program philosophy has been that athletics and scholastics go hand in hand. More than 80 NSSA events are run nationwide that culminate with the annual National Championships which is regarded as the highest profile youth surfing event in America.
###