NSSA SOUTHWEST CONFERENCE OPEN SEASON KICKS OFF THE 2013-14 SEASON IN OCEANSIDE!
Wednesday, September 25, 2013 | Written by Janice Aragon
NSSA SOUTHWEST CONFERENCE
OPEN SEASON EVENT #1
OCEANSIDE SOUTH JETTY
SEPTEMBER 21-22, 2013
CONDITIONS: Shreddable chest to head high running lefthanders.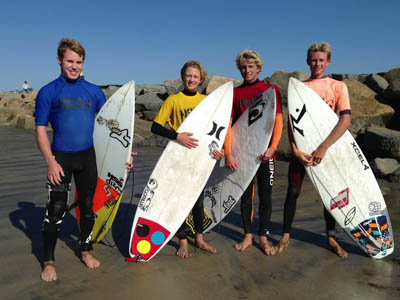 THE FINALISTS FROM THE PREMIER OPEN MEN'S DIVISION!
(Huntington Beach, Ca – September 25, 2013) –the Southwest Conference Open Season launched the first event of the 2013-14 season September 21-22 at Oceanside's South Jetty. Without fail, the south jetty delivered fun and consistent 2-4 foot surf throughout the entire two-day event setting the stage for the elite season opener as student surfers battled to get a solid head start in the season rankings. Without a doubt, the kids showed up on opening weekend pushing the performance envelope as we witnessed the talent level soaring to new heights including two perfect 10-point rides posted by Jake Marshall and Tia Blanco. The Southwest Conference Open Season is regarded as the leading competition for west coast surfers. Divisions are offered in Men's, Juniors, Boys, Mini Groms, Womens, Girls and Longboard. This event was the first of 10 events in the Southwest Conference Open Season series. The NSSA Open Season is open to student surfers only.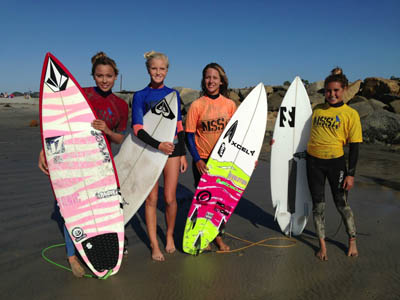 THE PRESTIGIOUS OPEN WOMEN'S FIELD IS CROWDED WITH TALENT THIS SEASON!
Highlights from Southwest Conference Open Season opening weekend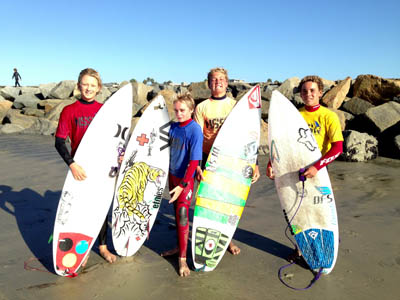 THE JUNIORS FINAL LIVED UP TO IT'S HIGH EXPECTATION!
--14-year-old Jake Marshall from Encinitas maximized every ounce of the running lefthanders linking up multiple turns with a precision backside attack. He won every heat in the Open Mens and Open Juniors categories. What's more impressive is throughout nine total heats surfed, he never posted below a 7.6 in his two wave score line. Marshall didn't miss a beat in his Juniors quarterfinal where he earned the first perfect 10-point score in NSSA west coast competition and backed it up with another close-to-flawless 9.67 netting a 19.67 combined total-the highest combined heat score of the weekend and the season.
--Hotly contested heats were witnessed throughout the two-day competition with the top west coast surfers vying for a final's berth in the season opener. Joining Marshall in the final was the powerful Colt Ward, aerial whiz Kevin Schulz, who was the defending champ of the last year's Open Season opener and Jake Saenz who returned back to competition from a bad knee injury that has sidelined him since mid May. Ward opened up solid with a 7.5 score while Schulz stayed busy riding a lot of waves with his top rides coming in the 6-point range. Saenz struggled to find rhythm on the waves with high scoring opportunity along with Marshall who needed a high score to take the win. Keeping his composure, the strong-willed Marshall annihilated another one of the running lefts earning a clutch 8.5 score which sealed the win.
--In the Juniors final, Marshall was joined by Nolan Rapoza, Micky Clarke and young Tyler Gunter who stepped it up big to make the final. Although Marshall was in relentless pursuit of another win in his true division, Rapoza was putting on a progressive show all weekend and Clarke's strong backside surfing was on point which would make this final a hard-fought battle. Marshall took the lead posting solid scores of 8.5 and 7.5 leaving everyone searching for two big scores. Clarke's 8.37 was the high score of the final but he needed a 7.64 for the win. A last ditch air reverse from Rapoza in the final moments of the final came in a hair short of the needed 8.04 score and Marshall walked away with his second victory of the event and one heck of a way to start off the season!
--Tia Blanco took control of the season opener start to finish consistently posting the highest heat totals and wave scores in her heats. Confirming her status as one of the top young female surfers in the nation, Blanco claimed her first career perfect 10. Tia's high performance display and excellent result reveals her as a top potential threat for a National title in 2014-a goal she is focusing on. Hawaii's talented Moana Jones returned to Southwest competition and was surfing superbly. The 14-year-old from Haleiwa was runner-up to Blanco in the Women's and took her first win of the season in the Girls. Rounding out the Womens final was Gold Coast Conference standout Steffi Kerson taking third and Kylie Loveland placing fourth. Moana's younger sister Kailani took second in the Girls followed by Leilani McGonagle in third and Alexxa Elseewi taking fourth.
--In Boys 12 & under competition, Noah Hill surfed a solid final to take his first win of the season. Nick Marshall was runner-up followed by Sebastian Mendes and Kade Matson.
--In the Mini Grom 10 & under division San Clemente's newest grom on the rise Jett Schilling was ripping the shifty peaks taking a convincing victory followed by Levi Slawson in second, Patrick O'Connor in third and Connor Marshall taking fourth.
--Jake Marshall and Tia Blanco shared NSSA "Surfer of the Week" honors for the week of September 22nd based on their stellar performance at the Southwest Open Season opener.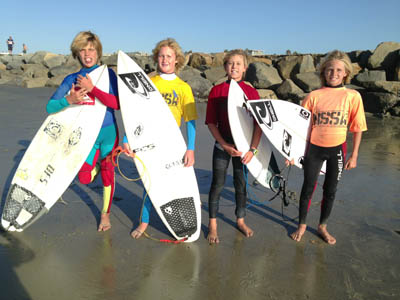 THE BOYS FINALISTS-HEAPS OF TALENT IN THIS CREW!
The NSSA Southwest Conference is proud to have support from Huntington Surf and Sport, Java Point, Surfing Magazine, Sex Wax, Scosche and Channel Islands. Many thanks to the City of Oceanside, Oceanside lifeguards and the NSSA staff for assisting us in staging a professional quality event to kick off the elite Southwest Open Season series. And a big shout out to commentator Christian Saenz for calling the action at the season opener.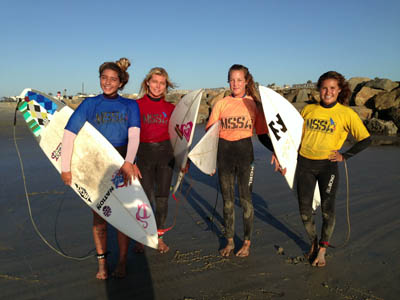 THE GIRLS FINALISTS WERE SHREDDING!
COMING UP IN CALI: Premier competition on the west coast will continue with the second stop of the Southwest Open Season coming to the southside of the Huntington Beach Pier on September 28-29. The Southwest Explorer will resume competition with event #5 scheduled for October 5th at Salt Creek in Dana Point.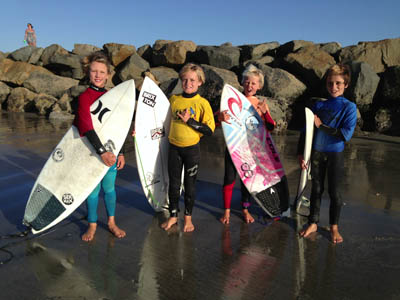 THE MIGHTY MINI GROMS!
THE SCOREBOARD
RESULTS
SOUTHWEST CONFERENCE OPEN SEASON EVENT #1
OCEANSIDE SOUTH JETTY
OPEN MENS
1. Jake Marshall-Encinitas 14.50
2. Colt Ward-San Clemente 12.70
3. Kevin Schulz-San Clemente 12.37
4. Jake Saenz-Huntington Beach 10.96
OPEN JUNIORS
1. Jake Marshall-Encinitas 16.00
2. Nolan Rapoza-Gardena 15.80
3. Micky Clarke-Ventura 13.50
4. Tyler Gunter-Newport Beach 10.23
OPEN BOYS
1. Noah Hill-Malibu 12.24
2. Nick Marshall-Encinitas 10.10
3. Sebastian Mendes-Agoura Hills 9.40
4. Kade Matson-San Clemente 8.70
OPEN MINI GROMS
1. Jett Schilling-San Clemente 12.34
2. Levi Slawson-Encinitas 6.65
3. Patrick O'Connor-San Juan Capistrano 5.97
4. Connor Marshall-Encinitas 5.67
OPEN WOMENS
1. Tia Blanco-San Clemente 13.00
2. Moana Jones-Haleiwa, Hi 11.60
3. Steffi Kerson- 10.90
4. Kylie Loveland-Carlsbad 7.53
OPEN GIRLS
1. Moana Jones-Haleiwa, Hi 15.67
2. Kailani Jones-Haleiwa, Hi 11.06
3. Leilani McGonagle-Del Rey Oaks 7.14
4. Alexxa Elseewi-San Clemente 6.23
PERFORMERS OF THE EVENT
Jake Marshall
Tia Blanco
About NSSA
The National Scholastic Surfing Association (NSSA) is a nonprofit organization whose mission is to encourage and assist its members in their interest to learn and develop the fundamentals and skills of surfing competition while competing in structured and quality events. The NSSA promotes the qualities of discipline and competitive excellence while supporting the merits of academic achievement to young surfers. The NSSA strives to provide a fun surfing experience for all of its members.
The NSSA is one of the few national youth sports organizations that require its participants to maintain academic standards in order to compete. Since 1978, the NSSA program philosophy has been that athletics and scholastics go hand in hand. More than 80 NSSA events are run nationwide that culminate with the annual National Championships which is regarded as the highest profile youth surfing event in America.
###