NSSA WEST COAST REGIONAL CHAMPIONSHIPS KICK OFF THURSDAY AT HB PIER
Tuesday, May 14, 2013 | Written by NSSA Press Release
NSSA WEST COAST REGIONAL CHAMPIONSHIPS
HUNTINGTON BEACH PIER, CALIFORNIA
MAY 16-19, 2013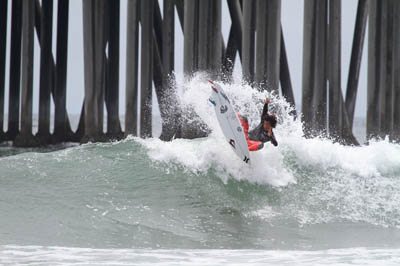 HIROTO OOHARA WILL AIM FOR TWO STRAIGHT IN OPEN MENS
(all photos: Kurt Steimetz www.imagesbykurtsteinmetz)
(Huntington Beach, Ca – May 14, 2013) - In its seventeenth year of existence, the NSSA West Coast Regional Championships presented by Hurley returns to Huntington Beach, California Surf City, USA. The championships is scheduled for May 16-19th on the southside of the Huntington Beach Pier.
The 2013 West Coast Regional Championships is the final qualifying event for the 2012-13 season for surfers looking for qualification to the NSSA National Championships June 26-July 3 which is also held at the Huntington Beach Pier. There are 20 Regional titles up for grabs. The premier Open division features seven competition categories in Mens (16 & up), Juniors (15 & under), Boys (12 & under), Mini Groms (10 & under), Womens (all ages), Girls (14 & under), Longboard (all ages). The Explorer division features 13 competition categories including Mens (all ages), Juniors (17 & under), Boys (14 & under), Menehuene (12 & under), Super Groms (10 & under), Womens (all ages), Girls (14 & under), Masters (25 & up), Seniors (35 & up), Super Seniors (45 & up), Duke (55 & up), Longboard (all ages), Kneeboard (all ages). Approximately 400 contestants will be competing at the event.
The top male and female surfers from the west coast as well as a hungry field of up-and-coming groms will go to battle for the coveted regional titles. Past male winners of the West Coast Championships include Bobby Martinez, Brett Simpson, Dane Reynolds, Patrick Gudauskas, Tanner Gudauskas, Nat Young and Kolohe Andino. Past female winners include Courtney Conlogue, Sage Erickson and Lakey Peterson.
The West Coast Regional Championships plays a major role in recognizing top talent from the west coast as well as a legitimate vision into who are the high performance standouts in Huntington's legendary southside arena which is also home to the NSSA National Championships and the US Open of Surfing.
"The West Coast Regionals provides an excellent opportunity for surfers looking to gain valuable ranking points towards National Championship seeding as well as fundamental competitive experience," said NSSA Executive Director Janice Aragon. "There is nothing in the world like the stadium feel of Huntington Beach Pier. If you are going to progress to a professional surfing career, performing successfully on southside is crucial. I am looking forward to seeing all of the action unfold this week!"
JAKE MARSHALL IS ALWAYS ON HIS GAME AT HB PIER
Numerous surfers will be on quest to repeat their 2012 titles and/or add more West Coast titles to their performance resumes. Japan's Hiroto Oohara will go for back-to-back Open Men's titles. Last year's Open Juniors Champ Nic Hdez moved into the Men's age bracket and will shoot to win two straight Open titles. Hdez recently sealed the conference title in the Northwest Men's division. Malibu's Thelen Worrell took home the Regional title in Explorer Juniors in 2012 and will aim to make it two straight in that division. Worrell has come off a fantastic regular season performance where he claimed the prestigious Southwest Open Men's conference title and will go into the West Coast Championships as the number one ranked surfer.
Encinitas' Jake Marshall dominated the regular season with inspiring surfing displays weekend after weekend collecting double conference titles in the Southwest Open Juniors and Explorer Boys. He's got the Huntington beachbreak wired as noted by his Nationals and Regional victories on southside. He has a career record of four Regional titles but didn't win any last year so he'll be on a mission. San Clemente's Griffin Colapinto rose to the occasion at the 2011 West Coast Champs when he won the hotly contested Open Juniors division at the age of 12. He backed it up with a Regional victory in the Explorer Boys in 2012 along with a runner up finish in the Open Juniors.
Malibu female standout Frankie Harrer has been nothing short of superb performing in the southside arena at the past three West Coast Regionals. The NSSA's season-wins record holder claimed back-to-back-to-back titles in Explorer Girls in 2010, 2011 and 2012. She also took the Explorer Womens in 2011 and Open Girls in 2011 and 2012 for a total of six career Regional titles. The Women's divisions at this year's West Coast Championships should be at one of the highest competitive levels. Along with Harrer, top season performers including 2013 Southwest Open Womens Champion Tia Blanco, number two ranked Kylie Loveland, Barbados champion Chelsea Tuach, and talented Hawaiian Moana Jones will all set their sights on Regional titles.
Like Marshall, John Mel has been very successful in Huntington. He took command of the 12 & under categories last year winning double Regional titles in the Open Boys and Explorer Menehuene. He has also collected two National titles.
Carlsbad's Dagan Stagg had a breakout performance at the 2012 West Coast Championships nailing his first major NSSA title winning the Mini Grom division. He backed it up with a conference title in the Explorer Menehuene division this season. Stagg will have some heavy competition in his age category where he'll contend against a number of 12 & under NSSA champion standouts including Eithan Osborne, Cole Houshmand, Tyler Gunter, Nick Marshall and Noah Hill.
Other 2012 Regional Champions who will aspire to go back-to-back are Rick Takahashi (Masters and Seniors), Mike Glevy (Super Seniors), Rick Fignetti (Duke ) and Taylor Clark (Airshow).
In 2012, five West Coast Champions went on to win National titles-Nick Marshall (Open Mini Groms), Frankie Harrer (Open Girls), John Mel (Explorer Menehuene), Rick Takahashi (Masters and Seniors), Rick Fignetti (Super Seniors and Duke)
DAGAN STAGG-2012 WEST COAST REGIONAL MINI GROM CHAMPION
2013 WEST COAST REGIONAL CHAMPIONSHIP AWARDS: The presentation of the 2013 West Coast Regional Championship finalists and champions will be held Sunday, May 19 at 4:50pm at the contest site.
The 2013 NSSA West Coast Regional Championships is proud to have support from Hurley, Huntington Surf and Sport, Java Point, Surfing Magazine, Sex Wax, Scosche, Clif Bar, Grom Social, Hi-Chew and the City of Huntington Beach.
Be sure to keep up with all the NSSA action via the website at nssa.org and social media platforms Facebook and Instagram.
The NSSA West Coast Regional Championships is the fifth of seven events in the 2013 NSSA Championship Series. The 2013 Championship Series events include the State Championships at Huntington Beach Pier, the Hawaii Regional Championships at Kewalo Basin, Oahu, HI March, 2013; the East Coast Regional Championships at New Smyrna Beach Inlet, FL April 4-7; the NSSA Jr. Championships at Huntington Beach Pier, CA April 2013; the West Coast Regional Championships at Huntington Beach Pier, CA May 16-19; the NSSA National Interscholastic Championships at Salt Creek June 15-17 and Huntington Beach Pier, CA June 26-July 3.
2013 WEST COAST REGIONAL CHAMPIONSHIPS SCHEDULE OF EVENTS:
http://www.nssa.org/newsmanager/templates/NSSAHeatTimes.aspx?articleid=211&zoneid=7
About NSSA
The National Scholastic Surfing Association (NSSA) is a nonprofit organization whose mission is to encourage and assist its members in their interest to learn and develop the fundamentals and skills of surfing competition while competing in structured and quality events. The NSSA promotes the qualities of discipline and competitive excellence while supporting the merits of academic achievement to young surfers. The NSSA strives to provide a fun surfing experience for all of its members.
The NSSA is one of the few national youth sports organizations that require its participants to maintain academic standards in order to compete. Since 1978, the NSSA program philosophy has been that athletics and scholastics go hand in hand. More than 80 NSSA events are run nationwide that culminate with the annual National Championships which is regarded as the highest profile youth surfing event in America.
###