Southwest Open Season event 10 goes off at Uppers. 2013 SW Open Conference Champions are crowned!
Wednesday, April 24, 2013 | Written by Janice Aragon
NSSA SOUTHWEST CONFERENCE
OPEN SEASON EVENT #10
UPPER TRESTLES, SAN ONOFRE STATE PARK
APRIL 20-21, 2013
CONDITIONS: Epic Uppers with 4-6 foot high performance rights and glassy conditions.
by: Janice Aragon l NSSA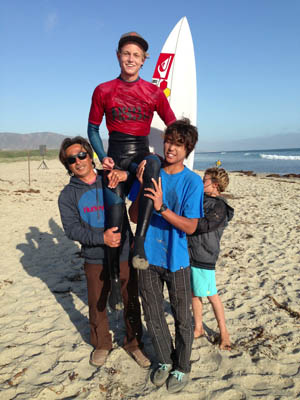 THELEN CHAIRED UP THE BEACH!
(Huntington Beach, Ca – April 24, 2013) – It's that time of the year with the conclusion of the regular season that the dominant surfers emerge bringing home the conference title hardware. The biggest aspect of this 2012-13 Southwest Conference Open Season was the exciting race for the prestigious conference Open Men's title between San Clemente's Kevin Schulz who jumped out to an early season lead and two talented and determined Junior surfers Thelen Worrell from Malibu and Jake Marshall from Encinitas. There was no better way to wrap up the season and declare conference champions then in the pumping high performance surf that was on offer at Upper Trestles for the tenth and final stop. Performance levels were off the charts. Four perfect 10's were recorded in the contest by Thelen Worrell, Jake Marshall, Moana Jones and Chelsea Tuach. Marshall also posted a near perfect 19.53 out of 20 heat total in a Men's preliminary round. There were more rides scoring in the excellent range than in any NSSA west coast event this season. Congratulations to all of the champions and competitors from the 2012-13 Southwest Conference Open Season. We look forward to plenty of post season ripping at the West Coast Regionals and Nationals!
OPEN MENS FINAL FOUR
l-r: Tomas King, Thelen Worrell, Hiroto Oohara, Jake Marshall
Highlights of the 2013 Southwest Conference Champions and Upper Trestles event #10
**Thelen Worrell was decorated with his first major NSSA achievement winning the esteemed Southwest Conference Open Men's conference title. Worrell came into the event ranked number one with Jake Marshall and Kevin Schulz remaining as the only legit threats to spoil his quest. Schulz' pursuit came to a close when he was defeated in the quarterfinals while both Worrell and Marshall advanced to the finals. Marshall would have to win the event to overtake Worrell. As it turned out, Worrell would put forth a dynamic backside display in both the Men's and Juniors finals. He busted out of the gates in the Men's final posting an exceptional 9.93. He immediately backed it up with a solid 7.67 on his second scoring ride leaving his opponents Hiroto Oohara, Tomas King and Marshall needing a combination of scores for the entire heat.
**Worrell finished the Southwest Conference regular season impressively with Men's final showings in seven of 10 events and winning two. He also wrapped up the season in the Open Juniors ranked number two with five finals appearances and one victory which came at this event.
**Flashes of major potential emerged from Worrell at the 2012 National Championships when he exceeded expectations making the premier Open Men's final at 15-years-old. After his outstanding Nationals performance, Worrell still came into the 2012-13 season under the radar but his results now should make everyone pay close attention to his ability.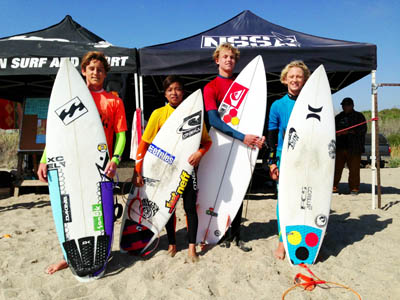 OPEN JUNIORS FINAL FOUR
l-r: Ryland Rubens, Kei Kobayashi, Thelen Worrell, Jake Marshall
**14-year-old Marshall opened up his 2012-13 campaign with a victory at the opener at HB Pier and never relinquished his number one position despite battling closely with Griffin Colapinto. Marshall took command down the stretch of the season raising the bar with his high-scoring superior surfing displays. He ended up winning the conference Juniors title by a wide margin and also finished with a number two ranking in the Mens. He closed out the season in the Juniors with five wins and eight finals appearances. His Men's record is just as impressive with one win and six finals placings.
**The Juniors division final placings at Uppers were Worrell 1st, Marshall 2nd, Ryland Rubens 3rd and Kei Kobayashi 4th.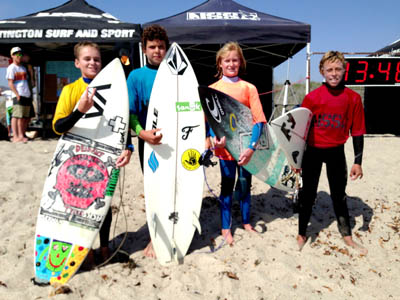 OPEN BOYS FINAL FOUR
l-r: Tyler Gunter, Cole Houshmand, Noah Hill, Eithan Osborne
**Heaps of talent was witnessed in the Open Boys 12 & under division this season. Eithan Osborne and Cole Houshmand emerged early on as the frontrunners for the conference title. Houshmand kicked off the season on a roll winning three of the first five events. But Osborne picked up speed in the second half of the season winning five of the final six events. The quest for the conference title would come down to the Uppers season finale where Houshmand trailed Osborne by a mere 100 points. Young Osborne was rock solid all weekend winning the Open Boys final, sealing the conference Boys title while also delivering an impressive performance in the upper age bracket Juniors where he made it to the semifinals. Also noteworthy is Osborne's attempt for an undefeated season in the Gold Coast Conference Menehuene division. He was won nine straight events with one remaining this coming weekend at Pismo Beach Pier.
**Boys results at Uppers were Osborne 1st, Tyler Gunter 2nd, Houshmand 3rd and Noah Hill 4th. Noteworthy is Gunter's runner-up showing after being sidelined with an injury for the past couple months.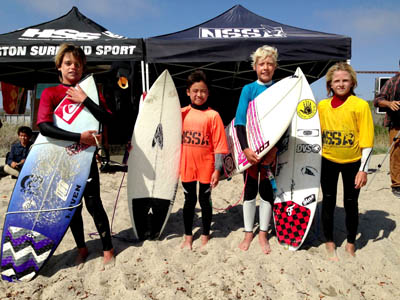 OPEN MINI GROMS FINAL FOUR
l-r: Kade Matson, Taro Watanabe, Kai McPhillips, Sebastian Mendes
**10-year-old Kade Matson is one of the NSSA's newest rising up-and-comers. The San Clemente grom has achieved impressive results this season winning the Mini Grom title on the strength of his five event win streak down the stretch. Kade closed out the regular season with six wins and was 10 for 10 in finals appearances. He is also working on an undefeated season in the Southwest Conference Explorer Super Grom division with two events remaining.
**Mini Grom final results at Uppers were Matson 1st, Taro Watanabe 2nd, Sebastian Mendes 3rd and Kai McPhillips 4th. Way to shred pumping Uppers groms!
OPEN WOMENS FINAL FOUR
l-r: Tiare Thompson, Chelsea Tuach, Tia Blanco, Moana Jones
**San Clemente's female surfing standout Tia Blanco sealed the Southwest Conference Open Women's title overtaking Kylie Loveland who was suffered an upset loss in the quarterfinals. Blanco placed second in the event behind rising Hawaiian talent Moana Jones. Barbados' Chelsea Tuach delivered another outstanding performance posting a perfect 10 in her semi and finished third in the final. 12-year-old female grom Tiare Thompson stepped up placing fourth in her first Womens final appearance of the year.
**Blanco finished the 2012-13 Southwest Open Season with one victory and seven finals appearances.
OPEN GIRLS FINAL FOUR
l-r: Kailani Jones, Moana Jones, Malia Osterkamp, Alexxa Elseewi
**Another San Clemente female on the rise is Malia Osterkamp who earned her first conference title in the Open Girls. Osterkamp has hard-working and dedicated to competition this season and the rewards are paying off. She finished the Open Season Girls division with 3 victories and has gone 10 for 10 in finals appearances. Malia also finished off the season ranked in the top five of the Open Womens. She is currently ranked first in the Explorer Womens and second in the Explorer Girls with a good shot of adding more conference titles to her 2012-13 regular season achievements!
**The Girls final at Uppers saw Moana Jones put on another outstanding surfing display to take the victory followed by Osterkamp, Kailani Jones and Alexxa Elseewi.
PERFORMERS OF THE EVENT
Thelen Worrell
Jake Marshall
Moana Jones
Eithan Osborne
2013 SOUTHWEST CONFERENCE CHAMPIONS
Thelen Worrell-Mens
Jake Marshall-Juniors
Eithan Osborne-Boys
Kade Matson-Mini Groms
Tia Blanco-Womens
Malia Osterkamp-Girls
The NSSA Southwest Conference is proud to have support from Hurley, Huntington Surf and Sport, Java Point, Surfing Magazine, Sex Wax, Scosche and Channel Islands. Many thanks to the California State Parks Orange Coast District, Upper Trestles, the NSSA staff and ASP Judging panel for assisting us in staging a professional quality event for the Southwest Open Season series.
Be sure to keep up with all the NSSA action via the website at nssa.org and social media platforms Facebook and Instagram.
COMING UP IN CALI: The Gold Coast Conference will finish off the 2012-13 season at Pismo Pier on April 27th followed by the Northwest Conference season finale on April 28th Pismo Pier. The Southwest Conference will conclude the 2012-13 Explorer Season with a doubleheader on May 4th and 5th and Crystal Pier in Pacific Beach.
THE SCOREBOARD
RESULTS
SOUTHWEST CONFERENCE OPEN SEASON EVENT #10
UPPER TRESTLES, SAN ONOFRE STATE PARK

OPEN MENS
1. Thelen Worrell-Malibu 17.60
2. Hiroto Oohara-Chiba, Japan 11.86
3. Tomas King-Huntington Beach 11.00
4. Jake Marshall-Encinitas 6.10
OPEN JUNIORS
1. Thelen Worrell-Malibu 16.96
2. Jake Marshall-Encinitas 15.63
3. Ryland Rubens-Pacific Beach 11.77
4. Kei Kobayashi-San Clemente 7.63
OPEN BOYS
1. Eithan Osborne-Ventura 15.00
2. Tyler Gunter-Newport Beach 13.57
3. Cole Houshmand-San Clemente 13.34
4. Noah Hill-Marina del Rey 11.27
OPEN MINI GROMS
1. Kade Matson-San Clemente 14.93
2. Taro Watanabe-Malibu 11.07
3. Sebastian Mendes-Agoura Hills 8.27
4. Kai McPhillips-San Clemente 4.46
OPEN WOMENS
1. Moana Jones-Haleiwa, Hi 14.10
2. Tia Blanco-San Clemente 14.07
3. Chelsea Tuach-Barbados 10.47
4. Tiare Thompson-La Jolla 5.97
OPEN GIRLS
1. Moana Jones-Haleiwa, Hi 15.17
2. Malia Osterkamp-San Clemente 12.44
3. Kailani Jones-Haleiwa, Hi 8.50
4. Alexxa Elseewi-San Clemente 7.66
PERFORMERS OF THE EVENT
Thelen Worrell
Jake Marshall
Moana Jones
Eithan Osborne
2013 SOUTHWEST CONFERENCE CHAMPIONS
Thelen Worrell-Mens
Jake Marshall-Juniors
Eithan Osborne-Boys
Kade Matson-Mini Groms
Tia Blanco-Womens
Malia Osterkamp-Girls
About NSSA
The National Scholastic Surfing Association (NSSA) is a nonprofit organization whose mission is to encourage and assist its members in their interest to learn and develop the fundamentals and skills of surfing competition while competing in structured and quality events. The NSSA promotes the qualities of discipline and competitive excellence while supporting the merits of academic achievement to young surfers. The NSSA strives to provide a fun surfing experience for all of its members.
The NSSA is one of the few national youth sports organizations that require its participants to maintain academic standards in order to compete. Since 1978, the NSSA program philosophy has been that athletics and scholastics go hand in hand. More than 80 NSSA events are run nationwide that culminate with the annual National Championships which is regarded as the highest profile youth surfing event in America.
###