2013 HAWAII REGIONAL CHAMPIONSHIPS GOES OFF AT KEWALOS!
Saturday, March 30, 2013 | Written by Miko Parker
NSSA HAWAII REGIONAL CHAMPIONSHIPS PRESENTED BY MAD LOVE
KEWALO BASIN, OAHU, HAWAII
MARCH 19-21, 2013
CONDITIONS: Good conditions with 2-4 foot surf and beautiful weather.
Written by: Miko Parker
Photos: Hawaii Red Dragon photography Aaron Nakamura
SETH MONIZ TAKES HOME THREE TITLES!
(Oahu, Hawaii, March 30, 2013) -- The 2012-13 NSSA Hawaii season finished off in style with the Regional Championships at Kewalo Basin on beautiful Oahu. The contestants were greeted with three days of fun 2-4 foot surf and wonderful weather. The first day of the championships took off with the Explorer divisions and our menehuene competitors were ready bright and early. This is where Finn McGill started his incredible surfing. He was "Mr. #1" winning his first heat and his quarterfinal which took him right to the final. Naturally Finn blew up in the final deciding that the winning spot should be his! The reigning National Open Boys Champion also triumphed in the Open Boys final where he was busting all kinds of exciting progressive moves. As expected, the NSSA Hawaii girls were on fire all three days. Reigning National Open Women's Champion Dax McGill was unfortunately a bit under the weather but that didn't stop her from stepping up to the plate. She was knocked out of the Explorer division finals but she intensely battled back to win the Open Womens showing us all why she is the National Champ. Bailey Nagy wasn't too far behind her in the final taking a close second place.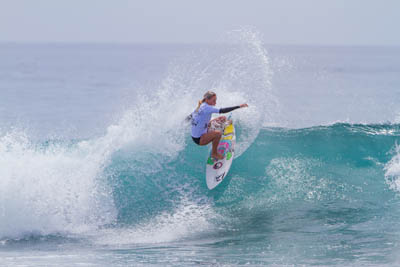 NATIONAL CHAMPION DAX MCGILL TRIUMPHS IN THE OPEN WOMENS
On day number #2 which featured the premier Open divisions, we witnessed big scores being thrown down by Cole Yamakawa, Kiana Fores , Moana Jones and Seth Moniz. Seth was lighting up the scoreboard with huge scores in both the Open Juniors and Mens divisions. However the outstanding ride of the day 2 went to Finn McGill who scored a perfect 10 in his Boys round one heat. The third and final day was the best with solid four to five foot surf and some impressive ripping from all of the finalists. Open Mini Grom Brodi Sale was ready to win his first Regional Championship and tore up the finals. His combined two-wave score was a near flawless 19 point total out of a possible 20 en route to the Mini Grom victory. Seth Moniz was on fire throughout the entire event killing all of his divisions. He walked away with three Regional titles including Explorer Juniors, Open Juniors and the prestigious Open Mens. Big congrats to Seth for showing everyone he knows Kewalos and loves good competition. The longboard division contestants were having a blast comprised of all females with the exception of Miles Serafica. Kylie Nagy and Sierra Lerback had fun out there splitting the victories between them with Kylie taking the Open Longboard and Sierra winning the Explorer.
NATIONAL CHAMPION FINN MCGILL RIPS TO TWO TITLES
After the final heat of the 2013 Hawaii Regional Championships, the kids were able to enjoy some amazing food from Thomas, the man behind the grill. Much mahalos to Thomas for hooking us up with some bomb food while Hawaii Director Aunty Bobbi was busy behind the microphone giving away a ton of surprises. Lots of former members and surf celebrity guests including the big man himself Fred Patacchia were on hand to give back to our surfers. Freddy P's "Golden Ticket" which pays airfare to the NSSA Nationals for a deserving Hawaii surfer was awarded to Logan Bediamol. Nssa Hawaii expresses its sincere thanks and gratitude to Freddy P for making it a little easier for a Hawaiian to go represent at the Nationals just as he did when he was growing up! This was the ninth consecutive year for the "Golden Ticket". Mahalo Freddy P! Another one of our former members Keanu Asing is so amazingly generous in always giving back to NSSA Hawaii and it's surfers. This year Keanu set up the "Keanu Asing Flying HI ticket" which went to Ocean Macedo. More great prizes were given by Flynn Novak and Rico who gave their fun paks away to deserving winners! Flynn's Fun Pak went to Summer Macedo and Rico's Oakley Pak went Kala Willard for being so cool! Mad Love grants went Kylie Nagy & Hunter Johnson. Xcel grants were given away to five lucky groms, Dante Silva, Gabriela Bryan, Josiah Swanson, Cole Alves and Miles Serafica. We want to thank Xcel for their continued support of NSSA Hawaii. Very special guests turned up to present the annual Jason Nalu Bogle Grants presented by RVCA. Jason sisters Suzanne and Cassandra were there to meet the lucky winners Ocean Donaldson-Sargis, Kai McIntyre, Nate Fletcher, Aloha Lopez, Julie Nishimoto and Sammy Gray. Robert Grilho was the big winner with a new surfboard in memory of Jason. Robert was also awarded the Rory Parker grant. Aunty Miko picked a lucky girl to support Zoe McDougall. The Hawaii Junior surf team awarded two grants to Brittany Penaroza and Kona Oliviera. NSSA Hawaii welcomed Grom Social as its newest sponsor for the Hawaii Regional Championships. Grom Social presented the "Performer of the Day" awards. Day one was Brodi Sale, day two was Finn McGill and Day three was Seth Moniz. All three walked away with $100.00 for their outstanding performances. Big mahalos to Grom Social for giving us a chance to represent them! Additional shout outs go to Uncle Dave for always giving the hook ups to all the kids. NSSA Hawaii thank all of the staff, judges, Aunty Amy, our big MC Rocky Cannon, Uncle Roy from Kewalos and all of the parents, coaches, and surfers.
MAHINA MAEDA LAYING DOWN BIG TURNS IN THE OPEN GIRLS!
But most of all a huge thank and mountain of gratitude to Aunty Bobbi for working so hard all year to make sure all the groms get the experience the best program ever. Nssa Hawaii would not be able to do it without her!
NSSA Hawaii Sponsors: A big thank you and much appreciation to our sponsors Mad Love, Xcel, Aloha Kine, Jason Nalu Bogle, RVCA, Surfco, and Grom Social
2013 NSSA HAWAII SPECIAL GRANTS
MAD LOVE GRANTS: NSSA Hawaii's official sponsor Mad Love awarded grants to Kylie Nagy & Hunter Johnson. NSSA Hawaii is thrilled to have Mad Love continue its support of the NSSA and our scholastic surfers!

FREDDY P GOLDEN TICKET: For nine consecutive years, 1999 National Open Mens Champion and ASP World Title surfer Fred Patacchia has donated a ticket to the National Championships for a deserving NSSA Hawaii surfer. Logan Bediamol was announced as the recipient of this year's "Freddy P's Golden Ticket". NSSA Hawaii congratulates Logan on his outstanding performance and results this season!
KEANU ASING FLYING HI TICKET: Keanu Asing established a new award for a deserving NSSA Hawaii surfer. The Keanu Asing Flying HI Ticket was awarded to Ocean Macedo.


JASON NALU BOGLE AWARD AND SURFBOARD: NSSA Hawaii continues to be able to assist kids on behalf of the Jason Nalu Bogle Award. This special award covers contest entries into selected NSSA Hawaii events. NSSA Hawaii was also honored to give Jason's special board to Robert Grilho.
XCEL GRANTS: Dante Silva, Gabriela Bryan, Josiah Swanson, Cole Alves and Miles Serafica
RORY PARKER GRANT: Robert Grilho

AUNTY MIKO GRANT: Zoe McDougall

HAWAII JR SURF TEAM GRANTS: Brittany Penaroza and Kona Oliviera
JOSH MONIZ LAUNCHES TO THE AIRSHOW VICTORY!
THE SCOREBOARD
NSSA HAWAII REGIONAL CHAMPIONSHIPS
KEWALO BASIN, OAHU, HAWAII
MARCH 19-21, 2013
RESULTS
OPEN DIVISIONS
OPEN MENS
1. SETH MONIZ
2. KALANI DAVID
3. ELIJAH GATES
4. COLE YAMAKAWA
OPEN JUNIORS
1. SETH MONIZ
2. KALANI DAVID
3. IMAI DEVAULT
4. ELIJAH GATES
OPEN WOMEN
1. DAX MCGILL
2. BAILEY NAGY
3. MOANA JONES
4. KIANA FORES
OPEN GIRLS
1. MAHINA MAEDA
2. BRISSA HENNESY
3. DAX MCGILL
4. MOANA JONES
5. KAHANU DELOVIO
6. BRITTANY PENAROZA
OPEN BOYS
1. FINN MCGILL
2. BRODI SALE
3. NOAH BESCHEN
4. COLE ALVES
5. DEVIN BRUEGGMANN
6. OCEAN MECADO
OPEN MINI GROMS
1. BRODI SALE
2. DYLAN FRANZMANN
3. TONY NUNEZ
4. AXEL ROSENBLAD
5. TY KIRBY
6. EL HANNEMAN
OPEN LONGBOARD
1. KYLIE NAGY
2. SIERRA LARSEN
3. MILES SERFICA
4. OCEAN TSUTSUI
5. ZOE MCDOUGALL
6. HONOLUA BLOMFIELD
EXPLORER DIVISIONS
EXPLORER MENS
1. COLE YAMAKAWA
2. KAIMANA KINIMAKA
3. KALEN GALTES
4. KALA WILLARD
5. DANTE SLIVA
6. RAYMOND MAY
EXPLORER WOMEN
1. MOANA JONES
2. BAILEY NAGY
3. MAHINA MAEDA
4. KIANA FORES
5. EMILY NISHIMOTO
6. BRITTANY PENAROZA
EXPLORER JUNIORS
1. SETH MONIZ
2. KAIMANA KINMAKA
3. CHARLIE BOY AKAO
4. ELIJAH GATES
5. JOSH MONIZ
6. NOA MIZUNO
EXPLORER BOYS
1. LOA NG
2. KAULANA APO
3. CODY YOUNG
4. DYLAN LEHMANN
5. FINN MCGILL
6. CHRISTOPHER BLUTHARDT
EXPLORER MENEHUENES
1. FINN MCGILL
2. NOAH HILL
3. BRODI SALE
4. DEVIN BRUGGEMANN
5. LOGAN BEDIAMOL
6. ELI HANNEMAN
EXPLORER SUPER GROM
1. TONY NUNEZ
2. BRODI SALE
3. AXEL ROESNBLAD
4. OCEAN MACEDO
5. ROBERT GRILHO
6. DYLAN FRANZMANN
EXPLORER GIRLS
1. KAHANU DELOVIO
2. BRISSA HENNESSY
3. MOANA JONES
4. MAINEI KINIMAKA
5. EMILY NISHIMOTO
6. BRITTANY PENAROZA
EXPLORER LONGBOARD
1. MILES SERAFICA
EXPLORER WOMENS LONGBOARD
1. SIERRA LERBACK
2. KYLIE NAGY
3. OCEAN TSUTSUI
4. ZOE MCDOUGALL
5. ALOHA LOPEZ
6. HONOLUA BLOMFIELD
AIRSHOW WINNER
JOSH MONIZ