THE NSSA SOUTHWEST KIDS WERE BLOWING UP AT SALT CREEK!
Wednesday, February 27, 2013 | Written by Janice Aragon
NSSA SOUTHWEST CONFERENCE
OPEN SEASON EVENT #8
SALT CREEK, DANA POINT
FEBRUARY 23-24, 2013
CONDITIONS: Chest to head high, glassy, classic Creek conditions.
by: Janice Aragon l NSSA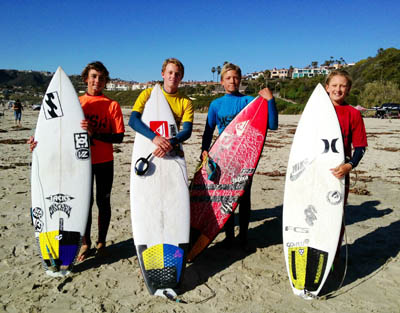 OPEN JUNIORS FINAL FOUR!
l-r: Griffin Colapinto, Thelen Worrell, Micky Clarke, Jake Marshall
(Huntington Beach, Ca – February 27, 2013) – Classic Salt Creek conditions were on offer for stop number eight of the Southwest Conference Open Season with chest to head high lefts and rights, steep and draining. Thelen Worrell claimed his first Open victory of the season winning the Men's final with a strong backside attack on the Creek rights. His first place finish will strengthen his number one position in the Men's ratings over #2 ranked Kevin Schulz who took third in the final. Worrell also had a runner-up showing in the Juniors final and has impressively made double finals four times this season. Griffin Colapinto collected his third win in the Open Juniors which will move him slightly closer to ratings leader Jake Marshall. Marshall appeared in double finals for the third time this season taking second in the Men's and fourth in the Juniors. Marshall has a near 500-point advantage in the ratings over Colapinto with two events remaining in the regular season. Marshall's younger brother Nick delivered the performance of the weekend in the Boys final. In the final, Nick posted an excellent 8.67 score and then went straight back to work ripping the weekend's highest score of 9.5. His 18.17 combined total was the highest of the event. Another outstanding performance in the Boys final was delivered by Cole Houshmand who ripped wave scores of 9.23 and 7.50. San Clemente hot grom Kade Matson continues to rule the 10 & under categories in both the Open and Explorer divisions. Matson collected his third consecutive win in the Open Mini Groms and is currently leading the ratings with his four overall victories. He is also dominating the Explorer Super Grom division and is on a track for an undefeated season. He is eight for eight in Super Grom competition with two contests remaining on the 10-event schedule! National Champion Frankie Harrer returned to NSSA competition and surfed impressively to her first victory in the Open Women's. Kylie Loveland will maintain an near 1,000 point advantage in the Womens rankings with a third place showing at this event. In the Girls, Malia Osterkamp grabbed her third win of the season and is way out front in the rankings by a near 2,000-point advantage. She also appeared in her second straight final in the highly competitive Open Women's division. In addition, she is currently sitting at the top position of the Explorer Women's ratings and in a tight race for the Explorer Girls conference title. Malia is definitely one of our top females on the rise!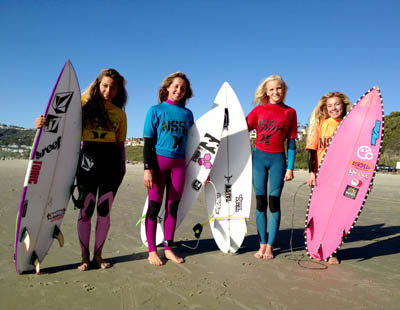 OPEN WOMENS FINAL FOUR!
l-r: Tia Blanco, Frankie Harrer, Kylie Loveland, Malia Osterkamp
The Southwest Conference Open Season is regarded as the leading competition for west coast surfers. Divisions are offered in Men's, Juniors, Boys, Mini Groms, Womens, Girls and Longboard. This event was the eighth of 10 events in the Southwest Conference Open Season series. The NSSA Open Season is open to student surfers only.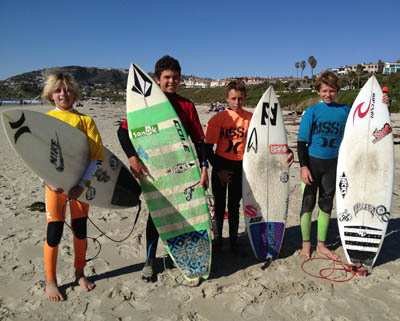 OPEN BOYS FINAL FOUR!
l-r: Nick Marshall, Cole Houshmand, Eithan Osborne, Crosby Colapinto
PERFORMERS OF THE EVENT
Nick Marshall
Cole Houshmand
Thelen Worrell
Jake Marshall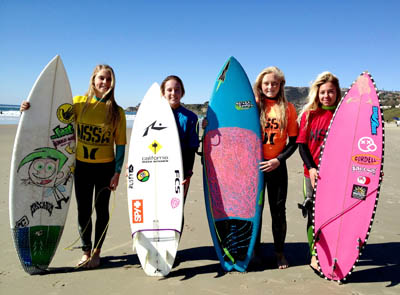 OPEN GIRLS FINAL FOUR!
l-r: Jada Galland, Tiare Thompson, Sidney Johnson, Malia Osterkamp
The NSSA Southwest Conference is proud to have support from Hurley, Huntington Surf and Sport, Java Point, Surfing Magazine, Sex Wax, Scosche, Channel Islands and Sugar Shack. Many thanks to the Dana Point Beaches and Harbors, Salt Creek, the NSSA staff and ASP Judging panel for assisting us in staging a professional quality event for the Southwest Open Season series.
Be sure to keep up with all the NSSA action via the website at nssa.org and social media platforms Facebook and Instagram.
COMING UP IN CALI: The Southwest Conference Open Season event #9 will be held at C Street in Ventura on March 2-3. The NSSA will go into championship mode with the presentation of the 2013 NSSA Interscholastic State Championships March 8-10 on the southside of Huntington Beach Pier. The Interscholastic State Championships features College, High School and Middle School teams from throughout the State of California competing for Regional State titles and a berth into the 2013 National Interscholastic Championships at Salt Creek June 15-17.
THE SCOREBOARD
RESULTS
SOUTHWEST CONFERENCE OPEN SEASON EVENT #8
SALT CREEK, DANA POINT, CALIFORNIA

OPEN MENS
1. Thelen Worrell-Malibu 13.84
2. Jake Marshall-Encinitas 12.13
3. Kevin Schulz-San Clemente 7.43
4. Austin Finley-San Diego 6.40
OPEN JUNIORS
1. Griffin Colapinto-San Clemente 15.33
2. Thelen Worrell-Malibu 14.83
3. Micky Clarke-Ventura 11.76
4. Jake Marshall-Encinitas 7.84
OPEN BOYS
1. Nick Marshall-Encinitas 18.17
2. Cole Houshmand-San Clemente 16.73
3. Eithan Osborne-Ventura 10.33
4. Crosby Colapinto-San Clemente 2.50
OPEN MINI GROMS
1. Kade Matson-San Clemente 12.17
2. Erik Weissinger-Huntington Beach 6.53
3. Sebastian Mendes-Agoura Hills 5.00
4. Taro Watanabe-Malibu 0.00
OPEN WOMENS
1. Frankie Harrer-Malibu 14.50
2. Tia Blanco-San Clemente 10.83
3. Kylie Loveland-Carlsbad 5.86
4. Malia Osterkamp-San Clemente 5.40
OPEN GIRLS
1. Malia Osterkamp-San Clemente 7.43
2. Jada Galland-Rancho Santa Fe 4.07
3. Tiare Thompson-La Jolla 3.53
4. Sidney Johnson-Carlsbad 1.77
About NSSA
The National Scholastic Surfing Association (NSSA) is a nonprofit organization whose mission is to encourage and assist its members in their interest to learn and develop the fundamentals and skills of surfing competition while competing in structured and quality events. The NSSA promotes the qualities of discipline and competitive excellence while supporting the merits of academic achievement to young surfers. The NSSA strives to provide a fun surfing experience for all of its members.
The NSSA is one of the few national youth sports organizations that require its participants to maintain academic standards in order to compete. Since 1978, the NSSA program philosophy has been that athletics and scholastics go hand in hand. More than 80 NSSA events are run nationwide that culminate with the annual National Championships which is regarded as the highest profile youth surfing event in America.
###