SEASIDE REEF ROCKED FOR THE SOUTHWEST OPEN EVENT #7!
Thursday, January 03, 2013 | Written by Janice Aragon
NSSA SOUTHWEST CONFERENCE
OPEN SEASON EVENT #7
SEASIDE REEF, CARDIFF BY THE SEA
DECEMBER 22-23, 2012
CONDITIONS: The NSSA kids scored! A huge dose of west/northwest swell delivered pumping classic Seaside Reef surf. Overhead lefts reeled off the reef throughout the two-day event with glassy water surfaces and perfection surf prevailing.
by: Janice Aragon l NSSA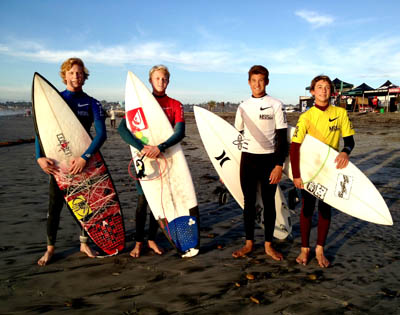 MENS FINAL FOUR
l-r: Cameron Carter, Thelen Worrell, Josh Benjoya, Griffin Colapinto
(Huntington Beach, Ca – January 3, 2012) –The amazing Seaside Reef wintertime Open tradition continued and the event was blessed with epic conditions. Pumping overhead lefts compliments of a big dose of west/northwest swell set the stage for electrifying performances including a perfect 10-wave score by Moana Jones and local standout Jake Marshall lighting up the scoreboard with high scoring heat performances in both the Juniors and Mens. Marshall went on to win the Juniors and earn an equal fifth finish in the Mens. Also praiseworthy was 14-year-old Griffin Colapinto's second win of the season in the premier Open Men's division. The Southwest Conference Open Season is regarded as the leading competition for west coast surfers. Divisions are offered in Men's, Juniors, Boys, Mini Groms, Womens, Girls and Longboard. This event was the sixth of 10 events in the Southwest Conference Open Season series. The NSSA Open Season is open to student surfers only.
JUNIORS FINAL FOUR
l-r: Griffin Colapinto, Nolan Rapoza, Jake Marshall, Colt Ward
The lowdown from Southwest Conference Seaside Reef Open event 7:
**Lot's of action went down in the Men's division with the final results of this event. As noted above, San Clemente's young talent Griffin Colapinto drove home the point he possesses skills beyond his years. For the second time this season, the 14-year-old triumphed in the hotly contested Open Men's category (his first win came in late October at Oceanside Pier). Colapinto will remain in the fourth position in the ratings. The significant news was the change in the Open Men's rankings. San Clemente's Kevin Schulz has commanded the top spot of the ratings since his season opening victory at Huntington Beach Pier with Malibu's Thelen Worrell trailing closely. Schulz was put out in the semi's in this event which opened up the door for Worrell to overtake the lead which he did with a runner-up finals showing. This race is sure to go down to the wire with three events remaining in the season.
**Along with Colapinto and Worrell, powerful performances were delivered by Josh Benjoya and Cameron Carter who appeared in their first Open Men's finals of the season.
**Jake Marshall cashed in on the exceptional conditions at his local spot putting on a clinic in both the Men's and Juniors divisions. Marshall was the owner of the highest overall score in the Men's division (9.43), the highest heat total of the Men's division (17.43) and the highest heat total of the Juniors division (18.43). He went on to take his fourth victory of the season in the Juniors which extends his ratings lead by a 1000 point advantage over number two Griffin Colapinto. Despite posting a near perfect and division high 9.77 wave score in the final Colapinto was chasing a 6.5 score to overtake the lead and just came up short to finish second. Nolan Rapoza took third delivering his most impressive performance of the year followed by Colt Ward in fourth.
**An on fire Eithan Osborne extended his victory streak to three-winning the final over number one ranked Cole Houshmand who posted his second straight runner up finish. Mini Grom Kade Matson stepped up making the Boys final and took third followed by Noah Hill in fourth. Houshmand will maintain a slim lead in the ratings with Osborne chipping away at his lead. That's going to be a great race down the stretch!
**Mini Grom Kade Matson has been putting in the work and his efforts are clearly paying off. He took the win in the Mini Groms for the second straight event ripping the final and winning it by a 7-point margin. As noted above, he took it up a notch earning a big third place result in the Boys final. Added to all of this red-hot grom is currently undefeated in the Explorer Super Grom division. Matson wasn't the only Mini Grom charging the pumping Seaside conditions. Number two ranked Sebastian Mendes took second in the final while visiting NSSA Mid Atlantic grom Laird Myers made noise on the west coast taking third and Keanu Igarashi made his first Open final placing fourth.
**After losing a tiebreak decision at the HB Pier Open a few weeks back to Tia Blanco, Kylie Loveland came firing back on all cylinders claiming her first win of the season. In a stacked heat with Moana Jones, Kulia Doherty and Malia Osterkamp, a highly motivated Loveland had her eyes on the first place trophy. She rode only two waves in the final but her heat high wave score of 7.33 with a 3.83 backup was enough to seal it. Malia Osterkamp put forth her best performance in the premier Open Womens division with a close runner up placing to Loveland, followed by Kulia Doherty and Moana Jones taking third and fourth respectively.
**Moana Jones continues to cement her status as one of the brightest, young female surfers in the nation and a legit contender for National titles this coming summer. Jones once again raised the bar in female surfing throughout the event and in the Girls final unleashed on a Seaside bomb, scoring a unanimous 10.0, the only perfect score of the event. Jones backed it up with a second excellent score of 9.0 en route to her fourth Girls final win of the season. Her 19.0 total score was the highest of the contest. Tiare Thompson took second with Kailani Jones placing third and Malia Osterkamp taking fourth. Osterkamp will maintain a strong lead in the Southwest Conference Girls standings.
**In the Longboard final, Nick Anderberg and Lucas Johnson squared off competing in classic Seaside conditions. Anderberg took the final for his fourth win of the season.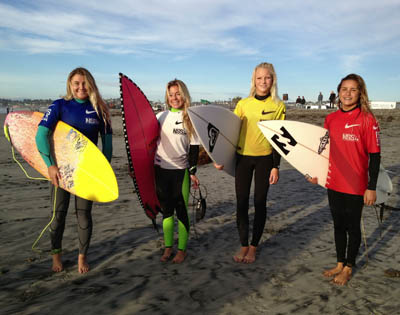 WOMENS FINAL FOUR
l-r: Kulia Doherty, Malia Osterkamp, Kylie Loveland, Moana Jones
PERFORMERS OF THE EVENT
MOANA JONES - perfect 10 and a near perfect heat performance of 19.0 total in the Girls final
JAKE MARSHALL - executed his local break superbly posting multiple excellent scores in both the Mens and Juniors divisions
GRIFFIN COLAPINTO - sealed his second victory of the season in the premier Open Mens category
KADE MATSON - Won his second straight in the Mini Groms and stepped up a division making the Boys final
MANUEVER OF THE EVENT
MOANA JONES - Multiple
BOYS FINAL FOUR
l-r: Kade Matson, Noah Hill, Cole Houshmand, Eithan Osborne
COMING UP IN CALI: The Southwest Conference will go on winter break until February where competition will resume on February 9-10. Explorer event #8 will be held on February 9 at Oceanside South Jetty. The following day on February 10th, the 2012-13 Southwest Conference College Series will close out the regular season with event #4 at Oceanside South Jetty.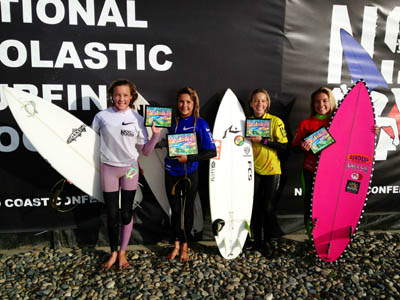 GIRLS FINAL FOUR
l-r: Kailani Jones, Moana Jones, Tiare Thompson, Malia Osterkamp
Many thanks to the California State Parks at Seaside Reef, the NSSA staff and ASP Judging panel for assisting us in staging a professional quality event for the Southwest Open Season series. And a special thanks to our official audio sponsor Scosche for awarding the high performers of the event with great gear!
Be sure to keep up with all the NSSA action via the website at nssa.org and social media platforms Facebook and Instagram.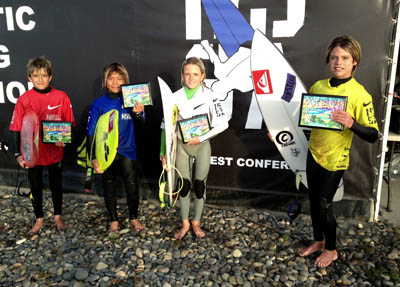 MINI GROM FINAL FOUR
l-r: Laird Myers, Keanu Igarashi, Sebastian Mendes, Kade Matson
THE SCOREBOARD
RESULTS
SOUTHWEST CONFERENCE OPEN SEASON EVENT #7
SEASIDE REEF, CARDIFF BY THE SEA

OPEN MENS
1. Griffin Colapinto-San Clemente 14.50
2. Thelen Worrell-Malibu 12.40
3. Josh Benjoya- 10.93
4. Cameron Carter- 7.97
OPEN JUNIORS
1. Jake Marshall-Encinitas 16.27
2. Griffin Colapinto-San Clemente 15.44
3. Nolan Rapoza-Long Beach 14.47
4. Colt Ward-San Clemente 8.00
OPEN BOYS
1. Eithan Osborne-Ventura 13.77
2. Cole Houshmand-San Clemente 10.73
3. Kade Matson-San Clemente 7.73
4. Noah Hill-Marina del Rey 7.24
OPEN MINI GROMS
1. Kade Matson-San Clemente 13.00
2. Sebastian Mendes- 6.84
3. Laird Myers-Virginia Beach, Va 6.83
4. Keanu Igarashi-Huntington Beach 3.23
OPEN WOMENS
1. Kylie Loveland-Carlsbad 11.16
2. Malia Osterkamp-San Clemente 10.96
3. Kulia Doherty-Rancho Santa Fee 9.74
4. Moana Jones-Haleiwa, Hi 8.94
OPEN GIRLS
1. Moana Jones-Haleiwa, Hi 19.00
2. Tiare Thompson-La Jolla 11.44
3. Kailani Jones-Haleiwa, Hi 9.34
4. Malia Osterkamp-San Clemente 3.44
OPEN LONGBOARD
1. Nick Anderberg-Encinitas 11.17
2. Lucas Foster-Carlsbad 4.90
About NSSA
The National Scholastic Surfing Association (NSSA) is a nonprofit organization whose mission is to encourage and assist its members in their interest to learn and develop the fundamentals and skills of surfing competition while competing in structured and quality events. The NSSA promotes the qualities of discipline and competitive excellence while supporting the merits of academic achievement to young surfers. The NSSA strives to provide a fun surfing experience for all of its members.
The NSSA is one of the few national youth sports organizations that require its participants to maintain academic standards in order to compete. Since 1978, the NSSA program philosophy has been that athletics and scholastics go hand in hand. More than 80 NSSA events are run nationwide that culminate with the annual National Championships which is regarded as the highest profile youth surfing event in America.
###