NORTHWEST CONFERENCE DOUBLEHEADER HITS FROSTY SANTA CRUZ
Wednesday, December 19, 2012 | Written by Janice Aragon
NSSA NORTHWEST CONFERENCE
OPEN SEASON EVENT #2
PLEASURE POINT, SANTA CRUZ-DECEMBER 15, 2012
OPEN SEASON EVENT #3
STEAMER LANE, SANTA CRUZ-DECEMBER 16, 2012
CONDITIONS: Tricky small and blustery 1-3 foot rights at Pleasure Point increasing overnight to 2-4 feet and fun, rippable rights and a few random good lefts at Steamer Lane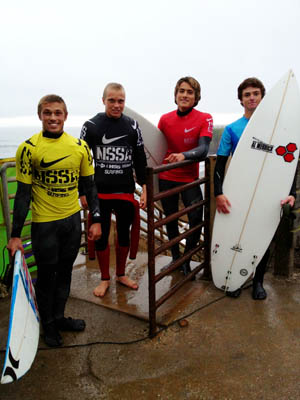 OPEN MENS FINAL FOUR STEAMER LANE
l-r: Kadin Panesi, Brogie Panesi, Nic Hdez, Dryden Brown
by: Janice Aragon l NSSA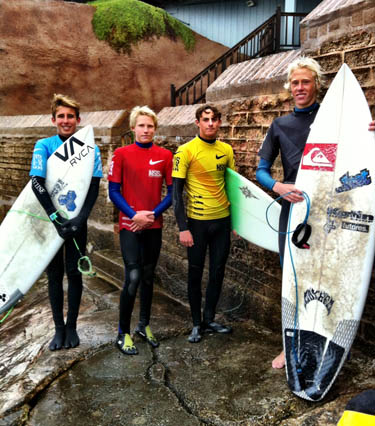 OPEN JUNIORS FINAL FOUR PLEASURE POINT
l-r: Davis Freud, Richie Schmidt, Ben Coffey, Kirk Weissinger
Highlights from Northwest Conference Santa Cruz Open events #2 and #3:
**Santa Cruz local Nic Hdez was primed to perform in his hometown waters winning both Men's division finals at Pleasure Point and Steamer Lane. The 16-year-old who claimed his first National title in the Airshow division in 2012 was polished and explosive unloading solid frontside turns on the right-handers at both venues. It's no surprise that Hdez was inspired to win both events as he has been mentored by local hero Nat Young who recently qualified for the elite ASP World Tour.
**Noteworthy performances were delivered by Pacifica's talented Panesi brothers Kadin and Brogie who made Men's finals at both Pleasure Point and Steamer Lane
**Huntington Beach's Kirk Weissinger made the trek north and got the job done at Pleasure Point taking the win in the Juniors final. Weissinger is one of the top surfers in the Southwest Conference where he is ranked number 4 in the Open Juniors The victory was Weissinger's first of the NSSA 2012-13 season.
**A new up-and-coming grom has burst on the scene in Norcal. Santa Cruz's Sam Coffey has been stepping up his level and surfed to an outstanding first place finish in both Boys finals at Pleasure Point and Steamer Lane.
**Another Weissinger was in the Pleasure Point winners circle. Kirk's younger brother Erik pulled out all the stops in the difficult, blustery conditions at Pleasure Point taking his first NSSA victory. Good job grom!
**After finishing runner-up to Kirk Weissinger in the Pleasure Point final, local talent Ben Coffey cashed in on his knowhow and experience surfing at Steamer Lane. He maximized the improving low-tide and increasing swell unloading crisp arcing turns to clinch his first win of the season.
**Of note, the Coffey family has surfing in its blood. Their father Ward is a local legend and accomplished surfboard shaper.
**In the Mini Grom division, AJ Menna claimed his second win of the season. Menna, who won the season opener at Morro Rock back in October, put forth an impressive surfing display in the chilly, challenging conditions of the Lane.
**A huge hats off to all of our groms for competing in frigid, stormy and demanding surf conditions at both Pleasure Point and Steamer Lane. Way to step up!
**Due to the surf shutting down because of extreme high tide at Pleasure Point, the female divisions were postponed. The Women's and Girl's divisions were a go at Steamer Lane and hometown locals triumphed. Ashley Held claimed victory in Womens and Autumn Hays took home the win in Girls. It was first-time wins for both girls…congratulations!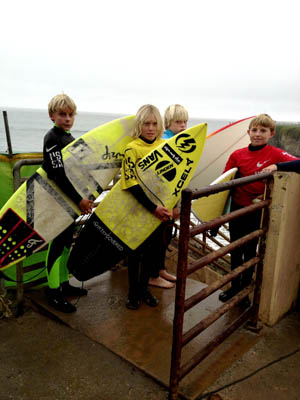 OPEN BOYS FINAL FOUR STEAMER LANE
l-r: Zane Booth, Burkley Eggers, Sean Winterburn, Sam Coffey
PERFORMERS OF THE WEEKEND
Nic Hdez
Sam Coffey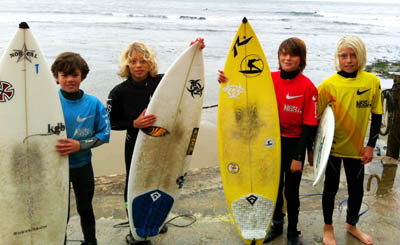 MINI GROM SHREDDERS FROM PLEASURE POINT...WE ARE THE FUTURE!
l-r: Trystan Nyberg, Santiago Hart, AJ Menna, Erik Weissinger
Be sure to keep up with all the NSSA action via the website at nssa.org and social media platforms Facebook and Instagram.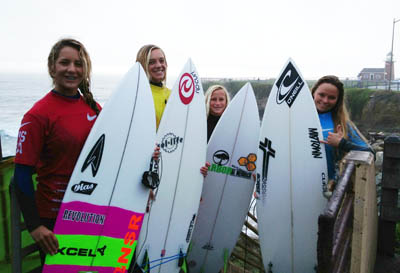 OPEN WOMENS FINAL FOUR STEAMER LANE
l-r: Steffi Kerson, Ashley Held, Abby Brown, Nina Dodge
COMING UP IN CALI: Our annual contest tradition the weekend before Christmas continues on December 22-23 as the Open Season heads south to San Diego's world-renowned Seaside Reef, one of the most prominent venues on the Southwest Conference schedule.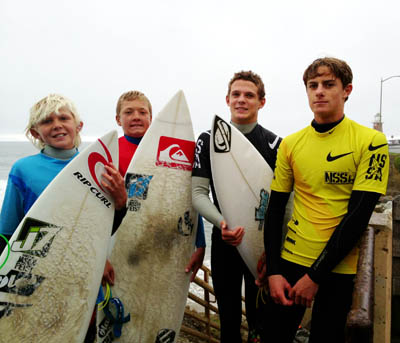 OPEN JUNIORS FINAL FOUR STEAMER LANE
l-r: Sean Woods, Micky Clarke, Carlos Carpenter, Ben Coffey
THE SCOREBOARD
RESULTS
NORTHWEST CONFERENCE OPEN SEASON EVENT #2
PLEASURE POINT, SANTA CRUZ

OPEN MENS
1. Nic Hdez-Santa Cruz
2. Wyatt Barrabee-Santa Cruz
3. Kadin Panesi-Pacifica
4. Brogie Panesi-Pacifica
OPEN JUNIORS
1. Kirk Weissinger-Huntington Beach
2. Ben Coffey-Santa Cruz
3. Davis Freud-Huntington Beach
4. Richie Schmidt-Santa Cruz
OPEN BOYS
1. Sam Coffey-Santa Cruz
2. Zane Booth-Santa Barbara
3. Burkley Eggers-El Granada
4. Fisher Baxter-Santa Cruz
OPEN MINI GROMS
1. Erik Weissinger-Huntington Beach
2. AJ Menna-Santa Cruz
3. Santiago Hart-Santa Cruz
4. Trystan Nyberg-Truckee
EVENT #2 OPEN WOMENS, OPEN GIRLS, OPEN LONGBOARD WERE POSTPONED DUE TO TIDAL SHUTDOWN
MINI GROMS RIPPERS FROM STEAMER LANE...WE ARE THE FUTURE!
l-r: Erik Weissinger, AJ Menna, Santiago Hart, Jabe Swierkocki
THE SCOREBOARD
RESULTS
NORTHWEST CONFERENCE OPEN SEASON EVENT #3
STEAMER LANE, SANTA CRUZ

OPEN MENS
1. Nic Hdez-Santa Cruz
2. Kadin Panesi-Pacifica
3. Brogie Panesi-Pacifica
4. Dryden Brown-Santa Barbara
OPEN JUNIORS
1. Ben Coffey-Santa Cruz
2. Micky Clarke-Ventura
3. Sean Woods-Thousand Oaks
4. Carlos Carpenter-Davenport
OPEN BOYS
1. Sam Coffey-Santa Cruz
2. Burkley Eggers-El Granada
3. Sean Winterburn-Soquel
2. Zane Booth-Santa Barbara
OPEN MINI GROMS
1. AJ Menna-Santa Cruz
2. Erik Weissinger-Huntington Beach
3. Jabe Swierkocki-Ventura
4. Santiago Hart-Santa Cruz
OPEN WOMENS
1. Ashley Held-Santa Cruz
2. Nina Dodge-Santa Cruz
3. Steffi Kerson-Pacific Palisades
4. Abby Brown-Santa Barbara
OPEN GIRLS
1. Autumn Hays-Santa Cruz
2. Alani Helm-Santa Cruz
3. Allison Menna-Santa Cruz
4. Kaira Wallace-Montara