SOUTHWEST CONFERENCE EXPLORER SEASON #7 SCORES FUN WAVES AT SAN DIEGO'S MISSION BEACH
Wednesday, December 12, 2012 | Written by Janice Aragon
NSSA SOUTHWEST CONFERENCE
EXPLORER EVENT #7
SAN FERNANDO PLACE, MISSION BEACH
DECEMBER 8, 2012
CONDITIONS: Shreddable 3-4 foot beachbreak lefts and rights
JUNIORS FINALISTS
l-r: Andrew Niemann, Jacob Szekely, Josh Queen, Bryce Marino, Noah Collins, Logan Laubach
(Huntington Beach, Ca – December 12, 2012) –Mission Beach served up shreddable 3-4 foot lefts and rights for the Southwest Conference Explorer Season event #7 held at the San Fernando Place sandbars. The major storyline of the contest was La Jolla's Jacob Szekely who put on a clinic in the Juniors final posting two excellent wave scores of 9.70 and 9.20. The Southwest Conference Explorer Season offers in Men's, Juniors, Boys, Menehuene, Super Groms, Womens, Girls, Masters, Seniors, Super Seniors, Duke, Kneeboard and Longboard. This event was the seventh of 10 events in the Southwest Conference Explorer Season series.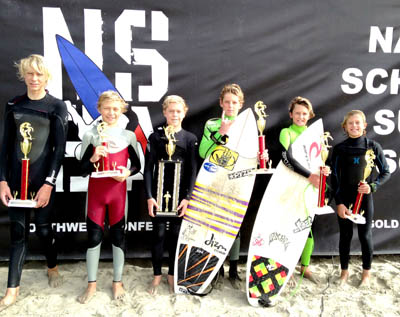 BOYS FINALISTS
l-r: Conner Dawson, Nicholas Holdman, Danny Kenduck, Will Reid, Crosby Colapinto, Nick Marshall
The lowdown from Southwest Conference Mission Beach Explorer event 7:
**Jacob Szekely went to town with a lights out surfing performance in the Juniors final. He crushed two waves earning a near perfect 9.7 and another excellent 9.2 sealing his first NSSA victory. "I'm baffled to put a heat like that together," said Jacob. "It's my highest heat total ever." Szekely, who has been pushing his progressive level, has recently shined in NSSA competition. Most notably was his impressive second place finish in the Open Season Airshow in Huntington Beach last weekend where he launched a huge aerial reverse.
**Another noteworthy Juniors performance was delivered by Noah Collins who achieved his second consecutive runner up placing and will remain in the number two position behind ratings leader Bryce Marino.
**It was a successful mission for Master's division surfer Ed Custudio who stepped up to compete in the younger Men's bracket category. Ed took it up a notch taking a big win over Juniors winner Jacob Szekely.
**Danny Kenduck clinched his second won of the season in the Explorer Boys division with Menehuene division competitor Crosby Colapinto stepping up his level and surfing to an impressive second place.
**Nick Marshall sealed his second victory of the season in the Menehuene final. Noah Hohenester was runner up for the second straight contest!
**Kade Matson extended his win streak securing his seventh straight victory in the Super Grom division. Matson is working on an undefeated season so we will keep a close eye on his dominating performance in the division as we head into the new year with three events remaining on the 2012-13 Explorer Season schedule.
**In the Women's division, Malia Osterkamp took her fourth win of the season and will maintain a commanding lead in the ratings. In the Girls category, Tiare Thompson took the win in the final over number one ranked Samantha Cendro. Samantha's second place result will keep her on top of the Girls leaderboard.
**Number one ranked Rick Takahashi continued his supremacy of the Master's category securing his fourth straight victory in the division. However in the Seniors final, Rick had to settle for second to former NSSA standout Brian Stanton who claimed his first win in the division. Brian, who was a former NSSA National Team member, returned to competition this year competing in both the Masters and Seniors divisions.
**In the Super Seniors, things finally clicked for long-time NSSA competitor Mike Glevy who took his first satisfying victory of the season snapping Rick "Rockin Fig" Fignetti's six-event win streak. Fig continued his win streak in the Duke division making it seven straight triumphs.
**In the Kneeboard category, the Southwest Explorer Season finished up the division for the 2012-13 regular season after it's triumphant return to the NSSA lineup of competitive divisions. In the final event, Sean Noone claimed his first NSSA victory over Tom Linn who netted his third second place decision. Tom enjoyed a notable season securing two wins and never placed below second in a final en route to handily clinching the conference kneeboard title.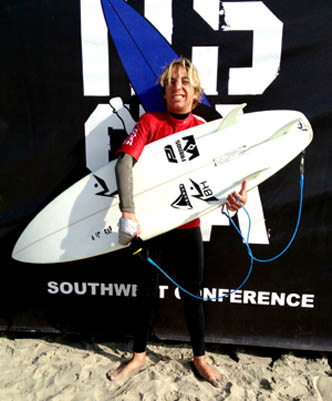 JACOB SZEKELY
PERFORMER OF THE EVENT
JACOB SZEKELY
Be sure to keep up with all the NSSA action via the website at nssa.org and social media platforms Facebook and Instagram.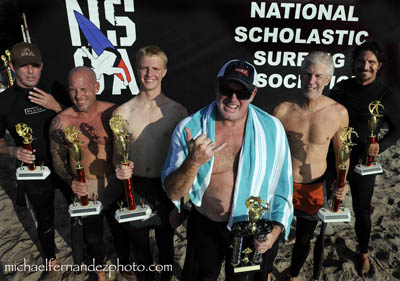 KNEEBOARD FINALISTS
l-r: Chris Bermudez, Eric Peterson, Evan Odom, Sean Noone, Tom Linn, Ed Quinn
COMING UP IN CALI: The NSSA will head to Norcal for the Northwest Conference doubleheader. On Saturday, December 15, event #2 will be held on Santa Cruz's East Side at the perfection right-hand rock-reef of Pleasure Point. The following day on Sunday, December 16, event #3 will shift a few miles north to the legendary and world famous Steamer Lane. The following week on December 22-23, the weekend before Christmas contest tradition will continue with the Seaside Reef Open Season.
SUPER GROM FINALISTS
l-r: Jett Schilling (front), Kai McPhillips, Kade Matson, Keanu Igarashi, Hagan Johnson, Taro Watanabe
THE SCOREBOARD
RESULTS
SOUTHWEST CONFERENCE EXPLORER EVENT #7
SAN FERNANDO PLACE, MISSION BEACH

EXPLORER DIVISIONS
EXPLORER MENS
1. Ed Custudio-San Diego
2. Jacob Szekely-La Jolla
3. Spencer Bingham-San Diego
EXPLORER JUNIORS
1. Jacob Szekely-La Jolla
2. Noah Collins-Manhattan Beach
3. Logan Laubach-San Clemente
4. Bryce Marino-Huntington Beach
5. Andrew Niemann-Huntington Beach
6. Josh Queen-Huntington Beach
EXPLORER BOYS
1. Danny Kenduck-Laguna Niguel
2. Crosby Colapinto-San Clemente
3. Connor Dawson-Huntington Beach
4. Nick Marshall-Encinitas
5. Will Reid-Palos Verdes Estates
6. Nicholas Holdman-Poway
EXPLORER MENEHUENE
1. Nick Marshall-Encinitas
2. Noah Hohenester-San Clemente
3. Crosby Colapinto-San Clemente
4. Kade Matson-San Clemente
5. Dagan Stagg-Carlsbad
6. Jett Schilling-San Clemente
EXPLORER SUPER GROMS
1. Kade Matson-San Clemente
2. Kai McPhillips-San Clemente
3. Jett Schilling-San Clemente
4. Keanu Igarashi-Huntington Beach
5. Hagan Johnson-San Clemente
6. Taro Watanabe-Malibu
EXPLORER WOMENS
1. Malia Osterkamp-San Clemente
2. Rachel Tominaga-Manhattan Beach
3. Izzy Gomez-Holmes Beach
4. Alexa Elseewi-San Clemente
5. Tiare Thompson-La Jolla
6. Maddie Gumbrecht-Huntington Beach
7. Madeleine Camargo-Huntington Beach
EXPLORER GIRLS
1. Tiare Thompson-La Jolla
2. Samantha Cendro-Huntington Beach
3. Malia Faramarzi-Encinitas
4. Jada Galland-Rancho Santa Fe
5. Madeleine Camargo-Huntington Beach
6. Makena Perez-Carlsbad
7. Malia Osterkamp-San Clemente
EXPLORER MASTERS
1. Rick Takahashi-San Diego
2. Sergio Martins-San Diego
3. Brian Stanton-Encinitas
4. Eric Sorensen-Long Beach
5. Ed Custudio-San Diegon
6. Tatuzisochi Zagoto-Encinitas
EXPLORER SENIORS
1. Brian Stanton-Encinitas
2. Rick Takahashi-San Diego
3. Eric Sorensen-Long Beach
4. Sergio Martins-San Diego
5. Lee Toresdahl-Huntington Beach
EXPLORER SUPER SENIORS
1. Mike Glevy-San Diego
2. Rick Fignetti-Huntington Beach
3. Lee Toresdahl-Huntington Beach
4. Jim Ferguson-Santa Rosa
EXPLORER DUKE
1. Rick Fignetti-Huntington Beach
2. Jim Ferguson-Santa Rosa
EXPLORER KNEEBOARD
1. Sean Noone-Aliso Viejo
2. Tom Linn-Laguna Niguel
3. Evan Odom-Vista
4. Eric Peterson-Orange
5. Ed Quinn-Sherman Oaks
6. Chris Bermudez-Oxnard