BARRELS, AIRS AND PERFECT SCORES HIGHLIGHT MEMORABLE SOUTHWEST OPEN #6 AT HB PIER!
Tuesday, December 04, 2012 | Written by Janice Aragon
NSSA SOUTHWEST CONFERENCE
OPEN SEASON EVENT #6
HUNTINGTON BEACH PIER, SOUTHSIDE
DECEMBER 1-2, 2012
CONDITIONS: Surf City magic. A solid 4-6 foot northwest swell, calm winds and perfectly shaped sandbars were the ideal ingredents for epic conditions and a memorable weekend on southside's surf stadium at Huntington Beach Pier.
by: Janice Aragon l NSSA
SURF CITY MAGIC
(Huntington Beach, Ca – December 4, 2012) –Huntington Beach's iconic sandbars on the southside of the pier set the stage for the Southwest Conference Open Season event #6. A big dose of northwest swell and calm winds served up conditions of epic proportions. Competitors were greeted with pumping 4-6 waves with 8-foot plus sets. Both the long lined-up rights off the well-shaped sandbars and the lefts off of southside's infamous pierbowl were firing. The major storyline of the contest was San Clemente's Colt Ward who surfed a flawless heat in his Juniors quarterfinal dropping two perfect 10 wave scores. The Southwest Conference Open Season is regarded as the leading competition for west coast surfers. Divisions are offered in Men's, Juniors, Boys, Mini Groms, Womens, Girls and Longboard. This event was the sixth of 10 events in the Southwest Conference Open Season series. The NSSA Open Season is open to student surfers only.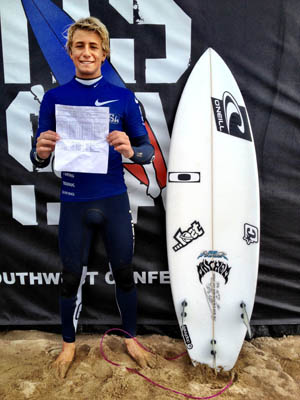 THE MAN OF THE HOUR COLT WARD!
The lowdown from the Southwest Conference Huntington Beach Open Season event 6:
**Colt Ward made big-time headlines surfing a perfect heat in his Open Juniors quarterfinal. In epic barreling conditions at HB's legendary pierbowl sandbar, the 15-year-old goofyfooter scored two perfect 10's on two thunderous tube rides. Prior to the perfect heat, Ward had another deep gladiator pit in his Men's round 2 heat which earned him a 9-point score. Ward was ecstatic on not only surfing a perfect heat, but actually posting his first career 10-point ride. "I've never scored a perfect 10 in a contest," Ward revealed. "And to get two 10's in one heat, especially on barrels in Huntington is just amazing.
**Despite his heroics in Saturday's preliminary rounds, Ward came up short in both the Men's (16 & up division) where he was put out in the semis and the Juniors final where he took second to an in form Jake Marshall.
**Jake Marshall's Juniors victory was his third of the season enabling him to move into a more comfortable lead in the ratings. Marshall, who won two National titles on southside in 2011, also took an impressive second place in the premier Open Men's category cementing his standout agility at the nation's most notable center stage of surf.
**Taylor Clark claimed his second win of the season in fairly convincing fashion driving home the point he will be one of the top prospects for a National title bid at Huntington Pier. He also stamped his authority in the aerial department winning the airshow on a soaring air reverse which earned a giant 9.67 score.
**Making the final along with Clark and Marshall were young John Mel and local surfer Bryce Marino who took third and fourth respectively. Although the 13-year-old Mel is in his first year in the Juniors division, it's not surprising he rose to the occasion in the NSSA's premier division. He is rock solid on Pierbowl lefts and won a National title here in 2010. HB standout Bryce Marino used the local knowledge to his advantage maximizing the conditions in his best career Open result.
**Albeit Colt Ward stole the barrel show with his 20-point performance, John Mel gets an honorable mention for his tube-riding skills with a 9-point barrel of his own in Saturday's prelims.
**San Diego's rising talent Ryland Rubens and HB local Kirk Weissinger joined Marshall and Ward in the Juniors final. Rubens placed third and Weissinger took fourth.
**In the Womens, Tia Blanco took the win on a buzzer-beater in the final seconds of the final. In a tiebreak decision with Kylie Loveland, Blanco's clutch score secured her the win, her first of the 2012-13 Southwest Open Season
**For the second consecutive Open event, Ventura's Eithan Osborne was in command. He secured his second straight Open victory winning the Boys final on an excellent 9-point ride and a solid 6.5 second wave score. His 15.50 total score in the final tied with Jake Marshall's 15.50 final score in Juniors as the highest of all the finals. Boys number one ranked Cole Houshmand who placed second in the final, will maintain the ratings lead with number two ranked Osborne closing in.
**In the Mini Groms, San Clemente's newest up-and-coming grom Kade Matson sealed his second win of the season. It was a big victory for Matson who moved into first in the ratings with Sebastian Mendes dropping to second. Worth mentioning is Matson's dominance in the Southwest Explorer Season where he is currently undefeated in the Super Grom division riding on a six-event win streak.
PERFORMERS OF THE EVENT
COLT WARD-Posted two perfect 10's for a flawless 20-point heat total in the Juniors quarterfinals.
JAKE MARSHALL-Won the Juniors final for his third win of the season in the division. He also advanced to the Open Men's final for the third time this season placing a career-best second place in the NSSA's premier division.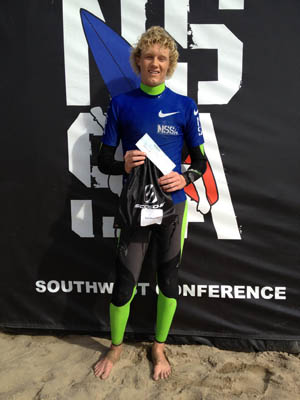 TAYLOR CLARK BOOSTS THE MONEY AERIAL
SCOSCHE MANUEVER OF THE EVENT
TAYLOR CLARK: Pulled an electrifying, crowd-pleasing air reverse in Saturday's Airshow posting a near perfect 9.67 score to win the event and some awesome Scosche swag.
The NSSA Southwest Conference is proud to have support from Nike, Huntington Surf and Sport, Java Point, Surfing Magazine, Sex Wax, Scosche and Channel Islands. Many thanks to the City of Huntington Beach and lifeguards, the NSSA staff and ASP Judging panel for assisting us in staging a professional quality event for the Southwest Open Season series.
Be sure to keep up with all the NSSA action via the website at nssa.org and social media platforms Facebook and Instagram.
COMING UP IN CALI: Southwest Conference Explorer Season event #7 will go off at Mission Beach on Saturday, December 8th followed by the College Season event #3 on Sunday, December 9th at Mission Beach.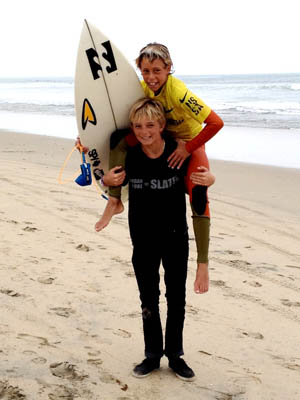 BOYS WINNER EITHAN OSBORNE CARRIED UP THE BEACH
THE SCOREBOARD
RESULTS
SOUTHWEST CONFERENCE OPEN SEASON EVENT #6
HUNTINGTON BEACH PIER, SOUTHSIDE

OPEN MENS
1. Taylor Clark-Encinitas 12.34
2. Jake Marshall-Encinitas 10.73
3. John Mel-Newport Beach 7.33
4. Bryce Marino-Huntington Beach 5.30
OPEN JUNIORS
1. Jake Marshall-Encinitas 15.50
2. Colt Ward-San Clemente 14.90
3. Ryland Rubens-Pacific Beach 6.84
4. Kirk Weissinger-Huntington Beach 6.40
OPEN BOYS
1. Eithan Osborne-Ventura 15.50
2. Cole Houshmand-San Clemente 10.83
3. Tommy McKeown-Oxnard 7.57
4. Nick Marshall-Encinitas 4.36
OPEN MINI GROMS
1. Kade Matson-San Clemente 10.00
2. Jabe Swierkocki-Ventura 6.50
3. Connor Marshall-Encinitas 5.66
4. Kai McPhillips-San Clemente 2.37
OPEN WOMENS
1. Tia Blanco-San Clemente 10.03 tiebreak
2. Kylie Loveland-Carlsbad 10.03 tiebreak
3. Danielle Wyman-Laguna Niguel 9.37
4. Kulia Doherty-Rancho Santa Fe 8.07
OPEN GIRLS
1. Malia Osterkamp-San Clemente 9.17
2. Jada Galland-Rancho Santa Fe 4.66
About NSSA
The National Scholastic Surfing Association (NSSA) is a nonprofit organization whose mission is to encourage and assist its members in their interest to learn and develop the fundamentals and skills of surfing competition while competing in structured and quality events. The NSSA promotes the qualities of discipline and competitive excellence while supporting the merits of academic achievement to young surfers. The NSSA strives to provide a fun surfing experience for all of its members.
The NSSA is one of the few national youth sports organizations that require its participants to maintain academic standards in order to compete. Since 1978, the NSSA program philosophy has been that athletics and scholastics go hand in hand. More than 80 NSSA events are run nationwide that culminate with the annual National Championships which is regarded as the highest profile youth surfing event in America.
###