SOUTHWEST OPEN MIDSEASON HEATS UP AT NEWPORT'S 54TH STREET!
Wednesday, November 07, 2012 | Written by Janice Aragon
NSSA SOUTHWEST CONFERENCE
OPEN SEASON EVENT #5
NEWPORT BEACH, 54TH STREET
NOVEMBER 3-4, 2012
CONDITIONS: Small 1-3 foot wedgy peaks with clean conditions throughout the weekend
by: Janice Aragon l NSSA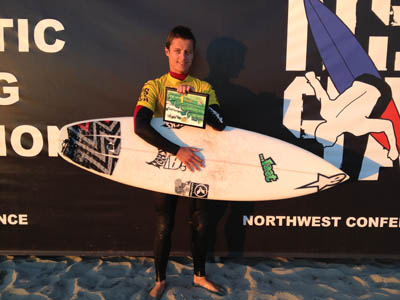 A BIG VICTORY FOR JONAH CARTER!
(Huntington Beach, Ca – November, 2012) – Newport's iconic 54th Street sandbars set the stage for the midseason Southwest Conference Open. Small but rippable 1-3 foot wedge peaks were on offer under another gorgeous, warm autumn day. Despite the modest conditions, the competitors took advantage of Newport's trademark fast, steep lines boosting aerials and pulling into clean miniature barrels. San Clemente surfers continue to bring on big performances. Jonah Carter unleashed in the Men's final grabbing his first win, Griffin Colapinto pulled off the maneuver of the event locking into a nice little tube ride earning an event high 8.67 wave score and Mini Grom Hagan Johnson claimed his first NSSA victory. The Southwest Conference Open Season is regarded as the leading competition for west coast surfers. Divisions are offered in Men's, Juniors, Boys, Mini Groms, Womens, Girls and Longboard. This event was the fifth of 10 events in the Southwest Conference Open Season series. The NSSA Open Season is open to student surfers only.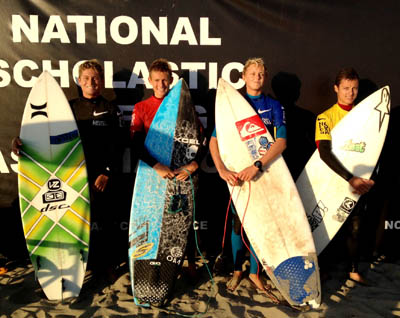 MENS FINAL FOUR
l-r: Scott Weinhardt, Kevin Schulz, Thelen Worrell, Jonah Carter
Highlights from Southwest Conference Oceanside Open Season event 5:
**It was an outstanding breakthrough performance for San Clemente's Jonah Carter. In the 1-3 foot fast, tricky wedging peaks, Carter came out firing on all cylinders in the early stages of the final putting two solid rides of 7.83 and 7.33 on the scoreboard leaving opponents Kevin Schulz, Scott Weinhardt and Thelen Worrell in combo-land for the majority of the heat. Schulz valiantly battled back, digging himself out of a combo situation but still needed a 9-point ride to topple Carter. Carter went on to take his first career Open victory, and a very sweet one at that in the premier Open Men's division.
**The runner-up placing for Schulz will move him into the number one position in the ratings. Prior to this event Schulz and Worrell were in a tie for first. Scott Weinhardt stepped it up with a third place finish putting forth his best performance of the season thus far.
**Worrell continues his exceptional and impressive finals roll in the Open Men's. He leads the Men's division in finals appearances appearing in 4 of 5 finals this season. He has also made 3 of 5 Juniors finals including this event where he placed second to Takumi Yasui.
**Japan's Yasui with his rail-driven power style, struggled in the small peaks on day one with an uncharacteristic first round elimination in the Men's division. His performance continued to improve with each heat in the Juniors category and he claimed his first win of the season. He has now gone 4 for 4 in Open Juniors finals appearances (he did not compete in event #1).
**In the Juniors midseason rankings, number one ranked Jake Marshall (Encinitas) gained a little ground over number two ranked Griffin Colapinto. Marshall and Colapinto finished third and fourth respectively in the Newport Juniors final and are within a couple hundred points of each other in the conference title chase.
**Ventura's Eithan Osborne broke the ice clinching his first Open win of the season in the Boys division snapping Cole Houshmand's two event win streak. Osborne controlled the final winning it by a 4-point margin with solid wave scores of 7.83 and 6.83. Newport local Tyler Gunter was runner-up, Houshmand took third and Ben Seaberry came in fourth. Houshmand is still out front in the ratings on the strength of his three wins this season.
**San Clemente continues to breed a hot-bed of young talent. The newest rising Mini Grom to emerge is Hagan Johnson who has been surfing impressively all season. After making two straight finals including a second place at the Oceanside Pier Open, Johnson pulled off his first ever NSSA win at Newport. Kade Matson, another San Clemente up-and-comer came in second followed by Sebastian Mendes and Jabe Swierkocki. Mendes will maintain a strong lead in the Mini Grom ratings.
**As expected, the Open Women's division continues to show intensity and excitement due to the higher level of performance. After weeks of finals placings, big scores and perfect 10's, Chelsea Tuach (San Clemente) sealed the deal taking her first NSSA victory. Things finally clicked for Tuach, who has been searching for her first victory while competing in an abundance of NSSA events up and down the state. Tuach's victory also caused a major shift in the rankings. She will move from fourth to the number one spot, dropping Kulia Doherty to second due to her semi-final upset.
**Tiare Thompson (Encinitas) claimed her first Open victory of the season in a close decision over number one ranked Malia Osterkamp. Osterkamp will remain in first in the ratings with number two ranked Thompson inching up closer.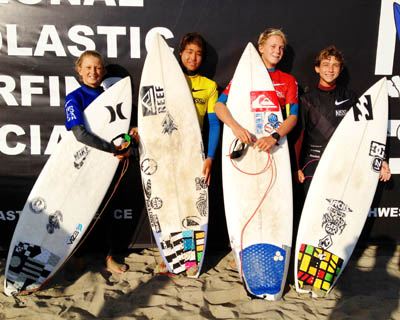 JUNIORS FINAL FOUR
l-r: Jake Marshall, Takumi Yasui, Thelen Worrell, Griffin Colapinto
PERFORMERS OF THE EVENT
Jonah Carter: Claimed his first ever NSSA Open Season victory, winning the premier Men's division and had the highest combined heat total of all the finals (15.16 out of 20)
Thelen Worrell: Made double finals in Men's and Juniors for the third time this season. Has made 4 of 5 finals in the premier Open Men's category.
MANUEVER OF THE EVENT
Griffin Colapinto: Great little tube ride in Saturday's prelims posting the highest score of the event (8.67).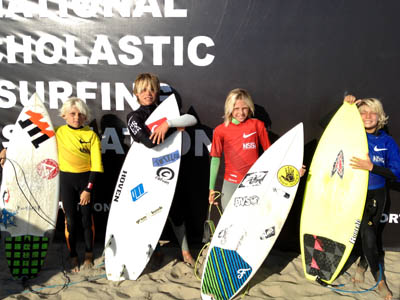 THE MINI GROM FINALISTS!
l-r: Hagan Johnson, Kade Matson, Sebastian Mendes, Jabe Swierkocki
The NSSA Southwest Conference is proud to have support from Nike, Huntington Surf and Sport, Java Point, Surfing Magazine, Sex Wax, Scosche, Channel Islands and Sugar Shack. Many thanks to the City of Oceanside and lifeguards, the NSSA staff and ASP Judging panel for assisting us in staging a professional quality event for the Southwest Open Season series.
Be sure to keep up with all the NSSA action via the website at nssa.org and social media platforms Facebook and Instagram.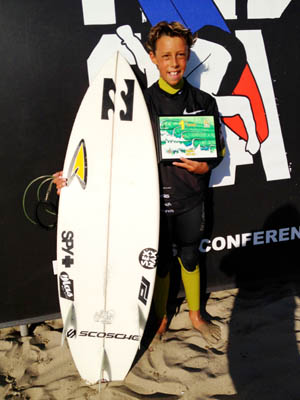 EITHAN WILL GO INTO THIS WEEKEND'S GOLD COAST DOUBLEHEADER UNDEFEATED IN MENEHUENES!
COMING UP IN CALI: The Gold Coast Conference will head to Ventura Harbor for a doubleheader weekend on November 10-11. The Southwest Conference Explorer Season will resume on Saturday, November 17th at San Diego's famed Seaside Reef. The following day on Sunday, November 18th, hundreds of hungry college surfers will descend on Seaside for stop number two of the Southwest Conference College Season series.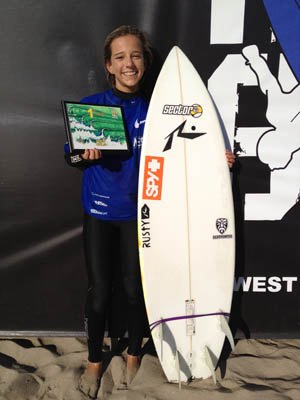 TIARE TAKES FIRST OPEN WIN THIS SEASON!
THE SCOREBOARD
RESULTS
SOUTHWEST CONFERENCE OPEN SEASON EVENT #5
NEWPORT BEACH, 54TH STREET

OPEN MENS
1. Jonah Carter-San Clemente 15.16
2. Kevin Schulz-San Clemente 10.53
3. Scott Weinhardt-Dana Point 6.90
4. Thelen Worrell-Malibu 6.50
OPEN JUNIORS
1. Takumi Yasui-Saitama, Japan 10.67
2. Thelen Worrell-Malibu 9.60
3. Jake Marshall-Encinitas 8.47
4. Griffin Colapinto-San Clemente 6.53
OPEN BOYS
1. Eithan Osborne-Ventura 14.66
2. Tyler Gunter-Newport Beach 10.60
3. Cole Houshmand-San Clemente 7.97
4. Ben Seaberry-Huntington Beach 5.66
OPEN MINI GROMS
1. Hagan Johnson-San Clemente 8.17
2. Kade Matson-San Clemente 7.23
3. Sebastian Mendes-Agoura Hills 5.70
4. Jabe Swierkocki-Ventura 3.40
OPEN WOMENS
1. Chelsea Tuach-San Clemente 11.50
2. Frankie Harrer-Malibu 7.23
3. Danielle Wyman-Laguna Niguel 5.74
4. Tia Blanco-San Clemente 4.50
OPEN GIRLS
1. Tiare Thompson-La Jolla 7.60
2. Malia Osterkamp-San Clemente 7.23
3. Sidney Johnson-Carlsbad 2.84
4. Jada Galland-Rancho Santa Fe 2.33
About NSSA
The National Scholastic Surfing Association (NSSA) is a nonprofit organization whose mission is to encourage and assist its members in their interest to learn and develop the fundamentals and skills of surfing competition while competing in structured and quality events. The NSSA promotes the qualities of discipline and competitive excellence while supporting the merits of academic achievement to young surfers. The NSSA strives to provide a fun surfing experience for all of its members.
The NSSA is one of the few national youth sports organizations that require its participants to maintain academic standards in order to compete. Since 1978, the NSSA program philosophy has been that athletics and scholastics go hand in hand. More than 80 NSSA events are run nationwide that culminate with the annual National Championships which is regarded as the highest profile youth surfing event in America.
###