BANYANS SETS THE STAGE FOR HAWAII EVENT 6
Tuesday, November 06, 2012 | Written by Miko Parker
THE BIG ISLAND SETS THE STAGE FOR NSSA HAWAII EVENT #6
OCTOBER 27, 2012
By: Miko Parker
BIG ISLAND BEAUTY AND PLENTY OF WAVES ON HAND AT BANYANS
The sixth stop of the 2012-13 Hawaii season was held at Banyans on the beautiful Big Island. A big dose of swell was on offer much to the delight of the competitors. The sun was shining and the waves were pumping with solid 3-4 foot waves pouring through. Despite the wind showing up mid-morning, the Big Island groms were revved up and ready to go in their home break. Kona kids love competing at their local spot and the local knowledge paid off as many were ruling the lineup and taking multiple division wins. Kahanu Delovio was on fire winning 3 divisions in Open Womens, Open Girls and Explorer Womens. Brodi Sale was red hot taking triple victories in Open Mini Groms, Explorer Menehuenes and Explorer Super Groms. Let's not forget to mention part-time Kona boy Charlie Boy Akao, who is fortunate enough to live on Oahu in order to attend Kamehameha School. Charlie Boy took two outstanding wins in the Open Mens and Explorer Juniors.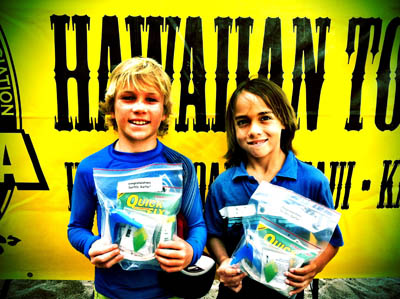 SURFCO SURFERS OF THE EVENT - FINN BEDIAMOL AND DYLAN JOHN SCHMARR
NSSA Hawaii would like to thank Kona Bali Kai for permitting the kids to surf and stay at their great hotel. Also much mahalos to Uncle Makana Delovio for his generous assistance and support for this Big Island event. And a huge congratulations to Finn Bediamol and Dylan John Schmarr for winning the Surfco Surfers of the Event.
Sponsors
Mad Love
Xcel
Surfco Hawaii
Jason Nalu Bogle
Aloha Kine
Kalani Robb
Kaz (Novus Swell)
OPEN DIVISIONS
MENS
1. Charlie Boy Akao
2. Kaimana Kinimaka
3. Seth Moniz
4. Noa Mizuno
5. Kalen Galtes
6. Cody Young
WOMENS
1. Kahanu Delovio
2. Sierra Lerback
3. Brisa Hennessy
4. Aloha Lopez
5. Sierra Larsen
6. Serene Gunnison
JUNIORS
1. Noa Mizuno
2. Seth Moniz
3. Shayden Dela Cruz-Pacarro
4. Dylan Lehmann
5. Loa Ng
6. Nick Nunez
BOYS
1. Cole Alves
2. Dylan Franzmann
3. Brodi Sale
4. Ocean Donaldson-Sargis
5. Logan Bediamol
6. Eli Hanneman
GIRLS
1. Kahanu Delovio
2. Brisa Hennessy
3. Sierra Larsen
4. Mainei Kinimaka
5. Aloha Lopez
6. Sophia Johnston
MINI GROMS
1. Brodi Sale
2. Eli Hanneman
3. Tony Nunez
4. Ocean Macedo
5. Dylan Franzmann
6. Axel Rosenbald
EXPLORER DIVISIONS
MENS
1. Kaimana Kinimaka
2. Kalen Galtes
3. Raymond May
4. Austin Gibson
5. Kala Willard
6. Dante Silva
JUNIORS
1. Charlie Boy Akao
2. Seth Moniz
3. Elijah Gates
4. Shayden Dela Cruz-Pacarro
5. Imai DeVault
6. Kala Willard
WOMENS
1. Kahanu Delovio
2. Brisa Hennessy
3. Aloha Lopez
4. Sierra Larsen
5. Serene Gunnison
6. Sierra Lerback
BOYS
1. Christopher Bluthardt
2. Logan Bediamol
3. Dylan Lehmann
4. Cole Alves
5. Noa Mizuno
6. Kala Willard
MENEHUENES
1. Brodi Sale
2. Ocean Donaldson-Sargis
3. Logan Bediamol
4. Dylan Franzmann
5. Cole Alves
6. Tony Nunez
SUPER GROMS
1. Brodi Sale
2. Eli Hanneman
3. Dylan Franzmann
4. Ocean Macedo
5. Axel Rosenbald
6. Tony Nunez
GIRLS
1. Brisa Hennessy
2. Mainei Kinimaka
3. Sophia Johnston
4. Kahanu Delovio
5. Aloha Lopez
6. Sierra Larsen
About NSSA
The National Scholastic Surfing Association (NSSA) is a nonprofit organization whose mission is to encourage and assist its members in their interest to learn and develop the fundamentals and skills of surfing competition while competing in structured and quality events. The NSSA promotes the qualities of discipline and competitive excellence while supporting the merits of academic achievement to young surfers. The NSSA strives to provide a fun surfing experience for all of its members.
The NSSA is one of the few national youth sports organizations that require its participants to maintain academic standards in order to compete. Since 1978, the NSSA program philosophy has been that athletics and scholastics go hand in hand. More than 80 NSSA events are run nationwide that culminate with the annual National Championships which is regarded as the highest profile youth surfing event in America.
###