COLLEGE SURFERS GO BIG AT THE SEASON OPENER AT BLACKS BEACH!
Thursday, November 01, 2012 | Written by Gayline Clifford
NSSA SOUTHWEST CONFERENCE
COLLEGE TEAM SEASON EVENT #1
BLACKS BEACH, SAN DIEGO
OCTOBER 27-28, 2012
CONDITIONS: Chest to head high, clean left and right peaks
by: Gayline Clifford l NSSA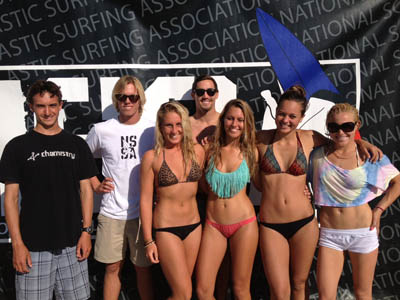 NATIONAL CHAMPIONS MIRA COSTA ARE IN COMMAND!
(Huntington Beach, Ca – November 1, 2012) –the Southwest Conference College Team Season opened up this weekend with event number one at Blacks Beach in San Diego. Another hot, gorgeous summer weekend persisted in southern California with temps in the high 80's, glassy conditions and good waves. Conditions for the first event of the College Season were clean and offshore with fun 2-4 foot peaks. A total of 25 teams competed in the contest vying for a good result and a solid jump-start to the season standings. The college surfers maximized the great conditions and incredible action-packed, high scoring performances were witnessed. The NSSA would like to give a big shout-out to UCSD for traditionally hosting the College opener at legendary Blacks beach. This event was the first of four in the 2012-13 College Season series.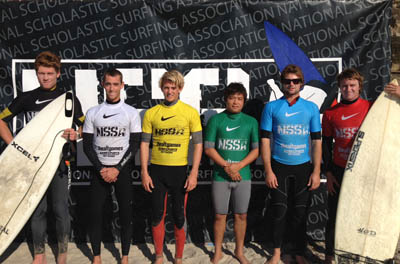 COLLEGE MENS FINALISTS
l-r: Cody Sherman, Cameron Brown, Austin Finley, Shaw Kobayashi, Gio Mola, Shaun Burrell
Highlights from Southwest Conference College Team Season event #1:
**The reigning National Champion Mira Costa Spartans returned to the new season rock solid taking a dominating 165-125 victory over UCSD.
**The Spartans were off to a quick start advancing all of their 6-man squad to round two. Their commanding momentum continued as they went on to place 4 team members in the Mens semis which blew the contest wide open in their favor.
**Former NSSA standout Alexa Frantz added firepower to the Mira Costa Women's squad taking runner up in the College Women's final.
**UCSD used their home court advantage to take an strong second place in the 25-team competition.
**The defending conference champs SDSU were put under the test placing third with 113 points.
**Considered one of the best waves on the coast, Blacks provided plenty of high performance surf and the competitors maximized the good conditions from round one through the finals.
**Kicking off round one action, Cody Sherman, a talented new addition to the SDSU surf team this season, pulled off some sick vertical turns to win his first round heat. James Fisher from Point Loma Nazarine pulled into a nice barrel and finished his wave off with some rail-drivin cutbacks to post the first 9-point ride of the event.
**Round two action continued to sizzle as the college surfers were ripping! Right off the bat in heat number one, UCSB's Dale Timm pulled into a deep backside barrel and was rewarded with a unanimous 10 point ride. Not to be outdone, Kelly Zaun from Mira Costa followed suit stylishly pulling into a clean frontside tube which was awarded the second perfect-10 score of the heat!
**The College Men's final saw Saddleback's Shaw Kobayashi building his scoreline with a couple of mediocre scores. Things started clicking throughout the final for Kobayashi as he continued to build on his rhythm. He crushed a couple waves in the final minutes of the heat punishing the lip with big explosive turns to nail his first win of the season. Placing second was Shaun Burrell from UCSD. Rounding out the final was SDSU'S Cameron Brown in third, Gio Mola from Cal Poly San Luis Obispo in fourth, SDSU'S Cody Sherman in fifth and CSUCI's Austin Finley in sixth.
**In the Longboard division on Sunday, Zach Hines from USD flaired up in the fun Blacks conditions with some polished cheater 5's, toes on the nose and clean carves. Hines took command winning all of his heats including the final with an outstanding 17.0 total! CSULB's Cody Watten was on point the whole event and placed second. Rounding out the 6-man final was Joey Wangness from Point Loma in third, Blake Humman from UCSD in fourth, Jonny Fay from SDSU in fifth and Jason Schechter from UCLA in sixth.
**In the College Womens division USD's Keenan Lineback was on fire! The 2012 National finalist crushed her semi-final posting an excellent 8-point ride. Lineback won every heat en route to her finals victory cementing her status as one of the top contenders for a Collegiate National title in 2013. Alexa Frantz from Mira Costa was also killing it placing first in all three of the preliminary rounds as well. Frantz posted the highest scoring wave of the final but had to settle for runner-up to Lineback as she couldn't find a solid backup. Rounding out the final was Rachel Harrell from Point Loma in third, Alexa Dilley from CSUSM in fourth, and UCSD's Niki Sfeir and Kellin Haley who placed fifth and sixth respectively.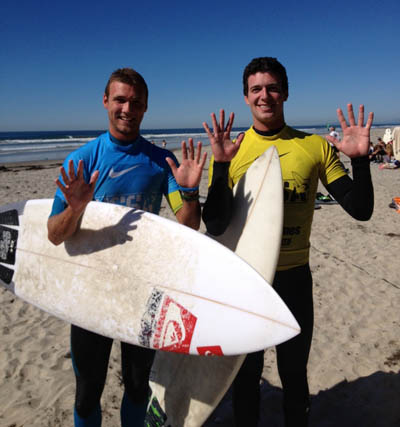 PERFECT 10'S FOR MIRA COSTA'S KELLY ZAUN AND UCSB'S DALE TIMM
The NSSA Southwest Conference is proud to have support from Nike, Huntington Surf and Sport, Java Point, Surfing Magazine, Sex Wax, Scosche and Channel Islands. Many thanks to UCSD for hosting the event at awesome Blacks beach and the San Diego lifeguards for assisting us in staging the a top quality event for the 2012-13 College Season opener. Also a big thank you to the NSSA staff for a top-notch job.
Be sure to keep up with all the NSSA action via the website at nssa.org and social media platforms Facebook and Instagram.
COMING UP IN CALI: The Southwest Open will kick back into gear with event #5 at 54th Street in Newport Beach this weekend (Nov 3-4). The Gold Coast Explorer Season will continue with events #6-#7 at Ventura Harbor on November 10-11. The Southwest Explorer Season event #6 will be held on November 17 at Seaside Reef in Cardiff by the Sea. The College Team Season will continue with event #2 on November 18 at Seaside Reef.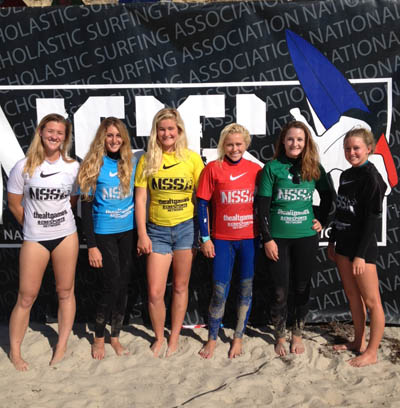 COLLEGE WOMENS FINALISTS
l-r: Kellin Haley, Niki Sfeir, Rachel Harrell, Alexa Frantz, Alexa Dilley, Keenan Lineback
THE SCOREBOARD
RESULTS
SOUTHWEST CONFERENCE COLLEGE TEAM SEASON EVENT #1
BLACKS BEACH, SAN DIEGO
COLLEGE TEAM
1. Mira Costa Red –165
2. UCSD A-125
3. SDSU Black-113
4. Saddleback-102
5. UCSB Gold-86
6. SDSU Red-77
7. Cal Poly San Luis Obispo A-75
8. Point Loma Gold-74
9. CSU San Marcos A-71
10. USD-69
11. CSU Long Beach A-65
12. UCSC-56
13. UCLA-55
14. Mira Costa White-48
15. Mira Costa Blue-46
=16. CSU Channel Islands-45
UCSD B-45
18. USC-41
19. CSU Long Beach B-31
20. Point Loma Green-27
21. UCSB White-25
22. Cal Poly San Luis Obispo B-22
23. UCSB Blue-20
24. CSU San Marcos B-17
25. Loyola Marymount-16
COLLEGE MENS
1. Shaw Kobayashi-Saddleback
2. Shaun Burrell-UCSD A
3. Cameron Brown-SDSU Black
4. Gio Mola-Cal Poly SLO A
5. Cody Sherman-SDSU Black
6. Austin Finley-CSU Channel Islands
COLLEGE LONGBOARD
1. Zach Hines-USD
2. Cody Watten-CSU Long Beach A
3. Joey Wangness-Point Loma Gold
4. Blake Humman-UCSD A
5. Jonny Fay-SDSU Red
6. Jason Schechter-UCLA
COLLEGE WOMENS
1. Keenan Lineback-USD
2. Alexa Frantz-Mira Costa Red
3. Rachel Harrell-Point Loma Gold
4. Alexa Dilley-CSU San Marcos A
5. Niki Sfeir-UCSD A
6. Kellin Haley-UCSD A