OCEANSIDE PIER DELIVERS FOR SOUTHWEST OPEN SEASON EVENT #4!
Wednesday, October 31, 2012 | Written by Janice Aragon
NSSA SOUTHWEST CONFERENCE
OPEN SEASON EVENT #4
OCEANSIDE PIER, NORTHSIDE
OCTOBER 27-28, 2012
CONDITIONS: Clean, glassy 2-4 foot fast running left and right peaks which turned on for Sunday's finals. Waves were firing, the weather was scorching and the surfing was red-hot!
by: Janice Aragon l NSSA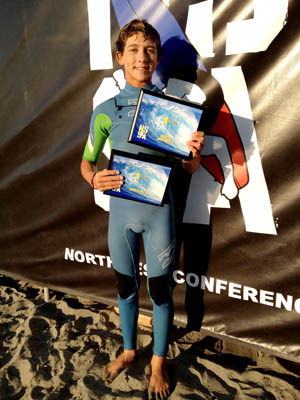 GRIFFIN COLAPINTO WINS MENS & JUNIORS!
Huntington Beach, Ca – October 31, 2012) –the Southwest Conference Open Season continued with event number four of the 2012-13 season on the north side of Oceanside Pier. Another hot and beautiful Indian summer weekend persisted in southern California with temps in the high 80's, glassy conditions and good waves. Conditions for Sunday's finals got even better with sheet glass ocean surfaces and fast, well-shaped chest to shoulder high left and right peaks. The finalists took advantage of the firing conditions and incredible action-packed, high scoring performances were witnessed. The Southwest Conference Open Season is regarded as the leading competition for west coast surfers. Divisions are offered in Men's, Juniors, Boys, Mini Groms, Womens, Girls and Longboard. This event was the fourth of 10 events in the Southwest Conference Open Season series. The NSSA Open Season is open to student surfers only.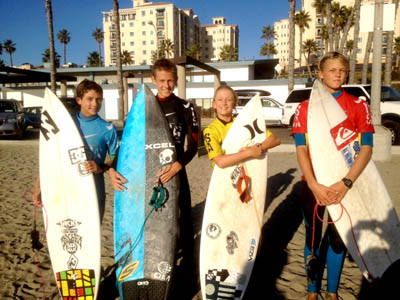 MENS FINALISTS
l-r: Griffin Colapinto, Kevin Schulz, Jake Marshall, Thelen Worrell
Highlights from Southwest Conference Oceanside Open Season event 4:
**San Clemente's Griffin Colapinto and Hawaii's Moana Jones dominated the fourth stop of the Southwest Open Season series winning two divisions between them.
**In the premier Men's division, Colapinto only caught three waves, but the two wave scores of 7.33 and 6.07 was all he needed to edge out fellow San Clemente surfer Kevin Schulz for the victory. Schulz and Thelen Worrell were going blow-for-blow for the majority of the 25-minute final as third place Colapinto sat patiently looking for a 6-point ride which would put him on top. At the 4-minute mark, he paddled into a decent left and executed a couple of solid backside moves which scored a 6.07 and tipped the heat in his favor. The young talented Colapinto admitted to having fulfilled one of his major goals this season which was to win an Open Men's final.
**Schulz may have lost a close one but his runner-up placing will move him into a literal tie for the number one ratings position with Thelen Worrell who finished third in the final. Jake Marshall took fourth making the Open Men's final for the second consecutive event.
**The Schulz-Worrell race for the season title has been a see-saw battle and is setting up to be an exciting campaign with six events remaining in the season.
**In the Juniors final, Colapinto stormed through the three man heat against Thelen Worrell and Takumi Yasui taking the victory by a 4-point margin. Colapinto opened up the final with a solid 7.5 score and then locked in another 6.33 sealing his second Juniors triumph of the season.
**Moana Jones was close to perfect in her inspiring domination of the female divisions. She posted a perfect 10 in the Girls final and backed it up with another excellent 8.67 second wave score. Her superb 18.67 combined total in the final was the highest of the entire event. She carried her strong momentum into the Women's final where she put together another heat of superior surfing posting a triumphant heat total of 18.33 on excellent scores of 9.5 and 8.83!
**There was an unquestionable raising of the bar in the female divisions at this event. The esteemed ASP judging panel deemed the overall Womens surfing performances as one of the highest levels witnessed at an NSSA event. One judge commented, "some of the rides at this event would have been high scores on the Women's World Tour." Barbardos sensation Chelsea Tuach was pushing the envelope again, adding another perfect 10 wave score to her account this season. Tuach, who place third in the final, has yet to win an event, but her standout level proves she will get the job done sooner rather than later. Also lighting up the Women's scoreboard was San Clemente's Tia Blanco who took second and Malibu's Frankie Harrer who placed fourth.
**San Clemente's Cole Houshmand continued his impressive hot streak in the Open Boys division when he claimed his third win of the season. In a stacked hard-fought final with Eithan Osborne, Tyler Gunter and Nick Marshall, Houshmand was in good rhythm and surfed confidently posting two solid wave scores of 8.5 and 6.77. The victory will solidify his frontrunner status in the Southwest Open Boys rankings.
**Sebastian Mendes fought back hard in the final minute of the Mini Grom final nailing a 7.10 score to overtake Hagan Johnson and take his third victory of the season. Despite being edged out for the win, Johnson's impressive runner-up performance was his best result of the season! Kade Matson took third followed by Jack Colby placing fourth. The win for Mendes will improve his number one position in the Open Mini Grom ratings.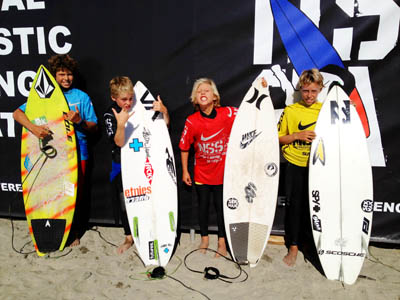 BOYS FINALISTS
l-r: Cole Houshmand, Tyler Gunter, Nick Marshall, Eithan Osborne
The NSSA Southwest Conference is proud to have support from Nike, Huntington Surf and Sport, Java Point, Surfing Magazine, Sex Wax, Scosche, Channel Islands and Sugar Shack. Many thanks to the City of Oceanside and lifeguards, the NSSA staff and ASP Judging panel for assisting us in staging a professional quality event for the Southwest Open Season series.
Be sure to keep up with all the NSSA action via the website at nssa.org and social media platforms Facebook and Instagram.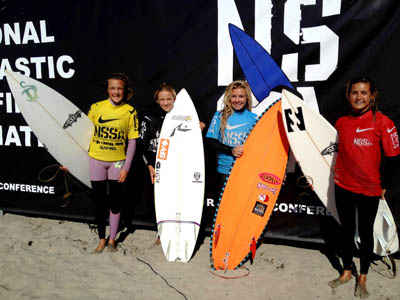 GIRLS FINALISTS
l-r: Kailani Jones, Tiare Thompson, Malia Osterkamp, Moana Jones
COMING UP IN CALI: The Southwest Open Season will ring in November with the pivotal midseason event #5 at Newport Beach's famed 56th Street jetty on November 3-4. The following weekend the Gold Coast Conference will head to Ventura Harbor for a doubleheader weekend on November 10-11.
MINI GROM FINALISTS
l-r: Sebastian Mendes, Hagan Johnson, Kade Matson, Jack Colby
THE SCOREBOARD
RESULTS
SOUTHWEST CONFERENCE OPEN SEASON EVENT #4
OCEANSIDE PIER, NORTHSIDE

OPEN MENS
1. Griffin Colapinto-San Clemente 13.40
2. Kevin Schulz-San Clemente 13.30
3. Thelen Worrell-Malibu 11.80
4. Jake Marshall-Encinitas 6.40
OPEN JUNIORS
1. Griffin Colapinto-San Clemente 13.83
2. Thelen Worrell-Malibu 9.77
3. Takumi Yasui-Saitama, Japan 8.84
4. Colt Ward-San Clemente 0.0
OPEN BOYS
1. Cole Houshmand-San Clemente 15.27
2. Eithan Osborne-Ventura 12.70
3. Tyler Gunter-Newport Beach 9.32
4. Nick Marshall-Encinitas 8.77
OPEN MINI GROMS
1. Sebastian Mendes-Agoura Hills 13.17
2. Hagan Johnson-San Clemente 12.70
3. Kade Matson-San Clemente 10.73
4. Jack Colby-Seal Beach 5.14
OPEN WOMENS
1. Moana Jones-Haleiwa, Hi 18.33
2. Tia Blanco-San Clemente 12.74
3. Chelsea Tuach-San Clemente 12.47
4. Frankie Harrer-Malibu 9.67
OPEN GIRLS
1. Moana Jones-Haleiwa, Hi 18.67
2. Kailani Jones-Haleiwa, Hi 13.83
3. Malia Osterkamp-San Clemente 10.10
4. Tiare Thompson-La Jolla 10.07
MOANA JONES WAS ON FIRE!
PERFORMERS OF THE EVENT
Griffin Colapinto: Double wins in the premier Open Mens and Open Juniors divisions.
Moana Jones: Dominated the Oceanside Open scoreboard posting a perfect 10 and the highest wave totals of the event-an 18.87 in the Girls final. Collected double victories in the premier Open Womens and Open Girls divisions.
Cole Houshmand: Took his third win in the Open Boys division for the 2012-13 season. Has won 3 of 4 events thus far.