NSSA HAWAII SCORES BIG SUNSET FOR EVENT #5
Thursday, October 18, 2012 | Written by Miko Parker
NSSA HAWAII EVENT #5 KICKS OFF THE WINTER SEASON AT SUNSET BEACH
OCTOBER 6-7 2012
By: Miko Parker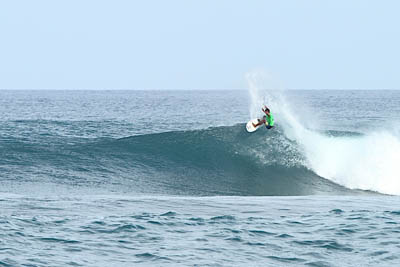 EXPLOSIVE SURFING BY DOUBLE WINNER JOSH MONIZ!
The fifth stop of the NSSA Hawaii season was held at Sunset Beach and what an awesome way to kick off Hawaii's winter season! The event was blessed with big surf and sunny skies. The Open divisions were held on Saturday, October 6th with pumping 4-6 foot surf with larger 8 foot sets powering through the lineup. The surf was so good even the monk seal had to get out of the water and lay on the beach to watch all the kids. As always, the Mini Groms were amping, charging the big surf and putting on a show. Seven-year-old Kaiser Auberlen was fearless dropping in on a solid 6 foot set, drawing loud applause and cheers from the beach. Dylan Franzmann showed he is one of our dynamic young up-and-comers ripping his way into the finals where he took his first big win in a NSSA event. The icing on the cake for Dylan's breakthrough victory was he clinched it in pumping Sunset conditions. Unquestionably, Hawaii's future looks bright with our talented Mini Groms. The Open Men's were pushing the envelope in the big conditions.Josh Moniz went head-to-head with his younger brother Seth in both the Open Men's and Explorer Juniors. Seth put up a good fight but big brother Josh wasn't going to let him take it. Both finals were close with taking the double wins in both the Open Mens and Explorer Juniors. The Open Womens were pushing the level but it was Sunset local Dax McGill who blew doors in her hometown break taking the win. The Open Girls winner was Mainei Kinimaka surfed confidently showcasing her big wave skills and showing everyone she loves the larger wave conditions just like her father Titus Kinimaka. The Women's overall surfing was on a new level as they continue to improve skills and raise the bar, especially in challenging surf. Congratulations to all the ladies!
The next day on Sunday, the waves were a little more blown out but that didn't stop anyone from ripping. North Shore resident Moana Jones took advantage of the conditions, using her valuable local knowhow and double wins in the Explorer Women and Girls. Wyatt McHale another local, took a huge win in the Explorer Menehunes. Maui standout Cody Young demonstrated his passion for big surf pulling out all the stops en route to his victory in the Explorer Boys. Big Island Super Grom Brodi Sale put on an outstanding performance winning the Explorer Super Groms.
Big Mahalos to Mike McHale and Kumu Blomfield our North shore lifeguards for spending their day in the water making sure conditions were safe so the kids could enjoy competition in classic Hawaii conditions. The C&C lifeguards were also a huge help standing by with jet ski assistance. Thank you to the best lifeguards in the world! NSSA Hawaii would like to thank our JUDGES for all their hard work and in their efforts in helping NSSA Hawaii mold the future. We know this job goes without many pats on the back. You guys rock! Also huge mahalos to Aunty Amy and Rocky Cannon, for his fantastic commentating of the event and the entire NSSA crew. Director Bobbi is awesome and we thank her for her constant effort and dedication to the NSSA and Hawaii's surfing future. Also we want to thank Thomas from the Beach Side Galley for bring the food truck down and hooking us up with killer grinds.
Sponsors
Mad Love
Xcel
Surfco Hawaii
Jason Nalu Bogle
Aloha Kine
Kalani Robb
And an extra big thanks to Kaz (Novus Swell)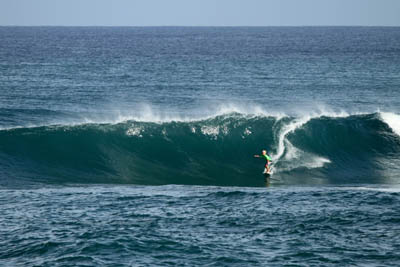 SUPER GROM WINNER BRODI SALE WAS CHARGING!
THE SCOREBOARD
RESULTS
NSSA HAWAII EVENT #5
OPEN DIVISIONS
MENS
1. Josh Moniz
2. Seth Moniz
3. Cole Yamakawa
4. Dorian Blanchard
5. Kalen Galtes
6. Kai Matsumoto
WOMENS
1. Dax McGill
2. Tatiana Weston-Webb
3. Kiana Fores
4. Kahanu Delovio
5. Mainei Kinimaka
6. Honolua Blomfield
JUNIORS
1. Elijah Gates
2. Noa Mizuno
3. Cody Young
4. Shayden Dela Cruz-Pacarro
5. Lucas Angulo
6. Kona Oliveria
BOYS
1. Barron Mamiya
2. Finn McGill
3. Brodi Sale
4. Devin Brueggemann
5. Makana Pang
6. Wyatt McHale
GIRLS
1. Mainei Kinimaka
2. Dax McGill
3. Sierra Larsen
4. Zoe McDougall
5. Sunny Patey
6. Brittany Penroza
MINI GROMS
1. Dylan Franzmann
2. Brodi Sale
3. Sammy Gray
4. TyTy Kirby
5. Eli Hanneman
6. Sage Tutterow
LONGBOARD
1. Honolua Blomfield
2. Kylie Nagy
3. Makani Adric
4. Sierra Larsen
5. Zoe McDougall
EXPLORER DIVISIONS
MENS
1. Cole Yamakawa
2. Kai Matsumoto
3. Kaimana Kinimaka
4. Christopher Latronic
5. Kalen Galtes
6. Kala Willard
JUNIORS
1. Josh Moniz
2. Seth Moniz
3. Elijah Gates
4. Kaimana Kinimaka
5. Lucas Angulo
6. Noa Mizuno
WOMENS
1. Moana Jones
2. Kiana Fores
3. Tatiana Weston-Webb
4. Kahanu Delovio
5. Dax McGill
6. Sunny Patey
BOYS
1. Cody Young
2. Christopher Bluthardt
3. Logan Bedaimol
4. Wyatt McHale
5. Noa Mizuno
6. Kona Oliviera
MENEHUNES
1. Wyatt McHale
2. Barron Mamiya
3. Finn McGill
4. Devin Brueggemann
5. Brodi Sale
6. Eli Hanneman
GIRLS
1. Moana Jones
2. Dax McGill
3. Sierra Larsen
4. Kailani Jones
5. Kahanu Delovio
6. Mainei Kinimaka
SUPER GROMS
1. Brodi Sale
2. Sage Tutterow
3. Eli Hanneman
4. TyTy Kirbey
5. Sammy Gray
6. Dylan Franzmann
WOMENS LONGBOARD
1. Zoe McDougall
2. Makani Adric
3. Kylie Nagy
4. Sierra Lerback
5. Honolua Blomfield
About NSSA
The National Scholastic Surfing Association (NSSA) is a nonprofit organization whose mission is to encourage and assist its members in their interest to learn and develop the fundamentals and skills of surfing competition while competing in structured and quality events. The NSSA promotes the qualities of discipline and competitive excellence while supporting the merits of academic achievement to young surfers. The NSSA strives to provide a fun surfing experience for all of its members.
The NSSA is one of the few national youth sports organizations that require its participants to maintain academic standards in order to compete. Since 1978, the NSSA program philosophy has been that athletics and scholastics go hand in hand. More than 80 NSSA events are run nationwide that culminate with the annual National Championships which is regarded as the highest profile youth surfing event in America.