2012 WEST COAST CHAMPIONSHIPS PRESENTED BY NIKE: RESULTS ARE IN!
Tuesday, May 22, 2012 | Written by Janice Aragon
2012 NSSA WEST COAST CHAMPIONSHIPS PRESENTED BY NIKE
HUNTINGTON BEACH, CALIFORNIA; SOUTHSIDE OF THE PIER
MAY 17-20
CONDITIONS: Waves galore...fantastic conditions for the NSSA West Coast Championships again! A consistent combination of Southwest and Northwest swells deliver good surf with high quality lefts and rights. The southside sandbars were in terrific shape with plenty of shoulder to head high peaks to choose from and clean conditions for all four days of the championship event.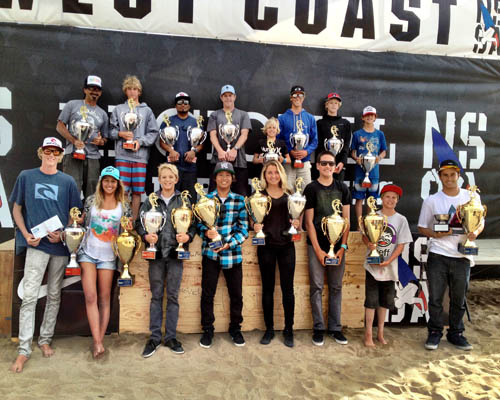 THE 2012 NSSA WEST COAST CHAMPIONS!
**The 16th annual NSSA West Coast Championships (The Westerns) presented by Nike saw over 400 hundred west coast surfers compete for Regional titles in one of the largest surfing events held on the west coast.
**The NSSA West Coast Championships were once again blessed with great wave conditions at Huntington Beach Pier. 96 hours worth of solid southwest and northwest swells produced high quality shoulder to head high waves for the entire championship event.
**Japan's talented Hiroto Oohara put on a clinic of how to compete in HB's tricky afternoon wind-swept conditions triumphing in the Open Men's final with an impressive 16.34 heat total on two wave scores of 8.37 and 7.67.
**2011-12 Southwest Conference Open Women's champion Kulia Doherty was not to be denied at this championship event crushing both finals in the Open and Explorer Womens.
**Nic Hdez made a big statement in this event taking his first title in a major NSSA championship event. The from Santa Cruz won the Open Juniors division in a stacked heat with Griffin Colapinto, Takumi Yasui and Hiroto Oohara
**12-year-old John Mel owned HB's infamous southside sandbar peaks winning double divisions in the Open Boys and Explorer Menehuenes. He also stepped up a division making the Explorer Boys 14 & under final.
**Malibu female phenom Frankie Harrer added two more titles to her Regional Championship resume triumphing in both the Open and Explorer Girls divisions. Frankie now owns six Regional titles, one shy of the female record of seven held by Sage Erickson.
**2011-12 Southwest Conference Open Men's Champion Taylor Clark was upset in round 2 of the West Coast Championship Open Men's division but made a huge comeback in the Airshow final winning it with the event's only perfect 10 wave score.
**Dagan Stagg brought home his first major NSSA title with an outstanding victory in the Open Mini Grom division.
**2011-12 Southwest Conference Open Longboard Champion Tony Bartovich claimed the Regional Longboard title and topped his outstanding NSSA west coast season off being honored with the annual Carl Hayward Memorial Trophy for a local HB surfer.
**Taylor Mathieson, Thelen Worrell, Griffin Colapinto and Nick Marshall clinched victories in their respective Explorer divisions of Mens, Juniors, Boys, Super Grom and Longboard.
**Non student category winners at the West Coast Champs went to Rick Takahashi, Mike Glevy and Rick Fignetti.
**2012 NSSA West Coast Championships Performer of the Day!-Jake Marshall (day one), Griffin Colapinto (day two), Jake Halstead (day three), Hiroto Oohara (day four).
The 2012 NSSA West Coast Regional Championships is presented by Nike and proud to have support Surfing Magazine, Vitaminwater, Huntington Surf and Sport, Java Point, Sex Wax and Sugar Shack.
The NSSA West Coast Regional Championships presented by Nike is the fifth of seven events on the 2012 NSSA Championship Series. The 2012 Championship Series events include the State Championships at Huntington Beach Pier March 9-11, the Hawaii Regional Championships at Kewalo Basin, Oahu, HI March 13-18; the East Coast Regional Championships at New Smyrna Beach Inlet, FL April 12-15; the NSSA Jr. Championships at Huntington Beach Pier, CA April 21; the West Coast Regional Championships at Huntington Beach Pier, CA May 17-20; the NSSA National Interscholastic Championships at Salt Creek June 16-18 and Huntington Beach Pier, CA June 26-July 3.
THE SCOREBOARD
RESULTS
2012 NSSA WEST COAST CHAMPIONSHIPS PRESENTED BY NIKE
HUNTINGTON BEACH PIER
WEST COAST OPEN CHAMPIONSHIPS
OPEN MENS
1. Hiroto Oohara-Chiba, Japan 16.34
2. Colt Ward-San Clemente 11.90
3. Jake Davis-Capo Beach 10.17
4. Jake Halstead-La Jolla 6.34
OPEN JUNIORS
1. Nic Hdez-Santa Cruz 12.74
2. Griffin Colapinto-San Clemente 11.94
3. Takumi Yasui-Saitama, Japan 11.33
4. Hiroto Oohara-Chiba, Japan 10.84
OPEN BOYS
1. John Mel-Newport Beach/Santa Cruz 16.17
2. Ryland Rubens-Pacific Beach 11.60
3. Eithan Osborne-Ventura 10.17
4. Tyler Gunter-Newport Beach 9.66
OPEN MINI GROMS
1. Dagan Stagg-Carlsbad 13.60
2. Noah Hill-Marina del Rey 12.40
3. Crosby Colapinto-San Clemente 10.67
4. Ryan Martin-San Clemente 7.64
OPEN WOMENS
1. Kulia Doherty-Rancho Santa Fe 12.93
2. Tia Blanco-San Clemente 9.10
3. Kylie Loveland-Carlsbad 7.77
4. Frankie Harrer-Malibu 0.00
OPEN GIRLS
1. Frankie Harrer-Malibu 16.50
2. Tia Blanco-San Clemente 11.90
3. Kylie Loveland-Carlsbad 11.77
4. Tiare Thompson-La Jolla 6.47c
OPEN LONGBOARD
1. Tony Bartovich-Huntington Beach 14.07
2. Evan Trauntvein-Santa Barbara 9.34
3. Konrad Wallace-Montara 6.17
4. Scott Swenson-La Jolla 4.87
WEST COAST EXPLORER CHAMPIONSHIPS
EXPLORER MENS
1. Taylor Mathiesen-Carlsbad 11.66
2. Jacob Szekely-La Jolla 10.83
3. Chris Keet-Santa Barbara 10.43
4. Dryden Brown-Santa Barbara 10.34
5. Taylor McDole-Huntington Beach 8.54
6. Remy Juboori-San Diego 8.37
EXPLORER JUNIORS
1. Thelen Worrell-Malibu 14.94
2. Christopher Murnane-Carlsbad 12.67
3. Skylar Lawson-Malibu 7.87
4. Jake Marshall-Encinitas 7.70
5. Taylor Mathiesen-Carlsbad 6.36
6. Jacob Szekely-La Jolla 5.14
EXPLORER BOYS
1. Griffin Colapinto-San Clemente 15.66
2. Thelen Worrell-Malibu 10.76
3. Jake Marshall-Encinitas 9.67
4. John Mel-Newport Beach 6.67
5. Davis Freud-Huntington Beach 6.40
6. Blake Dresner-Encinitas 3.56
EXPLORER MENEHUENE
1. John Mel-Newport Beach/Santa Cruz 14.67
2. Tyler Gunter-Newport Beach 12.33
3. Ryland Rubens-Pacific Beach 9.77
4. Sean Woods-Thousand Oaks 9.17
5. Dylan Hord-Huntington Beachz 4.66
6. Nick Marshall-Encinitas 4.40
EXPLORER SUPER GROMS
1. Nick Marshall-Encinitas11.83
2. Wyatt Walter-San Mateo 11.36
3. Tommy McKeown-Oxnard 9.84
4. Kade Matson-San Clemente 8.10
5. Dagan Stagg-Carlsbad 7.00
6. Ethan Mudge-Capo Beach 6.00
EXPLORER WOMENS
1. Kulia Doherty-Rancho Santa Fe 14.17
2. Frankie Harrer-Malibu 10.60
3. Kylie Loveland-Carlsbad 7.50
4. Steffi Kerson-Thousand Oaks 5.43
5. Malia Osterkamp-San Clemente 5.30
6. Tiare Thompson-La Jolla 4.43
EXPLORER GIRLS
1. Frankie Harrer-Malibu 14.83
2. Kylie Loveland-Carlsbad 11.53
3. Steffi Kerson-Thousand Oaks 10.73
4. Malia Osterkamp-San Clemente 7.53
5. Samantha Cendro-Huntington Beach 6.34
6. Tiare Thompson-La Jolla 4.74
EXPLORER MASTERS
1. Rick Takahashi-San Diego 10.76
2. Chris Keet-Santa Barbara 8.77
3. Eric Sorensen-Long Beach 8.26
4. Eric Mukes-Ventura 7.00
5. Lee Toresdahl-Huntington Beach 2.07
EXPLORER SENIORS
1. Rick Takahashi-San Diego 14.40
2. Eric Sorensen-Long Beach 11.33
3. Kas Alves-Oxnard 10.07
4. Eric Knowles-Pismo Beach 9.94
5. Chris Keet-Santa Barbara 5.53
6. Eric Mukes-Ventura 4.23
EXPLORER SUPER SENIORS
1. Mike Glevy-San Diego 15.33
2. Rick Fignetti-Huntington Beach 8.83
3. Scott Lewis-Malibu 6.67
4. Bob Higgins-San Diego 4.16
5. Lee Toresdahl-Huntington Beach 2.66
EXPLORER DUKE
1. Rick Fignetti-Huntington Beach 13.17
2. Terry Carmadella-Huntington Beach 9.50
3. Bob Higgins-San Diego 6.63
4. Scott Lewis-Malibu 6.60
5. Jim Ferguson-Santa Rosa 5.52
6. Peter Townend-Huntington Beach 0.27
EXPLORER LONGBOARD
1. Austin Sonnier-San Diego 14.94
2. Christian Stutzman-Lake Forest 9.86
3. Konrad Wallace-Montara 9.00
4. Jeremy Guilmette-Huntington Beach 8.57
5. Evan Trauntvein-Santa Barbara 7.40
6. Larry Schlick-Long Beach 7.36
WEST COAST AIRSHOW CHAMPIONSHIPS
1. Taylor Clark-Encinitas
2. Griffin Colapinto-San Clemente
3. Skylar Lawson-Malibu
5.5 Trevor Thornton
5.5 Colin Deveze
5.5 Jake Marshall