2012 WEST COAST REGIONAL CHAMPIONSHIPS PRESENTED BY NIKE IS COMING MAY 17-20 TO HB PIER!
Sunday, May 13, 2012 | Written by Janice Aragon
TEN INTERESTING FACTS ABOUT THE NSSA WEST COAST REGIONAL CHAMPIONSHIPS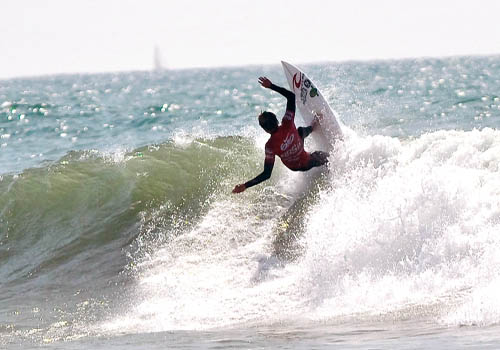 2011 CHAMPION TREVOR THORNTON WILL BE AIMING FOR BACK-TO-BACK VICTORIES THIS YEAR!
It's time to begin the countdown to May 17th for the start of the 2012 NSSA West Coast Regional Championships presented by Nike with hundreds of kids coming to Surf City USA. The event will be held in its entirety in surfing's legendary arena on the south side of the Huntington Beach Pier. Competition begins on May 17th and runs through May 20th. All West Coast Championship finals will be held on May 20th. It's looking like fun waves are on the way for the West Coast Championships and that's a good thing because the heats are stacked with all the top young talent from the west coast! The forecast is holding solid with a combo of northwest and southwest swells which should provide great form and outstanding scoring potential on southside's well defined sandbars.
Below we take a look at some momentous facts about one of the major surfing events on the amateur calendar-the NSSA West Coast Regional Championships!
1 - The 2012 NSSA West Coast Regional Championships presented by Nike is one of the largest surfing events in the nation with over 400 participants from Northern, Central and Southern California. Surfers will go all out to stake their claim as West Coast Champions while also qualifying for slots into the 2012 NSSA National Championships.
2 - The NSSA West Coast Regional Championships is an annual event, in its 16th year. "The Westerns" as it's more commonly called, has always been held in Huntington Beach California in the famous high performance beach break peaks on the south side of the pier. The inaugural event in 1997 was a two day event and has now grown to four days of competition. The first champions in 1997 in the Open divisions were Matt Shadbolt in Mens, Micah Byrne in Juniors, Michael Taras in Boys, Kilian Garland in Mini Groms, Veronica Kay in Womens and Chris McEvoy in Bodyboard.
3 - The NSSA loves HB Pier but why wouldn't we? It's got the stadium, it's got the consistent surf, it's got the atmosphere and it's got Main Street where all the parents and surfers can relax in between heats, get a bite to eat or visit the world's greatest surf shop-Huntington Surf and Sport which is right across the street from the pier.


4 - The NSSA West Coast Championships has a history of being slammed with some of the largest waves of the year putting the west coast surfers to the test. Both Southwest and Northwest swells tend to pound the southern California coast during the calendared window of the event greeting the competitors each year with world class surf, pumping waves, adrenaline filled heats and memories that will last a lifetime. With a full year of regular season events under their belts, it always time for surfers to challenge themselves and up their games at the Westerns!
5 - Many West Coast Champions have gone on to qualify for the elite ASP World Tour. Those include Bobby Martinez, Dane Reynolds, Nathaniel Curran, Patrick Gudauskas, Tanner Gudauskas, Brett Simpson, Kolohe Andino, Courtney Conlogue, Sage Erickson and Lakey Peterson.
6 – Current ASP World Tour surfer Kolohe Andino put on the most inspiring and dominant displays ever witnessed at the West Coast Championships in 2008 when at 14 years and 2 months old, he became the youngest surfer to win the premier Open Men's Regional title. He also won the Open Juniors that year becoming the only surfer in NSSA Regional Championship history to do this. Kolohe finished his amateur career with nine Regional titles, second on the all-time list to Evan Geiselman who owns 15 Regional victories. Current World Tour competitor Sage Erickson holds the female Regional record with seven titles.
7 – One year later in 2009, another outstanding performance was logged into the record books when Santa Barbara's Parker Coffin at age 13 years and 7 months became the youngest surfer to make the Open Men's final at a Regional Championships and the youngest surfer to triumph in the Explorer Juniors 17 & under division! The following year, Parker took it all the way to the top winning the premier Open Men's division at 14 years and 7 months old.
8 – Many recognized people in the surf industry have triumphed at the West Coast Regionals. The list includes Dylan Slater (Rip Curl), Brandon Guilmette (Hurley), Scott Daley (Body Glove), Chad Wells (Quiksilver), Micah Byrne (DC shoes), Shaun Ward (O'Neill), Darren Brilhart (Brillo Productions) Jeremiah Klein (surf photographer), Ted Robinson (O'Neill), Sean Walker (World Surfaris, USA), Barry Deffenbaugh (D-baugh Surfboards), Chas Wickwire (Chas Surfboards), Rick Fignetti (Rockin Fig Surf Headquarters).
9 – 2011 REIGNING CHAMPIONS ON TARGET FOR MORE TITLES. Several surfers will be on quest to repeat their 2011 titles and/or add more West Coast titles to their performance resumes. San Clemente's Trevor Thornton will go for back-to-back Open Men's titles while Newport's Shelby Detmers targets her second straight in the Open Womens. Malibu's young female phenom Frankie Harrer pulled off a trifecta of titles last year winning the Open Girls, Explorer Girls and Explorer Women's and will be back to defend those while also laying down a solid challenge in the premier Open Womens. Harrer, who will be competing in four divisions this year currently holds four Regional victories in her resume and could have a shot at breaking the female Regional title record. Then 12-year-old Griffin Colapinto from San Clemente made a statement in 2011 with a super impressive victory in the Open Juniors and he will enter the division as the number one seed in 2012 recently clinching the 2011/12 Open Juniors conference crown. Santa Barbara luminary Chris Keet went on a tear in 2011 claiming triple titles in the Mens, Masters and Seniors and will return to defend. Both Jake Marshall and Tyler Gunter took double titles in their age categories in 2011 (Marshall in Open Boys/Explorer Menehuene and Gunter in Open Mini Groms/Explorer Super Groms). Both have aged up and are now strong contenders in their respective age brackets. Duke division competitor Terry Carmadella pulled off his first championship victory in 2011 and will return to his home break for a shot at back-to-back victories. Breyden Taylor and Skip McCullough triumphed in their respective Explorer divisions last year and will pursue Open wins in 2012.
10 – In 2011, seven West Coast Champions went on to win National titles-Parker Coffin, Jake Marshall, Tyler Gunter, Rick Takahashi, Rusty Phillipy, Breyden Taylor and Troy Mothershead.
2012 WEST COAST REGIONAL CHAMPIONSHIP AWARDS: The presentation of the 2012 West Coast Regional Championship finalists and champions will be held Sunday, May 20 at 5pm at the contest site.
The 2012 NSSA West Coast Regional Championships is presented by Nike and proud to have support Surfing Magazine, Vitaminwater, Huntington Surf and Sport, Java Point, Sex Wax and Sugar Shack.
The NSSA West Coast Regional Championships presented by Nike is the fifth of seven events on the 2012 NSSA Championship Series. The 2012 Championship Series events include the State Championships at Huntington Beach Pier March 9-11, the Hawaii Regional Championships at Kewalo Basin, Oahu, HI March 13-18; the East Coast Regional Championships at New Smyrna Beach Inlet, FL April 12-15; the NSSA Jr. Championships at Huntington Beach Pier, CA April 21; the West Coast Regional Championships at Huntington Beach Pier, CA May 17-20; the NSSA National Interscholastic Championships at Salt Creek June 16-18 and Huntington Beach Pier, CA June 26-July 3.
A COMPLETE SCHEDULE OF EVENTS FOR THE 2012 WEST COAST CHAMPIONSHIPS IS AVAILABLE ONLINE ON THE NSSA WEBSITE WWW.NSSA.ORG: http://www.nssa.org/newsmanager/templates/?a=211&z=7
Stay logged on to the NSSA Facebook Fan Page for daily updates from the NSSA West Coast Championships presented by Nike.