2012 NSSA HAWAII REGIONAL CHAMPIONSHIP RESULTS!
Friday, March 23, 2012 | Written by Miko Parker
NSSA HAWAII REGIONAL CHAMPIONSHIPS
KEWALO BASIN, OAHU, HAWAII
MARCH 14-16, 2012
CONDITIONS: Beautiful weather and fun 2-3 foot surf at Kewalos.
By: Miko Parker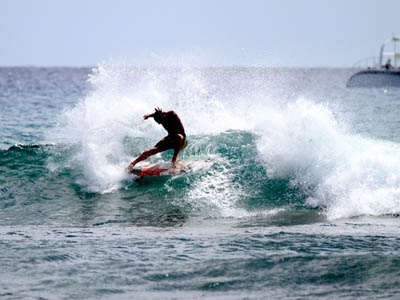 4-TIME NATIONAL CHAMPION EZEKIEL LAU WINS THE REGIONAL OPEN MENS TITLE!
(March 23, 2012) The top young surfers from the State of Hawaii came together on the south shore of Oahu at Kewalo Basin to compete in the 2012 NSSA Hawaiian Regional Championships presented by Mad Love. March 14th kicked off day one of the championships where the competitors were greeted with beautiful weather conditions and fun, contestable surf in the 2-3 foot zone. The premier Open Men's division set the stage on the first day and 4-time National Champion Ezekiel Lau was primed to perform in this event. In his opening heat "Zeke" who calls Kewalos his home break, was throwing some sick hits and looking like the man to beat. Open Juniors age surfer Josh Moniz who was stepping it up in the Men's category answered Ezekiel back the quarterfinals throwing down excellent scores of 9.0 and 9.5 winning his heat to meet Ezekiel and his brother Isaiah in the Open Men's semis. Ezekiel put down the hammer in the semifinal heat with explosive surfing scoring 9's and 9.5's to handily advance to the Open Men's final with Isaiah who finished second. Joining Zeke and Isaiah in the final were Cole Yamakawa and triple 2011/12 conference titlist Kaito Kino which made it an all Kewalo locals affair. All four competitors battled hard for the win as they look to build momentum for the upcoming Nationals. Ezekiel took the esteemed Open Men's Regional title followed by Kaito, Isaiah and Cole who finished second, third and fourth respectively. Zeke will now set his sights on the Nationals where he will go into the event as the number one contender for the prestigious National Open Men's title. In the ladies categories, Kahanu Delovio was a stand out for all the girls on day one where she posted the highest score.
JOSH MONIZ LAUNCHES TO THE OPEN JUNIORS VICTORY!
Day two of the Regionals saw rainy and windy conditions in the morning but by mid afternoon the sun was shining the waves were picking up. The Explorer divisions kicked off day two and the surfers were lighting up the scoreboard including Brisa Hennessy who showed off her improved skills and the judges rewarded her with high scores. We finished the day two off with the Explorer Super Groms!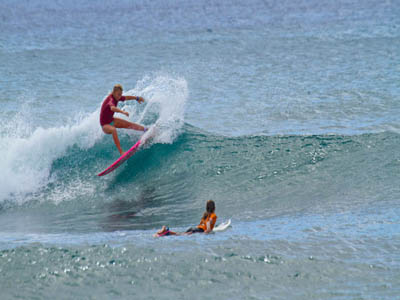 DAX MCGILL RAISING THE LEVEL IN THE OPEN WOMENS!
The third and final day of the 2012 Hawaii Regional Championships was held on Friday, March 16th and the performances were off the hook. We were blessed with fun waves, the sun was shining and the kids were ripping. The day got underway with the Explorer divisions and Brianna Cope was on fire with solid surfing in the Womens division. She had some strong competition as Dax McGill was giving her a run for her money but Brianna came out on top claiming the Explorer Women's Regional crown. Dax's runner up finish in the Explorer Womens seemed to fire her up as both her and Brianna would meet in the prestigious Open Womens final with National Champion Mahina Maeda and Maluhia Kinimaka. Dax, who's talent was showcased to the nation when she won the Open Girls division at the 2011 Nationals, finished the Regionals on a powerful note claiming the Open Womens victory with Brianna second, Mahina third and Maluhia fourth. Mahina brought her "A" game to the Girls 14 & under categories ruling both the Open and Explorer Girls divisions scoring double wins. Isaiah Moniz demonstrated his progressive aerial skills nailing the Airshow victory.
FINN MCGILL WAS ON FIRE SEALING DOUBLE WINS
Of special note, Open Mens Regional Champion Ezekiel Lau killed it in his final heat, paddled straight to the beach, ran to his car and bolted to his high school Kamehameha to participate in the Kamehameha Schools Song Contest. The contest is an annual choralmusic competition between the grades 9-12 with the objective to build Hawaiian cultural heritage, leadership, cooperation, class spirit and give students the use of their singing voices as a means of expression. Participation in Song Contest is mandatory for graduation at Kamahameha which is a specific and dedicated Native Hawaiian School. NSSA Hawaii is proud of both Ezekiel and Charlie Boy!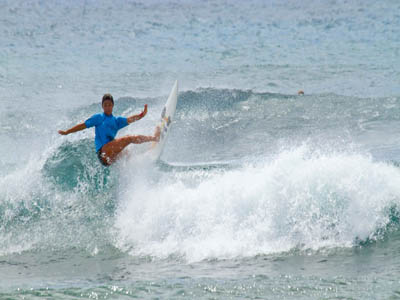 NATIONAL CHAMPION MAHINA MAEDA TAKES COMMAND OF THE EXPLORER DIVISIONS!
NSSA HAWAII SPECIAL GRANTS
MAD LOVE: This season, NSSA Hawaii welcomed Mad Love as an official sponsor. Along with sponsoring the entire 2011/12 season, Mad Love also sponsored two deserving young surfers Kiana Fores and Tabin Shamblin for the 2012/13 season. Congratulations to Kiana and Tabin! We are delighted to have Mad Love as part of the NSSA Hawaii Ohana!

FREDDY P GOLDEN TICKET: For eight consecutive years, 1999 National Open Mens Champion and ASP World Title surfer Fred Patacchia has donated a ticket to the National Championships for a deserving NSSA Hawaii surfer. Kaito Kino was announced as the recipient of this year's "Freddy P's Golden Ticket" for his dedication to surfing and to the NSSA. In the 2011/12 season, Kaito was a triple division conference champion taking season titles in the Open Mens, Explorer Mens and Explorer Juniors. NSSA Hawaii congratulates Kaito on his outstanding performance and results this season!


JASON NALU BOGLE AWARD AND SURFBOARD: This year, NSSA Hawaii was proud to be able to assist four kids on behalf of the Jason Nalu Bogle Award. This special award covers two divisions in four contests. The recipients were Sammy Gray, Josiah Swanson, Zoe McDougall and Nicole Brueggeman. NSSA Hawaii was also honored to give Jason's special board to Miles Frazier.
RORY PARKER: Finn Bediamol
AUNTY MIKO GRANT: Brisa Hennessy
XCEL GRANTS: Ethan Bediamol, Taichi Wakita, Brittanyt Penaroza and Ocean Tsutsui
JERRY'S PIZZA: Kailani Jones and Kona Oliveira
HAWAII JR SURF TEAM: Devin Brueggeman and Kahanu Delovio

Banquet and Special Thanks: At the completion of the championships a wonderful banquet was held with food from Panda Express. Lots of prizes were given out thanks to Uncle Riddle. Former NSSA member Aaron Walters was awesome and gave four Sanuk gift bags. Rico Jimenez made his annual gift bag along with Flynn Novak and his fun pack. Many thanks to the McHale family for a rad set up. NSSA Hawaii is always excited to be able to give some lucky young surfer a board. This year, former NSSA Hawaii Champion Keanu Asing presented Brisa Hennessy one of his very own boards. Mahalo to Keanu for always giving back to NSSA Hawaii. Special thanks to Aunty Tammy Moniz and Blake Hill for the great photos.
NSSA Hawaii Sponsors: A big thank you and much appreciation to our sponsors Mad Love, Xcel, Aloha Kine, Jason Nalu Bogle, Surfco, Bubble Gum, Equalibryum, Kalani Robb, Lucky Brand
The NSSA Hawaii Regional Championships is the second of seven events in the 2012 NSSA Championship Series presented by Nike. The 2012 Championship Series events include the State Championships at Huntington Beach Pier March 9-11, the Hawaii Regional Championships at Kewalo Basin, Oahu, HI March 13-18; the East Coast Regional Championships at New Smyrna Beach Inlet, FL April 12-15; the NSSA Jr. Championships at Huntington Beach Pier, CA April 21; the West Coast Regional Championships at Huntington Beach Pier, CA May 17-20; the NSSA National Interscholastic Championships at Salt Creek June 14-17 and Huntington Beach Pier, CA June 26-July 3.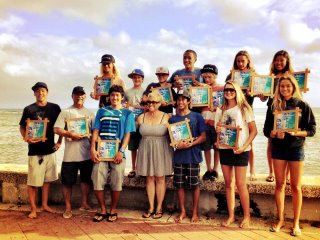 CONGRATULATIONS 2012 HAWAII REGIONAL CHAMPIONS!
THE SCOREBOARD
NSSA HAWAII REGIONAL CHAMPIOINSHIPS
KEWALO BASIN, OAHU, HAWAII
MARCH 14-16, 2012
RESULTS
OPEN DIVISIONS
OPEN MENS
1. EZEKIEL LAU
2. KAITO KINO
3. ISAIAH MONIZ
4. COLE YAMAKAWA
OPEN WOMENS
1. DAX MCGILL
2. BRIANNA COPE
3. MAHINA MAEDA
4. MALUHIA KINIMAKA


OPEN JUNIORS
1. JOSH MONIZ
2. ELIJAH GATES
3. CHARLIE BOY AKAO
4. FINN MCGILL


OPEN BOYS
1. FINN MCGILL
2. BARRON MAMIYA
3. LOA NG
4. CODY YOUNG
5. LOGAN BEDIAMOL
6. DEVIN BRUEGGEMAN


OPEN MINI GROMS
1. WYATT MCHALE
2. COLE ALVES
3. BRODI SALES
4. DYLAN FRANZMANN
5. ETHAN BEDIAMOL
6. MILES FRAZIER


OPEN GIRLS
1. MAHINA MAEDA
2. MOANA JONES
3. DAX MCGILL
4. HONOLUA BLOMFIELD
5. BRISA HENNESSY
6. KELLY GRAF


OPEN LONGBOARD
1. NATALIA SMITH
2. KYLIE NAGY
3. HONOLUA BLOMFIELD
4. OCEAN TSUTSUI
5. ZOE MCDOUGALL


EXPLORER DIVISIONS
EXPLORER MENS
1. COLE YAMAKAWA
2. ISAIAH MONIZ
3. KAITO KINO
4. DYLAN KOWALSKI


EXPLORER JUNIORS
1. KAITO KINO
2. COLE YAMAKAWA
3. KAIN DALY
4. KAIN DALY
5. ISAIAH MONIZ
6. JESSE GUGLIELMANA


EXPLORER BOYS
1. SETH MONIZ
2. IMAIKALANI DEVAULT
3. ELIJAH GATES
4. KAULANA APO
5. CHRISTOPHER BLUTHARDT
6. SHAYDEN DELA CRUZ-PACARRO
EXPLORER MENEHUENE
1. FINN MCGILL
2. LOA NG
3. BARRON MAMIYA
4. WYATT MCHALE
5. CODY YOUNG
6. SAGE TUTTEROW


EXPLORER SUPER GROMS
1. NOAH HILL
2. COLE ALVES
3. WYATT MCHALE
4. TY TY KIRBY
5. ELI HANNEMAN
6. SAGE TUTTEROW


EXPLORER WOMENS
1. BRIANNA COPE
2. DAX MCGILL
3. MOANA JONES
4. MAHINA MAEDA
5. MALUHIA KINIMAKA
6. BAILEY NAGY


EXPLORER GIRLS
1. MAHINA MAEDA
2. DAX MCGILL
3. MOANA JONES
4. HONOLUA BLOMFIELD
5. BRISA HENNESSY
6. KAHANU DELOVIO
EXPLORER SUPER SENIORS
1. RAYMOND SHITO
2. GILBERT PEREA


EXPLORER LONGBOARD
1. HONOLUA BLOMFIELD
2. NATALIA SMITH
3. KYLIE NAGY
4. OCEAN TSUTSUI
5. ZOE MCDOUGALL

AIRSHOW
1. Isaiah Moniz