SOUTHWEST OPEN SEASON ACTION CONTINUES WITH STOP #4 AT OCEANSIDE PIER!
Wednesday, October 26, 2011 | Written by Janice Aragon
NSSA SOUTHWEST CONFERENCE
OPEN SEASON EVENT #4
OCEANSIDE PIER, OCEANSIDE, CALIFORNIA
OCTOBER 22-23, 2011
CONDITIONS: 2-3 feet with fun, contestable left and right beachbreak peaks
(Huntington Beach, Ca – October 26, 2011) – The West Coast's top student surfers charged the fun banks of Oceanside on the north side of the Pier for the fourth stop of the Southwest Conference Open Season. A minor swath of northwest and southwest swells united with the shapely OSide sandbars providing 2-3 foot lefts and rights with ample scoring opportunity for the competitors. The Oceanside Pier Open is the fourth of ten events in the premier Open Season schedule. The Southwest Conference Open Season is regarded as the elite competition for west coast surfers. Divisions are offered in Men's, Juniors, Boys, Mini Groms, Womens, Girls and Longboard. The Open Season is restricted to student surfers only.
OPEN SEASON EVENT #4 STORYLINES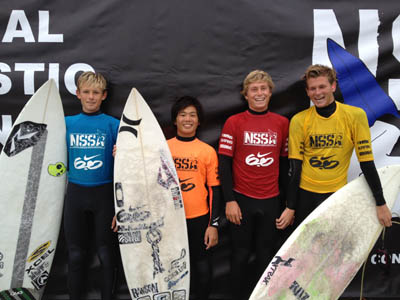 OPEN MENS FINAL FOUR
l-r: Kevin Schulz, Hiroto Oohara, Scott Weinhardt, Matt Lewis
Surfing like a young Keanu Asing, Japan's Hiroto Oohara claimed double victories in the event in the prestigious Open Mens and Open Juniors divisions. With a low center of gravity technique, Ooharo utilized a precise frontside attack generating tons of speed on the small running righthanders drawing out big carves and crisp vertical turns. The Men's final four matched up Oohara with Kevin Schulz, Scott Weinhardt and Matt Lewis. Schulz was tearing it up all weekend putting forth his best performance in NSSA comp and was minutes away from his first victory until Oohara ripped a righthander earning a heat high 7.23 which sealed the win. Weinhardt was surfing solid all weekend taking third in his first finals appearance of the season with Lewis coming in fourth. Of note, Lewis is 3 for 4 in finals appearances, the most of any surfer in the Open Men's category. Trevor Thornton will remain in the number one position in the Open Men's ratings with a seventh place finish in this event with Matt Lewis holding down the number two spot in the standings.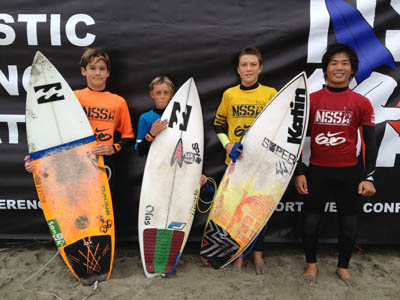 OPEN JUNIORS FINAL FOUR
l-r: Ryland Rubens, Eithan Osborne, Christopher Murnane, Hiroto Oohara
Oohara's sharp consistency continued in the Juniors final which he dominated with a 16.34 score, the highest two-wave total of all the finals. Christopher Murnane built momentum with a victory in his Juniors opening round and posted another win in his semi-final en route to a third place finish in the final, his best result of the season. But it was groms Eithan Osborne and Ryland Rubens who were grabbing everyone's attention in the Juniors divison. 11-year-old Osborne and 12-year-old Rubens earned a lot of respect at this event stepping up huge and making the Juniors final. Osborne took second and Rubens third proving they are two of the hottest rising stars on the west coast.
OPEN WOMENS FINAL FOUR
l-r: Shelby Detmers, Tia Blanco, Frankie Harrer, Kulia Doherty
Despite the smaller surf, Kulia Doherty set the tone in all her heats claiming her third consecutive Open Womens victory. Doherty dominated all of her rounds posting the top four wave scores of the Womens division which included a stellar 9.33 ride which was the highest score of the entire event. Tia Blanco took second in her best result of the season followed by Girls ratings leader Frankie Harrer in third and Newport Harbor High School standout Shelby Detmers who was a bit under the weather but battled her way to the podium. Doherty will continue her reign at the top of the Open Womens ratings with more than a 1,200 point lead with Blanco sitting in the number two spot.
OPEN GIRLS FINALISTS!
l-r: Tia Blanco, Tiare Thompson, Kylie Loveland, Frankie Harrer
In the Girls final, 13-year-old Frankie Harrer claimed her third consecutive win in Southwest Open competition. The young, rising standout from Malibu surfed a strong heat with solid scores of 7.17 and 6.77 en route to victory. Runner up was Kylie Loveland who is the only surfer to place in every Girls division final this season! Tia Blanco came in third followed by Tiare Thompson in fourth. The victory is Harrer's twelfth as she inches herself closer to the NSSA "season wins record" currently held by Kanoa Igarashi. Stay tuned as the NSSA chronicles Harrer's exciting and challenging quest to tackle this record of amazing achievement.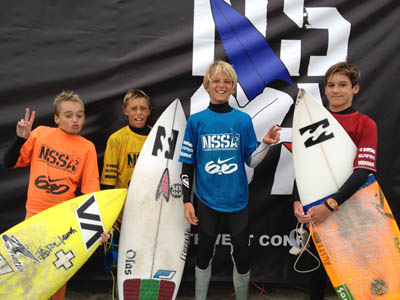 OPEN BOYS FINALISTS!
l-r: Tyler Gunter, Eithan Osborne, John Mel, Ryland Rubens
It was clear from his impressive win in the opening round of the upper level Juniors bracket, that Eithan Osborne was raising the bar for himself and gaining confidence as he advanced through heat after heat. He won a total of five heats in the contest including two Juniors rounds and his first victory in the Open Boys division. In a close battle, Osborne edged out Tyler Gunter for the win by a half point followed by John Mel and Ryland Rubens taking third and fourth respectively. Mel will hold down the number one position in the ratings while Osborne jumps to second.
OUR FUTURE-THE MINI GROMS!
l-r: Noah Hill, Zach McCormick, Nick Marshall, Ethan Mudge
The Mini Grom 10 & under division saw Noah Hill secure his first victory of the season. Hill is one to watch in the Mini Groms as he is clearly working hard and stepping up his skills. Nick Marshall took second followed by Zach McCormick and Ethan Mudge. McCormick will stay in the number one position in the ratings with Marshall not far behind in second. In the Longboard division, Lucas Foster took his first win of the season followed by Tony Bartovich in second, Dane Petersen third and Stephanie Schechter in fourth. Bartovich will rocket to first in the Longboard ratings on the strength of his second place finish at this event.
The NSSA Southwest Conference is proud to have support from Nike 6.0, Huntington Surf and Sport, Java Point, Surfing Magazine, Sex Wax, Channel Islands, Vitaminwater, Sugar Shack and the Laguna College of Art + Design.
COMING UP IN CALI: The Southwest Conference will head south to Mission Beach's San Fernando beach break for Explorer event #. Premier competition in the Southwest Open Season will continue on November 5-6 with an important mid-season event at Newport Beach 54th Street. Midseason standings will be closely observed for spots on the Nationals contender's list so this will be a vital event for the top student surfers on the west coast!
THE SCOREBOARD
RESULTS
SOUTHWEST CONFERENCE OPEN SEASON EVENT #4
OCEANSIDE PIER, OCEANSIDE, CALIFORNIA

OPEN MENS
1. Hiroto Oohara-Chiba, Japan 13.66
2. Kevin Schulz-San Clemente 13.00
3. Scott Weinhardt-Dana Point 12.14
4. Matt Lewis-Cardiff by the Sea 10.20
OPEN JUNIORS
1. Hiroto Oohara-Chiba, Japan 16.34
2. Eithan Osborne-Ventura 10.67
3. Christopher Murnane-Carlsbad 9.20
4. Ryland Rubens-Pacific Beach 8.60
OPEN BOYS
1. Eithan Osborne-Ventura 12.16
2. Tyler Gunter-Newport Beach 11.60
3. John Mel-Newport Beach 11.23
4. Ryland Rubens-Pacific Beach 8.27
OPEN MINI GROMS
1. Noah Hill-Marina Del Rey 14.26
2. Nick Marshall-Encinitas 12.74
3. Zach McCormick-Solana Beach 10.00
4. Ethan Mudge-Capistrano Beach 6.37
OPEN WOMENS
1. Kulia Doherty-Rancho Santa Fe 11.46
2. Tia Blanco-San Clemente 10.67
3. Frankie Harrer-Malibu 6.66
4. Shelby Detmers-Newport Beach 5.04
OPEN GIRLS
1. Frankie Harrer-Malibu 13.94
2. Kylie Loveland-Carlsbad 10.50
3. Tia Blanco-San Clemente 6.67
4. Tiare Thompson-La Jolla 5.00
OPEN LONGBOARD
1. Lucas Foster-Carlsbad 11.60
2. Tony Bartovich-Huntington Beach 10.10
3. Dane Petersen-Trabuco Canyon 7.50
4. Stephanie Schechter-San Diego 5.23
PERFORMER OF THE EVENT
Hiroto Oohara, Eithan Osborne