11-TIME NATIONAL CHAMPION CARISSA MOORE CLAIMS 2011 ASP WORLD TITLE!
Friday, July 15, 2011 | Written by NSSA
CARISSA MOORE WINS 2011 ASP WORLD CHAMPIONSHIP TITLE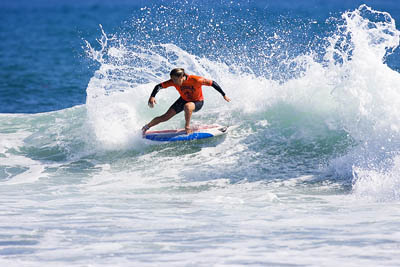 CARISSA RIPPING TO HER 11TH NATIONAL TITLE IN 2007
photo: Surfing Magazine/NSSA archives
(Huntington Beach, Ca – July 15, 2011) – Eleven time National Champion Carissa Moore, has just clinched her maiden ASP Women's World title at the Roxy Pro Biarritz. Moore, 18 of Honolulu, Hawaii set a new ASP record becoming the youngest surfer male or female, to capture a World Championship.
Moore busted on the scene as a 10-year-old bright. young female grom at the 2003 National Championships where she made a huge statement placing third against all the boys in the Mini Grom final. The following year in 2004, Lower Trestles became her stage as she went on to win an astonishing four consecutive National Open Women's Championship crowns while collecting an overall 11 National titles, a record that remains intact to this day.
"The first time I saw Carissa competing at the Nationals, I could tell she had this special talent," said Janice Aragon, NSSA Executive Director. "Every year, she would blow my mind with phenomenal surfing and technical skills that massively improved with each year. She became unstoppable. No one yet has come close to her competitive dominance at the national level."
More importantly, Carissa has inspired a whole generation of young American and Hawaiian surfers to compete at the highest level and aspire to be champions. "Ever since Carissa started her victorious National Championship campaign, the level of Women's surfing began to skyrocket in the NSSA," added Aragon. "Young girls now are starting at earlier ages, developing and sharpening more progressive skills, with the goal of getting on the ASP World Tour and surfing like Carissa."
Carissa's long time manager, Bryan Taylor adds; "It was 19 years ago when I managed my first ASP World Champion, who at the time became the youngest surfer in the world to win the Title at the age of 20. To be able to watch Carissa over the past 7 years develop into this unprecedented world-beater leaves me both humbled and awed. I would be remiss in not recognizing Carissa's father Chris Moore, as there is little doubt in my mind that Carissa would not be where she's at right now without his unparalleled dedication, support, and guidance. Carissa serves as living proof that the NSSA is the finest incubator of surfing talent on this planet."
For more information regarding Carissa's pathway to the World Championship please visit the ASP website at www.aspworldtour.comor Carissa's website at www.carissamoore.com.
##