NSSA SOUTHEAST EVENT #5 SCORES FANTASTIC SURF AT PONCE DE LEON
Tuesday, November 17, 2009 | Written by Danielle Beckmann
NSSA SOUTHEAST CONFERENCE
OPEN SAND EXPLORER EASON EVENT #5
FOUR STAR RATED
PONCE DE LEON LANDING
NOVEMBER 14, 2009
CONDITIONS: A solid northeast groundswell from Hurricane Ida combined with a cold front provided clean chest to head high waves with some overhead sets. Lefts and rights with strong currents and offshore wind made for challenging but overall good contest conditions.
Written by: Danielle Beckmann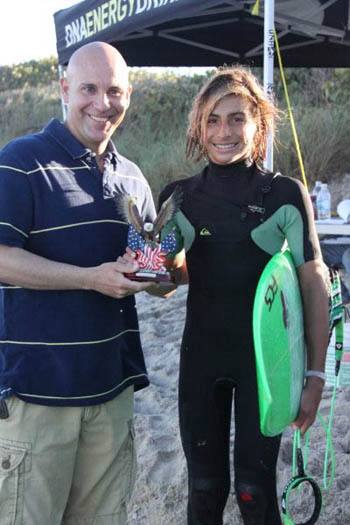 USMC Gunnery Sgt. Brett Marks presents the "Bulldog Award"
to Giorgio Gomez
in honor of USMC Sgt. Charlie Cartwright.
Go big or go home! Once again the NSSA Southeast Conference was blessed with amazing waves at Ponce de Leon Landing in Melbourne Beach, Florida this past Saturday. The 5th event of the season provided really fun conditions, raising the bar across the board in all divisions. The USMC Sgt. Charlie Cartwright Memorial "Bulldog Award" was the highlight of the day. Surfers paddled out for the opportunity to post the highest wave score and win the special trophy and prize package. Sgt. Cartwright, a 26-year-old United States Marine Corps Force Recon Sniper and contributor to the BETWEEN THE LINES movie, lost his life in Afghanistan last week. "Go Big or Go Home" was the call for the day. Chris Tucker seemed to have it locked up early on in the day with a long left and some big turns - posting a 9.5. Giorgio Gomez charged hard at the end of the day with a spectacular ride resulting in a 10 from the judges tent. USMC Gunnery Sgt. Brett Marks was on hand to personally deliver a heartfelt USMC message of gratitude to our fallen Marine surfer Sgt Cartwright and he proudly presented the American Eagle and Flag Memorial trophy to Giorgio. Our deepest sympathies are extended to Sgt. Cartwright's family and friends ~ Semper Fi ~ Sgt Cartwright.
Chris Tucker blazed through heats on the lefts all day long.
Despite losing out on the high score of the day, Chris Tucker blazed through heats all day succeeding as the standout Open Men's winner. Chris returned to the water and backed up that win with a victory in Explorer Mens. Tanner Strohmenger continued on his mission from last contest and the 1st place trophy for Open Juniors and Explorer Juniors went home to south Florida with the young charger.
Iron Mini Grom Stevie Pittman was a busy boy ripping his way to two 1st place wins.
Not to be outdone by the older boys, 9 year old iron man Mini-Grom Stevie Pittman charged hard all day competing in four divisions and was seen repeatedly running north up the beach to paddle out above the rip. The running paid off for little Stevie, he ended up taking the win in both Open Boys and Open Mini Groms. Patick Nichols continued his domination of the Open and Explorer Longboard divisions bringing home both wins. Nikki Viesins managed a clear and clean sweep first place honors in Open and Explorer Womens, as well as Explorer Girls.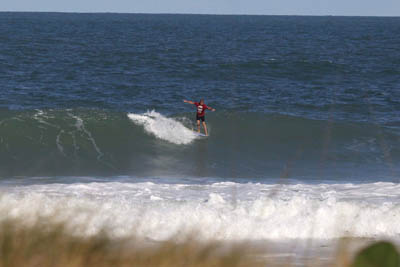 Longboarder Patrick Nichols showed his consistency wrapping up two wins.
Mahalo to our head judge Gordon Lawson and judges Rich Price, Cam Anderson and WCT veteran Todd Holland. Thanks guys. Special thanks to George Seguna, Doris Arias, and Stephen Kaltenbach our announcer, DNA Energy Drink for the Tiki trophies, Nike 6.0, FCS and Freak Traction. Happy Holiday Season to all and see you at contest 6 on January 9th. Please go to www.nssasoutheast.typepad.com for updates.
THE SCOREBOARD
RESULTS
SOUTHEAST CONFERENCE OPEN AND EXPLORER SEASON EVENT #5
PONCE DE LEON LANDING
USMC SGT. CHARLIE CARTWRIGHT "BULLDOG AWARD"
Winner: Giorgio Gomez, perfect 10
OPEN MENS
1. Chris Tucker
2. Tanner Stromenger
3. Zach Edwards
4. Peter Chasin
OPEN JUNIORS
1. Tanner Strohmenger
2. Nolan Tyler
3. Emery Kopelcheck
4. Parker Greenwood

OPEN BOYS
1. Stevie Pittman
2. Luke Marks
3. Chris O'Donnell
4. Gian Marco Oliva
OPEN MINI GROMS
1. Stevie Pittman
2. Gian Marco Oliva
3. Tommy Coleman
4. Izzy Gomez
5. Jaric Fink
6. Kainalu Canubida
OPEN WOMENS
1. Nikki Viesins
2. Savannah Bradley
3. Haley Dawson
4. Nicole Aia
OPEN LONGBOARD
1. Patrick Nichols
2. Steve McLean
3. Fisher Grant
4. Chaz Schuck
5. Jaric Fink
EXPLORER MENS
1. Chris Tucker
2. Frank Roper
3. Peter Chasin
4. Greg Hall
5. Phil Lutz
6. Dan Conover
EXPLORER JUNIORS
1. Tanner Strohmenger
2. Chris Tucker
3. Zach Edwards
4. Greg Hall
5. Dan Szakovitz
6. Christian Miller
EXPLORER BOYS
1. Giorgio Gomez
2. Matt Kaltenbach
3. Sam Duggan
4. Sterling Foster
5. Stevie Pittman
6. Parker Greenwood
EXPLORER MENEHUENE
1. Luke Marks
2. Gian Marco Oliva
3. Chris O'Donnell
4. Spencer Koplecheck
5. Luke Hansen
EXPLORER WOMENS
1. Nikki Viesins
2. Savannah Bradley
3. Haley Dawson
EXPLORER GIRLS
1. Nikki Viesins
2. Izzy Gomez
EXPLORER MASTERS
1. Phil Lutz
2. Chad Carr
3. Paul Munson
4. Dan Conover
5. Carlos Rodriqeuz
6. Gerardo Douaihi
EXPLORER SENIORS
1. Bill Miller
2. Jim Tolliver
EXPLORER SUPER SENIORS
1. Jim Miller
2. Sean Hayes
3. Jim Tolliver
4. Bill Miller
5. Jordan Nichols
6. Steve Moldenhauer
EXPLORER LONGBOARD
1. Patrick Nichols
2. Steve McLean
3. Steven Moldenhauer
4. Fisher Grant
5. Chaz Schuck