GOLD COAST EVENTS #1 AND #2 AT MANDALAY BEACH IN OXNARD!
Tuesday, August 25, 2009 | Written by Janice Aragon
NSSA GOLD COAST CONFERENCE EVENTS #1 AND #2
MANDALAY, OXNARD
AUGUST 22-23, 2009
CONDITIONS: An epic summer weekend with clear skies and warm daytime temps in the 80's. A building southwest swell pumped in excellent chest to head high scattered peaks with clean, glassy conditions prevailing throughout the weekend for Gold Coast opening weekend.
CONNER COFFIN BLOWING UP THE TAIL AND THE SCOREBOARD.
photo: Chris Keet/Surfhappens.com
School's back in session and so is the NSSA! Sticking with tradition, NSSA opening weekend on the west coast kicked off with the Gold Coast Conference events #1 and #2 at Oxnard's Mandalay Beach. In some of the best contest conditions witnessed at the Mandalay beachbreak, the waves and weather were in fantastic form with a building southwest swell producing waves in the shoulder to overhead good running lefts and wedgy rights with gorgeous summer 80 degree temperatures. The winds stayed calm throughout the two day doubleheader providing killer surf conditions for the competitors and they came fired up and ready to make an early jump to the top of the rankings of the 6-star rated event for Saturday's opener and 4-star rated event #2 on Sunday.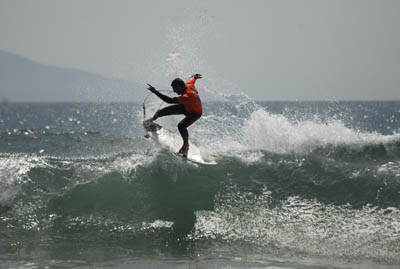 ANTOINE ALLAIN SCORES A HUGE DOUBLE WIN.
photo: JP Garcia
Santa Barbara's Antoine Alllain brought the biggest game of his five-year NSSA career to the season opener posting back-to-back double victories in the Men's division. Saturday's victory was Allain's first ever victory with a clear victory over runner-up Chris Keet. On Sunday, Allain had a slight pressure melt-down in the Men's semis squeezing out an advancing third place but then in the final took command locking in two high scoring rides of 8.0 and 7.5. "This was a nice way to open up the season," said native Frenchman Allain who was brought up in the Hossegor beach breaks. "I grew up surfing Hossegor and the waves here at Mandalay are similar to it." Allain's impressive double victory will vault him to a big lead in the Men's ratings. "I've been surfing NSSA so many years and have struggled to get past round one. I've been training all summer, going to the gym, training in beachbreaks and really staying focused on surfing. My goal is to do well in contests this year and to get back-to-back wins in great waves, it doesn't get much better than that." In the Juniors division, Conner Coffin brought his big-league power moves to wedgy high performance peaks. With a dominant performance from heat one through the final, the 2009 National Open Men's and Open Juniors finalist showed the crowd he is in top-of-the-world form. Conner was fired up on the wave conditions and was putting on a show on the side of the contest area! He nailed a perfect 10 in his Juniors round 2 heat and then posted excellent scores of 9.5 and 8.0 to secure the first place finals decision. "This contest is so much fun and the waves are ridiculously good," Coffin said. "It's the best waves I've seen here for so long. The good sets are head high plus and the lefts are roping!"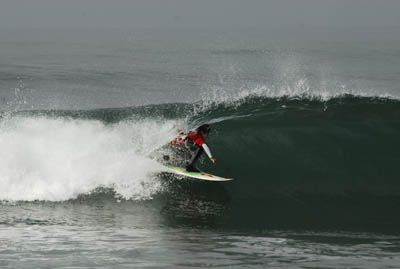 PAT CURREN PULLING INTO A CLEAN LITTLE TUBE AT "PAT'S PEAK."
photo: JP Garcia
Without a doubt, the show-stealer of the weekend was Patrick Curren. The 12-year-old returned from the 2-month summer hiatus with technical skills that were going through the roof which was the hot topic on the beach. The youngest son of 3-time World Champion Tom Curren, Patrick took control of the Boys division winning 9 consecutive heats en route to double triumphs in the Boys category and then stepping up big-time in the event #2 Juniors final sealing that one. From the get-go, Curren sat on a good left bowl on the north end of the contest area that was aptly named "Pat's Peak." Although Curren resides in Santa Barbara approximately 30 miles north of the Mandalay contest venue, he ripped the spot as if it was his own backyard consistently posting 8's, 9's and even putting a flawless 10-point ride on the scoreboard. "Last time I surfed here was at last year's Gold Coast but we scored this weekend. I saw this really good left so I sat on that wave for most of the contest," Curren said after taking his third win of the weekend in the Juniors. "I was super stoked because yesterday was my first win in the NSSA. "I admit I was kind of intimidated in the Juniors final. Those guys are all bigger than me but I got that really good left which scored an 8.5." When asked if his legendary dad gives him any tips, Pat said, "My dad helps me a little bit. He usually gives me a strategy and he tells me to have better wave selection. These wins were great for my confidence because I'm going to do the Southwest Open Juniors this year so that is going to be very competitive for me."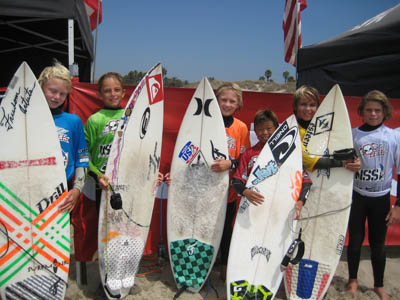 SURFING'S FUTURE - THE MENEHUENES!
L-R: Thelen McKinna-Worrell, John Mel, Jake Marshall, Kei Kobayashi, Conner Lundy, Decker McAllister
In the Menehuene division, Malibu up-and-comer Thelen McKinna-Worrell scored his first NSSA win in event #1. Working with coach Toma Tomatsuri over the summer break, McKinna-Worrell's improved surfing ability was clearly evident as he also took third in the Menehuenes and fourth in the Boys final in event #2. National Mini Grom Champion Kei Kobayashi turned up for Sunday's comp and went right to work posting his first win of the season. Kobayashi took command of the final on his first wave posting an excellent 8.0 score on a set left where he comboed together three solid top-to-bottom backside hacks.
In the Women's division, Catherine Clark took the win in event #1 while Frankie Harrer ruled day two and took out both the Women's and Girls divisions. Lauren Heinemeyer claimed her first career victory in the Girls final on Saturday. Ventura local John Gardner dominated the Seniors with double wins as well as Chris Keet in the Masters. JP Garcia was back in action in the Longboard clinching the victory in event #1 and Thomas Kunz wrapped up first place in event #2.
COMING UP IN CALI: The Northwest Conference opens up in Pacifica with event #1 on August 30. The Southwest Conference Explorer Season kicks off with event #1 September 5-6 at HB's 9th Street sandbar. The Gold Coast Conference continues with a doubleheader events #3 and #4 at Port Hueneme. The Southwest Conference Open Season gets underway on September 19-20 at Huntington Street in HB.
THE SCOREBOARD
RESULTS
GOLD COAST CONFERENCE EVENT #1
MANDALAY BEACH, OXNARD
EXPLORER MENS
1. Antoine Allain-Santa Barbara 15.0
2. Chris Keet-Santa Barbara 13.0
3. Shane Orr-Santa Barbara 10.0
4. Shaun Burns-Santa Cruz 9.5
5. Dimitri Papavassiliou-Malibu 9.0
6. Chris Love-Huntington Beach 4.5
EXPLORER JUNIORS
1. Conner Coffin-Santa Barbara 17.5
2. Shaun Burns-Santa Cruz 12.5
3. Nic Hdez-Santa Cruz 11.5
4. Duke Van Patten-Malibu 10.0
5. Frank Curren-Santa Barbara 6.5
6. Theo Lewitt-Venice 5.5
EXPLORER BOYS
1. Patrick Curren-Santa Barbara 17.0
2. Nic Hdez-Santa Cruz 11.5
3. Logan Rauhut-Oxnard 10.0
4. Frank Curren-Santa Barbara 9.75
5. Vinny Leonelli-Goleta 5.5
6. Jesse Clapoff-Ojai 3.5
EXPLORER MENEHUENE
1. Thelen McKinna Worrell-Malibu 13.5
2. John Mel-Santa Cruz 11.0
3. Spencer Farrar-Malibu 8.0
4. Brennan Aubol-Carlsbad 6.5
5. Micky Clarke-Ventura 6.0
6. Conner Lundy-La Conchita 5.5
EXPLORER MASTERS
1. Chris Keet-Santa Barbara 15.5
2. Bobby Hudson-Irvine 9.5
3. Mike Condon-Los Angeles 6.0
4. John Wander-San Francisco 5.0
EXPLORER SENIORS
1. John Gardner-Ventura 15.0
2. Robert Weiner-Oxnard 10.0
3. Chris Keet-Santa Barbara 11.0
4. Masaki Kobayashi-San Clemente 7.8
5. John Wander-San Francisco 7.5
6. Mike Condon-Los Angeles 4.0
EXPLORER WOMENS
1. Catherine Clark-Ventura 15.0
2. Keenan Reeser-San Luis Obispo 11.0
3. Morgan Gore- Mendham 10.5
4. Alexis Ross-Arroyo Grande 4.5
5. Katie Draeger-Nipomo 4.0
EXPLORER GIRLS
1. Lauren Heinemeyer-Laguna Niguel 9.5
2. Allyson Heinemeyer-Laguna Niguel 6.0
3. Megan McCormick-Solana Beach 2.0
4. Hailey McCormick-Solana Beach 1.0
5. Malia Faramarzi-Encinitas 0.0
EXPLORER LONGBOARD
1. JP Garcia-Santa Barbara 6.5
2. Jorge Barba-Burbank 5.0
3. John Schaar-Malibu 4.0
THE SCOREBOARD
RESULTS
GOLD COAST CONFERENCE EVENT #2
MANDALAY BEACH, OXNARD
EXPLORER MENS
1. Antoine Allain-Santa Barbara 15.0
2. Shaun Burns-Santa Cruz 12.5
3. Chris Keet-Santa Barbara 12.0
4. Dimitri Papavassiliou-Malibu 11.5
5. Shane Orr-Santa Barbara 10.5
6. Duke Van Patten-Malibu 9.5
EXPLORER JUNIORS
1. Patrick Curren-Santa Barbara 13.5
2. Duke Van Patten-Malibu 12.8
3. Christian Ramirez-San Luis Obispo 12.5
4. Chris Love-Huntington Beach 12.0
5. Skylar Lawson-Malibu 8.5
6. Nic Hdez-Santa Cruz 7.0
EXPLORER BOYS
1. Patrick Curren-Santa Barbara 15.0
2. Jake Marshall-Encinitas 14.5
3. Kei Kobayashi-San Clemente 12.5
4. Thelen McKinna Worrell-Malibu 11.5
5. Logan Rauhut-Oxnard 10.0
6. Wyatt Barrabee-Santa Cruz 6.5
EXPLORER MENEHUENE
1. Kei Kobayashi-San Clemente 13.5
2. Conner Lundy-La Conchita 11.5
3. Thelen McKinna Worrell-Malibu 11.0
4. Jake Marshall-Encinitas 10.5
5. John Mel-Santa Cruz 9.0
6. Decker McAllister-Santa Barbara 8.5
EXPLORER MASTERS
1. Chris Keet-Santa Barbara 12.0
2. Bobby Hudson-Irvine 5.5
3. Mike Condon-Los Angeles 1.5
EXPLORER SENIORS
1. John Gardner-Ventura 13.5
2. Chris Keet-Santa Barbara 12.5
3. Masaki Kobayashi-San Clemente 7.5
4. JP Pereat-Sherman Oaks 7.0
5. Thomas Kunz-Ventura 5.5
6. Mike Lamm-Oxnard 0.0
EXPLORER WOMENS
1. Frankie Harrer-Malibu 11.5
2. Morgan Gore-Mendham 11.0
3. Keenan Reeser-San Luis Obispo 10.5
4. Katie Draeger-Nipomo 5.5
5. Alexis Ross-Arroyo Grande 4.5
EXPLORER GIRLS
1. Frankie Harrer-Malibu 15.0
2. Lauren Heinemeyer-Laguna Niguel 4.5
3. Allyson Heinemeyer-Laguna Niguel 2.0
4. Megan McCormick-Solana Beach 1.0
5. Hailey McCormick-Solana Beach 0.0
EXPLORER LONGBOARD
1. Thomas Kunz-Ventura 8.8
2. JP Garcia-Santa Barbara 8.5
3. Jorge Barba-Burbank 6.5