2009 NSSA NATIONAL CHAMPIONSHIP WRAP UP AND RESULTS!
Wednesday, July 01, 2009 | Written by Janice Aragon
KOLOHE ANDINO AND LAKEY PETERSON WIN THE NATIONAL OPEN MEN'S AND WOMEN'S TITLES AND GOVERNOR'S CUP AT THE 31ST ANNUAL NSSA NATIONAL CHAMPIONSHIPS PRESENTED BY NO FEAR.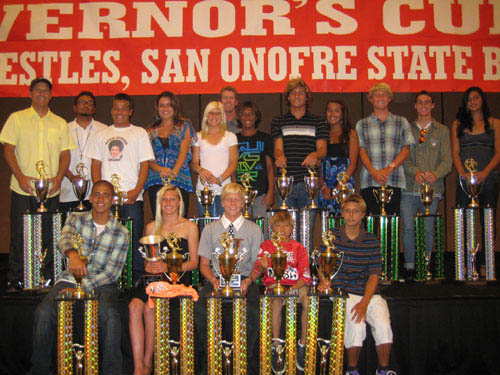 2009 NSSA NATIONAL CHAMPIONS.
(Huntington Beach, CA, July 1, 2009) It was another two weeks to remember June 17-27 at both the terrific left hand point at Salt Creek and on the hottest peak on the planet Lower Trestles in the pristine San Onofre State Park. Consistent combinations of southwest swells delivered fun, contestable chest to shoulder high waves throughout the entire championship event. As with every year, the competition was intense and electrifying as the talent level soared through the roof. Here are a few highlights from the 31st annual NSSA National Championships and 9th annual California State Parks Governor's Cup.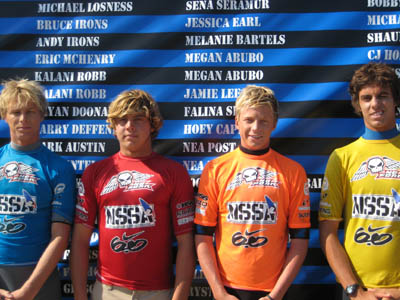 NATIONAL OPEN MEN'S/GOVERNOR'S CUP FINAL FOUR.
L-R: Evan Thompson, Conner Coffin, Kolohe Andino, Alex Smith
OPEN MEN'S/GOVERNOR'S CUP
With an extremely talented field of 96 surfers competing, the final four came down to San Clemente's wunderkind Kolohe Andino, Florida's Evan Thompson, Hawaii's Alex Smith and Santa Barbara's powerhouse Conner Coffin. Both Andino and Coffin were surfing up an age bracket with nothing to lose while Thompson and Smith were heavily focused on the task of taking home their first National titles. Not surprisingly, after his stirring Regional Championship victory at Sebastian Inlet in April, Evan Thompson turned out to be the East Coast hero at the Nationals. The 17-year-old Jacksonville Beach native delivered a commendable performance making two finals while coming one place away from becoming the first east coaster to win the Open Men's. When the 35-minute final got underway, Andino quickly went to work on a right posting up an excellent 8.25 score. Thompson stayed in the game with a 6.25 and 7.5 while Smith and Coffin patiently waited for the good waves. By the time, Andino put two more solid 7.0 and 7.5 scores on the board, Smith and Coffin were still struggling to get in the groove and Thompson needed a substantial 8.5 score. In the final minutes Smith made things interesting when he launched a smooth air reverse to the tune of an 8.0 score but it was too little, too late. Kolohe Andino was crowned the 2009 National Open Men's and Governor's Cup Champion along with securing a legendary place in NSSA history. Andino served up a super inspiring combination of technique, finesse and flash during the National's nine day marathon, from day one at Salt Creek where he paddled out and won all of his Explorer heats to the final day at Lowers where he competed in four finals and won three of them including the Explorer Boys and Airshow. "I just wanted to do my best and surf my best and for me to win the Open Men's and be carried up the beach at my home spot by two of my best friends Luke Davis and Ian Crane is priceless," Andino said. "The day before I was bummed because I lost in the Open Juniors but I had to re-group because I had an Open Men's round three heat soon after. Later that afternoon, I got a couple new boards from my shaper Mayhem and they rode like a magic carpet. When you get that new board feeling and the board works amazing, there is just nothing like it. The following day right before the Men's final, I was surfing off to the side on the new board and feeling really good. In the final I got that 8.25 in the first three minutes. I actually snagged it from Conner because they were all too far outside and that's where the local knowledge skills pay off." Andino shattered the record books in multiple facets: He became the youngest Open Men's Champion at 15 years and 97 days old. He added three more titles to his resume which brings his total to nine breaking the male record of seven previously held by current ASP World Tour surfer Bobby Martinez. He became the first son of a NSSA Champion to win a National Open title more than 20 years after his father Dino took the Open Men's crown in 1985. "When I first started NSSA, I never thought I could be able to catch or beat Bobby's record because I could never picture myself getting up on this podium seven different times," Andino said. "And then five days before the event started at the Creek, I found myself having the goal of trying to beat his record. For me to get nine and break the record is just crazy. It happened a day ago and I still can't believe it!"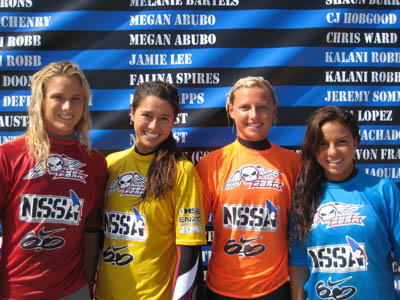 NATIONAL OPEN WOMEN'S/GOVERNOR'S CUP FINAL FOUR.
L-R: Courtney Conlogue, Malia Manuel, Lakey Peterson, Nage Melamed
OPEN WOMENS/GOVERNOR'S CUP
In one of the most competitive fields witnessed in Women's competition, the Open Women's/Governor's Cup final came down to a showdown between reigning champion Courtney Conlogue, Santa Barbara up-and-comer Lakey Peterson, Kauai's Malia Manuel who again looked like the girl to beat posting the only perfect 10 in women's competition and another Kauai gal Nage Melamed appearing in her first National Open final. Although listed as one of the top contenders, 14-year-old Peterson was still considered a National title darkhorse to the defending champ Conlogue and Manuel who had earlier clinched her first National title in the Explorer Women's. But the NSSA Nationals is where amazing happens and in the opening minutes of the 35-minute final Peterson took another page out of the history books when she punted a mind-blowing frontside aerial on a perfect Lowers racetrack section stunning the entire beach and maybe even herself a little. The score came in at a 9.0 which all but shut the door at least emotionally on her three other opponents even though there was over 30 minutes left on the clock. Conlogue, Manuel and Melamed fought back valiantly and Melamed was actually holding down the No. 1 position for a good part of the heat. But Peterson owned the moment nailing another 7.75 ride in the final minutes rightfully earning the premier title in amateur surfing. "Going into the final, I was just stoked to make it that far," an ecstatic Peterson said. "This was my first year in Open Women's at the Nationals, and I really didn't expect to win. I told myself I would have to go big and be aggressive to beat the other girls. I got the waves and things just went my way." Peterson's astonishing aerial was the first one ever completed in National Women's competition. "That was the biggest air I've ever pulled," Peterson said. "I took off on that wave and it had a good air section and I thought why not. After I heard the wave got a 9, it was just a huge confidence booster. I still can't believe I pulled it, I'm freaking out." Peterson also gave a lot of credit to her coach Mike Lamm who has been training with her the past couple seasons. "Mike would come down to Lowers every day during the Nationals and would time the heats," Peterson said. "He told me he was confident that I had it in me to win and to just go out and have fun. That was encouraging to me."
NATIONAL OPEN JUNIORS FINAL FOUR.
L-R: Conner Coffin, Kaimana Jaquias, Matty Costa, Ezekial Lau
OPEN JUNIORS
Hawaiians Ezekial Lau, Kaimana Jaquias and Matty Costa joined lone west coaster Conner Coffin in a heavy Juniors final. Lau jumped out into an early lead when he blew up on a set right that scored an 8.25. In a slow heat for waves, Coffin put two mid-range scores on the board of 5.5 and 6.25 and was sitting in first for the majority of the 25-minute final. Costa and Jaquias who ripped their earlier semifinals, struggled to find rhythm in the final. Lau was chasing a small score to catch Coffin and he was successful scoring a 6.75 leaving all three opponents needing 8's or higher. After six years of coming up short, Lau got the monkey off his back and claimed his first National title. "It's been six years of making finals and just falling short every time, so it feels really good to finally get it," Lau said. "Dave (Riddle) was telling me 'you're not going to win with two 5's or 6's, you are going to win out the back with 8's or 9's,' so I sat outside and waited for the sets. A set came in and Conner and I actually split the peak, he went left and I took the right and it was one of the biggest walls I had seen all week. I knew I had to go to town on it and I got an 8.25. After that, I knew Conner was still in the lead and that I needed a small score. As time started winding down there was two minutes left and I was getting antsy. I went for a middle wave and I knew I had to surf it my best to get the score I needed and I ended up getting a 6.75 which put me in first. This is my last year in Open Juniors so I wanted to go all out and it just all came together." Lau has been competing at the NSSA Nationals since he was nine, and he has a shaved head as proof. Six years ago, he made a bet with his father that he would not grow his hair out until he won an NSSA National Championship. "I didn't think it would take this long," Lau said. "I'm going to grow it out long now." Besides growing his hair out, Lau was pumped to finally get his name on the Champions Board. "Every year coming to Nationals I just look at that board wanting my name to be on it. For my name to be on that board is one of the best things ever."
KOA SMITH AND THE GROMS: ANOTHER NSSA TRADITION!
ADDITIONAL HIGHLIGHTS
Maui's Ian Gentil put on a clinic in the 25-minute Open Boys final. He scored two perfect 10's for a perfect score of 20. Gentil was in a rhythm finding all the good right walls and slamming every section with moves beyond his 13 years. He also collected another title in the Explorer Menehuene. In the Mini Grom final, 10-year-old San Clemente local Kei Kobayashi caught the set bombs and took home his first National title with top scores of 8.75 and 7.5. Scott Brandenburg sealed the National title in Open Longboard with two solid scores of 8.5 and 7.5. In the Explorer divisions, Kiron Jabour blew up in both the Men's and Juniors final snagging both titles. Alessa Quizon claimed her second career National title winning the Girls final (Quizon won the same title in 2007). Although Malia Manuel didn't take home the title she yearned for she put on a fantastic performance at both Salt Creek and Lowers winning her first National Championship in the Explorer Womens. Rick Takahashi closed out a terrific contest year sealing two National titles in Masters and Seniors. Rusty Phillipy added another title to his resume winning the Super Seniors (Phillipy won the Seniors in 2003) and Iron Man Mike Gillard made a statement nailing his first National title in the Longboard division.
CSUSM AND UNCW SHARE CENTER STAGE.
NATIONAL INTERSCHOLASTIC CHAMPIONSHIPS
In an intense showdown in the National Collegiate Championships, Cal State San Marcos and University of North Carolina Wilmington were in a deadlock tie at 109 points apiece. In a sudden death surf-off CSUSM teammates Chris Smith, Scott McBride and Aaron Coyle led their team to its first National Championship title. "I'm so excited now, it doesn't even seem real," said CSUSM team captain Garrett James. "At the State Championships, we were really close to making a great run for the win until we lost most of our guys in the quarterfinals so this is definitely redemption here. We came into the Nationals really wanting to win this. Our coach Amber Puha deserves a lot of credit because she is always motivating us." Even though UNCW lost a heartbreaker, their runner up showing was the best ever for an east coast school and they certainly have proven they will be a force to be reckoned with in the future. "We are a young team with all our members returning next year," said Dylan McNamara, team coach and assistant professor in the Department of Physics and Physical Oceanography at UNCW. "We will definitely be one of the favorites to win Nationals next year."
In the National High School Championships, the Elite Element Academy clinched their second consecutive National title in the Varsity High School division while Edison High School of Huntington Beach team took home the Junior Varsity National crown. Shorecliffs Middle School stepped up their intensity after being challenged by runner-up Elite Element and maintained their place at top securing their fourth straight National Championship.
PERFORMERS OF THE DAY – 2009 NATIONAL CHAMPIONSHIPS
DAY ONE JUNE 17 AT SALT CREEK: Longtime NSSA competitor Amy Nicholl finally reached her dream of a National title. Competing on the University of Central Florida surf team, Amy destroyed her final at the Creek handily winning the Collegiate Women's division and collecting her long-awaited National title.
DAY TWO JUNE 18 AT SALT CREEK: Kolohe Andino wowed the judges with his advanced technical skills easily cruising to first place in all of his Explorer heats and punting a crazy frontside aerial reverse in the Airshow semis which earned him a berth in the Airshow final.
DAY THREE JUNE 19 AT SALT CREEK: Keanu Asing competing for the Elite Element Academy took command of the High School Men's division and was unstoppable winning every preliminary round with confidence, flair and power.
DAY FOUR JUNE 20 AT SALT CREEK: It was Keanu Asing again absolutely controlling the line up at the Creek scoring a 9.0 and 8.25 in the High School Men's final leading the Elite Element Academy to their second National High School title. Keanu was surfing so brilliantly he even threw away a couple of 8 point rides in the High School final.
DAY FIVE JUNE 23 AT LOWER TRESTLES: The Nationals shifted 10 miles south to the most rippable wave on the planet Lower Trestles and the atmosphere turned absolutely electric. The judges deemed a tie between Kolohe Andino who continued to pull out all the stops, pushing the envelope, pulling off incredible moves and winning every heat of the day. Kolohe secured a berth in three National finals before the day was over. Meanwhile, just as jaw-dropping was Evan Thompson going ballistic in the Explorer Juniors semifinals pulling off the first perfect 10 ride of the 2009 National Championships.
DAY SIX JUNE 24 AT LOWER TRESTLES: It was another tie for the Performer of the Day between Conner Coffin and Malia Manuel. Conner set the pace in the opening round of the Open Juniors with his explosive turns, big carves, tail slides and on one of the bigger set rights of the day he blasted a perfect 10 score and then backed it up with a 9.0 which was the highest heat totals up to that point. A couple hours later in the opening round of the Open Womens, Malia put the first perfect 10 on the scoreboard of the Women's categories.
DAY SEVEN JUNE 25 AT LOWER TRESTLES: It was the man from Santa Barbara again. Conner Coffin kicked off the competition in the Open Men's round one continuing his powerful attack on the Lowers high performance peaks. Conner posted up the highest scores and combined heat totals of the day on excellent 9.0 and 7.75 rides.
DAY EIGHT JUNE 26 AT LOWER TRESTLES: Florida's Evan Geiselman was the shoe-in for the Performer of the Day when he nailed a perfect 10 and a 9.75 in what he called "the best heat of his life" not to mention one of the most dazzling surfing displays ever witnessed at the National Championships.
DAY NINE JUNE 27 AT LOWER TRESTLES: The surfing was so red-hot on the ninth and final day of the 2009 National Championships the judges split the Performer of the Day between three remarkable feats. One went to Open Boys competitor Ian Gentil who surfed a perfect heat in the Open Boys final posting an amazing 20-point heat total with two flawless 10's. Number two went to Lakey Peterson who raised the bar of women's surfing when she punted a huge frontside air in the Open Women's final pulling off the first ever completed air in National Women's competition. Number three and the most notable was Kolohe Andino who at age 15 years and 97 days became the youngest surfer ever to achieve and win one of the most prestigious youth surfing titles, the crown jewel of amateur surfing – the Open Men's. In addition Kolohe shattered the record for National titles in the male categories formerly held by Bobby Martinez (7). Kolohe's National Championship total now soars to nine, two short of the overall 11-title record held by Carissa Moore.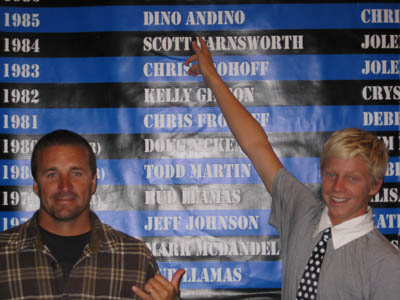 KOLOHE JOINS HIS DAD ON THE CHAMPION BOARD!
2009 NSSA CHAMPIONSHIP SERIES
The NSSA National Championships is the sixth of seven events in the 2009 NSSA Championship Series presented by No Fear. The 2009 Championship Series events include the Interscholastic State Championships at Church March 6-8 (completed), the Hawaii Championships at Kewalo Basin, HI March 21-26 (completed); the East Coast Championships at Sebastian Inlet, FL April 16-19 (completed); the NSSA Jr. Championships at Huntington Beach Pier, CA April 18 (completed); the West Coast Championships at Huntington Beach Pier, CA May 14-17 (completed); the NSSA National Championships at Salt Creek and Lower Trestles, CA June 17-27 (completed); the Northeast High School Championships at Ocean City, NJ October 19.
In addition to No Fear, the NSSA National Championships is proud to have support from Nike 6.0, Huntington Surf and Sport, Surfing Magazine, WaveWatch, Sex Wax, No Fear Energy Drink. The NSSA is a member of Surfing America, the ISA-recognized National Governing Body for Surfing in the United States.
VIEW TONS OF 2009 NATIONALS ACTION PHOTOS AT SURFINGTHEMAG.COM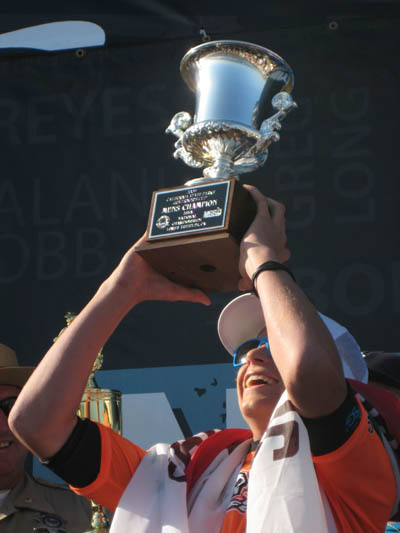 THE SCOREBOARD
RESULTS
2009 NSSA NATIONAL CHAMPIONSHIPS
LOWER TRESTLES, SAN ONOFRE STATE PARK, CA
SALT CREEK, DANA POINT, CA
OPEN MENS
1. Kolohe Andino-San Clemente, Ca 16.00
2. Evan Thompson-Jacksonville Beach, Fl 13.75
3. Alex Smith-Kilauea, Hi 11.50
4. Conner Coffin-Santa Barbara, Ca 8.50
OPEN WOMENS
1. Lakey Peterson-Santa Barbara, Ca 16.75
2. Courtney Conlogue-Santa Ana, Ca 14.75
3. Malia Manuel-Kapaa, Hi 14.25
4. Nage Melamed-Hanalei, Hi 13.75
OPEN JUNIORS
1. Ezekial Lau-Honolulu, Hi 15.00
2. Conner Coffin-Santa Barbara, Ca 13.25
3. Matty Costa-Waianae, Hi 11.50
4. Kaimana Jaquias-Liheu, Hi 9.50
OPEN BOYS
1. Ian Gentil-Paia, Hi 20.00
2. Josh Moniz-Honolulu, Hi 13.50
3. Benji Brand-Honolulu, Hi 13.25
4. Jacob Davis-Capistrano Beach, Ca 7.50
5. Jake Marshall-Encinitas, Ca 6.50
6. Imaikalani Devault-Kihei, Hi 4.50
OPEN MINI GROMS
1. Kei Kobayashi-San Clemente, Ca 16.25
2. Kaulana Apo-Ewa, Beach, Hi 15.50
3. Griffin Colapinto- San Clemente, Ca 10.75
4. Luke Marks-Melbourne Beach, Fl 8.75
5. Dylan Lehmann-Lahaina, Hi 8.50
6. Noa Mizuno-Honolulu, Hi 4.13
OPEN LONGBOARD
1. Scott Brandenburg-San Clemente, Ca 16.00
2. Shaun Thompson-Huntington Beach, Ca 14.00
3. Matt Elias-Calles-San Clemente, Ca 11.75
4. Patrick Nichols-Lantana, Fl 11.25
5. Steve McLean-Orlando, Fl 9.50
6. Westin Williams-Wilmington, NC 8.50
NSSA AIR SHOW
1. Kolohe Andino-San Clemente, Ca
2. Alex Smith-Kilauea, Hi
3. Ezekial Lau-Honolulu, Hi
4. Balaram Stack-Point Lookout, NY
5. Dylan Goodale-Kilauea, Hi
6. Koa Smith-Kilauea, Hi
EXPLORER MENS
1. Kiron Jabour-Waianae, Hi 12.50
2. Alex Smith-Kilauea, Hi 12.38
3. Dylan Goodale-Kilauea, Hi 10.50
4. Tanner Hendrickson-Paia, Hi 9.50
5. Fisher Heverly-Emerald Isle, NC 8.00
6. Makana Eleogram-Hana, Hi 4.00
EXPLORER JUNIORS
1. Kiron Jabour-Waianae, Hi 15.00
2. Tanner Hendrickson-Paia, Hi 12.75
3. Fisher Heverly-Emerald Isle, NC 11.25
4. Evan Thompson-Jacksonville Beach, Fl 10.50
5. Dylan Goodale-Kilauea, Hi 9.75
6. Kolohe Andino-San Clemente, Ca 9.38
EXPLORER BOYS
1. Kolohe Andino-San Clemente, Ca
2. Ian Gentil-Paia, Hi 15.00
3. Jake Halstead-La Jolla, Ca 14.50
4. Koa Smith-Kilauea, Hi 11.50
5. Benji Brand-Honolulu, Hi 11.25
6. Taylor Clark-Encinitas, Ca 10.50
EXPLORER MENEHUENE
1. Ian Gentil-Paia, Hi 16.00
2. Kalani David-Haleiwa, Hi 12.50
3. Benji Brand-Honolulu, Hi 11.50
4. Kanoa Igarashi-Huntington Beach, Ca 9.25
5. Patrick Curren-Santa Barbara, Ca 8.75
6. Braiden Maither-Lahaina, Hi 4.75
EXPLORER WOMENS
1. Malia Manuel-Kapaa, Hi 12.75
2. Catherine Clark-Ventura, Ca 10.50
3. Nage Melamed-Hanalei, Hi 10.25
4. Keilia Moniz-Honolulu, Hi 9.75
5. Leila Hurst-Kilauea, Hi 9.25
6. Alyssa Wooten-Honolulu, Hi 6.00
EXPLORER GIRLS
1. Alessa Quizon-Waianae, Hi 17.25
2. Lakey Peterson-Santa Barbara, Ca 11.00
3. Tatiana Weston-Webb- 7.25
4. Harley Taich-La Jolla, Ca 6.50
5. Kallee Krebs-Haleiwa, Hi 5.75
6. Shelby Detmers-Newport Beach, Ca 4.88
EXPLORER MASTERS
1. Rick Takahashi-San Diego, Ca 12.00
2. Chris Keet-Santa Barbara, Ca 10.00
3. Daniel Sacchi-Wilmington, NC 7.25
4. Chad Carr-Satellite Beach, Fl 6.00
5. Darlan Lopes-Orlando, Fl 6.00
6. Tim Senneff-Del Mar, Ca 5.50
EXPLORER SENIORS
1. Rick Takahashi-San Diego, Ca 16.00
2. Rusty Phillipy-Cardiff by the Sea, Ca 9.75 tiebreak
3. Daniel Sacchi-Wilmington, NC 9.75 tiebreak
4. Mike Gillard-Coronado, Ca 9.50
5. Kevin Frederick-Pacifica, Ca 8.50 tiebreak
6. Mike Lamm-Oxnard, Ca 8.50 tiebreak
EXPLORER SUPER SENIORS
1. Rusty Phillipy-Cardiff by the Sea, Ca 11.50
2. Mike Gillard-Coronado, Ca 11.00
3. Masaki Kobayashi-San Clemente, Ca 10.25
4. Tim Senneff-Del Mar, Ca 10.00
5. Mike Lamm-Oxnard, Ca 8.50
6. Rick Fignetti-Huntington Beach, Ca 7.00
EXPLORER LONGBOARD
1. Mike Gillard-Coronado, Ca 12.75
2. Terry Gillard-Imperial Beach, Ca 12.50
3. Rory Golden-La Mesa, Ca 11.00
4. Patrick Nichols-Lantana, Fl 6.75
5. Josh Lindstedt-Kapaa, Hi 5.75
6. Steve McLean-Orlando, Fl 5.25
2009 NSSA NATIONAL INTERSCHOLASTIC CHAMPIONSHIPS
SALT CREEK, DANA POINT, CA
COLLEGE TEAM
1. CSUSM 123 (overtime)
2. UNCW 116 (overtime)
3. SDSU-A 79
4. UCSD 77
5. UCSB-A 72
6. UCSC 69
7. Mira Costa 68
8. Point Loma 64
9. UNF 60
10. Saddleback 47
11. UCF 42
12. CSULB 37
13. UCSB-B 27
14. SDSU-B 13
15. UCSB-C 7
COLLEGE MENS
1. Marty Weinstein-UCSD 13.75
2. Ben Powell-UNCW 12.50
3. Mike Powell-UNCW 10.50
4. Scott McBride-CSUSM 10.00
5. Chris Smith-CSUSM 9.25 tiebreak
6. Justin Quintal-UNF 9.25 tiebreak
COLLEGE WOMENS
1. Amy Nicholl-UCF 11.75
2. Darlene Conolly-Mira Costa 8.50
3. Chloe Buckley-Mira Costa 8.25
4. Lipoa Kahaleuahi-UCSB 4.75
5. Lily Howard-UCSB 4.00 tiebreak
6. Rachel Harris-UCSB 4.00 tiebreak
COLLEGE LONGBOARD
1. Kevin Osborne-Saddleback 13.75
2. Troy Mothershead-Point Loma 13.25
3. Chris Smith-CSUSM 10.75
4. Billy Harris-Mira Costa 9.75
5. Drake Courie-UNCW 8.50
6. Chris Koerner-SDSU 4.50
HIGH SCHOOL VARSITY TEAM
1. Elite Element Academy 137
2. San Clemente 93
3. San Dieguito 70
4. Newport Harbor 68
=5. Carlsbad 62
Edison 62
7. Huntington Beach 59
8. Laguna Beach 31
9. Jupiter 28
10. Carpinteria 27
=11. Marina 8
Manasquan 8
HIGH SCHOOL VARSITY MENS
1. Keanu Asing-Elite Element Academy 17.25
2. Kiron Jabour-Elite Element Academy 14.50
3. Kaimana Jaquias-Elite Element Academy 11.50
4. Derrick Disney-San Dieguito 9.75
5. Ian Crane-San Clemente 8.50
6. Doug Van Mierlo-San Clemente 7.50
HIGH SCHOOL VARSITY WOMENS
1. Kelia Moniz-Elite Element Academy 16.00
2. Kaleigh Gilchrist-Newport Harbor 12.50
3. Marissa Shaw-San Clemente 8.50 tiebreak
4. Shelby Detmers-Newport Harbor 8.50 tiebreak
5. Emmy Merrill-San Clemente 8.25
6. Alexa Thornton-San Dieguito 5.25
HIGH SCHOOL VARSITY LONGBOARD
1. Josh Gandulla-San Dieguito 14.50
2. Jeff Newell-Edison 12.00
3. Kelia Moniz-Elite Element Academy 10.50
4. Patrick Nichols-Jupiter 9.25
5. David Arganda-Carlsbad 8.00
6. Travis Sampson-Laguna Beach 0.0
HIGH SCHOOL JUNIOR VARSITY TEAM
1. Edison 70
2. San Clemente 69
3. Huntington Beach 50
4. Marina 19
5. Fusion Academy 8
HIGH SCHOOL JUNIOR VARSITY MENS
1. Cole Devine-Edison 12.75
2. Dayne Colby-San Clemente 11.50
3. Mitch Grant-Edison 9.00
4. Marco Passaquindici 8.75
5. Jeremy Carter-San Clemente 8.50
6. Randy Gilkerson-San Clemente 7.75
HIGH SCHOOL JUNIOR VARSITY WOMENS
1. Melina Smith-San Clemente 12.00
2. Chelsea Byland-San Clemente 11.00
3. Allison Wallingford-Marina 4.25
4. Brooke Daigneault-Edison 3.50
5. Janae Paglia-Edison 3.00
6. Shea Barrett-Huntington Beach 1.50
HIGH SCHOOL JUNIOR VARSITY LONGBOARD
1. Eli Gillis-San Clemente 12.00
2. Shaun Thompson-Edison 11.25
3. Tony Bartovich-Huntington Beach 6.25
MIDDLE SCHOOL TEAM
1. Shorecliffs-A 94
2. Elite Element 91
3. Marco Forster 66
4. Dwyer 60
5. Kapaa 54
6. Shorecliffs-B 40
7. Vista Del Mar 38
8. Sowers-A 34
9. Carpinteria 32
10. Sowers B 19
MIDDLE SCHOOL BOYS
1. Kaoli Kahokuloa-Elite Element 17.75
2. Trevor Thornton-Shorecliffs 12.00 tiebreak
3. Kanoa Igarashi-Dwyer 12.00 tiebreak
4. Parker Coffin-Carpinteria 9.00
5. Kalen Galtes-Kapaa 8.00
6. Scott Weinhardt-Marco Forster 7.75
MIDDLE SCHOOL GIRLS
1. Tatiana Weston-Webb-Kapaa 13.75
2. Maluhia Kinimaka-Kapaa 8.00
3. Lulu Erkeneff-Marco Forster 5.50
4. Emmy Lombard-Shorecliffs-4.75
5. Karina Rozunko-Shorecliffs 4.00
6. Kandi Patterson-Shorecliffs 3.75
MIDDLE SCHOOL LONGBOARD
1. Scott Weinhardt-Marco Forster 16.25
2. Andy Nieblas-Shorecliffs 11.25
3. Kaoli Kahokuloa-Elite Element 9.75
4. Mason Klink-Shorecliffs 6.25
5. Nathan Thompson-Sowers 5.50
6. Luke Barrett-Dwyer 4.00