TIMMY REYES INTERVIEW: Timmy speaks about his NSSA days and life on the WQS and the WCT: Check it out!
Friday, December 01, 2006 | Written by Janice Aragon
THE TIMMY REYES INTERVIEW
By: Janice Aragon
Like most red-blooded American young surfers, Timmy Reyes grew up in the NSSA. Competitiveness was embedded in his DNA. Throughout his NSSA years, he had a burning desire to win and was passionate about improving his surfing and his contest results. Even though he never won a National title, his final amateur year was a telltale sign that he was destined for success.
Check this out: It was the 1999/00 season, Timmy's senior year at Edison High School and final year in the NSSA. The year prior, Mike Todd had dominated the season but he had graduated and was out of the picture. This was Timmy's year and he was out for blood. However the first contest of the season at San Onofre wasn't exactly what Timmy had envisioned. He got his butt handed to him. "I paddled out in my first heat and ended up not catching a single good wave," Timmy said. "I walked up to the car and it was the first time I'd been in tears about losing since I was a little kid. I was like 'Mom, I'm going to win every single contest from now on. I'm seriously going to do it.'" Well Timmy nearly did just that. He went on an incredible run winning 12 contests and in the end finished the season with both the Open and Explorer conference crowns.
2006 was Timmy's second year on the WCT. He was cranking out a much improved season and after Mundaka, the 24 year old HB local was ranked 11th while trailing elite top 10 status by less than 100 points. However, his shot at a top 10 showing after only two years on the tour went right out the window when he sustained a season-ending knee injury in his semi final heat at the WQS Cold Water Classic. He will now have to wait until 2007 to launch a new climb up the 'CT ladder but if I know Timmy, this minor setback will just make him hungrier than ever.
THE REYES FILE
Name: Timothy Charles Reyes Jr.
Born: June 9, 1982, West Covina, Ca.
Education: 2000 graduate, Edison High School, Huntington Beach, Ca.
Family: Mom, Julie; Dad, Tim Sr; Sister, Michelle; Girlfriend, Taylor
Amateur Career highlights: 2000 NSSA Southwest Open Mens and Explorer Juniors Champion; 2000 NSSA High School Men's State Champion; 1999 National Championships 5th place Open Mens division.
Pro Career highlights: 1st place 2004 Heritage Pro Atlantic City (WQS 3 Star); 1st place 2004 Unsound Pro Long Island (WQS 2 Star); 3rd place 2006 Rip Curl Search Mexico (WCT); 3rd place 2005 Billabong Pro Jeffreys Bay (WCT)
Sponsors: O'Neill, Jacks, Vans, Odyssey 20/20, Timmy Patterson Surfboards
JANICE ARAGON: Ok, let's cut to the chase. What exactly happened to you at Steamer Lane in the Cold Water Classic and are you going to need surgery?
TIMMY REYES: I was surfing in the semi-finals; I did a floater in a turbulent wave and landed with just my left leg on the board. My right leg was off and it made my left leg bend down at a weird angle and pop some ligaments in my knee. I rode a couple waves down to the Duke statue and I couldn't walk. I had some of my friends bring me back to the contest site. It was pretty crazy. I was kind of in shock and I was feeling sick because it hurt so bad. I came home the next morning and went to Warren Kramer's office, had an MRI on my left knee and the next day learned that I would have to have surgery. I was really bummed out. It's my ACL and some other things. It's not horrible though and it's something that happens to a lot of surfers and a lot of people in different sports. So on the 30th of November, I'm going to have to go under the knife to repair the ACL.
How long will you be out for?
The recovery time is expected to be about 6-8 weeks.
What are you doing to keep in shape?
I've been laying down a lot and driving myself crazy because I have this "ADD" problem about sitting still. But I've been going into the gym a little bit and lifting some light weights. After that I go for a swim for a half hour and kick with my right leg and swim with my arms but just drag my left leg because I don't want to damage it any further.
I must admit when I saw you in the Cold Water draw, I was like "Hmmm, why is he doing a WQS event that he doesn't need when he is ranked so close to the top 10 of the WCT with two important events remaining on the schedule?"
I love surfing up in Santa Cruz. My girlfriend lives in Santa Cruz. The Cold Water is one of the big three that you want to win in California and I thought this year I would have a really good chance of winning the contest. It's really important for me to win the Cold Water, the US Open and Lowers. I made the semi final at the US Open and a final last year at the Cold Water so I'm getting really close. I felt I could win one and that's what I was there to do. But I guess I kind of made a mistake.
So let's start from the beginning. How old were you when you started surfing and who did you learn from?
The first time I stood up I was five years old. My parents moved to Huntington when I was about 8 years old. When I was 9, I started surfing every weekend. Then when I was 12, I started surfing everyday because I was old enough to cross PCH. I would surf Newland Street consistently everyday until I was about 15. Then I started riding my bicycle to the Pier or River Jetties or Newport.
When did you start competing?
My first NSSA contest was at River Jetties. I was 12 and I got second. I was super, super stoked because it was my first surfing trophy. All I had up to that time was baseball trophies and to get my first surfing trophy I was so excited. I wanted to win, but I was just so stoked to get second. I remember Anthony Petruso won that one.
One thing I must say watching you grow up in NSSA is that you use to get really mad at yourself in heats. You never blamed anyone but yourself (not the judges, not the conditions, etc) when things didn't go your way. Do you think that maybe helped you once you turned pro?
In surfing, I think I'm more of a perfectionist than anybody else. If I surf a wave and I don't like the way I'm surfing on it like a wrong bottom turn or wrong top turn, I will be bummed at myself. I did use to blow up because I was pissed off at myself because I really wanted to win. I knew I could win and I was constantly blowing it until my last two years as an amateur when I finally figured it out. I never got mad at the judging. It all came down to my surfing. If I was satisfied, I normally made it through the heat or won the contest. If I was dissatisfied, I would get bad scores which I deserved. I think because of that, I've done well and I've learned how to control my temperament. It's funny now that I look back on it, I want that fire back. I was thinking about this the other day. I've been kind of mellow lately and maybe it's making me slow down. I think next year I may have to bring out the weapons. Get more crazy (laughs)! Sometimes now in heats on the WCT, I think I have been surfing a little bit too polished and I've been trying to break my habit of that. I'm just going to start free surfing in my heats. I think when I free surf; I can beat a lot of people. It happens here and there but it is hard to always stay on your game. Consistently I've been good. I don't care about losing in my first heat. I would rather go for the win or go for nothing at all. Sometimes you have to do that.
I use your story and the way you approached competition as blueprint to kids that are currently surfing in the NSSA. Nowadays, many of the top kids only care about one thing-a National title. Some of them approach the regular season contests with a halfhearted attitude. You may have never won a National title, but you used your years here to really develop your skills and contest savvy. You surfed all contests with 110% effort whether it was the Open, Explorer or the Nationals. Do you think the way you did things as an amateur helped you succeed on the WQS?
I think you have to be really versatile to all conditions and different competition. I think being competitive all year is going to show you how good you are in the long run. You have to be consistent. You can't just slouch around and wait for Nationals. I think to win Nationals is the hugest thing for a kid to win. I never won a title and honestly, I really, really wanted one. It was a bummer that I never won the Nationals but in the long run I was so stoked to win both the Open and Explorer seasons in my last year. For me, to take charge all year and win the season was better than winning one big contest like the Nationals. It's hard to stay consistent through a whole year and that year I could see my opponents' weather down or get angry. I was watching myself go from behind all the way to the top and I worked hard for it. I think it's harder to do that then win just one contest. I was really, really happy it happened that way.
You didn't take the homeschool route. You went to Edison High School, competed on the surf team and won the NSSA State Championships in the High School Mens division. Now it seems like 90% of the kids are homeschooled because they want to travel or just surf all the time. Do you think it benefited you to stay in public school?
My parents really wanted me to stay in school. They wanted me to receive my diploma the real way and I did. I had a lot of friends at Edison. I didn't surf any less than any of the homeschool kids. You can miss school every once in a while and that's what I did. I went to Hawaii and had a couple other fun trips. It's good for kids to experience some travel, but you can't travel 365 days. School is only nine months and then you have the summer break. I was stoked I did school. Some of my friends did homeschool and if you get your schooling done either way, it's all good.
Who were your main rivals in the NSSA?
Anthony Petruso, Micah Byrne, Dylan Slater and Bobby Martinez. I only surfed against Bobby in the Opens because he was competing in the Gold Coast for the Explorer. When it came down to Nationals everyone was a great surfer, similar to today. Everyone was surfing at a level that I have never seen for young kids. I was always really scared to surf in that contest.
Let's talk about your last year in NSSA. You went on a winning rampage with 12 victories over the regular season of course winning both Open and Explorer conference titles. Tell the story of what inspired that amazing season.
The previous season I hurt my knee in the middle of the year. Mike Todd and I were really competitive with each other. Then I blew my knee out. Mike went on a hot streak and my season was pretty much done. He was ripping that year, surfing like a grown man with more speed and rail compared to all of us. At the end of that season I started back up getting decent results but just spent most of the time rehabbing my knee. After the Nationals, I spent everyday surfing and training for the new season. I knew I could win a lot of events, especially because Mike Todd and Bobby had graduated. I had to contend with Micah Byrne, Anthony Petruso and Dylan Slater my three nemeses for sure. We were constantly tearing at each other's limbs and trying to eat each other alive! The first event to kick off the season was at San Onofre. I came down there with my mom and my sister. I remember walking down the trail and the conditions were pretty good. I paddled out in my first heat and ended up not catching a single good wave. I was so frustrated. Everyone was getting good waves around me. I was so bummed, it was a new season and I had lost. I couldn't believe it. I walked up to the car and it was the first time I'd been in tears about losing since I was a little kid. I was like "Mom, I'm going to win every single contest from now on. I'm seriously going to do it." She of course was sad for me but reassuring. I had something in my heart that said, "This is lame and I'll forget about it when I win the next event." Then I won the next contest and I just couldn't believe it because I said I was going to do it! My frown turned into a smirk. And then I just kept winning. It was like something I can't explain. I felt like a train. Waves were coming to me. My competitors would say, "How are you getting all these waves? What the h*** are you doing?" Then when I won the twelfth contest in Oceanside it was against Micah Byrne. He wanted to win the contest really bad. He got a wave and I watched him surf the wave. I caught the next wave and it was a really good wave. Afterwards, he splashed water at me because he knew the wave was good enough for me to win it. When I accepted my trophy, I was happy with 12 because it's my favorite number. I think I rode a dozen different surfboards during that streak and everyone of those boards was good. I was pushing myself to paddle harder, to catch more waves. They were 15 minute heats so you had to be in shape and I was. I wanted to surf every wave as good as I could.
Why do you think it helped you to try your hardest to win the conference title? You are going for that conference title and surfing every contest through the year, you're going after that title with every wave. I tried to surf every wave my best. I planned out heats. I had to watch my competitors because we didn't have the scoring system. I knew if someone was surfing really good at the contest, then I needed to step it up.
Who were your mentors when you were growing up?
When I was younger I looked up to the new school surfing style. Guys like Cory Lopez and Chris Ward. They were like two age groups ahead of me. I would watch them and say, "Oh, my God, I need to surf like them." I would watch Andy Irons at the Nationals. He was amazing. I wanted to do everything they did. I like some of the old school surfers as well like Tom Curren and Matt Archbold.
How long were you on the WQS until you finally made the WCT?
I was on the WQS for four years until I qualified. It wasn't easy. It is very, very hard. It's something that you know you have to go into 100% or more or you're not going to make it. Sometimes it takes people one year if they are really lucky, sometimes it takes people ten years. I came through it after four years and I actually knew I was going to qualify on my fourth year. Through my surfing and through my results each of those four years, I progressed about 40 or 50 spots each year. It's like I graduated my senior year to the WCT. You are surfing against 2,000 people. You are going to get beat by somebody who has no sponsors, no wax, half a boardshort, its crazy (laughs)! I was really lucky to qualify my fourth year. It was the same year that Fred Patacchia and Chris Ward qualified so there were three of us going to the WCT from America. It was a huge thing.
How are the waves on the WQS?
Other than Margaret River and Hawaii bring your shortboard and grovel board. My fourth year, I finally had all the spots figured out and I traveled with three boards to every event. A lot of people travel on tour with two board bags full of boards. I knew that I was going to do good with my three weapons that I had in my one board bag. People would say "Where's all your boards?" I would say, "All I need is my three, my wetsuits and my boardshorts." I carried my clothes in my backpack. When you travel on tour, it's really hard to travel with those big board bags, so you just start learning how to cut things away from your life that aren't necessary like computers and cell phones. You almost have to detach yourself from everything you know and stay with your friends on tour.
How was your first year on the WCT?
The first year you don't really know what to expect. There were six events where I lost first heat. It's really tough. You've got to be in it to win it or you're going to get beat.
Who was your first ever heat with on the WCT?
My first draw was Danny Wills. It was at Snapper and it's a really hard wave to surf if you haven't surfed it before. Danny lives at the Gold Coast and he got some magical waves. I got a pair of 6.0's that weren't good enough. I was also really nervous.
What boards are you riding these days?
I'm riding Timmy Patterson surfboards 100%. 5'11" X 18 1/8 X 2 1/8 round pins. I use FCS because it's easier to travel with.
How many boards do you travel with?
It's kind of hard to prepare for a lot of the waves on the 'CT. You start off at Gold Coast where you are going to want something a little smaller and then Bells is the total opposite. It has more power so you could ride anything from your shortboard to like a 6'10." For me, I don't really ride big boards, even in Hawaii, so I don't need anything bigger than a 6'6" I could ride a pretty big wave with a board that's 5-7 inches longer than my shortboard.
Do you think the judging is different on the WCT as compared to the WQS?
It's a lot different on the WCT. They see a big aerial maneuver and it's more like just one insane turn scoring wise. If you do a big aerial and then follow it up with a couple big turns, that is when the 'CT judges will give you a big score. On the WQS, you do one big air and they give you a 9. On the WCT you have to separate your surfing a lot from the other guys to be scored higher. They judge more heat by heat. The scale changes even through heats sometimes. On the 'CT, if you're surfing really good and blowing people out of the water and you stand out the judges are going to score you better. If you show the judges you're there to win, they are going to notice that. The judges will look at you, the way you enter the water, the way you paddle, they check out your attitude and I learned how to clean that up real fast (laughs)!
How badly do you want to be a world champion?
Not bad enough yet actually. I'm going to wait a couple years to answer that. My story is now. My goal was to make the top 16 this year because I finished 31st last year. Next year is top 10. The next year after that is top 5 and then we'll see after that.
What is your favorite wave on the tour?
Probably Jeffreys Bay. I love the speed you carry on the wave and if you barely make a move on the wave, it feels like your throwing a hundred feet of spray. It's an amazing wave. It's a super green barrel. It's like a racetrack, a perfect wave. It's a dream.
What's your favorite wave in the world?
I like the rush from big, late takeoffs like Backdoor and Teahupoo. I love Hawaii because it's so intense.
How do you prepare for the contests?
I really don't prepare. Actually I have to learn how to do that better. Normally I arrive 2-3 days early but there are 46 surfers on the tour so it's really hard to practice at the actual spot. I just go on my own program, maybe just go surf around the area. As long as I get wet and use the same board I'm using in the contest, I'll be ready.
Do you have any good friends on the tour?
I socialize with everybody. I don't have a best friend on the tour. My best friend is my girlfriend Taylor because I take her everywhere. My good friends are Cory Lopez and Chris Ward. I just try and hang out with everybody. The Brazilians are really good people. You start finding friends on tour that you can relate to and have a serious conversation with. Some people are more real than others.
What is the hardest part about being a professional surfer?
The hardest thing for me is if I'm not doing well. It all comes down to points and the ratings. It's sometimes really stressful on you if you're not doing well. Anything with ratings and points, it's going to be hard and stressful. Sometimes it's not fun but when you do good or win, it's all worth it because you work so hard to get good results.
What is your scariest surfing experience?
I've had a couple of pretty bad wipeouts. Last year, we had to save somebody from drowning at Cloudbreak on a big day when guys were towing in. It wasn't giant but it was big enough to do damage. It was the day Kelly had his worst wipeout he said he has ever had. I duck dove a wave and I went over with the lip. The wave was probably 4-5 times overhead. I went completely over the falls head first and buried myself under the reef. I came up like two waves later. The next wave was on top of my head. I bailed my board and got sucked over the falls again. I got pushed to the inside at the spot they call "Shishkabobs." Finally I was out of harms way and then the Jet Ski came and got me out of there. I've taken a lot of beatings. I had a bad one when I was a little kid out at Sunset also. It looked like a hundred foot wave. I had never surfed that wave before and it was so big it was closing out the channel. Early drama in my experience over there (laughs).
Do you have any other hobbies besides surfing?
Actually I just bought a computer and I'm trying to figure it out so that's my new hobby. I'm trying to get myself up to date with all the technology. I love swimming and diving, anything to do with the ocean.
You use to have the thickest, muscular legs when you were in NSSA. I mean those things were buff. I remember you use to run on the beach back then. Do you still do that?
I don't run on the beach that much anymore so my legs kind of shrunk. But you've just inspired me. I'm bringing them back (laughs)! I have to bring back the Tom Carroll legs. People use to tell me I had Tom Carroll legs.
Where do you see yourself in 20 years?
I think as you get older you get wiser. I definitely want a family. I would want to have a killer house on the beach somewhere. Or maybe in the mountains because after this I might be tired of surfing. Something close to nature. I would love to work in the surf industry because I love watching all people surf. I love watching the WCT contests. I love going back to the NSSA contests because it brings back memories of myself. I just went to the Open Season at Brookhurst and the kids were ripping and it was cool.
Name something people don't know about you.
(Laughs) Well, I like taking long hot showers in the morning. Other than that, I just don't worry about anything in general. I'm bad at answering my phone. I'm really laid back and never on time.
Any thank yous?
To Janice and Gayline and the NSSA for helping me achieve my dreams. My Mom, Dad and sister Michelle. And to everyone else out there who has helped me; you know who you are! J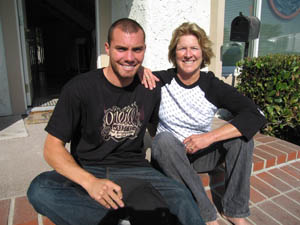 TIMMY AND JANICE.