2006 NSSA NATIONAL CHAMPIONSHIPS: Check here for all the highlights of the Super Bowl of youth surfing!
Thursday, July 06, 2006 | Written by Janice Aragon
THE 2006 NSSA NATIONAL CHAMPIONSHIPS
PRESENTED BY: HURLEY
PROUD PARTNERS: HURLEY; BODY GLOVE; OAKLEY; FREESTYLE; HUNTINGTON SURF AND SPORT; SURFING MAGAZINE; SURFLINE; NIKE 6.0; SEX WAX; OP.
YOUR 2006 NSSA NATIONAL CHAMPIONS! photo: Gibby
THE 28TH ANNUAL NSSA NATIONAL CHAMPIONSHIPS!:
We witnessed it all! This report cannot begin to give justice to this spectacular NSSA Nationals. So here is a word collage to describe the 9 day, 1,050 competitor marathon of youth surfing's version of the SUPER BOWL. Excellent Creek surf, epic chest to overhead Lowers surf, warm water, chilly water, sheet glass, offshore winds, onshore winds, rain, pea soup fog, blistering heat, bugs, future WCT'ers, future World Champions, groms ripping, women tearing, perfect heats, rodeo flips, air reverses, standard airs, 12 o'clock turns, 1 o'clock turns, tail whip blasts, Creek barrels, weightless floaters, arcing carves, 10's, 9's, Body Glove bucks, Freestyle watches, Nike kicks, mohawks, gongs, Ping Pong wars, shave ice, burning team rivalries, hot-blooded surf offs, close calls, interferences, upsets, tears of sadness, tears of joy, everyone wants to win, nobody wants to lose, broken records, darkhorse victories, gracious speeches and 29 proud new National Champions.
TITLE COUNT
National Open Championships: Hawaii-3, West-3; National Explorer Championships: Hawaii-4, West-6; National Airshow Championships: East-1; National Interscholastic Championships: Hawaii-2, West-10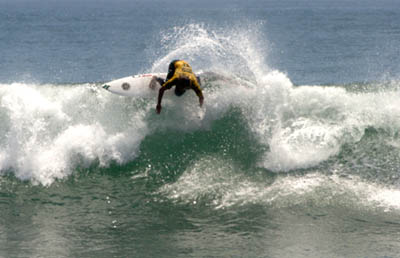 KEKOA'S POLISHED AND RADICAL STYLE MADE THE NATION STOP AND TAKE NOTICE.
photo: Keet/Surfhappens
THE OPEN MENS/GOVERNOR'S CUP
After tons of heats, intense shralping and gravity defying moves, there were 6 men left standing for the National Open Men's/Governor's Cup final-Hawaiians Casey Brown, Kekoa Cazimero, Granger Larsen, Clay Marzo and lone Californian Tanner Gudauskas. Everyone but Kekoa had at least one National title in their resume. The buildup and intensity level went into overdrive. Head high peaks would pour through for the 35 minute ultimate test of who would be crowned the best in the nation. Kekoa opened up the heat with a smooth 6.0 ride which put him in the rhythm. But it was Casey Brown who built an early lead reeling off blistering backside turns on the long, peeling rights. Dusty Payne was killing it on the smaller ones but he needed a bigger wave to get into contention. Granger Larsen was surfing up as a Junior competitor making the final with the polished, radical moves beyond his years. Heavy favorite Clay Marzo was uncharacteristically silent by what possibly was a case of the nerves and a Gudauskas trifecta was apparently not in the cards. Then with time ticking down on the clock, Dusty found himself in position to annihilate a set right. Unfortunately Casey kept him off the wave and the judges made the devastating interference call diminishing any title hopes. Kekoa continued to work his polished backside with some serious blow tail gouges on the rights. All of a sudden, the top contenders were stymied by the 17 year old Waimanalo local proving yes, the frontrunners can be beaten. Kekoa posted another good 7.5 scored just edging out Dusty by a half point to claim the most prestigious triumph in youth surfing. "Surfing heats every day out here at Lowers, I got to know the wave better," said a beaming Kekoa. "I went out just trying to do my thing and not worry about anyone else. I got a good wave under my belt right off the bat. Everyone was killing it. This is so insane!"
KEKOA ADDS HIS NAME TO THE MOST PRESTIGIOUS LIST IN YOUTH SURFING!
ZERO TO HERO
Kekoa Cazimero got dead last, 6th place in his first round heat in the Open Men's division at the 2005 National Championships. What a difference a year makes!
THE TWILIGHT ZONE
What will forever remain locked up in the vaults of the unknown and what we can now only imagine is what radical damage Dusty Payne could have inflicted to that interference right hand nugget in the Open Men's final.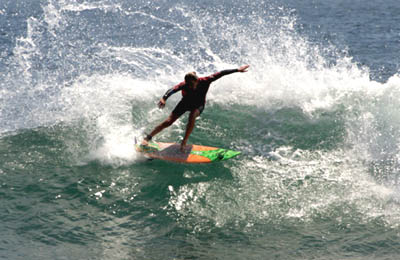 CARISSA'S DOMINATION OF THIS SPORT HAS ONLY JUST BEGUN.
photo: Keet/Surfhappens
3-MOORE!
Michael Jordan, Tiger Woods, Tony Hawk, Shaun White, Kelly Slater, Carissa Moore. All these people are in a league of their own. 13 year old Carissa continued to astonish the nation at the Creek and Lowers with her incredible skill. She continues to raise the standards at the Nationals with the progressive surfing that measures up to her male counterparts. Her surfing over the 8 days was as blazing hot as the scorching Southern Californa sun. She captured her third straight Triple Crown triumph with victories in the Open Womens, Explorer Girls and Interscholastic Middle School Girls divisions. She shattered Bobby Martinez seven National title count earning her 7th, 8th and 9th. In the Open Women's/Governor's Cup final, the young Hawaiian showed the true markings of a champion. With less than 20 seconds on the clock, she needed a big score to seal the victory. "I was so nervous because I sat for nearly a half hour without a really good wave," said Carissa. "Then the best wave came to me right before the horn blew. I knew it was my last chance so I decided to give it my all." And give it her all she did. The judges awarded her an 8.75-the highest score of the final. At the banquet Carissa was saluted with a standing ovation for breaking the all-time National title record. "I feel very honored to get these awards", said Carissa. "I look up to Bobby and I am cheering for him on the WCT. I'm so stoked to win because all of the girls are surfing so good and they are making it tough and a challenge." Carissa's other accolades at the Nationals included her second "Kalani Robb Most Inspirational Performance" award and she was also awarded "Best Single Manuever" of the Open Women's/Governor's Cup division.
THERE'S A FEW FUTURE WCT'ERS IN THIS GROUP-THE OPEN WOMEN'S FINALISTS!
WOMENS SURFING UPS THE ANTE
One of the biggest talks of the beach was the soaring level of women's surfing. Carissa Moore has hoisted the bar to an all-time high while her fellow rivals delivered jaw dropping performances themselves. Coco Ho, Paige Alms, Malia Manuel, Sage Erickson, Courtney Conlogue and the Hunter sisters were making statements of their own while keeping Carissa on her toes. Long gone are the days of ho-hum womens heats. The gals were going vert, pulling reverses, throwing tail and punting airs.
DILLON CAME THROUGH FOR THE WEST COAST IN A HEAVY JUNIORS FINAL.
photo: Keet/Surfhappens
OPEN DIVISION HIGHLIGHTS
It was a no brainer that 16 year old Dillon Perillo had the ingredients to be a major force at the Nationals. He lives in Malibu so he surfs good right point breaks similiar to Lowers. He blew up at this year's Western Championships making three finals including the Open Men's. Dillon posted some solid heats at the Nationals on his road to the finals including the high scoring totals of 16.50 in Juniors Round 2. But as expected, the Open Juniors final would be no picnic with Hawaiians Granger Larsen, John John Florence, Alex Smith, Dege O'Connell and West Coaster Thomas "T-Grom" Clarke. Dillon opened the heat up shralping an overhead right to perfection throwing fans of spray. The beach erupted with every turn and the wave came in at an excellent 9.0. His opening score must have numbed his five opponents because they just couldn't seem to find their rhythm. The normally dominant Granger Larsen had a solid 7.75 but no back up as did Alex Smith with a 7.25. Dillon cranked out another 4.50 score which secured him his first National title. "I was wound up and nervous after my quarter-final win even though I was going straight to the final," a clearly relieved and ecstatic Dillon said. "My plan was to just start off the heat with a decent score and then I got that wave and it was incredible. It lined up so nice. I'm just so happy to beat Granger because he's so good. It was a dream of mine."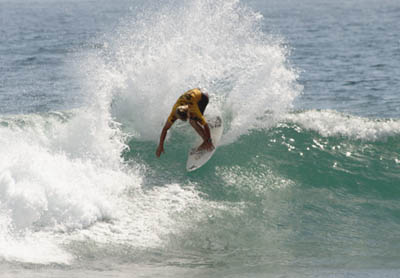 CONNER HAMMERED THE LIP ON THIS REELING LOWERS BEAUTY.
photo: Keet/Surfhappens
Conner Coffin went winless during the regular season in the Southwest Open Boys division but when the waves got big and challenging as seen at the Gold Coast Steamer Lane contest, he can turn the throttle up. True, the 12 year old from Santa Barbara was a longshot to win the National Open Boys title with opponents like Kolohe Andino, Ezekial Lau, Koa Smith and Luke Davis in the mix. But Conner stayed confident and ripped his way to the final. The Open Boys final was for the taking until the final moments when Conner positioned himself for one of the better lefts. He exploded on four consecutive top to bottom backside power whacks. Clearly the wave that would seal the deal with the scores coming in at a 9.0. "I went out in the final looking for the sets because I knew I could get a good score," said Conner. "I got a good left that scored a 5.75 right before so I thought I better stick with my backside."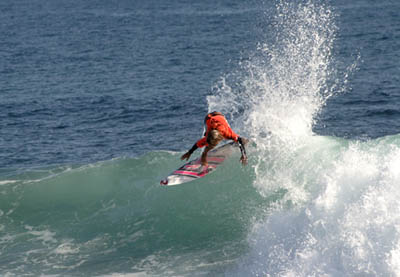 KOA CHARGED THE MINI GROMS. photo: Keet/Surfhappens
In the Mini Grom division, 11 year old Koa Smith from Kauai took control of the final blasting a near perfect 9.75 score on a flawless right. Lahikoila Minimishin who earned a trip to the Nationals from former National Open Men's Champion Fred Patacchia placed second. In a hotly contested Longboard final, 16 year old Christian Wach from Capistrano Beach edged out 2005 Explorer Longboard Champion Justin Quintal in a photo finish.
DUSTY WAS BRINGING THE "PAYNE" TO HIS OPPONENTS ALL WEEK.
photo: Keet/Surfhappens
THE EXPLORER CHAMPIONSHIPS
The Explorer Divisions may take a back seat to the supremacy of the Open Championships but the level was just as intense and mindblowing. Granger Larsen and Dusty Payne put on a pro show in the Explorer Juniors final. Stylemaster Granger came out on top in that one but Dusty's turns were lethal in the Explorer Men's final where he nailed his second consecutive title. 12 year old Kolohe Andino put on a handful of technically perfect clinics throughout the 8 days at the Creek and Lowers. He came up with impressive victories in the Explorer Boys and Menehuene divisions but couldn't keep his foot on the gas pedal in the Open Boys. Mike Lamm was the "Man" in the non-scholastic categories shredding to double wins in Seniors and Super Seniors.
THE INTERSCHOLASTIC CHAMPIONSHIPS
The Nationals journey just begins with the Interscholastic Championships and it is usually the calm before the storm of the hotly contested Open and Explorer Championships. Not this time. The adrenalin was flowing from the get-go as the College, High School and Middle School teams contended for the biggest prize in team surfing. In the High School division, defending National Champion San Clemente High School nearly got KO'D by Ventura until a little June magic and a lot of luck sent both schools into overtime with a 93-93 tie. Both teams went into a sudden death surf-off, the first in Nationals history. It would be 3 on 3 with Tanner Gudauskas, Trevor Saunders and Jeff Lukasik for San Clemente while Ventura went with Cory Arrambide, who minutes before won the High School Men's title, Spencer Regan and Mike McCabe. In probably the most fiercely contested heat of the entire Nationals, Tanner and Trevor were killing it for SC but both got tagged with inte