SOUTHWEST OPEN SEASON EVENT #2 SCORES FUN SURF IN OCEANSIDE
Wednesday, September 26, 2012 | Written by Janice Aragon
NSSA SOUTHWEST CONFERENCE
OPEN SEASON EVENT #2
OCEANSIDE SOUTH JETTY
SEPTEMBER 22-23, 2012
CONDITIONS: A STEADY SOUTHWEST SWELL SERVES UP CONSISTENT 2-4 FOOT WAVES WITH LONG PUNCHY LEFT AND RIGHT SHOULDERS
by: Janice Aragon l NSSA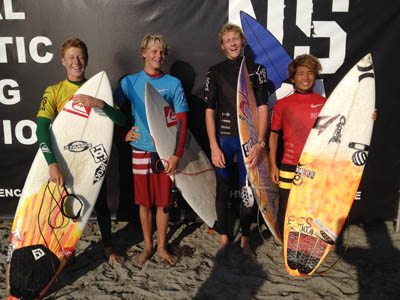 OPEN MENS FINAL FOUR
l-r: Matt Passaquindici, Thelen Worrell, Taylor Clark, Hiroto Oohara
(Huntington Beach, Ca – September 26, 2012) –the Southwest Conference Open Season launched the second event of the 2012-13 season on the north side of Oceanside's famed South Jetty surfing area. A modest southwest swell and well-shaped sand bars provided good conditions for both Saturday and Sunday's competition. The Southwest Conference Open Season is regarded as the leading competition for west coast surfers. Divisions are offered in Men's, Juniors, Boys, Mini Groms, Womens, Girls and Longboard. This event was the second of 10 events in the Southwest Conference Open Season series. The NSSA Open Season is open to student surfers only.
OPEN JUNIORS FINAL FOUR
l-r: Griffin Colapinto, Takumi Yasui, Colt Ward, Jake Davis
Highlights from Southwest Conference Oceanside Open Season event 2:
**Taylor Clark (Encinitas) was in great form in his first Open appearance of the 2012-13 season winning four of five heats including the Men's final. In an exciting final, Japan sensation and reigning West Coast Regional Open Men's Champion Hiroto Oohara (Chiba, Japan) placed second followed by Thelen Worrell (Malibu) in third and Matt Passaquindici (Huntington Beach) in fourth. This was Passaquindici's first final's appearance in the elite Open division.
**Worrell has been on a roll in the Open Men's division appearing in his second straight final which is an outstanding statement for a Junior age-bracket competitor. Worrell placed third in the final and will remain in number two position in the overall ratings. Men's ratings leader Kevin Schulz (San Clemente) was knocked out in the Men's semis and will maintain a slim advantage in the ratings with Worrell and number three ranked Jonah Carter (San Clemente) breathing down his neck. Carter was also defeated in the semifinals placing equal fifth.
**Colt Ward (San Clemente) was again one of the early standouts of the event with his lethal display of power-based surfing. He won every Open Men's preliminary round before being put out in the semifinals. He posted the highest heat total of the entire event of 18.06 in Saturday's Open Men's round one crushing two waves of 9.23 and 8.83. In his true Juniors age bracket, he took third in the final.
**Griffin Colapinto (San Clemente) took a commanding victory in the Open Juniors final in a stacked heat with Jake Davis (Capistrano Beach), Colt Ward and 2012 National Explorer Boys Champion Takumi Yasui (Saitama, Japan) . After a difficult round two loss in the season opener, Colapinto was back to his top level of performance at Oceanside winning three of four heats including the final. winner Jake Marshall (Encinitas) stays on top of the Juniors ratings on the strength of his first place result in HB and an equal fifth placing here while Colapinto moves up into the number two spot.
**In the Boys division, Noah Hill (Marina del Rey) took a close decision over Nick Marshall (Encinitas). Cole Houshmand (San Clemente), who won the season opener in HB, placed third at this event and will remain at the top spot in the ratings. Houshmand, Marshall and fourth place finalist Tyler Gunter (Newport Beach) have made two straight finals.
**Sebastian Mendez (Agoura Hills) has shown excellent surfing thus far this season claiming his second straight victory in the Mini Grom division. Runner up Kade Matson (San Clemente) put on an outstanding performance in the Mini Grom semis posting the highest wave score of the event – a 9.60 out of 10. It was the second straight finals appearance for Mendez, Matson and fourth place finisher Jack Colby (Seal Beach).
**Kylie Loveland (Carlsbad) showed a solid display of frontside surfing on the Oceanside's long, peeling lefts clinching her first ever Open Women's win. Loveland's triumph will rocket her to the number one spot in the Women's rankings.
**In the Girls division, Malia Osterkamp (San Clemente) took her first Open win of the season. The first place finish at this event coupled with her runner-up at the HB season opener will boost her into the number one position in the Girls ratings.
**The mind-blowing maneuver of the event took place on Saturday when HB's Bryce Marino (Huntington Beach) launched a massive aerial rotation in the Men's quarterfinals earning a 9.3 out of 10 score bringing the Oceanside crowd to their feet.
**Prizes were given away by the NSSA's west coast official audio sponsor Scosche to division finalists. The high performance surfers of the event-Colt Ward (highest heat total), Kade Matson (highest wave score) and Bryce Marino (best maneuver) were awarded terrific audio product from Scosche.
COLT WARD REAPS THE REWARDS FOR SURFING EXCELLENCE!
The NSSA Southwest Conference is proud to have support from Nike, Huntington Surf and Sport, Java Point, Surfing Magazine, Sex Wax, Scosche, Channel Islands and Sugar Shack. Many thanks to the City of Oceanside and lifeguards, the NSSA staff and ASP Judging panel for assisting us in staging a professional quality event for the Southwest Open Season series. Special thanks to our official audio sponsor Scosche for providing awesome prizes to our top competitive achievers.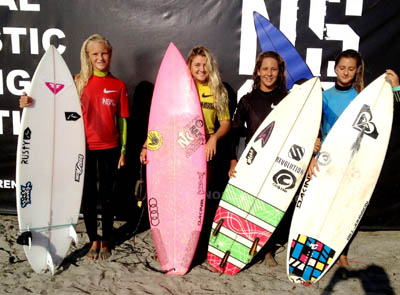 OPEN WOMENS FINAL FOUR
l-r: Kylie Loveland, Kulia Doherty, Steffi Kerson, Chelsea Tuach
COMING UP IN CALI: Premier Open Season competition will continue on September 29-30 at Seaside Reef-one of San Diego's best and most high-performance surf breaks. The Southwest Conference Explorer Season will be back in action with a doubleheader event on October 6-7 in Huntington Beach at the Ninth Street sandbars.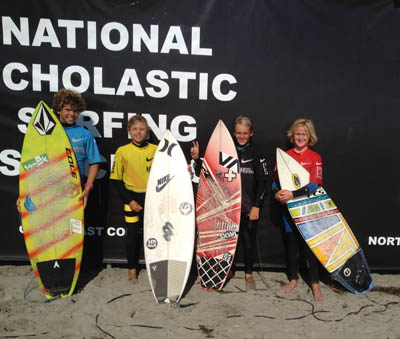 OPEN BOYS FINAL FOUR
l-r: Cole Houshmand, Nick Marshall, Tyler Gunter, Noah Hill
THE SCOREBOARD
RESULTS
SOUTHWEST CONFERENCE OPEN SEASON EVENT #2
OCEANSIDE SOUTH JETTY

OPEN MENS
1. Taylor Clark-Encinitas 14.33
2. Hiroto Oohara-Chiba, Japan 14.27
3. Thelen Worrell-Malibu 9.83
4. Matt Passaquindici-Huntington Beach 6.07
OPEN JUNIORS
1. Griffin Colapinto-San Clemente 13.17
2. Jake Davis-Capistrano Beach 9.50
3. Colt Ward-San Clemente 8.97
4. Takumi Yasui-Saitama, Japan 8.46
OPEN BOYS
1. Noah Hill-Marina del Rey 12.37
2. Nick Marshall-Encinitas 12.00
3. Cole Houshmand-San Clemente 11.56
4. Tyler Gunter-Newport Beach 5.56
OPEN MINI GROMS
1. Sebastian Mendez-Agoura Hills 13.17
2. Kade Matson-San Clemente 9.00
3. Erik Weissinger-Huntington Beach 5.83
4. Jack Colby-Seal Beach 5.10
OPEN WOMENS
1. Kylie Loveland-Carlsbad 12.36
2. Kulia Doherty-Rancho Santa Fe 11.83
3. Chelsea Tuach-San Clemente 11.43
4. Steffi Kerson-Pacific Palisades 6.83
OPEN GIRLS
1. Malia Osterkamp-San Clemente 11.57
2. Tiare Thompson-La Jolla 8.44
3. Jada Galland-Rancho Santa Fe 4.73
4. Sidney Johnson-Carlsbad 3.43
OPEN LONGBOARD
1. Nick Anderberg-Encinitas 17.00
2. Christian Stutzman-San Clemente 9.83
PERFORMERS OF THE EVENT
Colt Ward-San Clemente: Highest combined score of the weekend-18.06
Kade Matson-San Clemente: Top wave score of the weekend-9.60
Bryce Marino-Huntington Beach: Maneuver of the event
BRYCE MARINO - MANEUVER OF THE EVENT!
About NSSA

The National Scholastic Surfing Association (NSSA) is a nonprofit organization whose mission is to encourage and assist its members in their interest to learn and develop the fundamentals and skills of surfing competition while competing in structured and quality events. The NSSA promotes the qualities of discipline and competitive excellence while supporting the merits of academic achievement to young surfers. The NSSA strives to provide a fun surfing experience for all of its members.

The NSSA is one of the few national youth sports organizations that require its participants to maintain academic standards in order to compete. Since 1978, the NSSA program philosophy has been that athletics and scholastics go hand in hand. More than 80 NSSA events are run nationwide that culminate with the annual National Championships which is regarded as the highest profile youth surfing event in America.

###