NSSA HAWAII EVENT NUMBER 3 SCORES FUN SURF IN MAUI!
Tuesday, September 25, 2012 | Written by Lani Minihan - BluWavePR
For Immediate Release
Media Contact: Lani Minihan
BluWavePR
(808)359-9537
NSSA Hawaii Celebrates the First Winter Swell in Lahaina Maui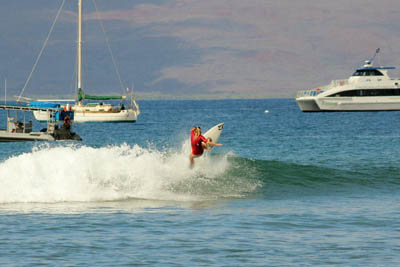 3-TIME NATIONAL CHAMPION DAX MCGILL
September 24, 2012 (Lahaina, Hawaii) -- Excitement and anticipation of the first forecasted NW swell of the winter surf season created a buzz amongst the surf competitors that emerged onto Lahaina, Maui for the NSSA Hawaii surf competition, on the weekend of September 22 & 23, 2012. Competitors as young as six-years-old from all of the Hawaiian Islands were greeted to beautiful blue skies, a rising northwest swell and glassy conditions at the famous Lahaina Harbor break.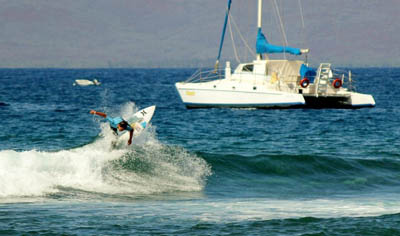 OPEN JUNIORS WINNER BARRON MAMIYA
With the iconic backdrop of Lana'i and sailboats, the ocean rolled in scrumptous sets with 2-3 foot faces, perfect conditions to start the contest. The docked cruise ship in the harbor ushered in first time visitors to Lahaina and for many, their first experience at witnessing the incredble athletic abilities of the young competitors. The attention and fascination played no role of distraction as the surfers stayed focus and stragegized with discussions from supporting parents and coaches.
Some of the stand-outs for the first day of competition were local Maui surfers; Eli Hanneman, Tony Nunez, Ocean Macedo, Aloha Lopez, Sierra Lerback and Kalaokahaku Willard, all placing or winning their respective divisions. Dax McGill (from the North Shore of Oahu) showed why she is always exciting to watch as she carved into the waves with grace, yet fearless and aggressive in wave selection. This kind of surfing led into a double win in Open Womens and Open Girls. Moana Jones was out to show how hard she has been working. She happily took a double win in the Explorer Womens and Explorer Girls.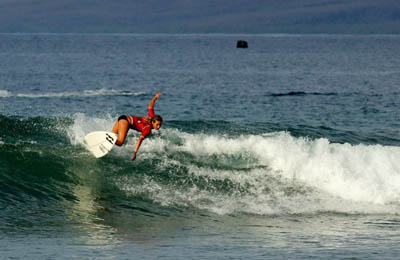 MOANA JONES TAKES COMMAND IN THE EXPLORER DIVISIONS
Following the first full day of competititions, clean-up and dinner at a local restaurant – it was time for RECON at the newly opened Lahaina Skate Park. NSSA Hawaii Conference Director, Bobbi Lee (Aunty Bobbi to all the kids) was right there with them at the park, taking pictures, encouraging and even giving a few tips on getting higher air and deeper runs on the courses. With 3 bowls, a street course and lots of room to sit back and enjoy the live show of agile, determined surfer/skaters showed off their moves. It was a perfect way to end a full day of surf.
As the sun rised on Sunday morning for the second day of Explorer competition, the ocean greeted compeitiors with a "dream come true swell" of 3-4 foot clean, glassy faces with the northwest swell energy in full-force. Competitiors were once again ready and stoked to surf perfect waves, in beautiful blue waters in Lahaina, Maui. We had many stand out performances. Local girl Sierra Lerback came out with her longboard to show them how it should be done in the harbor taking a double win in both Open and Explorer Longboard. Some other double wins were Justice Patao (Explorer Mens and Explorer Juniors) and Cole Alves (Explorer Boys and Menehuene). Competition finished up at early Sunday afternoon and most competitors headed to Honolua Bay for a free surf session to wrap up the weekend. Big mahalos to Papa John, Aunty Donna and the Pioneer Inn for always giving us an awesome place to stay.
COLE ALVES CLAIMS DOUBLE EXPLORER VICTORIES
Sponsors
Mad Love
Xcel
Surfco Hawaii
Jason Nalu Bogle
Aloha Kine
Kalani Robb
And an extra big thanks to Kaz (Novus Swell)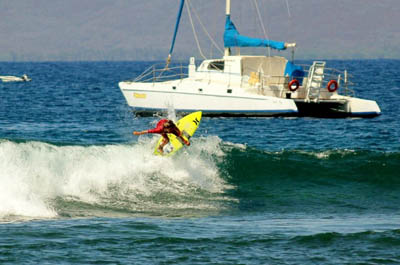 ELI HANNEMAN - FIRST PLACE IN THE SUPER GROMS!
THE SCOREBOARD
RESULTS
HAWAII CONFERENCE EVENT #3
LAHAINA HARBOR, MAUI, HAWAII
OPEN DIVISIONS
MENS
1. Chaz Kinoshita
2. Miles Serafica
3. Cody Young
4. Raymond May
WOMENS
1. Dax McGill
2. Bailey Nagy
3. Summer Macedo
4. Sophia Johnston
5. Emily Nishimoto
6. Serena Gunnison
JUNIORS
1. Barron Mamiya
2. Cody Young
3. Logan Bediamol
4. Marco Rista
5. Cole Alves
6. Charlie Akao
BOYS
1. Devin Brueggemann
2. Cole Alves
3. Wyatt McHale
4. Marco Rista
5. Logan Bediamol
6. Barron Mamiya
GIRLS
1. Dax McGill
2. Aloha Lopez
3. Summer Macedo
4. Emily Nishimoto
5. Julie Nishimoto
6. Sierra Larsen
MINI GROMS
1. Tony Nunez
2. Axel Rosenblad
3. Ty Ty Kirby
4. Ocean Macedo
5. Eli Hanneman
6. Sammy Gray
LONGBOARD
1. Sierra Lerback
2. Kylie Nagy
3. Ty Simpson-Kane
4. Aloha Lopez
5. Kala Willard
6. Nick Nunez
EXPLORER DIVISIONS
MENS
1. Justice Patao
2. Dante Silva
3. Kala Willard
4. Raymond May
JUNIORS
1. Justice Patao
2. Charlie Akao
3. Miles Serafica
4. Kala Willard
WOMENS
1. Moana Jones
2. Bailey Nagy
3. Kailani Jones
4. Sierra Lerback
5. Sierra Larsen
6. Dax McGill
BOYS
1. Cole Alves
2. Wyatt McHale
3. Dante Silva
4. Logan Bediamol
5. Conan Gentil
6. Reece Leonard
MENEHUENES
1. Cole Alves
2. Barron Mamiya
3. Devin Brueggemann
4. Marco Rista
5. Logan Bediamol
6. Dylan Franzmann
GIRLS
1. Moana Jones
2. Dax McGill
3. Kailani Jones
4. Summer Macedo
5. Sierra Larsen
6. Sophia Johnston
SUPER GROMS
1. Eli Hanneman
2. TyTy Kirby
3. Ocean Macedo
4. Dylan Franzmann
5. Sammy Gray
6. Ty Simpson-Kane
WOMENS LONGBOARD
1. Seirra Lerback
2. Kylie Nagy
3. Makani Adric
4. Aloha Lopez
LONGBOARD
1. Kala Willard
2. Miles Serafica
About NSSA
The National Scholastic Surfing Association (NSSA) is a nonprofit organization whose mission is to encourage and assist its members in their interest to learn and develop the fundamentals and skills of surfing competition while competing in structured and quality events. The NSSA promotes the qualities of discipline and competitive excellence while supporting the merits of academic achievement to young surfers. The NSSA strives to provide a fun surfing experience for all of its members.
The NSSA is one of the few national youth sports organizations that require its participants to maintain academic standards in order to compete. Since 1978, the NSSA program philosophy has been that athletics and scholastics go hand in hand. More than 80 NSSA events are run nationwide that culminate with the annual National Championships which is regarded as the highest profile youth surfing event in America.
###