GOLD COAST DOUBLEHEADER EVENTS 3 & 4 SCORES AT VENTURA HARBOR!
NSSA GOLD COAST CONFERENCE
EXPLORER EVENTS #3 & #4
SOUTH JETTY, VENTURA HARBOR
SEPTEMBER 15-16, 2012
CONDITIONS: Onshore windy peaks for Saturday's event number 3. The surf turned on for Sunday's event number 4 and the waves were going off! We scored clean shoulder to head high point-break like rolling lefts off the South Jetty.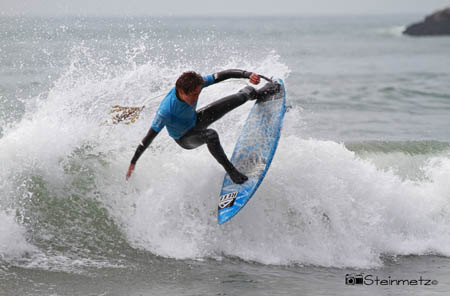 JUNIORS DIVISION WINNER LOGAN RAUHUT
(all photos: Steinmetz)
(Huntington Beach, Ca – September 19, 2012) -- The NSSA Gold Coast Conference continued with the second doubleheader of the 2012-13 season at Ventura Harbor's South Jetty. Surf conditions ranged from fair, two-to-three foot scattered windy peaks on Saturday and then turned on Sunday with clean, point-break style three-to-five foot lefthanders providing perfect waves for day two of the doubleheader.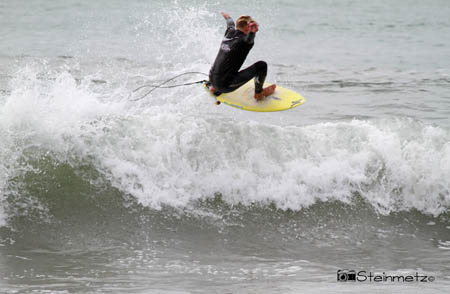 JORDAN COLLINS - EVENT 4 BOYS WINNER AT FOUR DIVISION FINALIST!
Highlights from Gold Coast Conference opening weekend:
**Eithan Osborne put forth an electric performance all weekend in local waters. The 12-year-old talent from Ventura was the leading scorer of the doubleheader posting a perfect 10 score and the highest combined heat total of 17.5 en route to his victory in the Menehuenes in event number 3 on Saturday. He came back the following day and won the Menehuene final in event number 4 remaining undefeated in the division over four events.
**12-year-old Osborne also showcased his growing aerial skills punting to victory in the first Airshow of the season taking home $100.
**2012 National Explorer Boys Champion Takumi Yasui returned from his Japan home to compete in NSSA comps taking two victories over the weekend. Yasui scored the event's second perfect 10 crushing a wave in his Juniors final victory in event 3. The following day, Yasui was eliminated in the Juniors semis but came back strong to take the Men's victory.
**After six years of banging out heats, things finally clicked for Oxnard's Logan Rauhut who nailed his first ever NSSA victory. The 17-year-old cashed in on the perfect point-like lefts mixing up a repertoire of moves and throwing in some progressive aerial maneuvers. The win will move Rauhut into the number one spot in the Juniors ratings.
**In the Boys division, Micky Clarke and Jordan Collins split the victories. Clarke took event 3 and placed third in event 4 coupled with an outstanding second place finish in the upper age bracket Juniors final. After finishing runner-up to Clarke in the event number 3 Boys final, Collins came out swinging in event 4 collecting his first big NSSA victory and the lead in the Boys ratings. His solid surfing in a range of conditions earned him impressive Juniors finals berths in both events 3 & 4.
**In the Super Groms, Jabe Swierkocki claimed his second straight Gold Coast victory in event 3. He placed second in event 4 and the young-up-and-coming Ventura grom will move to the top of the Super Grom ratings. Taro Watanabe took his first ever NSSA victory in the Super Grom final in event 4.
**In the Womens division, Tia Blanco and Frankie Harrer split the wins. Blanco sealed her first victory of the 2012-13 season in event number 3 with polished carves followed by Harrer taking second. After spending most of Saturday night in a hospital emergency room with a stomach ailment, a determined Harrer returned to the Women's heat lineup on Sunday. Harrer, the reigning National Open Girls Champion and season wins record-holder, showed up to play delivering a crisp frontside attack on the steep rolling lefthanders claiming her second win of the season and jumping out to a solid ratings lead.
**A noteworthy performance was put in by Chelsea Tuach who one of Barbado's top female surfers. Tuach is currently living in California and competing in NSSA west coast contests. Tuach, who has already shown signs of greatness in contests this season, was pushing the envelope in her event 4 semifinal ripping the high scoring wave (9.2) and posting the highest heat total of the day (17.2). This dynamic 17-year-old is surely one who will be rising up the NSSA's competitive ranks this season!
**Oxnard's Kas Alves was on fire the entire weekend winning the hotly contested Seniors final in event number 3 and taking command in Sunday's heats winning both the Masters and Seniors.
--Chris Keet chalked up two more wins on the season scoreboard triumphing in the Mens and Masters in event 3 bringing his victory total up to eight for the 2012-13 season!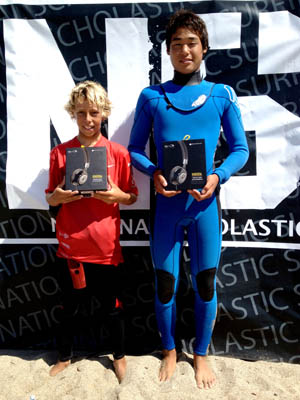 EITHAN AND TAKUMI REAP REWARDS FOR COMPETITIVE EXCELLENCE!
The NSSA Gold Coast Conference is proud to have support from Nike, Huntington Surf and Sport, Java Point, Surfing Magazine, Sex Wax, Scosche and Channel Islands. Many thanks to the Ventura Harbor and the NSSA staff for assisting us in staging a super fun doubleheader weekend in the Gold Coast Explorer Season series. And a big thanks to Scosche for stoking out all the finalists and special awards winners with state-of-the-art audio gear!
COMING UP IN CALI: The Southwest Conference Open Season is gearing up with back-to-back events. The top student surfers from the west coast will flock to the shores of Oceanside South Jetty for Open event number 2 on September 22-23 followed by Open stop number 3 September 29-30 at Seaside Reef…one of San Diego's best and most high-performance surf breaks.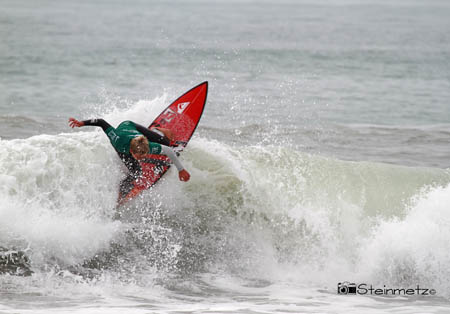 EVENT NUMBER 3 BOYS DIVISION WINNER MICKY CLARKE
THE SCOREBOARD
RESULTS
GOLD COAST CONFERENCE EVENT #3
SOUTH JETTY, VENTURA HARBOR

EXPLORER DIVISIONS
EXPLORER MENS
1. Chris Keet-Santa Barbara
2. Jason Knell-Santa Barbara
3. Dryden Brown-Santa Barbara
4. Dane Holroyd-Carefree, Az
EXPLORER JUNIORS
1. Takumi Yasui-Saitama, Japan
2. Logan Rauhut-Malibu
3. Dryden Brown-Santa Barbara
4. Vinny Leonelli-Goleta
5. Jordan Collins-Carlsbad
6. Tristen Simon-Oxnard
EXPLORER BOYS
1. Micky Clarke-Ventura
2. Jordan Collins-Carlsbad
3. Eithan Osborne-Ventura
4. Josiah Amico-Ventura
5. Quinten Rubalcava-Ojai
6. Jeff Knell-Santa Barbara
EXPLORER MENEHUENE
1. Eithan Osborne-Ventura
2. Aldo Chirinos-Captiva Island, Fl
3. Sebastian Mendes-Agoura Hills
4. Ryder Alves-Oxnard
5. Keanu Igarashi-Huntington Beach
6. Joshua Rutz-Oxnard
EXPLORER SUPER GROMS
1. Jabe Swierkocki-Ventura
2. Keanu Igarashi-Huntington Beach
3. Gavin Eason-Santa Barbara
4. Dimitri Poulos-Ventura
5. Liam Osborne-Ventura
6. Taro Watanabe-Malibu
EXPLORER WOMENS
1. Tia Blanco-San Clemente
2. Frankie Harrer-Malibu
3. Chelsea Tuach-San Clemente
4. Steffi Kerson-Pacific Palisades
5. Abby Brown-Santa Barbara
6. Francesca Seely-Malibu
EXPLORER MASTERS
1. Chris Keet-Santa Barbara
2. Kas Alves-Oxnard
3. Brett Jordan-Ventura
4. Eric Mukes-Ventura
EXPLORER SENIORS
1. Kas Alves-Oxnard
2. Mike Lamm-Oxnard
3. Chris Keet-Santa Barbara
4. Brett Jordan-Ventura
5. Eric Mukes-Ventura
6. Curt Harper-Santa Monica
THE SCOREBOARD
RESULTS
GOLD COAST CONFERENCE EVENT #4
SOUTH JETTY, VENTURA HARBOR
EXPLORER DIVISIONS
EXPLORER MENS
1. Takumi Yasui-Saitama, Japan
2. Chris Keet-Santa Barbara
3. Dryden Brown-Santa Barbara
4. Jason Knell-Santa Barbara
5. Dane Holroyd-Carefree, Az
EXPLORER JUNIORS
1. Logan Rauhut-Oxnard
2. Micky Clarke-Ventura
3. Tristen Simon-Oxnard
4. Jordan Collins-Carlsbad
5. Davis Freud-Huntington Beach
6. Henry Jenkinson-Malibu
EXPLORER BOYS
1. Jordan Collins-Carlsbad
2. Eithan Osborne-Ventura
3. Micky Clarke-Ventura
4. Brock Piro-Channel Islands Harbor
5. Quinten Rubalcava-Ojai
6. Josiah Amico-Ventura
EXPLORER MENEHUENE
1. Eithan Osborne-Ventura
2. Dylan Hord-Huntington Beach
3. Sebastian Mendes-Agoura Hills
4. Tommy McKeown-Oxnard
5. Ryder Alves-Oxnard
6. Matthew Pierce-Santa Barbara
EXPLORER SUPER GROMS
1. Taro Watanabe-Malibu
2. Jabe Swierkocki-Ventura
3. Dimitri Poulos-Ventura
4. Gavin Eason-Santa Barbara
5. Keanu Igarashi-Huntington Beach
6. Liam Osborne-Ventura
EXPLORER WOMENS
1. Frankie Harrer-Malibu
2. Steffi Kerson-Pacific Palisades
3. Chelsea Tuach-San Clemente
4. Tia Blanco-San Clemente
5. Jesse Ransone-Santa Barbara
6. Abby Brown-Santa Barbara
EXPLORER MASTERS
1. Kas Alves-Oxnard
2. Chris Keet-Santa Barbara
3. Brett Jordan-Ventura
EXPLORER SENIORS
1. Kas Alves-Oxnard
2. Chris Keet-Santa Barbara
3. Mike Lamm-Oxnard
4. Brett Jordan-Ventura
5. Curt Harper-Santa Monica
PERFORMERS OF THE WEEKEND – Eithan Osborne, Takumi Yasui, Logan Rauhut, Jordan Collins