SOUTHWEST CONFERENCE LAUNCHES THE 2012-13 OPEN SEASON IN SURF CITY, USA!
Tuesday, September 11, 2012 | Written by Janice Aragon
NSSA SOUTHWEST CONFERENCE
OPEN SEASON EVENT #1
HUNTINGTON BEACH PIER SOUTHSIDE
SEPTEMBER 8-9, 2012
CONDITIONS: Waves were in the 1-3 foot range with scattered soft peaks and reforms. A heavy dose of heat blanketed the southern California coast with beach temps saoring into the high 80's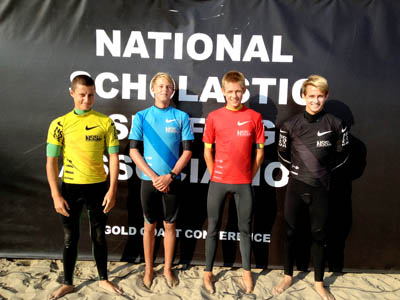 OPEN MENS FINALISTS
l-r: Jonah Carger, Thelen Worrell, Kevin Schulz, Austin Finley
(Huntington Beach, Ca – September 11, 2012) –the Southwest Conference Open Season launched the first event of the 2012-13 season September 8-9 on the south side of Huntington Beach Pier. America's most infamous surfing arena set the stage for the elite season opener as student surfers battled to get a solid head start in the season rankings. A decreasing southwest swell and fickle sand bars made for challenging surf and small-wave skill testing conditions. But the kids were pushing the performance envelope and the first contest of the season saw the level already soaring. The Southwest Conference Open Season is regarded as the leading competition for west coast surfers. Divisions are offered in Men's, Juniors, Boys, Mini Groms, Womens, Girls and Longboard. This event was the first of 10 events in the Southwest Conference Open Season series. The NSSA Open Season is open to student surfers only.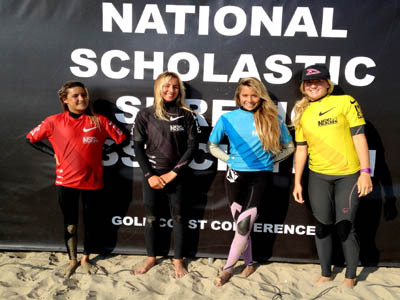 OPEN WOMENS FINALISTS
l-r: Moana Jones, Frankie Harrer, Tia Blanco, Danielle Wyman
Highlights from Southwest Conference Open Season opening weekend:
--San Clemente High School senior Kevin Schulz enjoyed a breakthrough performance scoring his first ever NSSA triumph winning the Open Men's final. Schulz put on an outstanding run winning four of his five heats en route to the victory.
--Malibu's Thelen Worrell who last week won the Juniors division at the Gold Coast opener at C Street continued an impressive competitive run in HB making double finals in the Open Juniors and Mens. His runner up finish in the Open Men's final further solidifies his ability to be successful at the higher level. It was one heck of a way to start off the season!
--San Clemente High School Senior Jonah Carter also represented the reigning National High School Champions in the Open Mens final. In what is Carter's graduate year of NSSA Open Season competition, he means business and was crushing the comp in the Men's division winning 4 of 5 heats and placing 3rd in the final.
--Open Men's finalist Austin Finley has athletic talent in the blood! He is the son of two-time All-Star and five-time Gold Glove center fielder Steve Finley who played for the Padres, Diamondbacks and Rockies.
--Despite the challenging shifty shorebreak conditions for the finals, Jake Marshall shined in his Juniors triumph taking the victory by a 3-point margin.
--In a close Boy's final showdown, Cole Houshmand took a narrow victory over Tyler Gunter. Both Houshmand and Gunter excel in HB's beachbreak conditions and have earned major NSSA titles in this arena. Both surfers have won Regional titles on southside and Gunter won his first National Championship in the Mini Grom division at HB Pier in 2011.
--In the Mini Groms, Sebastian Mendes crushed the final posting a 14-point total score on two solid 7.0 scoring rides.
--Hawaii's Moana Jones took command of the female categories winning both the Girls (14 & under) and Womens (all ages) divisions.
--Kevin Schulz and Moana Jones shared NSSA "Surfer of the Week" honors for the week of September 10th based on their superb effort at the Southwest Open Season opener.
MINI GROM FINALISTS
l-r: Kade Matson, Jack Colby, Sebastian Mendes, Jabe Swierkocki
The NSSA Southwest Conference is proud to have support from Nike, Huntington Surf and Sport, Java Point, Surfing Magazine, Sex Wax, Scosche, Channel Islands and Sugar Shack. Many thanks to the City of Huntington Beach, HB lifeguards and NSSA staff, ASP Judging panel for assisting us in staging a professional quality event to kick off the elite Southwest Open Season series. And a big thank you to surfing's golden voice and ASP commentator Joe Turpel for calling the action at HB Pier.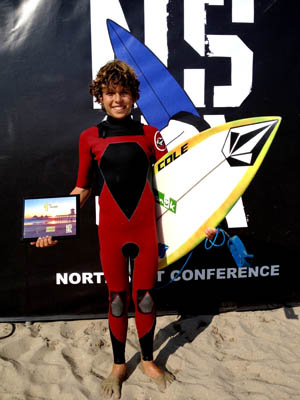 COLE HOUSHMAND SEALS ANOTHER WIN IN SURF CITY!
COMING UP IN CALI: The Gold Coast Conference will stage another doubleheader weekend on September 15-16 at Ventura Harbor. Premier competition on the west coast will continue with the second stop of the Southwest Open Season coming to the Oceanside south jetty on September 22-23 and event #3 on September 29-30 at San Diego's premier surf location Seaside Reef. The Southwest Explorer will resume competition with event #2 scheduled for September 17-18 in Pacific Beach at Crystal Pier.
THE SCOREBOARD
RESULTS
SOUTHWEST CONFERENCE OPEN SEASON EVENT #1
HUNTINGTON BEACH PIER SOUTHSIDE

OPEN MENS
1. Kevin Schulz-San Clemente 14.00
2. Thelen Worrell-Malibu 13.60
3. Jonah Carter-San Clemente 10.70
4. Austin Finley-San Diego 8.47
OPEN JUNIORS
1. Jake Marshall-Encinitas-12.67
2. Kirk Weissinger-Seal Beach 9.36
3. Thelen Worrell-Malibu 8.87
4. John Mel-Newport Beach 8.83
OPEN BOYS
1. Cole Houshmand-San Clemente 10.26
2. Tyler Gunter-Newport Beach 10.07
3. Nick Marshall-Encinitas 9.97
4. Eithan Osborne-Ventura 8.37
OPEN MINI GROMS
1. Sebastian Mendes-Agoura Hills 14.00
2. Kade Matson-San Clemente 8.50
3. Jack Colby-Seal Beach 4.14
4. Jabe Swiercocki-Ventura 2.90
OPEN WOMENS
1. Moana Jones-Haleiwa, Hi 10.84
2. Frankie Harrer-Malibu 10.60
3. Tia Blanco-San Clemente 8.67
4. Danielle Wyman-Laguna Niguel 6.00
OPEN GIRLS
1. Moana Jones-Haleiwa, Hi 12.83
2. Malia Osterkamp-San Clemente 8.24
3. Tiare Thompson-La Jolla 3.74 tiebreak
4. Jada Galland-Rancho Santa Fe 3.74 tiebreak
OPEN LONGBOARD
1. Nick Anderberg-Encinitas 11.00
PERFORMERS OF THE EVENT
Kevin Schulz
Moana Jones