2012-13 GOLD COAST CONFERENCE SEASON OPENS UP AT C STREET PIPE, VENTURA: RESULTS ARE IN!
Tuesday, September 04, 2012 | Written by Janice Aragon
NSSA GOLD COAST CONFERENCE
EXPLORER EVENT #1 & #2
C STREET PIPE, VENTURA
SEPTEMBER 1-2, 2012
CONDITIONS: A fun doubleheader weekend to kick off the 2012-13 Gold Coast Season. A combo of south swell and west wind swell delivered consistent chest to head high rights and lefts for both days of competition.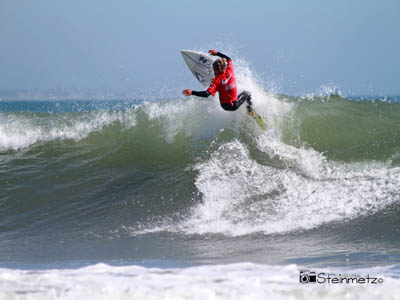 MENEHUENE DOMINATOR EITHAN OSBORNE
photo: Steinmetz
(Huntington Beach, Ca – September 4, 2012) -- The 2012-13 NSSA Gold Coast Conference got underway with the doubleheader Explorer events number one and two on September 1-2 at C Street Pipe. Surf conditions ranged from fair to really good with a combo of south and west wind swell producing chest to head high rights and lefts. Classic Ventura conditions prevailed with clean, morning glass turning to wind-swept choppy surfaces in the afternoon.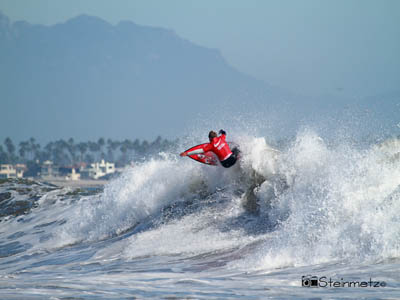 FOUR DIVISION FINALIST MICKY CLARKE
photo: Steinmetz
Highlights from Gold Coast Conference opening weekend:
--Nolan Rapoza was the leading scorer of the weekend posting the high scoring wave (9.0) and top combined heat total (17.5) of the weekend in event #1 Boys division preliminaries .
--Rapoza's double victories in the Boys division and highest heat scores earned him NSSA Surfer of the Week honors.
--Santa Barbara legend Chris Keet put on a championship caliber performance winning six finals in three divisions. Keet, who mentors many young surfers in the Gold Coast region , competed in Mens, Masters and Seniors in both event #1 and #2 and triumphed in all finals.
--Malibu surfers split the Juniors division victories. Andrew Jacobson was charged up for a victory taking event #1 and 2012 National Open Men's finalist Thelen Worrell sealed his first win of the season in event #2.
--Ventura talent Eithan Osborne delivered a sizzling performance in his local waters of C Street locking up both wins in the Menehuene 12 & under category. He also stepped up a division in the Boys 14 & under making both finals.
--The Gold Coast witnessed some fresh, new groms emerging on the contest scene. Ventura kids finished at the top of the Super Grom division with NSSA newcomers Dimitri Poulos taking his first ever NSSA victory in event #1 and Jabe Swierkocki winning his first NSSA contest in event #2.
--In the Womens final Frankie Harrer and Steffi Kerson split the victories. Harrer took event #1 with Kerson placing second and Kerson claimed the win in event #2 with Harrer taking second.
--Santa Barbara's Evan Trauntvein continues to cement his status as one of the west coast's top young longboard talents styling to a double victory in the Longboard division.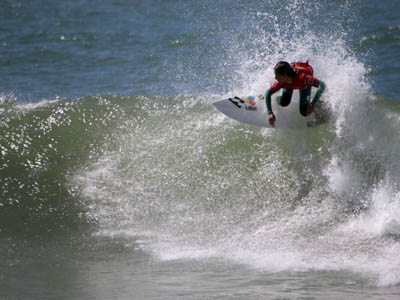 FRANKIE HARRER RACKS UP ANOTHER VICTORY
photo: Chris Keet
The NSSA Gold Coast Conference is proud to have support from Nike, Huntington Surf and Sport, Surfing Magazine, Sex Wax, Scosche and Channel Islands. Many thanks to the Ventura County Fairgrounds Seaside Park and the NSSA staff for assisting us in putting on a fantastic event for opening weekend of the 2012-13 Gold Coast season. Thank you to Chris Keet and Kurt Steinmetz for providing us with great photos of the event.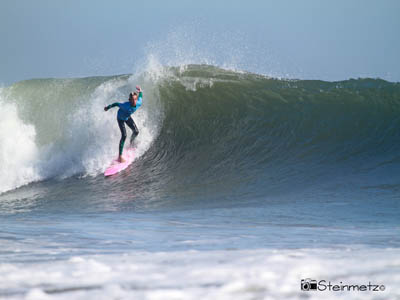 2-TIME NATIONAL CHAMPION JOHN MEL DROPPING IN ON A C STREET GEM!
photo: Steinmetz
COMING UP IN CALI: September is chock full of NSSA competition! The Southwest Open Season will get underway on September 8-9 bringing the top competitive surfers on the west coast to Huntington Beach Pier. The following weekend, the Gold Coast Conference will put on another doubleheader event September 15-16 in the hollow beach break peaks of Ventura Harbor Jetty. Southwest Open Season will then follow with back-to-back events. Open #2 will be held September 22-23 at the fun lefts and rights of Oceanside South Jetty followed by Open #3 September 29-30 at Seaside Reef…one of San Diego's best and most high-performance surf breaks.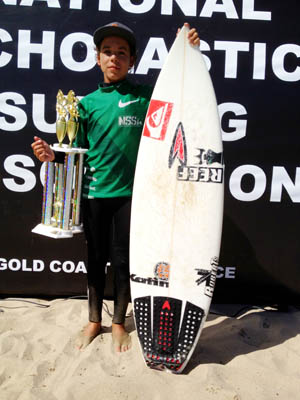 PERFORMER OF THE WEEKEND – Nolan Rapoza
photo: Aragon
THE SCOREBOARD
RESULTS
GOLD COAST CONFERENCE EVENT #1
C STREET PIPE, VENTURA

EXPLORER DIVISIONS
EXPLORER MENS
1. Chris Keet-Santa Barbara
2. Dryden Brown-Santa Barbara
3. Curren Caples-Oxnard
EXPLORER JUNIORS
1. Andrew Jacobson-Malibu
2. Logan Rauhut-Oxnard
3. Thelen Worrell-Malibu
4. Mickey Clarke-Ventura
5. Nolan Rapoza-Long Beach
6. Curren Caples-Oxnard
EXPLORER BOYS
1. Nolan Rapoza-Long Beach
2. Micky Clarke-Ventura
3. Jordan Collins-Carlsbad
4. John Mel-Newport Beac
5. Eithan Osborne-Ventura
6. Quinten Rubalcava-Ojai
EXPLORER MENEHUENE
1. Eithan Osborne-Ventura
2. Tommy McKeown-Oxnard
3. Zane Booth-Santa Barbara
4. Sam Reichel-Gaviota
5. Ryder Alves-Oxnard
6. Keanu Igarashi-Huntington Beach
EXPLORER SUPER GROMS
1. Dimitri Poulos-Ventura
2. Keanu Igarashi-Huntington Beach
3. Gavin Eason-Santa Barbara
4. Jabe Swierkocki-Ventura
5. Liam Osborne-Ventura
6. Noah Steinmetz-Huntington Beach
EXPLORER WOMENS
1. Frankie Harrer-Malibu
2. Steffi Kerson-Pacific Palisades
3. Abby Brown-Santa Barbara
4. Francesca Seely-Malibu
5. Maddy Hecox-Ventura
6. Aubree Tuschka-Ventura
EXPLORER GIRLS
1. Olivia Siemens-Santa Barbara
EXPLORER MASTERS
1. Chris Keet-Santa Barbara
2. Brett Jordan-Ventura
3. Kas Alves-Oxnard
4. Freddy Hernandez-Oxnard
EXPLORER SENIORS
1. Chris Keet-Santa Barbara
2. Kas Alves-Oxnard
3. Brett Jordan-Ventura
4. Eric Mukes-Ventura
5. Daren Collins-Carlsbad
6. Allen Sarlo-Malibu
EXPLORER LONGBOARD
1. Evan Trauntvein-Santa Barbara
2. Larry Schlick-Long Beach
THE SCOREBOARD
RESULTS
GOLD COAST CONFERENCE EVENT #2
C STREET PIPE, VENTURA
EXPLORER DIVISIONS
EXPLORER MENS
1. Chris Keet-Santa Barbara
2. Dryden Brown-Santa Barbara
EXPLORER JUNIORS
1. Thelen Worrell-Malibu
2. Micky Clarke-Ventura
3. Eric Ronning-Ventura
4. Henry Jenkinson-Malibu
5. Jordan Collins-Carlsbad
6. JJ Kerson-Pacific Palisades
EXPLORER BOYS
1. Nolan Rapoza-Long Beach
2. John Mel-Newport Beach
3. Jordan Collins-Carlsbad
4. Eithan Osborne-Ventura
5. Josiah Amico-Ventura
6. Micky Clarke-Ventura
EXPLORER MENEHUENE
1. Eithan Osborne-Ventura
2. Ryder Alves-Oxnard
3. Tommy McKeown-Oxnard
4. Dylan Hord-Huntington Beach
5. Sam Reichel-Gaviota
6. Zane Booth-Santa Barbara
EXPLORER SUPER GROMS
1. Jabe Swierkocki-Ventura
2. Dimitri Poulos-Ventura
3. Keanu Igarashi-Huntington Beach
4. Gavin Eason-Santa Barbara
5. Taro Watanabe-Malibu
6. Hamilton Jacobs-Santa Barbara
EXPLORER WOMENS
1. Steffi Kerson-Pacific Palisades
2. Frankie Harrer-Malibu
3. Francesca Seely-Malibu
4. Maddy Hecox-Ventura
5. Abby Brown-Santa Barbara
6. Aubree Tuschka-Ventura
EXPLORER MASTERS
1. Chris Keet-Santa Barbara
2. Kas Alves-Oxnard
3. Brett Jordan-Ventura
4. Freddy Hernandez-Oxnard
EXPLORER SENIORS
1. Chris Keet-Santa Barbara
2. Kas Alves-Oxnard
3. Brett Jordan-Ventura
4. Allen Sarlo-Malibu
5. Mike Lamm-Oxnard
6. Daren Collins-Carlsbad
7. Curt Harper-Santa Monica
EXPLORER LONGBOARD
1. Evan Trauntvein-Santa Barbara
2. Larry Schlick-Long Beach