2012 NSSA SURFER SCHOLARS!
Thursday, June 28, 2012 | Written by NSSA
NSSA ANNOUNCES THE 2012 NSSA SURFER SCHOLARS!
(June 28, 2012 – Huntington Beach, Ca) -- One of the primary goals of the National Scholastic Surfing Association is to emphasize and encourage the academic achievement of its membership. The Surfer Scholar list serves to recognize NSSA student surfers who have a passion for learning and have excelled scholastically. The National Scholastic Surfing Association congratulates all of our student surfers who have maintained an outstanding 3.5 GPA or higher for the 2011-12 school year. We are proud to honor these outstanding student athletes!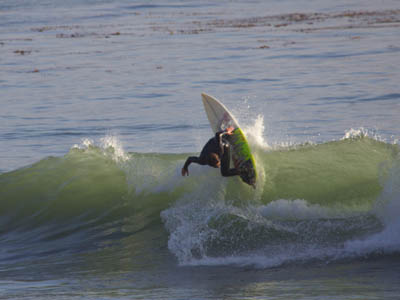 NSSA SCHOLAR DRYDEN BROWN GOING VERT AT EMMA WOOD!
SURFER SCHOLAR OF THE YEAR – DRYDEN BROWN
4.75
Dryden Brown-Laurel Springs/Stanford
4.66
Tad McCardell-Canyon Crest Academy
4.5
Corey Howell-Eau Gallie High
4.25
Stephanie Schechter-Canyon Crest Academy
4.2
Scott Weinhardt-Dana Hills High
4.16
Maluhia Kinimaka-Kapaa High
4.0
Gen Asano-Kaiser High
Logan Bediamol-Kalama Intermediate
Danny Berk-Fusion Academy
Spencer Bridges-Morristown-Beard School
Michael Cantor-Seaside Elementry
Brandon Carney-SDSU
Trip Chandler-Waccamaw Intermediate
Dominic DiPietro-Mira Costa College
Chasen Kim-Kamehameha
Griffin Colapinto-California Virtual Academy
James Elkins-CSUSM
Cameron Faris-Huntington Beach High
Keenan Flegel-North Broward Prep School
Jaric Fink-Gifford Middle School
Matt Glenn-The Jubilee Academy
Giorgio Gomez-Florida Virtual Online
Frankie Harrer-California Virtual Academy
Henry Hepp-Washington Elementry
Nic Hdez-Santa Cruz Alternative
Noah Hohenester-Bernice Ayer Middle School
Daniel Jacobs-CSUSM
Andrew Jacobson-Malibu High Independent Study
Jessica Janes-SDSU
Avalon Johnson-Classical Academy High
Hunter Johnson-Kalaheo High
Kalani Jones- Abeka Academy
Moana Jones-Abeka Academy
Jake Larson-UCLA
Kylie Loveland-Aviara Oaks Middle School
Kyle Malter-Mira Costa College
Luke Marks-Florida Virtual School
Nick Marshall-California Virtual Academy
Julia Mekrut-USD
John Mel-California Virtual Academy
Robbie Merrell-The Jubilee Academy
Tim Montgomery-SDSU
Kellar Moore-Carlsbad High
Breen Murphy-USC
Daniel Netzer-UCSB
Tyler Newsome-Spruce Creek High
Tyler Noonan-CSUSM
Chris O'Donnell-Lincoln Park Academy
Dimitri Papavassiliou-Malibu High Independent Study
Chandler Parr-UCLA
Stevie Pittman-Bridgeway Academy
Sydney Pittman-Bridgeway Academy
John Raynor-Williston Middle School
Thomas Rode-UCSB
Andrew Rooney-Brielle Elementary
Ryland Rubens-Pacific Beach Middle School
Emily Ruppert-Melbourne High
William Scott-FIT
Marissa Shaw-SDSU
Dayton Silva- Mira Costa College
Lucas Taub-Marco Forster Middle School
Nikki Viesins-Florida Virtual Online
Kaira Wallace-Cunha Intermediate
Colin White-Saint James Episcopal School
Sean Woods-Los Cerritos Middle School
Alex Wooten- Mira Costa College
Thelen McKinna-Worrell-California Virtual Academy
Cody Young-Doris Todd Memorial Christian
Sam Zaiser- Mira Costa College
Kelly Zaun- Mira Costa College
3.9
Kaeo Awana-Kamehameha
Honolua Bloomfield-Waialua Intermediate
Dillon Brown-Coastal Christian High
Micky Clarke-California Virtual Academy
Davis Freud-Huntington Beach High
Theo Kirkham-Lewitt-UCSB
Mainei Kinimaka-Kapaa Middle School
Mahina Maeda-Kahuku Intermediate
Austin Sonnier-Canyon Crest Academy
Jena Sussex-USC
3.8
Jack Boyes-Huntington Beach High
Taylor Curran-El Camino High
Jake Davis-Capistrano Beach Academy
Jackie DeRieux-UCSB
Kyla Durden-UNF
Kiana Fores-Kapaa High
Casey Goepel-UCLA
Luke Gordon-Lowcountry
Alexis Goss-UNCW
Jake Halstead-Audeo Charter
Mark Harrington-UCLA
Knox Harris-The Jubilee Academy
Tyler Howard-USD
Peter Kuriyama-UCSB
Cole Moody-Saddleback College
Hunter Moore-UCLA
Christopher Murnane-Carlsbad High
Brett Naudin-Diegueno Middle School
Emily Ruppert-Melbourne High School
Eric Schneller-UCF
Frankie Seeley-Malibu High Independent Study
Rachel Tominaga-Mira Costa High
Colt Ward-Halstrom High
3.7
Charles Akao-Kamehameha
Wyatt Barrabee-Santa Cruz High
Matt Clark-Mira Costa College
Nate Dorman-Myrtle Beach High
Jaxon Falconer-Kamehameha
Jesse Guglielmana-Bridgeway Academy
Remy Juboori-La Jolla High
Uapili Lucey-Kamehameha
Brad Martin-Mira Costa College
Rob McCarty-USC
Addison Miles-Christian Academy of Myrtle Beach
Cayla Moore-Kamehameha
Kylie Nagy-Kahuku Intermediate
Andrew Niemann-Lutheran High
Kloee Openshaw-San Clemente High
Jonah Pierce-Paulding Middle School
Eric Ronning-Ventura High
Ritchie Schmidt-Mission Hill MiddleSchool
Noah Schweizer-Florida Virtual
Tristan Sullaway-La Jolla High
Kahia Walker-Kamehameha
William Warren-UCF
3.6
Piper Austin-Stanton College Prep
Eric Bartlett-SDSU
Tony Bartovich-Huntington Beach High
Savannah Bradley-UNF
Elijah Donovan-Kapolei High
Noah Flegel-North Broward Prep
Fisher Grant-Orange County Home Ed.
Max Karnig-UCSD
Joao Marco Maffini-School of Arts and Sciences
Taylor Mathiesen-Santa Fe Christian
Colin Moran-Newport Harbor High
Max Smith-Cape Fear Academy
Nick Vaughan-SDSU
Thomas Williams-Kahuku High
3.5
Ashley Aronson-CSUSM
Patrick Brennan-FIT
Shaun Burrell-UCSD
Ethan Carlston-San Clemente High
Noah Collins-Mira Costa High
Brianna Cope-Kauai High
Gabrielle Daigle-Faith Christian
Lucas Hansen-Jupiter Middle School
Jon Howard-SDSU
Kaleb Kirshenbaum-Seabreeze Elementry
Rossi Klein-Florida Virtual
Tony Morelli-Edison High
Andrew Nakamura-Mira Costa College
Loa Ng-Kona Christian Academy
Makena Perez-Valley Middle School
Aaron Privett-FIT
Milby Shannon-UCSB
David Siemann-USD
Tony Silvagni-UNCW
Laura Thatcher-CSUSM
Kyle Woods-Thousand Oaks High School